Should I do a Powerlifting Competition?
By: Tim Henriques
If you have been lifting seriously for a while and you have gotten a bit stronger, you might be pondering the idea of competing in a powerlifting competition. If you are thinking about doing just that, you probably have some questions. Since powerlifting is my thing, let me see if I can be of some assistance to you. If I don't address your questions directly in this post, feel free to pose them in the comments section and I will get them to there.
The first question most lifters have is this: Am I strong enough to compete? The short answer is probably yes. Most powerlifting competitions don't have minimum qualifying standards that you need to reach before competing. Understandably, most lifters don't want to get destroyed their first meet so I will give you a quick guideline here. If you can hit the following lifts you will hold your own at most local powerlifting competitions: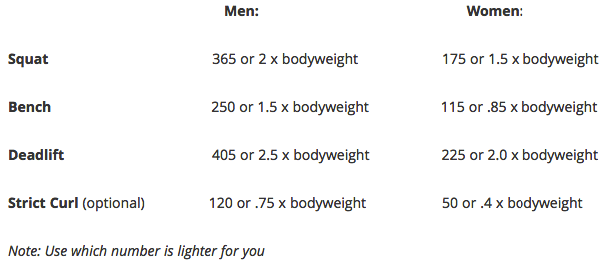 To be clear I am not saying that by hitting the above numbers you will win your weight class or you'll be the strongest person there. I am saying that you should fit right in and you won't feel "weak" if you can perform these lifts. Certainly there will be some really strong people competing – there are usually 3-5 beasts competing in each competition that are on a really high level. But there will also be people you might not expect to find at a competition: kids and teens often compete; powerlifting is very popular with master lifters (over 40) including a pretty big group of 60 and 70 year old lifters that are competing. Of course at younger and older ages the weights being lifted are noticeably less. And most importantly, the environment at a competition is usually very supportive and positive because everyone there is trying for a PR and everyone knows how hard you have to work to make serious progress in this sport. Most lifters are very friendly and happy to talk about training. A competition is a great place to meet like-minded people. If you want more detailed information on how you might stack up against the competition, refer to the lifting classifications that are found in my book All About Powerlifting. (Bret's note – this is not an affiliate link, but it's a great book on powerlifting that I recommend)
When you are ready to compete the first thing to do is to find a competition that is right for you. Consider the following:
Geography – expect to drive 2-3 hours to find a meet, sometimes it is more, sometimes it is less. If there is a specific, big competition you want to attend then you may have to fly to it. Powerliftingwatch.com is a great place to start your search.
Cost – powerlifting is a pretty cheat sport (compared to something like golf it is super cheap) but there are some costs associated with it. These things include:
The entry fee for the competition (usually $70-100)
Joining a federation for a year (usually ~$30)
Purchasing a singlet to compete in (~$30) [Eastbay and WWsport.com are good places to find singlets]
Cost of travel to and from the competition including a potential hotel stay
Date – find a powerlifting competition that is a good date for you to train for. Generally 2-6 months away is ideal, if it is more than 6 months away that may not really motivate you and you can't just try to peak for the meet for that long. If it is less than 2 months away you may not feel like you have enough time to give it your all in training. Most lifters follow a specific meet prep for 2-3 months to be their best on the platform.
Federation – there is not just one governing body in powerlifting, this is either good or bad depending on how you look at it. It is bad because there isn't always one set of rules everyone follows, it is good in that it allows various lifters to find what works for them. Basically there are 2 big questions you want to ask.
The first question is are you going use powerlifting equipment like bench shirts, squat suits, etc? If this is your first meet then the answer should be no, don't even worry about this. But be aware if you compete in a federation that allows gear (usually referred to as single ply (1 layer) or multi-ply (2 or more layers) there may be some people at the meet using it. The gear is super strong, often adding 30-50% to a lifter's max, so it is almost like 2 separate sports. If you don't wear any gear that is called raw powerlifting. You can still wear a belt and wrist wraps if you want. Likely you'll just compete in a competition that is close to you, but if the idea of another powerlifter wearing gear in the competition bothers you then compete in a raw competition.
The second thing to consider is drug usage. I am assuming you are drug free and the numbers posted above reflect that. Some federations drug test, some don't. If someone chooses to use steroids that is up to them but that person should not compete in a drug tested federation. Again if you are new you may just be selecting competitions based on proximity, but if drug use bothers you than select a drug free or drug tested federation. The USAPL and 100% RAW are 2 of the top drug tested federations in America.
*Bret's Note: Sammie and Erin competed in a NASA meet for their first competition with the Operation Get Strong & Sexy posts – see HERE, HERE, HERE, HERE, and HERE if you didn't follow that series. I competed in 100% RAW for both of my competitions – see HERE and HERE for those recaps. 
When the day of the competition comes you'll want to know a few things to make it go as smoothly as possible. It is natural to be a bit nervous and this applies to first timers and well as the experienced vets. There will be a weigh-in either the morning of the competition or the day before. Weigh in in your underwear so you are as light as possible (a tie is decided in favor of the lightest lifter). You will have to turn in your openers at the same time. Your openers the weights you are going to start with in each lift. It is very important to realize that once you turn in a weight, you can never lower that weight. If you think you can bench 300 and you start with that but fail, you can't drop back down to 275, you are stuck at 300. If you miss it you just get a zero which is called bombing out and you can't complete the competition. This is a giant no-no and bombing out shows you don't know what you are doing so don't do that. There are many strategies available to select your openers but I suggest using 87.5% of your goal weight, assuming your goal weight is pretty realistic. For example if you have benched 290 in the gym with really good form, you might be hoping to hit 300 in a meet. If that is the case then you could open with 260. You get 3 tries at each lift, you can repeat a weight (if you miss it) or go up. You can up as much as you want, most lifters go up 2.5-10% on each attempt. In our example our lifter might go 260, then 285, then 300. It is worth noting some meets will do their lifts in kilograms. If this is the case then be sure you are familiar with the transition from pounds to kilos (our lifter would open up 117.5 kg in this case).
After you complete your lift then you will go to the scorer's table and tell them what you want to lift next. Each lifter in your group will go once, then everyone will go a second time, then they will finish with their last try. Squats is always first, then the bench press, and then the competition finishes with deadlift. If one is curling that is usually the last lift performed but not all federations contest that. A powerlifting total is your score which is the addition of your best squat, bench, and deadlift. If a person squats 400, benches 300, and deadlifts 500 their total is 1200 lbs.
Each lift has a few key rules, I can't cover every scenario due to space here but these are the super key highlights.
Squat
You will walk out and you will get the command to "Squat".
Once you get that command you cannot move your feet.
You must squat so that your hip is below your knee eg so that your femur is pointing down toward your hip – this is the most common mistake newbies make.
Once you finish squatting you must stand up, keep your feet locked to the ground, and wait until the judge says "Rack".
Bench Press
You will lift the bar out of the racks (it is okay to get a lift off), start with arms straight.
Lower the bar to your chest and pause the bar on the chest. Keep your feet flat and motionless and keep your butt on the bench.
Once the judge says "Press" then you can lift it up – this usually takes 2-3 seconds to receive the press command.
Hold the bar with your arms locked once it is finished until the judge says "Rack".
The most common issue here is not realizing how much harder a paused bench is than a touch-and-go which is what most people do in the gym.
Deadlift
The bar is on the ground, walk up to it, grab it.
You can use conventional form (hands outside your legs) or sumo style (hands inside your legs, feet spread wide).
Stand up straight with the bar and hold it until the judge says "down".
As long as you aren't relying on straps to do deads you are probably performing these with adequate form.
If you compete in the strict curl be aware that the curl is performed up against the wall and it is much harder that way, practice this and take at least 20% off of what you can do standing up. A curl bar will be used.
Powerlifters are broken up into various classes based on weight, gender, and age. At the end of the competition is the awards ceremony. Because there are so many weight classes and age groups for each gender, it is pretty common to receive some sort of an award at a powerlifting meet. If you don't want much competition, just compete in your specific age group. If you do want competition, compete in the Open division for your weight class, which means you will be ranked among all of the lifters in that division.
Powerlifting competitions tend to be relatively long, usually starting around 9 am (with weigh-ins possibly before that time) and then wrapping up around 4-6 pm. Some might go shorter, some might go longer. If a competition has 2 lifting platforms it will move faster. Depending on the level of organization of the meet director, the award ceremony might just be 15-20 minutes or it might take an hour or 2. You will want to bring some food and drinks with you, trying to eat something small after squats and then possibly after deadlifts is a good idea to keep your energy levels up. It is important to stay hydrated during the competition since it is a long day.
One of the challenges in powerlifting is managing fatigue. I am not talking about muscular fatigue but emotional fatigue, the type of fatigue you get when you are amped up and on edge for an extended period of time. You have to perform 3 heavy squats so you get fired up for that, then you have to relax for an hour or two, then you hit the bench hard, relax again, and finally it is deadlift. The psyching up and then relaxing multiple times can be hard for some lifters to manage. Usually in the gym you just psych up once, hit the lift, and then you move on to the assistance stuff. Maxing on all three lifts in the same day can be pretty draining.
It takes some guts to get up on the platform – where it is just you and the weight – and test yourself to see what you can do. But because of the sports individualistic nature, it tends to build self-confidence. Be proud of what you can accomplish, learn from your mistakes and your defeats, and use that motivation to fuel your next training cycle. One of my favorite things about the sport is that it is extremely rare for a person to compete in powerlifting competition and then at the end they say "That sucked, I wish I had not done that". Usually the only time that happens is when the person thinks they will lift some huge amount of weight, their form is way off, and then the platform is a rude awakening to them. But if you have been training hard and smart, if you are prepared, meets are usually pretty awesome. I think the most common response after a lifter competes in their first competition is "I can't wait to do that again, only next time I will lift more weight". That statement alone is the best response I can think of to the question "Should I do a powerlifting competition?"
Author Bio
Tim Henriques is the Director for the National Personal Training Institute of VA/MD/DC. NPTI is a 600 hour long program for people who wish to become personal trainers. Tim was a Collegiate All-American Powerlifter and he currently coaches his powerlifting team, Team Force, which won their federation's National Championships in 2013. He regularly teaches, lectures, and writes on the topics of health and fitness. He recently released a book entitled All About Powerlifting which has been hailed as "the new bible of powerlifting".