I'm very proud to announce that today, the first original research from my PhD thesis was published ahead of print on the Journal of Applied Biomechanics website. HERE is the link to the abstract on PubMed, and HERE is a link to the abstract on the JAB site. If you want the full paper, I've uploaded it into my site HERE. Published ahead of print articles usually aren't fully-formatted, which makes for a rather annoying reading experience because there's just a sea of writing with all the tables and figures tacked onto the end of the article.
Good Science Requires Patience
A good scientist is patient. This EMG paper is not the "nail-in-the-coffin" with regards to the "Which is superior for glute hypertrophy – squats or hip thrusts?" controversy. We need more research. EMG doesn't measure hypertrophy; it measures muscle activation. This study is a cross-sectional study that examined mechanisms of hypertrophy. What we need are a handful of randomized controlled trials (RCTs), with each hopefully painting a similar picture with the data. Here's a quote from the discussion portion of the study:
"Caution should be taken when interpreting the practical implications of this study. It is tempting to speculate that muscle activity can be used as a gauge to predict strength and hypertrophy gains. After all, two recent papers have linked muscle activation with hypertrophy (52, 53), and another with strength gains (54). However, at this point in time no training studies have been conducted comparing the hypertrophic effects or transfer of training in the back squat and barbell hip thrust exercises. Future research needs to be conducted to 1) test the hypothesis that the barbell hip thrust exercise leads to greater gluteus maximus and hamstrings hypertrophy than the back squat exercise, 2) discern whether adaptations transfer to sports performance, particularly in relation to sprint running, 3) verify that male and female subjects activate their hip and thigh muscles similarly during the back squat and barbell hip thrust exercises, and 4) analyze the joint range of motion, heart rate, force, velocity, power, joint power, impulse, work, and torque angle curves between the back squat and barbell hip thrust exercises."
Much of this needed research is currently underway, so you can expect plenty of interesting data to come. EMG provides mechanistic clues with regards to training outcomes. I happen to be a supporter of EMG and I believe that surface EMG data can indeed be used to help ascertain exercise superiority for hypertrophic purposes, especially for large muscles like the gluteus maximus. However, there are three primary mechanisms of hypertrophy (click HERE for a primer on this topic), with activation influencing tension and metabolic stress to a greater degree than damage. In addition, EMG has its share of limitations (click HERE and HERE for two articles on this topic). Therefore, the "team hip thrust" camp needs to wait until more research emerges to before they do the crotch chop dance in front of the "team squat" camp.
What I Love About Science
Science hones in on the truth over time. You've got this vocal guy (me) who has championed hip thrusts over the past nine years (6 years online). You've got all sorts of trainers, coaches, athletes, bikini competitors, and physical therapists around the globe who are in agreement with the efficacy of hip thrusts. On the other hand, you've also got a bunch of skeptics who apparently think that the hip thrust is moronic, inefficient, and/or non-functional (I've noticed that these people tend to have their own forums, they tend to need to be perceived as world experts on every topic, they tend to dis on anything they didn't think of first, and they tend to not conduct any research of their own – they just dis on research that emerges, but I digress).
Here's what I love about science…it doesn't matter what in the hell I say. It doesn't matter what in the hell these other people say. The truth is the truth. Science is true whether you believe in it or not. The "truth" about hip thrusts exists. It's up to us (humans) to discover the truth through research and experimentation.
In five years, we're going to know much, much more about hip thrusts. I will personally publish probably a dozen papers on the topic, but I expect many other researchers and labs to take interest in the hip thrust and start conducting research (both mechanistic and training studies) on them as well.
My thesis is just the start. I have examined 1) the EMG activity between squats and hip thrusts, 2) the EMG activity of 3 different squat variations, 3) the EMG activity of 3 different hip thrust variations, 4) the force, power, work, and impulse between squats and hip thrusts, 5) the transfer to vertical and horizontal jump, 10 and 20m acceleration, 1RM front squat and hip thrust, and max isometric mid-thigh-pull between front squats and hip thrusts, and 6) the transfer to upper and lower gluteus maximus muscle thickness, 1RM squat and hip thrust, and max horizontal force between squats and hip thrusts in a pair of identical twins. This will provide a great foundation for future research and will generate many hypotheses that require testing.
Even after my thesis is published, we still won't know much. We'll definitely know a lot more than we previously did, but we need 50-100 quality studies on the hip thrust before we can confidently discuss its efficacy across the board for varying purposes and populations. The truth will emerge over time, and no guru (not me and not the naysayers) can effectively suppress the truth in the long run. Charismatic leaders can definitely distract people and lead them in the wrong directions, but in the end, science always prevails. Maybe I've led people in the wrong direction, and maybe the skeptics have led people in the wrong direction. Maybe the converse is true is well. The truth shall prevail.
In the End
In the end, what I can already say with MUCH confidence is that athletes should perform both squats and hip thrusts. Squats appear to outperform hip thrusts in certain very important outcomes and hip thrusts appear to outperform squats in certain very important outcomes. Most of you reading this are probably nodding your heads like, "no shit," but there are indeed people that think you shouldn't squat or shouldn't hip thrust…hopefully their minds will be changed when they see my findings and future findings of others.
I would think that my TESTIMONIALS would have changed their minds, but apparently that doesn't matter to them. Anecdotes are cool, but they're not the be-all-end-all since variables are not controlled which prevents us from pinpointing the mechanisms responsible for improvements.
And Now, the EMG Study Findings
Again, click HERE to download the full paper. There isn't much more I have to add that's not included in the paper. The study examined 13 trained women. Here is a chart from the study: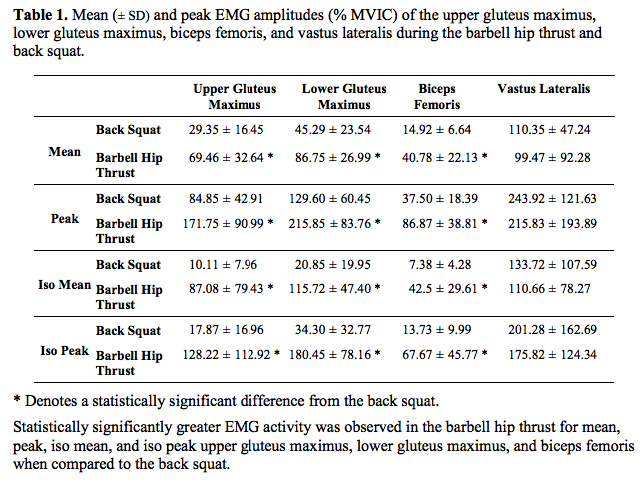 As you can see, hip thrusts appear to be superior to squats in terms of upper gluteus maximus, lower gluteus maximus, and biceps femoris activity. Interestingly, vastus lateralis activity wasn't far superior in squats compared to hip thrusts – this is something I noticed many years ago. Hip thrusts heavily activate the quads, but squats indeed have the edge considering that they move the knees through a much greater ROM and have slightly higher quad activation.
Here are some graphs that we made that didn't make it into the article (I never agree with this practice, but peer reviewers want either a chart or a graph, but not both as they believe them to be redundant…I prefer both for numerical and visual puproses).
Isoholds: Bottom of the Squat Versus Top of the Hip Thrust
Here is some fascinating data. When I do a pause squat, I feel my glutes working very well. I'm sure that many of you do too. My glutes can get rather sore the next day as well if I do a high volume pause squat session – you can probably relate to this as well. However, the glutes (and the hamstrings for that matter) barely activate at the bottom of a squat. Vasti and the erector spinae activation is through the roof, but it seems that the hip extensors provide force mostly through stretch, not activation. This EMG data jives with the findings of Worrell et al. 2015 and Robertson et al. 2008. The gluteus maximus activates to a much greater degree in full hip extension compared to hip flexion, hence why the barbell hip thrust isohold is so high.
Conclusion
There will be much more research to come. We need a high quality training study that looks at actual muscle hypertrophy before confidently claiming that hip thrusts are superior to squats for gluteus maximus growth and development. Better yet, we need a dozen. In the meantime, we should certainly consider these EMG findings along with other forms of evidence such as anecdotes, tradition, logic, and expert opinion. However, we should properly frame these lesser forms of evidence (click HERE to read about the hierarchy of knowledge) and eagerly await the arrival of RCTs.
Team squat camp: You don't need to dismiss surface EMG evidence and call this research idiotic; it provides good clues. These clues can be useful in predicting the transfer to various activities, which will emerge in time. You should, however, open your mind to the possibility that hip thrusts are indeed highly effective for glute growth
Team hip thrust camp: Don't be jerks and claim that hip thrusts are superior to squats for glute growth; we don't know that yet. They might or they might not be, but you don't want to look like an idiot if the experimental data (actual hypertrophy) doesn't jive with theoretical findings (EMG). It's better to be cautious and reserved.
In summary, we'll know more in time.
(and, of course, the hip thruster is the most effective way to do your hip thrusts)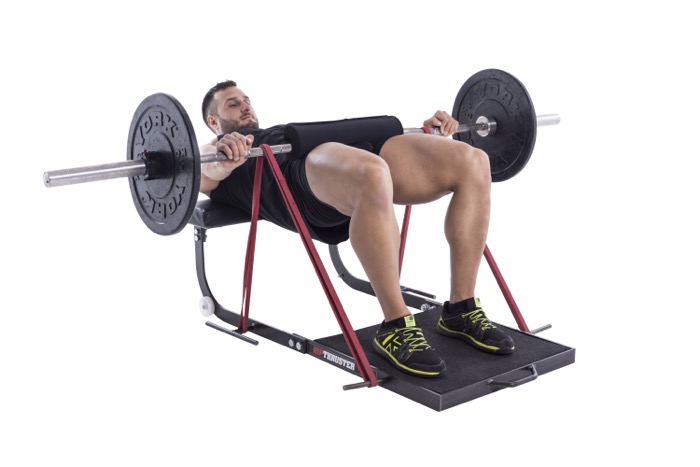 The Hip Thruster is the best way to do the hip thrust – stable and versatile!