Unless you've been in a cave over the past couple of decades, you've surely heard at some point about the importance of the gluteus medius in functional performance. To read a summary of the current gluteus medius research, please see Chris Beardsley's excellent report HERE. Each of the gluteal muscles have functional subdivisions, and the gluteus medius has three distinct regions: anterior, middle, posterior.
It is commonly thought that although the primary role of the gluteus medius is hip abduction (raising leg out to the side or stabilizing the hip during gait), the anterior (ventral) fibers of the gluteus medius assist in hip internal rotation whereas the posterior (dorsal) fibers of the gluteus medius assist in hip external rotation. This has been confirmed in studies measuring moment arms, and it's explained in the end of the video below.
Interestingly, studies such as THIS brand new one have shown that the posterior fibers of the gluteus medius activate more highly with the hip in internal rotation compared to external rotation. I never gave this much thought until last Saturday when my friend Erin (HERE is her Instagram) visited me at my Glute Lab and trained her glutes (she's competing tomorrow in bikini in Vegas at the NPC USA Nationals). If you recall, I interviewed Erin HERE where she presented my readers with a bunch of novel and effective band glute exercises. A few days ago I posted a band glute circuit Erin did on Instagram HERE and it received a lot of attention.
When she showed me the exercise below, I didn't think much of it at first. Just seemed like another nifty hip external rotation exercise to me. However, I started thinking about it, and I quickly realized that this was hip internal rotation, pivoting around the feet. And it's hip internal rotation in a fairly neutral hip position in terms of hip flexion/extension (it's close to anatomical position in 0 degrees of hip flexion…considering the way she's slightly anteriorly tilting her pelvis, I'd guess that she's at 15 degrees of hip flexion below).
This caused me to be skeptical of this exercise as a glute builder. I know that Erin pays better attention to what areas of the glutes are being worked than pretty much any client I've ever trained, but this wasn't in full agreement with the research.
I palpated Erin's glutes and verified that it indeed heavily activated the upper glutes, and it seemed to me that the entire glute medius was firing, especially the posterior fibers. Wondering if maybe Erin is just unique in the way she fires her glutes, I tested 3 other clients two days later (and also on myself) and confirmed that their upper glutes fire very well during this band hip internal rotation exercise as well. I haven't tested the gluteal EMG activity yet, but it's pretty safe to say based on palpation that this exercise is a good glute exercise to include in your band circuit arsenal. I like to include various hip extension, hip abduction, and hip external rotation exercises, and now there's this hip internal rotation exercise.
Please give this unique exercise a try and pay attention (I palpated my own glutes) to what region you're working – let me know if you think it's the posterior fibers of the gluteus medius in addition to the entire glute medius, or the upper gluteus maximus.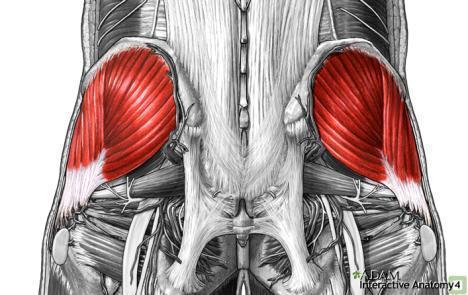 Make sure to not perform this on a super tall bench as you want the hips to just be slightly flexed. I haven't tried it out yet in neutral (lying flat on the ground), but Erin tried the exercise in greater hip flexion from an elevated bench and didn't feel it working nearly as well. This is interesting considering that Delp found that hip internal rotation moment arms of the glute muscles increase in hip flexion…so this doesn't agree with his findings.
It seems like there's more to the glutes than previously thought and that we're still coming up with interesting and efficient ways of activating and strengthening these important muscles.