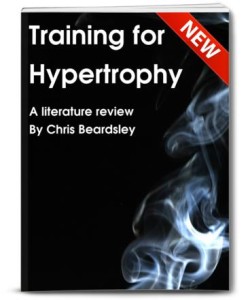 How's it going fitness peeps? I've got some great articles, videos, rants, and before/after pictures for you to check out. Just keeping you in the know!
Good Articles
FREE E-BOOK: Training For Hypertrophy
Click HERE if you'd like a free review of the literature pertaining to training studies examining hypertrophy. I hope you appreciate Chris Beardsley – he puts out the best sports science information on the internet!
The Science of Gluteus Maximus Training
THIS isn't an article; it's a video. By me. You will like it.
Research Process Pitfalls
Most people haven't the slightest clue as to what goes into publishing a study. Click HERE to read some of the pitfalls associated with publishing.