Over the past couple of years, I've posted several guest blogs from Get Glutes members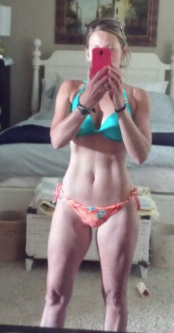 (Mariah, Kristen, Emily, Shelley), but today's is extra special to me as it's from Tammy, who I feel is the O.G.G. (original get glutester). Tammy was the first member on Get Glutes who really started killing it, and everyone fell in love with her positivity and enthusiasm. She was working hard on improving her form, setting PRs week in and week out, sharing experiences and giving advice to fellow members, and being encouraging and supportive to everyone. Her attitude was contagious, and she inspired others to do better. Here are 6 questions I asked Tammy:
1. Thank you for agreeing to do this interview Tammy! You are a Get Glutes rockstar, so it's about time I featured you on the blog. I want to discuss the transformations you've gone through during your time with Get Glutes. First let's discuss the transformation you've undergone with regards to your attitude toward cardio and strength training. How has this changed over the past couple of years?
Hey Bret!  I appreciate you letting me share my journey.  Five years ago I was doing an hour of weight training and an hour of cardio 5 to 6 days a week and let me tell you I was working hard.  I stayed thin but I couldn't build muscle.  I was tired and my muscles and joints ached nonstop.  I tried body building programs from fitness magazines and I tried some of the Beachbody video programs (P90X, Insanity which caused a chronic lower back injury, and Body Beast which I gained a lot of upper body strength but I loss strength in my legs during the program).  I always had enjoyed doing weights more than cardio but I thought I needed the cardio to stay lean and I stayed on this course for a couple of years before starting Get Glutes in 2013.
When I first came across your name I was totally intrigued with how you trained women.  I watched video after video of these lean ladies lifting a ton of weight and it gave me goose bumps!   I watched them do over 300 pounds on the hip thrust and I had no idea how they were doing it.  I could barely get 20 body weight hip thrusts before my glutes were on fire and so I couldn't imagine adding weight. I didn't think I would ever be able to lift like they were but I wanted to give it a try.   Shortly after that,  you started Get Glutes and I joined immediately.  I was nervous about going into the "big boy" side of the gym but I couldn't wait to get started.  It was exciting and scary but I'm so glad I gave it a chance.
After starting the program I felt like I got a 50% off workout coupon…I was working out for about an hour 3 to 4 days a week (strength training only) as opposed to 2 hours 5 to 6 days each week.  I started seeing results by the end of the first month, my lower back issues cleared up for the first time in over 2 years, and my joints no longer hurt!!!  Within the first six weeks I went from doing body weight hip thrusts to doing 225 pounds for reps.  My strength gains totally blew my mind and needless to say I've been hooked ever since.
2.  Tell me some of the nuances associated with being a strong woman that you've experienced in your gym. 
We'll just two years ago the hip thrust hadn't hit east Tennessee yet so when I started doing it I got a lot of attention and as I added more weight to the bar I got even more attention.  I have to admit that it was a little creepy to have guys that I didn't know standing over me as I hip thrust.  It was obvious they were only curious because they didn't have a clue as to what I was doing but it was still a little creepy.   I can't tell you how many times I heard "Is that an ab exercise?", "You're going to KILL your back!", "Did you find that in a girly magazine? It's never going to work.  You need to stop reading that crap."  I heard all kinds of crazy things from these people that I had never talked with before but I ignored them and just kept doing it and kept getting stronger and stronger at it.  When I started hip thrusting 2.5 times and up to 3 times my body weight it turned into fascination that a lady my size could lift that much.  The amount I was lifting was still blowing my mind but it had started blowing other folks' minds, too.  The somewhat negative comments turned into, "how can somebody your size lift that much???".   Great coaches, great programming, and dedication on my part.  That's how.
I was doing band hip thrusts this week when a guy suggested that I try them with a a barbell across my lap.  The guy next to me chuckled and said, "She's the queen of hip thrusting.  She's been doing it for quite a while.".  Nice compliment from the guy who told me to quit doing exercises from those girly magazines. 🙂
3. Tammy, did you change up your nutrition or keep it similar?
I've been eating intuitively for a few years now.  I'm in my mid-40's and I want to enjoy life which means enjoying food and the social occasions that go along with it.  I'm also a mom of two boys and I think it's important for them to see me eat foods that many lifters feel are off limits.  I eat pizza and hamburgers with them every week.  I think it's more about portion control instead of having food (or food groups) that are off limits and this is what I want my boys to learn.  I'm their role model and it's not healthy if they see me freaking out over what I ate or how much I ate.   Having said that, I do realize that my diet has impeded my progress but that was something I was okay with.  I would go absolutely crazy if I counted calories, macros, etc.  I would rather be my size and shape than be on a miserable diet so that I could be a little bit leaner.
4. Okay, now let's discuss the mental transformation you've experienced along the way.
When I started Get Glutes I just wanted to lift heavy.  I wasn't really thinking about the physical changes that would follow and a mental transformation associated with lifting had never even crossed my mind.  I remember during the first couple of weeks of Get Glutes I used a preset barbell for glute bridges and hip thrusts.  I was repping out like crazy on it because it was too light.  So after I finished a very high rep set, I sat on the floor thinking that it was ridiculous that I was using the preset bar because I KNEW it was too light.  I glanced over at the other side of the gym where the big 45 pound bars were.   I thought if I was going to do this program and succeed at it then I was going to have go over to where all of the guys worked out to use a bar and plates.  My mind was racing with the fact that I was going to have to figure out how to set it all up, how much weight to put on the bar and still be able to lift it, and of course, I was imagining all of those guys watching me–whether they actually noticed me doing it or not really didn't enter my mind.  I sat there a few minutes longer and decided that I would have to suck it up and just do it…first thing tomorrow morning.
The next morning I got to the gym very early and went to set up my bar with weights for the hip thrust.  I was so scared!!! Which is funny because now I know it's really not a big deal.   Anyway, I used 25 pound plates and set it up at the END of a bench–not the side.  I dead lifted it up, sat down on the END of the bench, and then scooted down to the floor.  The set was easy peasy so I was super happy about that then it came time to get off the floor.  The plates weren't big enough to sit directly on the floor so I the bar was laying across my lap and I was sitting at the END of the bench so I couldn't use my elbows to help me get back up on the bench.  Essentially, I was stuck.  Hello!  I just survived doing my first real set of barbell hip thrusts and now I'm STUCK????  You have to be kidding me.   I wiggled around until I got out from underneath it. It wasn't pretty or easy to be honest and I was mortified.  Then I hear this guy in his nice Southern drawl say, "Next time you get stuck under a bar just yell at me and I'll come save you."  What????  Why didn't you save me the first time????  You sat there and watched me squirm around and didn't offer to lift it off my lap???  But being the nice Southern girl that I am, I politely thanked him then immediately changed to the big boy plates so that I could slide under the bar without needing to be "saved".   And yeah, that set was easy peasy, too.  I was much stronger than I knew!
So, what's my point?  It's okay to be scared but you can't let it hold you back.  Everybody has a "first time" in the gym.  Mine just happens to be a funny story and when I look back on those memories I barely recognize the girl I was.  Each new exercise that I "conquered", each additional plate that I put on the bar, each new workout gave me a huge feeling of empowerment that has carried over to other facets of my life.  My husband jokingly asks what happened to the mild and meek girl that I had always been.  Well, she found her true self after learning to lift heavy.  I'm confident and happy and maybe at times I'm a little more than he can handle.  It's not a bad problem for him to have really. 🙂
5. How has the Get Glutes forum helped you in achieving better results? 
The forum really makes Get Glutes.  The members have access to you and Kellie every day.  We can send in form checks or ask questions and you both will personally get back to us within a few hours usually.  The videos of each exercise gives us the normal variation, the regressions in case we're not strong enough, and progressions for the more advanced lifters but the forum gives us a chance to interact with you and Kellie so it's like having our own personal trainer.  I'm thankful for all of those times you pushed me so much higher than I ever thought I could reach.  I would laugh and think my new goals you had set for me were totally crazy but after a day or two I would totally buy into it and believe that I could reach those goals.  I may not have the biggest glutes or the best glutes but I have some damn strong glutes and I'm proud of that!
The other unique thing about Get Glutes is that you get to interact with the other girls who are doing the same program as you. I loved the friends that I have made on there.  We have shared many laughs, cheered one another on, gave comfort on those days that didn't go so well, and have helped the newbies learn the ropes.  I have been on many exercise forums but this is the first that is always a positive and supportive group .
6. Fantastic Tammy! Last question, what are your top five tips for women who are new to fitness and are looking to improve upon their physiques? 
Set short-term and long-term goals.  A short-term goal would be something you want to accomplish by the end of the month.   A long-term goal would be a weight PR you would like to hit in 3 months.  Pick out a particular exercise and set a PR goal for that exercise.  Hip thrusts and back extensions/45 degree hypers were my favorites and so I was constantly pushing the envelope on those.  It makes it fun but it also keeps me focused on doing more.
Progressive Overload—Bret has a great article on this.  Read it.  Read it again.  (HERE is the link). Then read it one more time.  Progressive overload is where it's at.  Record your workouts each and every time!  I know that sounds so nerdy but it's important to track your weights so you can effectively use progressive overload.
In Get Glutes we use a variety of rep ranges— we might do sets of 5, 8, 20, 30, or even 100 and we always use heavy weights even with those high rep sets.  Pay attention to what your body responds to and alter your program accordingly.  My body loves high rep stuff although my mind isn't always in agreement.  So I might do heavy sets of deadlifts (sets of 5 reps) one day but the other two days I would do sets of 20 to 30.   Not everybody will respond the same so you need to figure out what works for you.
If an exercise hurts then find a different variation.  This is one of the most important things that I learned from Bret.  I used to think that I was cheating if I didn't do a workout as written but he proved me wrong.  There's a lot of good exercises out there to choose from.
Take a video of your form.  I can't tell you how different you *think* you look versus how you actually look doing an exercise.  It was one of the most humbling things that I have ever done but it made a huge difference in my lifting.
Thanks again Bret for giving me this opportunity to talk about my experience with Get Glutes.
Here are some numbers you asked for previously which I didn't include in the interview:
Hip Thrusts:
Month 1 Started at BW 3×20
6 Weeks 3×5 225 pounds
14 Weeks 3×10 225 pounds  "The Official Hip Thrust Club"
Month 5 330 pounds…3 times my body weight!!!
Month 7  225×25; 295×8
45 Degree Hypers
Month 2 Started with body weight
Month 5 3×20 65 pounds
Month 6 3×6 90 pounds (I weighed 110 at the time :-))
In November 2014 I decided to increase my protein and change my training to focus a little more on high reps for glutes and hamstrings because they responded well to that in the past and high volume for my quads because of my chronic lower back and hip flexor issues.  I did lots and lots of sets of low box squats and goblet squats since they didn't both either my back or hip flexor.  I now have very prominent hamstrings and great separation between my hamstrings and quads.  Although my quads are still lagging, my legs look the best that they ever have and for being 44 I couldn't be happier.  I recently added in conditioning for the first time in over 2 years.  I'm wanting to get a little bit leaner without having to alter my diet.  We'll see how it goes 🙂
Here are some progress pics… The last 3 pics in the line are from Month 1 GG in March 2013, 1 year GG, and 2 years GG.   There's not a huge difference in the pics themselves but there is a huge difference in the density of my muscles in person.  This is one time that pictures really don't tell the whole story in my opinion.  A few days ago a guy at the gym told me he bet all of the ladies at the beach were hating on me.  He said I had put in a lot of hard work and it had paid off.  It was a nice random compliment from one of the guys who used to pick on me for doing "those crazy exercises".  Another guy saw me taking a video for a form check one day and he asked what I was doing.  After I explained he said, "oh, I check your form every day and I can assure you it's excellent"–a little cheesy but he's old and cute so I'm ok with it 🙂