Today's article is an incredible guestblog from Emily. I'm sure there are many others out there who have experienced similar results. You've implemented my advice and have gained tremendous glute strength and function, yet your glutes haven't changed much in shape and size. Here's Emily's outlook (you gotta love the detailed graphs too!):   
Progress in Glute Training: It's Not Always What You'd Expect (But It's Still Progress)
By Emily
Six months ago I was at a pretty good place with my fitness.  I could do 10 pull-ups.  I could bench press my body weight.  I could run every stair in the Harvard stadium in under 20 minutes.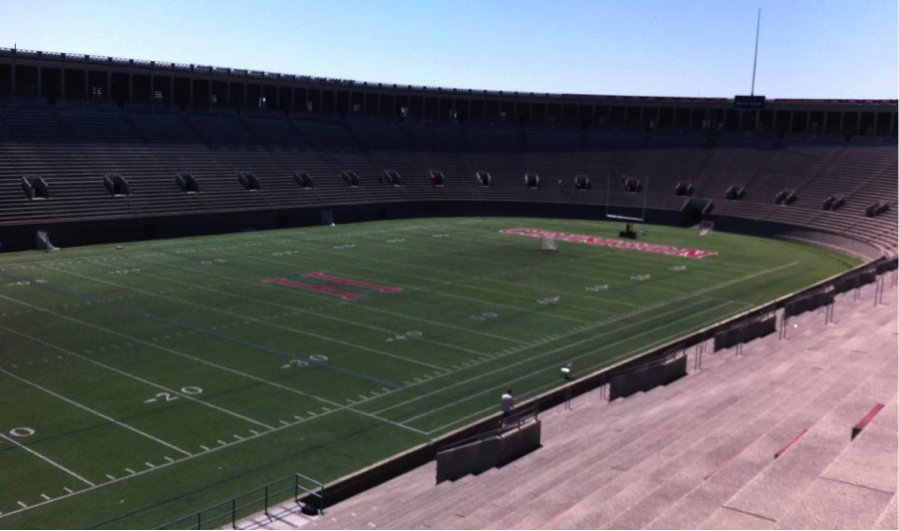 I made that part up. I never actually timed it, but it was pretty fast.
I had found that sweet spot where my training, nutrition, and lifestyle were so dialed in that maintaining a physique I was proud of felt almost effortless.   Sounds pretty good, right?  Well, it was.  There was only one problem…  I was bored.
I'd been cruising along in maintenance mode for a couple years and had started to develop a compulsive habit of buying neon sneakers as a means of keeping my workouts fresh and interesting.  I needed a challenge.  I had known for a long time that my lower body strength had a lot of room for improvement, but I figured that I was already strong enough to do everything I wanted to do, and didn't see the point of trying to get any stronger.  At least, that's how I justified it… the real reason I hadn't committed to improving my lower body strength was because I was too scared of not being able to fit my quads into my pants.
But then I came across a review of Strong Curves in the blogosphere.  If you happen to be reading this and have never heard of Strong Curves, it's a book about glute training by Bret Contreras and Kellie Davis. I'd never thought about training my glutes before, and growing myself a booty was appealing to me in the same way that getting a cool new haircut is appealing, but without the risk of ending up with a mullet (that seems to happen to me a lot).  If I've learned one thing over the course of my fitness career, it's that sometimes forward progress requires you to suspend your disbelief and take a leap of faith into something that seems scary.  So… I leaped.
And it didn't take long for me to become completely obsessed with glutes… any of you who are also obsessed with glutes can attest to the fact that normal people don't, in fact, want to talk about glutes all the time (weirdoes!).  So I did what any reasonable girl would do and I joined Get Glutes, where there are a bunch of cool chicks that like to lift weights and talk about glutes.  It's completely normal for things like "…and then I had the best butt pump ever!!!!" (direct quote) to appear in our training logs.   There's nothing not to like about that.
I just finished my 6th month of training Bret Contreras style (4 months of Strong Curves and 2 months of Get Glutes), and here are the improvements I've noticed:
1. I've Gotten Stronger
The graph below shows my one rep max hip thrust, deadlift and squat over the past 6 months.  Shamefully, I didn't start keeping a training log right away, so I had to estimate my starting points (estimated data are indicated by the dotted lines). Since starting the program I've added about 135 lbs to my hip thrust, 50 lbs to my dead lift, and 40 lbs to my squat.  I think this is pretty good!  Actually, I have no idea whether or not it's good, but I'm really happy with it.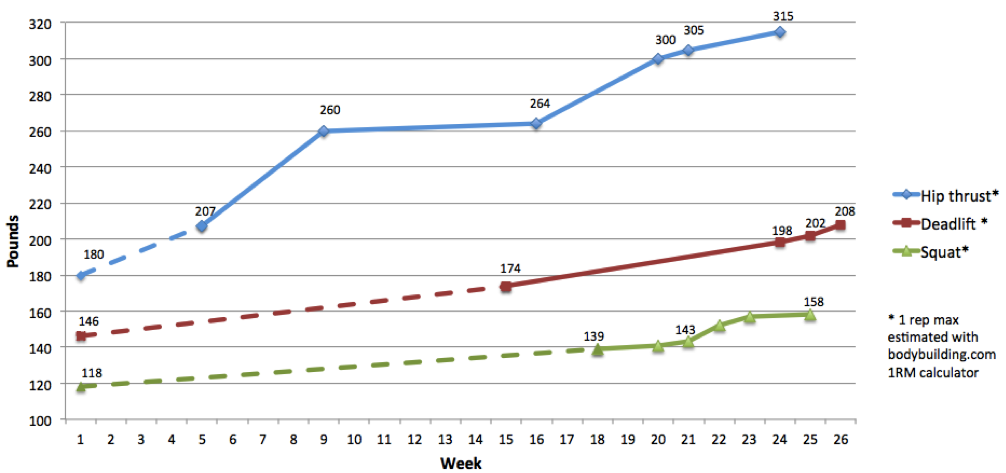 Getting stronger just for the sake of getting stronger is awesome in and of itself because it makes you feel like a total badass.  But the added bonus for me is that I'm a skier.  A stronger skier is a better skier, and I'm going into this ski season significantly stronger than I've ever been. I asked my dad if he thought I would instantly start skiing like Bode Miller, and he said no. Not the answer I was hoping for.
2. My Movement Patterns Have Totally Changed
Somewhere around month 4 I went hiking and felt a very strange sensation in my glutes… it was muscle fatigue!  I realize this doesn't sound strange, but a few years ago I hiked all 67 4,000+ ft mountains in New England and never once felt anything in my glutes.  They were lazy freeloaders!  Here I am with my lazy freeloading glutes on the Knife's Edge of Katahdin in Maine: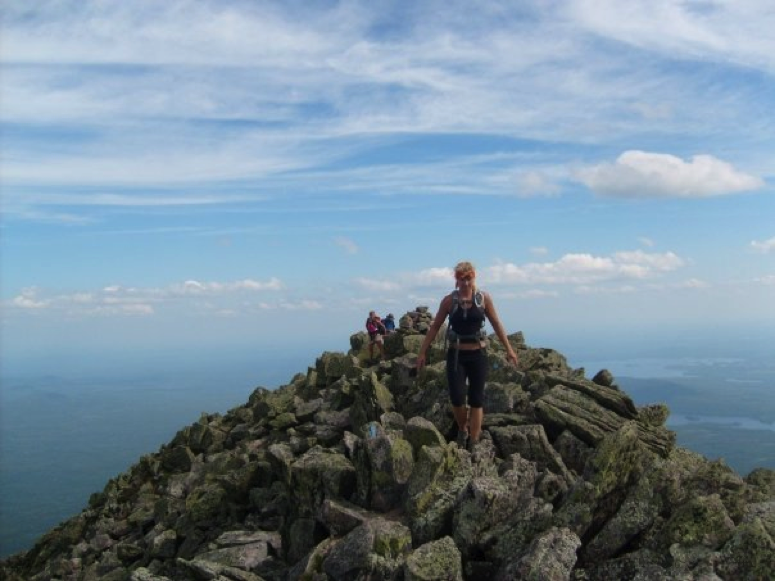 Now, I intuitively push through my heel and activate my glutes in everyday activities, and in the gym I can feel my glutes engaging during quad dominant lifts like squats and lunges.  I never could before.  It's been really cool to see my nervous system rewiring itself.
3. I Overcame my Fear of Heavy Lower Body Lifting
I used to stick with plyos or high rep lifting because I worried that anything that resembled progressive overload would make my legs, well… for lack of a better word…"bulky". Getting past this mental block has been pretty liberating.  (For the record, I didn't get "bulky".  More on that in a bit.)
4. I Proved to Myself that I Don't Have to do Cardio to Stay Lean
A few years ago I would have had a panic attack if I didn't go to at least four spin classes a week.  Over the years I whittled my weekly cardio down to just a few short interval sessions, and when I started Strong Curves I cut it down to just two (20 minutes or less).  Now I'm down to one (sometimes.  If I feel like it), and I haven't gained any body fat.
I was about to say that an added bonus to eliminating cardio is that I spend a lot less time in the gym, but being a fitness junkie I actually LIKE spending time in the gym. Although, now that I spend a lot less time in the gym I find that I really look forward to my workouts, so I guess that's the added bonus.  Speaking of which, tomorrow is deadlift day.  WHY IS IT NOT TOMORROW YET???!!!
5. I'm Learning a lot of Things I Never Knew I Didn't Know
About biomechanics, training strategies, form, what works specifically for my body, etc. I love that my form is continuing to improve, even on lifts I've been doing for years…there's more technique involved in lifting weights than I ever imagined.  I find all of this stuff to be fascinating.
Ok, it's time for a pop quiz.   What would you have expected to be on that list that isn't?
If you guessed, "I grew enormous glutes", you would be correct!
Let's look at the facts:
Below is a graph of my weight and measurements over the past 6 months.  For illustrative purposes, I overlaid these data on top of the 1RM data from the graph I posted above.  Notice that while my strength went up, up, up, my weight and measurements stayed the same.  Going back to item #3 above, my fear of getting bulky, you can see that my legs didn't get any larger (blue line), and since my weight (red line) stayed the same, I can conclude that I maintained my body fat despite doing very little cardio (I've put on at least a little bit of muscle, so if anything my body fat has decreased).
But you can also see, per the green line, that my butt didn't get any bigger.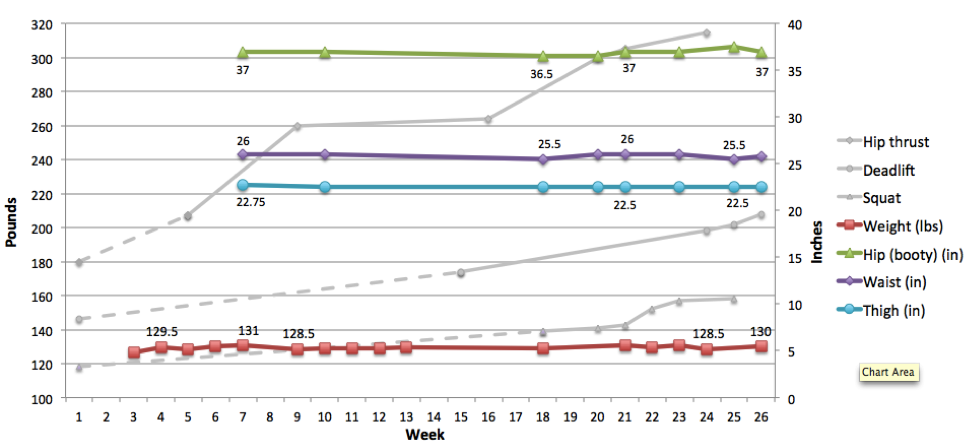 Now for the photographic evidence:
Here are my before pictures, along with my 2 month, 4 month, and 6 month progress pictures.  Let's be honest, if I hadn't labeled them you probably wouldn't have known which picture was the "before" and which was the "after".  I look pretty much the same.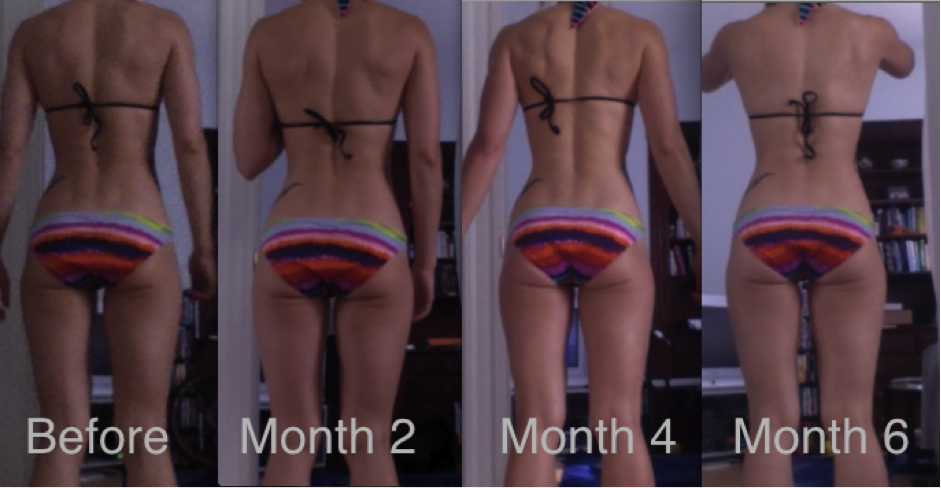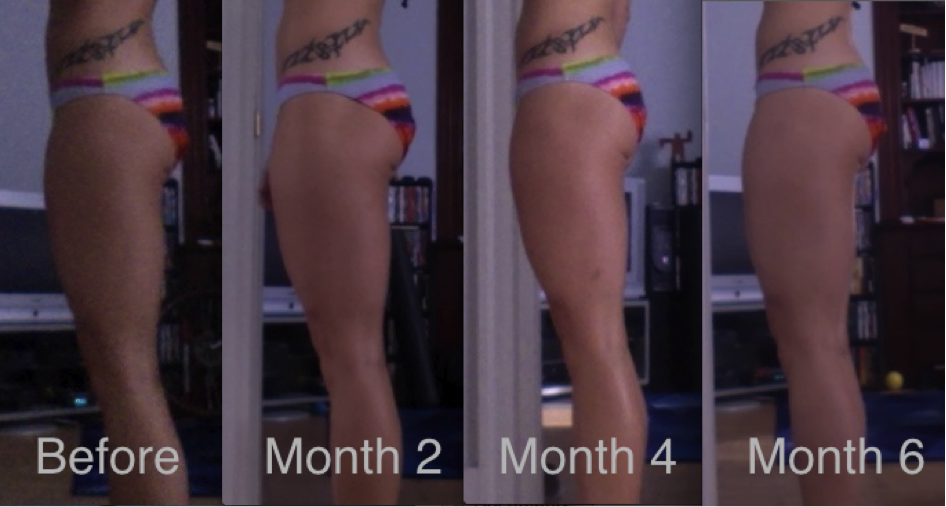 So, to what do I attribute my lack of booty growth? Well, it's certainly not for lack of trying… I did everything in my power to facilitate glute growth including nightly chants of "I must!  I must!  I must increase my butt!" (OK fine, I only did that once).  It's possible that I'm just at a plateau and as I continue to forge forward my hip measurement will eventually start to tick up, but I don't really think that's the case.  My guess is that a combination of my fitness level at my starting point (while my lower body strength wasn't optimized, I was at a pretty high fitness level overall and therefore had limited potential for growth) and good old-fashioned genetics mean that significant glute growth is just not in the cards for me.
I feel the need to clarify that I'm not disappointed about this. First of all, I HAVE noticed some subtle physical changes that don't show up in the pictures; my upper glutes are a bit more round, and my legs look better ("Leaner"?  Not really.  "More defined"?  Not quite.  "Shapely"? Sort of, but that word sucks.  I'm just going to stick with "better").  My training partner has noticed the changes too… it might be because she spends a lot of time scrutinizing my butt when I'm in the lockout portion of a deadlift, but I don't care, it still counts.  (And don't worry…I scrutinize her butt too, so it's fair.)  At my fitness level, physique changes don't come easily, so I'm happy with these minor changes.
Here you go, I dug up some more photographic evidence for you.  Note the blue arrow… those are my newly rounded glutes.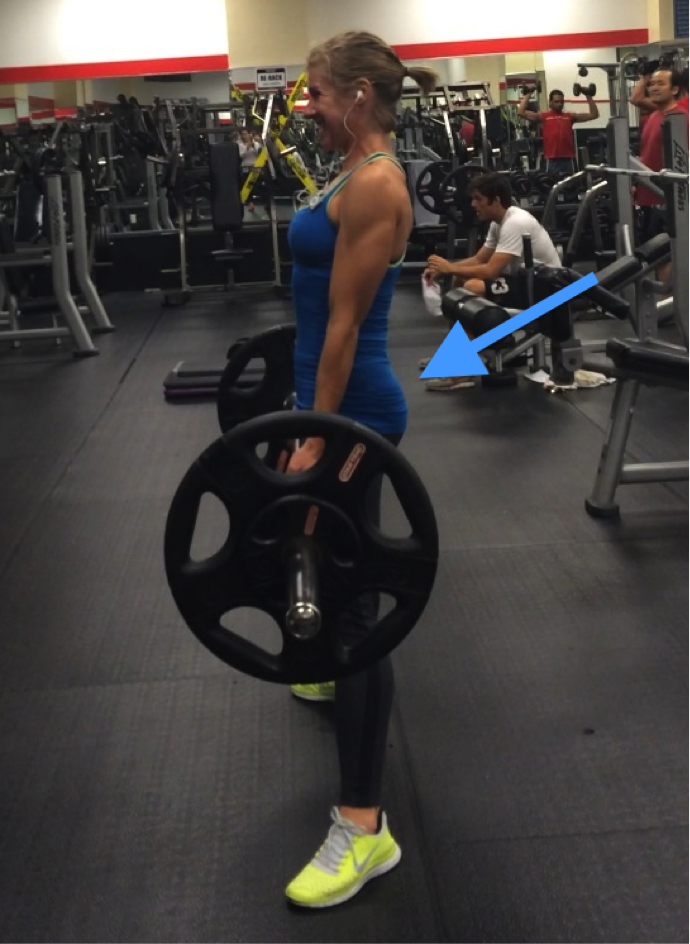 And second, I came into this program with no expectations… sure, my glutes didn't grow as much as I thought they would, but I also experienced progress in ways that surprised me.  I would have been pretty happy to accomplish just one of the 5 things on my list above, so I consider my glute experiment to be a grand success.   I look forward to seeing what changes the next six months of glute training will bring.
You know, there's a lot of talk in the fitness industry about "being the best you you can be", and my experience with this program has gotten me thinking about what that really means.   A lot of people go into training programs with the intention of accomplishing a specific aesthetic result, like "I want to weight X lbs", "I want to be X % body fat", "I want to 'fix' a particular 'flaw'".  And, while this kind of goal can be useful to help structure your training plan, at the end of the day you can't really control what your body does… all we can control is the way we train and the way we live our lives, and our body is going to do what it wants to do.  I don't mean this to be discouraging, in fact, for me this realization was liberating; rather than trying to manipulate my body to be a specific shape or size, I could just focus the things I could control, and stay open-minded to where that might take me.
The thing is, the best you you can be might not end up being exactly what you thought it would… but it also might pleasantly surprise you.