Shelley has been a Get Glutes member for over a year and a half. When she first started, she wasn't very happy with her physique.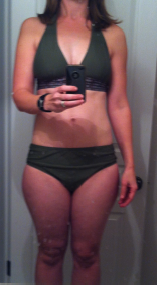 Can you imagine how she would have felt if someone informed her that in a year and a half, she would gain 4-5 more pounds of body weight? She would have been pissed off for sure. As it turns out, that's exactly what happened. And what if she'd been told that she would work her butt off in the gym for 18 straight months, but then been shown the following graph that charted her changes in measurements?
Again, she would have been highly discouraged. But this is exactly how it went down. Shelley busted her butt in the weight room for 18 months, and the weight on the scale didn't budge (it actually went up 4-5 lbs), and her measurements didn't change to much degree.
But of course, there's more to the story. Shelley dragged herself to the gym week in and week out, pushing herself to the limit and striving for PR's. She fought like crazy for an extra rep or an extra five pounds.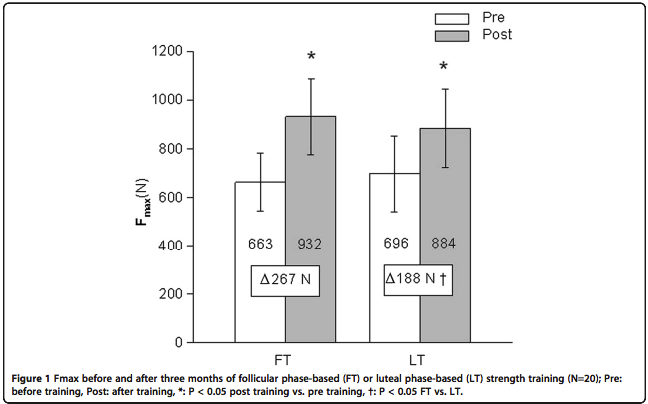 Lo and behold, she began to see changes in her body shape. With every PR, with every additional rep, with every extra plate on the bar, she was rewarded with minor changes to her physique. Over time, these small changes accumulated. Eighteen straight months of consistency and hard work turned these minor changes into something major. Here is Shelly's physique progress.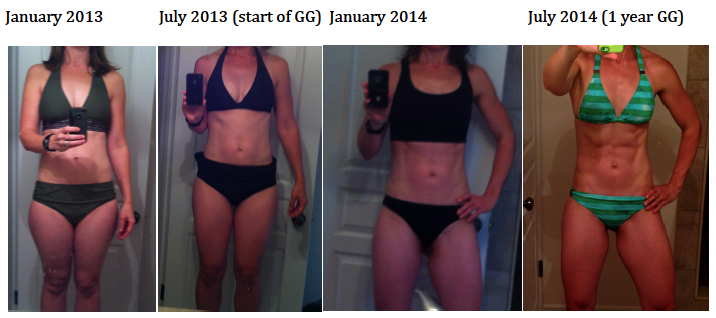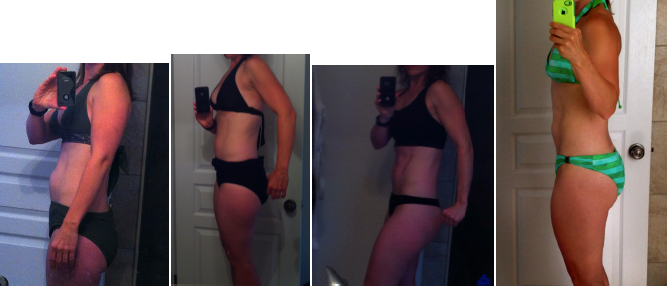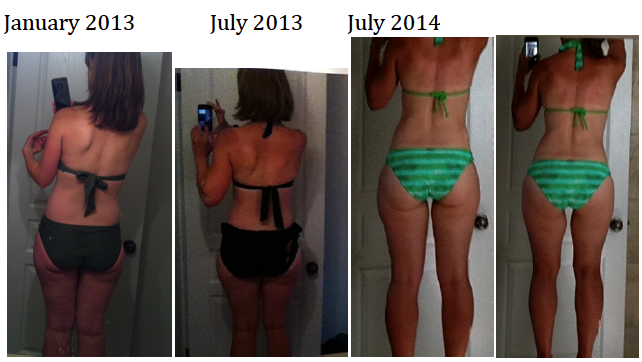 Here is what Shelley had to say about the Get Glutes process:
So, here are my accomplishments this year…

-I'm really happy with hip thrust and barbell glute bridge numbers as well as 45-degree hypers and bench press.

-I can do 4 unassisted chins and pull ups. 

-I hit a PR of 175 on the DL which is huge for me.  I have to be so conservative with this lift and it used to make me feel like a failure.  At one point I was resigned to never lifting more than 135lbs.  Now I hope that if I keep working away with dynamic effort I might eventually sneak my way up to 225.  But for now I'm just really happy to have pulled 175 for 3 reps with absolutely no back problems.  I feel like with this lift where I am now able to gauge what is doable and what is risky without feeling like I'm being a slacker.  This feels like progress.  In some ways it is kind of liberating to realize I'm not ready to pull a certain weight and walk away from the bar.  Instead of feeling like failure, it's more like, "ok, I'm not ready yet".  I kind of look forward to going back, plugging away using dynamic effort, knowing that eventually I will get there safely.  

-I probably gained somewhere between 4-5 lbs and don't care.

-I've noticed huge overall changes in my mindset.  I love thinking in the long run now.  It makes everything feel so manageable.  I also love that I found a form of exercise that I look forward to and that doesn't feel like something I have to do so that I don't get fat.  

-I think my eating habits have improved in the sense that I don't freak out or catastrophize when I have pms and crave sugar.  I can just accept it because I know my body can handle it because the rest of the month I'm eating clean and putting in the effort at the gym.  It's also easier to avoid junk food without feeling like I'm depriving myself.  Before it used to be that I didn't eat the stuff out of fear of getting fat, which felt like deprivation.  Now I avoid it because I don't want it to negatively impact my training.  For some reason that doesn't feel like deprivation.  

Things for the next year….

-I'd like to improve my bench press and squat numbers.  I would love it if I could bench my bodyweight at some point. I've been shying away from the squat because it's a hard lift for me.  When I look at my 1RM graph it's the only lift that I haven't made gains on, but it's also the only lift I haven't really worked on.  The lack of progress is totally because of lack of effort, which is probably more psychological than anything.  Time to remedy that.

-Continue to build more muscle, especially shoulders and lats.
Strength training is a funny animal. There will be times when the scale doesn't budge. There will be times when your measurements don't change. There will be times when your strength stagnates. Some days, your physique will appear to be getting worse. But the human body adapts in waves, and if you stick with strength training and work hard, you will see major improvements. With smart training, sufficient effort, sound nutrition, and consistency, you can transform your physique and radically improve your health. But simply showing up to the gym isn't enough. You must be getting stronger at the most important movements for your goals. Strength creates curves.
One last thing I failed to mention – Shelley is the mother of five kids! Great job Shelley, we're so proud of you.
For more inspiring stories:
See Kristen's story here: Strength Trumps Conditioning for Body Improvements
See Mariah's story here: Transform Your Physique: Mariah's Story