Quick Summary:
Hip thrusts are markedly more effective than front squats at improving sprinting acceleration, max isometric midthigh pull force, and max hip thrust strength in male teenage athletes. They also outperform the squat in horizontal jumping in male teenage athletes
Front squats are markedly more effective than hip thrusts at improving vertical jump and max front squat strength in male teenage athletes
Functional transfer from resistance training to performance is not based on what an exercise looks like but rather a variety of factors including the direction of the force vector, the torque angle curves and accentuated ranges of motion, levels of muscle activation elicited, and more
In teenage male athletes, hip thrusts build half as much strength as front squats at front squatting and front squats build half as much strength as hip thrusts at hip thrusting, indicating that various hip extension exercises transfer over to each other quite well
Future research is needed to compare the effects of squats versus hip thrusts (and versus deadlifts) in other populations. Different periodization protocols and training durations should be examined and a comprehensive battery of performance outcomes should be tested. Finally, hypertrophic adaptations should be examined in future research as well
Hi Fitness Friends! This is part IV of a 5-part series on squats versus hip thrusts. The data from this series comes from my doctoral thesis, which should hopefully be posted online for anyone to read next year (assuming I pass my defense in December…wouldn't it be hilarious if I hyped this up and then failed my defense and PhD?). Parts I and III look at mechanistic data, namely what happens when you perform the two exercises while wearing electrodes or while on top of a force plate. Parts II and IV look at what actually happens following a 6-week training protocol. Part V will summarize the findings and point out limitations and directions for future research. I'll post part V over the next week or so.
Squats Versus Hip Thrusts Part IV: Training Effects

Squats Versus Hip Thrusts Part V: Wrap-Up
And now for part IV – the findings that should make a very large impact in strength & conditioning practices around the world. Speed is king in sports. Don't believe me? Watch this rugby video:
There's certainly much more to sports than just speed; Usain Bolt couldn't simply dominate every ground sport imaginable without mastering other aspects of each individual sport. However, if you can run like the wind, you have a huge advantage in sports like football, soccer, rugby, baseball, lacrosse, and obviously track & field. Until now, the vast majority of coaches believed that the best exercise for improving sprinting speed is the squat. But the squat does not maximally activate the glutes, and it poorly activates the hamstrings, which are known to be the most important muscles in sprinting. Moreover, the squat works the muscles effectively way down deep in a flexed position, but not so much in an upright position which is characteristic of applying force into the ground while running.
I have been saying this for years (that hip thrusts seem better than squats for the purpose of improving acceleration and speed), as have other coaches. However, our speculation has been met with considerable hostility in the fields of S&C and T&F. In the past, all we had was theory, but now there is some evicence. Three months ago I alluded to this study HERE, and it's the first to lend some support to the claim that the squat isn't the best exercise for maximizing sprinting acceleration.
The study was 6 weeks in duration and consisted of two training sessions per week. If you think about it, 12 total training sessions is nothing. I was worried that it wouldn't be long enough to elicit any significant improvements. Luckily, my fears were unfounded, at least for this population of male teenage athletes. One group performed just front squats for lower body for all 12 sessions whereas another group performed just hip thrusts for lower body for all 12 sessions in a periodized fashion that started out with sets of 12 reps and finished off with sets of 6 reps.
Pre and post testing measured 10m acceleration, 20m acceleration, vertical jump, horizontal jump, maximum isometric midthigh pull, 3RM front squat, and 3RM hip thrust. Here are the results of the study:
As you can see, the "Force Vector Hypothesis" does seem to be legit in that front squats better improved vertical jump and hip thrusts better improved acceleration and horizontal jump. The twin experiment detailed in part III also lent support to the force vector theory.
One performance measure that didn't adhere to the force vector hypothesis was the isometric mid-thigh pull (iMTP). The iMTP is a vertical task, but the front squat didn't improve this task. In contrast, the hip thrust improved it very significantly. This is likely due to the ranges of motion stressed in the two lifts; front squats work the muscles down deep in hip and knee flexion, whereas hip thrusts work the hips more in greater hip extension.
This could infer that hip thrusts are better suited than front squats for improving deadlift lockout strength, and one thing I failed to mention in the twin study was that following the 6-week DUP protocol, Ashley (the hip thrust twin) was much stronger than Cassy (the squat twin) at deadlifting. I surmise that they were dead equal at deadlift strength prior to the training regimen and that it was the exercise performed that accounted for the improvements, but I didn't measure deadlift strength pre and post training so this is pure speculation on my part. Future research should examine the transfer of squats versus hip thrusts to deadlift strength, and possibly even break it down into isometric deadlift strength at lift-off, just below or above the knees, and at lockout.
Many powerlifters lately seem to suggest that pure specificity is the only way to improve a lift, and they tend to ignore the potential transfer from one exercise to another. While it is obvious that performing the specific lift is the wisest and most efficient way to improve a lift, many coaches have indeed noted transfer from one lift to another and therefore employ assistance lifts to strengthen muscles and improve sticking regions.
This study showed that an athlete that performed the hip thrust gained half as much front squat strength as an athlete performing the front squat, and an athlete that performed the front squat gained half as much hip thrust strength as an athlete performing the hip thrust. This is very important as it could mean that maximizing powerlifting strength requires the utilization of assistance lifts, and it likely means that strength on one lift can be maintained to a greater during times of injury by performing other lifts. For example, an athlete with a low back or knee injury might be able to maintain much of his or her squat or deadlift strength by performing hip thrusts if well tolerated. This is why it's so important to train around injuries and not through them.
I'll expand on the limitations of this research in the final part of the series (part V), so please stay tuned for that in the next week. But I would like to mention that the subjects in this study had performed front squats the previous year and not hip thrusts. This should be considered as it may have impacted the results.
Forward thinking strength & conditioning coaches should seriously consider 1) making the hip thrust a staple in their programming, if they haven't already, 2) possibly centering their programming around hip thrusts and making it the first exercise performed during the day and week, 3) possibly periodizing training around maximizing vertical and horizontal force production performance, 4) consider having separate stations dedicated solely to hip thrusting so that benches and power racks aren't being used up.
However, more cautious strength coaches could indeed make a mental note of these findings and wait for future research to duplicate the findings on athletes from other sports, or female athletes, or more highly trained individuals.
Please note that this research was carried out by New Zealand strength coaches; I was blinded from the training and the testing. Also please know that I wanted to test the back squat and not the front squat, but the head coach was more comfortable having his teenage athletes front squat, for which I was very understanding of. It's important for researchers to be flexible when working with strength coaches during training studies; rigid individuals are unable to collaborate and get any research done. I intend on submitting this research to a sports science journal and getting it published, so hopefully you'll have a more detailed report pertaining to this data at your disposal in the next 6 months or so.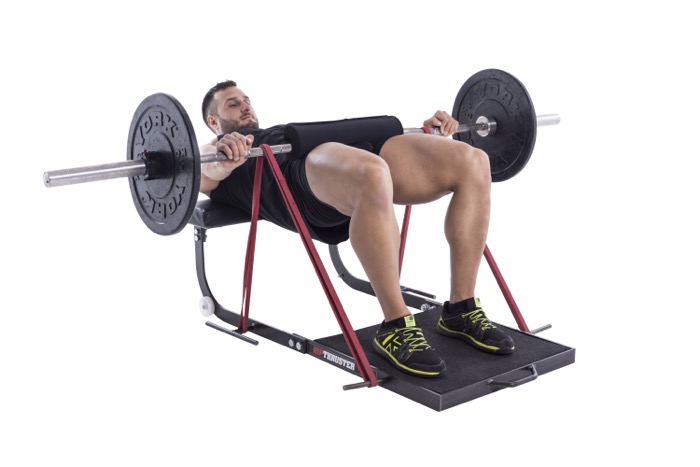 The Hip Thruster is the best way to do the hip thrust – stable and versatile!