Quick Summary:
Squats and hip thrusts both lead to improvements in squat strength, hip thrust strength, horizontal pushing force, and upper and lower gluteus maximus hypertrophy
Squats are better suited at increasing squat strength, at least in this experiment
Hip thrusts are better suited at increasing hip thrust strength, maximum horizontal pushing force, and upper and lower gluteus maximus hypertrophy, at least in this experiment
Squats grew the upper glutes by 20% and lower glutes by 21% over the 6-week period
Hip thrusts grew the upper glutes by 28% and lower glutes by 28% over the 6-week period
Squats increased maximum horizontal pushing force by 20%, hip thrusts increased maximum horizontal pushing force by 32%.
A randomized controlled trial with ample subjects is needed to expand upon these findings
Hi Fitness Friends! This is part II of a 5-part series on squats versus hip thrusts. The data from this series comes from my doctoral thesis, which should hopefully be posted online for anyone to read next year (assuming I pass my defense in December…wouldn't it be hilarious if I hyped this up and then failed my defense and PhD?). Parts I and III will look at mechanistic data, namely what happens when you perform the two exercises while wearing electrodes or while on top of a force plate. Parts II and IV will look at what actually happens following a 6-week training protocol. Part V will summarize the findings and point out limitations and directions for future research. I posted part I last week, this article is part II, and I'll post parts III-V over the next couple of weeks.
Squats Versus Hip Thrusts Part II: The Twin Experiment

Squats Versus Hip Thrusts Part III: Forcetime Data

Squats Versus Hip Thrusts Part IV: Training Effects

Squats Versus Hip Thrusts Part V: Wrap-Up
As many of you know, I recently trained a pair of identical twin sisters three times per week for 6 weeks using a daily undulated (DUP) approach, with one performing only squats for lower body and the other performing only hip thrusts. It was cool to attain a pair of identical twins since the genetics of strength and hypertrophy gains is huge (see HERE for an intriguing write-up from yours truly from 4 yrs ago). The twins have been exercising regularly for 12 years (randomly, their dad is actually the inventor of Powerblock dumbbells!), but they'd never progressively trained the squat or the hip thrust. The 6-week program led to incredible gains in strength, glute mass, and function, and I'm excited to share the results with you below.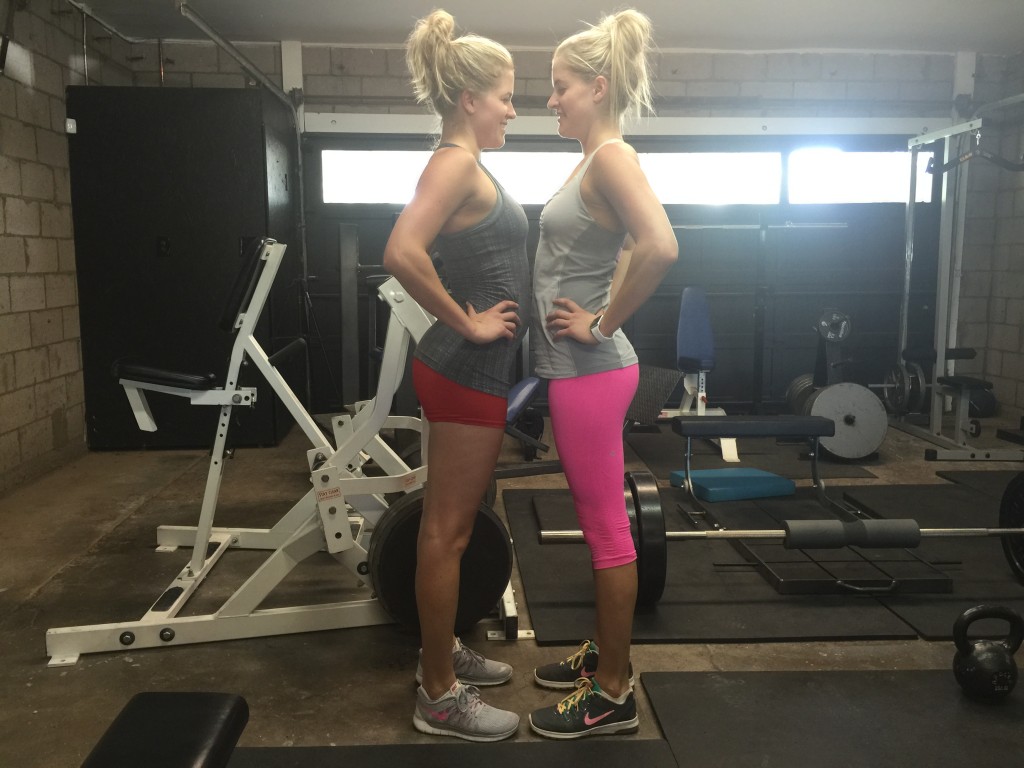 Force Vector Theory
First, let me set the stage. In 2009-2010, I created a theoretical model pertaining to transfer of strength training to performance that related to the force vector. Of course, there are many more factors to consider with regards to transfer of training, but I surmised that the force vector played a huge role in determining the nature of transfer to sport action and functional performance. HERE is the article I wrote on my blog six years ago, but I'd prefer that you click on THIS link as I updated the article  for the NSCA's website last year.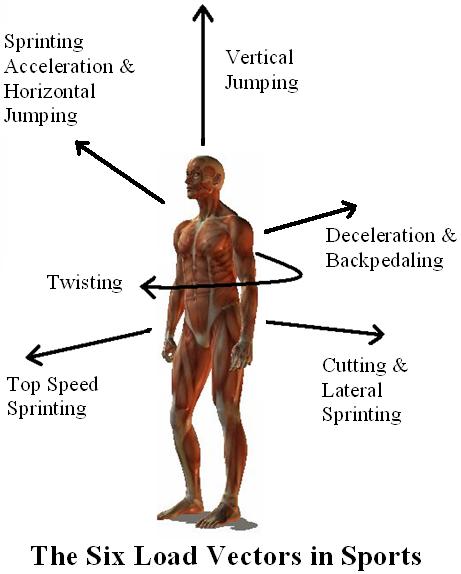 The model was accepted and applauded by many S&C professionals and scoffed and ridiculed by others. Even now, there isn't much previous research to go by as the published studies examining the transfer of horizontal to vertical exercise and vice versa mainly used plyometric and not strength exercises. There are plenty of correlational studies to go by, but correlation does not imply causation.
Horizontal Force Test
While this "Force Vector Theory" is sexy and intriguing, it was purely theoretical. There were no experiments that had been conducted to test the model's validity. While there are numerous tests of vertical strength that have been previously used in sports science, for example the 1RM squat, 1RM deadlift, isometric squat, and isometric mid-thigh pull, there isn't a single horizontal force test used previously in the literature. That is, until now.
I came up with the idea of a maximum horizontal push test during my last week in New Zealand several years back, and it's such an obvious effective test in my opinion; it should be used frequently in future research to come. To perform the test, you simply stand on a force plate with your arms parallel to the ground and your torso at a 45 degree angle and push into the wall as hard as possible for 3-seconds while standing on the dominant limb. Maximum horizontal force is recorded over 3 trials, and you record the average peak force of the 3 trials. I put grip tape on the force plate and set it on a rubber mat to ensure that no slipping or sliding occurs. We tested the reliability of this test and it's very reliable. This will be published in time.
The Training
Three times per week, the twins performed 3-5 sets of 6-15 reps of their individual lift (hip thrusts or parallel back squats). Day one was 4 x 10 (with around 75% of 1RM), day two was 5 x 6 (with around 85% of 1RM), and day three was 3 x 15 (with around 65% of 1RM). However, if the subject could perform more reps on the last set, she did (so the last set was an AMRAP set which stands for "as many reps as possible").
After their lower body lift, the twins performed 2 sets of either incline press, bench press, or close grip bench press, then 2 sets of either inverted rows, lat pulldowns, or negative chin ups, then 2 sets of either ab mat crunches, straight leg sit ups, or hanging leg raises.
Loads were increased each week. It should be pointed out that the twins' weight didn't change much throughout the study and they were instructed to follow identical caloric and macronutrient plans throughout the 6 weeks.
The Results (and Some Observations)
Squatting or hip thrusting 18 times over a 6 week period in a DUP fashion elicited the following results:
Early on in the study, I realized that the time under tension (TUT) in the squat was way higher than the hip thrust. The twin performing squats was taking much longer to complete her sets (due to the greater ROM and slower eccentric phase) than the twin performing hip thrusts. Conversely, the volume load (VL) in the hip thrust was way higher than the squat. The twin performing hip thrusts used much heavier loads and did more reps (due to the AMRAP sets) than the twin performing squats.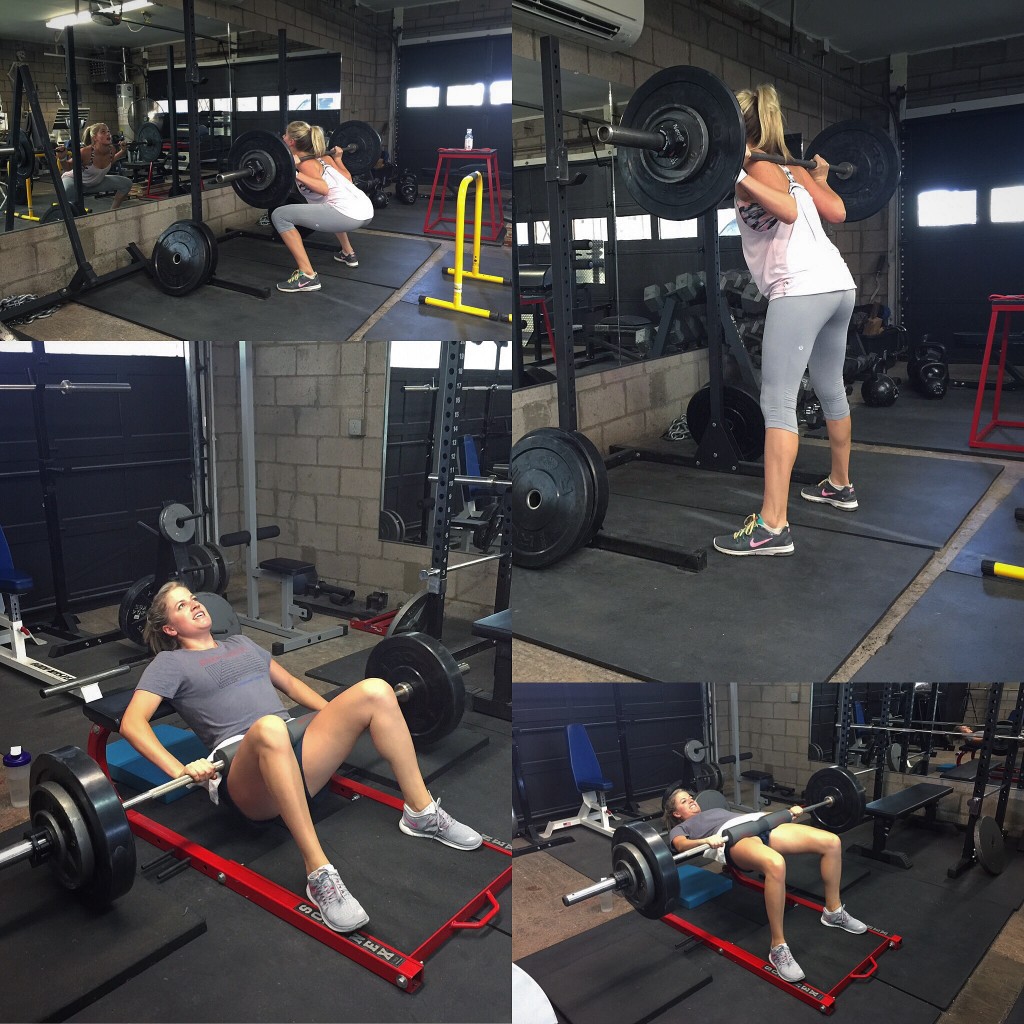 I calculated the time under tension and the volume loads for the entire 6-week period (18 sessions). Squat TUT was 2,964 seconds whereas hip thrust TUT was 1,386 seconds. Squat VL was 25,143 kgs whereas hip thrust VL was 58,978 kgs. Interestingly, when multiplying the TUT by VL (I suppose this is slightly similar to impulse, but not quite the same), the two protocols yielded similar data (squat 75,000,000 kg*s and hip thrust 82,000,000 kg*s). These data don't completely jibe with our force plate findings that you'll read about in part III, so it can't be said that everyone experiences these same results. However, it probably applies well to taller, lankier individuals.
As per the law of specificity, the squat improves the squat better than the hip thrust and the hip thrust improves the hip thrust better than the squat. However, with these twins, the hip thrust built the squat to a better degree than the squat built the hip thrust. This doesn't hold true in a bigger group, as you'll see in Part IV of this series that the two lifts transfer pretty equally to one another.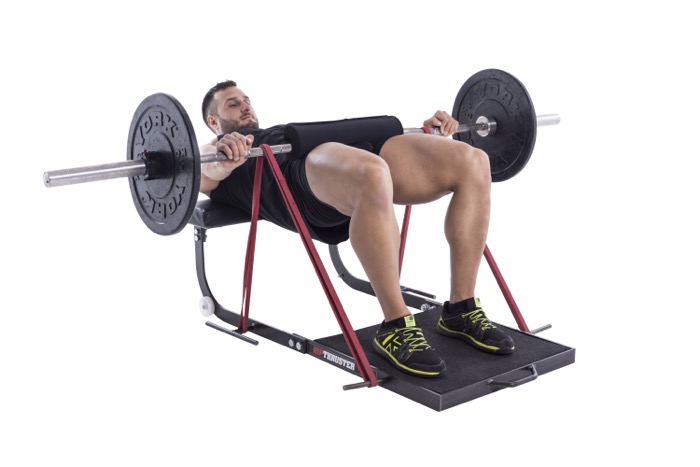 What fascinated me is that the twin that performed hip thrusts didn't perform a single squat during the six weeks. She never even performed a bodyweight squat during her general warm-up. Her 1RM at the beginning of the test was 95 lbs, but at the end of the six week hip thrusting protocol, she could squat 135 lbs with better form. It just looked cleaner and smoother. Conversely, the twin that performed squats didn't improve her hip thrust form much…in fact she seemed to get worse at the hip thrust in that she didn't want to lock out the load and achieve full hip extension. It's important to note that this is just a single subject design involving two subjects; it's not a randomized controlled trial (RCT) with a sufficient sample size.
The squat twin started out squatting 95 lbs and hip thrusting 225 lbs and ended up squatting 155 lbs (60 lb improvement) and hip thrusting 265 lbs (40 lb improvement). The hip thrust twin started out squatting 95 lbs and hip thrusting 195 lbs and ended up squatting 135 lbs (40 lb improvement) and hip thrusting 315 lbs (125 lb improvement).
Based on this experiment, it appears that the hip thrust is better suited for improving maximum horizontal pushing force than the squat. The squat twin started off exerting 309 Newtons of horizontal force into the wall and ended up with 370 Newtons. The hip thrust twin started off exerting 320 Newtons of horizontal force into the wall and ended up with 422 Newtons. These were calculated 3 times on 3 separate days so they're definitely legit.
Interestingly and anecdotally, I've always noticed that I can generate a ton of horizontal force even though my squat sucks. In high school football, I was very good at slamming into opponents and pushing them forward, and I had the weakest squat in the history of mankind. When my interns Andrew Serrano and Joey Percia were with me, we did a horizontal force test and I could outperform both of them, but their vertical force production was much higher than mine as they could probably perform 10 reps with my 1RM squat. I can out hip thrust them, so this jibes with the twin findings. A comprehensive RCT is needed to test the hypothesis that hip thrusts are better suited than squats at improving the maximum horizontal push test.
During the 6 weeks, the hip thrust twin kept talking about how she could feel her entire glutes getting bigger and rounder, however the squat twin would remark that she could feel her lower glutes getting more muscular. I believed that the ultrasound findings would mimic the EMG findings in that hip thrusts would grow the entire glutes whereas squats would preferentially grow the lower glutes, but this wasn't the case. Based on this experiment, the hip thrust appears to be better at building the glutes than the squat, but the squat is still highly effective at packing on glute mass. And interestingly, the squat still builds upper glute mass even though it doesn't lead to high levels of activation. An RCT with sufficient sample size is clearly needed to expand upon these findings.
As a personal trainer, I can attest that these twins are fast responders with regards to glute gains, and their muscle thickness results are very impressive compared to those of other muscles in other studies, however there are a couple of studies that show similar gains in muscle thickness in a 6 week period (but it didn't examine the glutes). Surprisingly, this is the very first experiment that has examined gluteus maximus hypertrophy in the barbell squat and in the barbell hip thrust. Let's get with the program sports science researchers!!!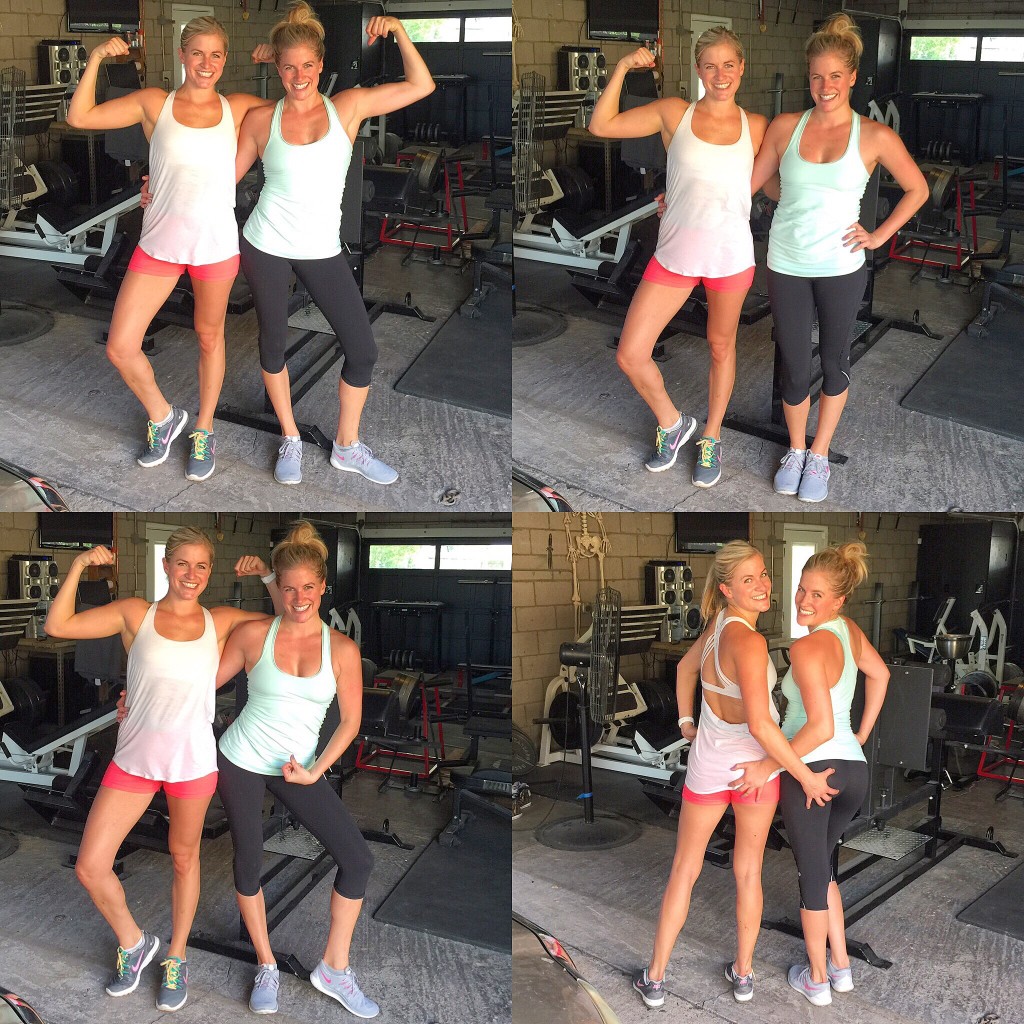 Conclusion
This experiment lends support to the force vector transfer of training theory. It will hopefully be published in time so you can examine a full report of the methods.
Stay tuned over the next couple of weeks to learn how squats compare to hip thrusts in forcetime data (barbell displacement, set duration, force, work, impulse, and power) and in transfer to training (vertical and horizontal jump, 10 and 20m acceleration, 3RM front squat and hip thrust, and maximum isometric mid-thigh pull).