Greetings brothers and sisters in fitness! It's time for another round of Random Thoughts from yours truly.
Here are several items that I hope you find as interesting as I do:
1. New Glute Lab Seminar Dates Announced:  November 5th & December 3rd
The next Glute Lab Seminar is November 5th in Phoenix, AZ. There will be another on December 3rd, also in Phoenix. The cost is $399 and there are 16 seats available for each seminar. First come, first served.
In the morning, I will lecture on the science of glute training and program design. You will receive a pdf of the slideshow, which I update each month to include all the latest research. All of my past attendees receive a new pdf every time it is updated.
After a catered lunch, we will then have a learn-by-doing practical where I will showcase the mechanics, cueing, variations, and progressions of glute bridges, hip thrusts, squats, deadlifts, back extensions, split squats, hip abduction, and more.
To finish the day, we'll have a Q and A, we'll take some fun pictures, and you'll receive some free gifts.
You will leave much more confident and knowledgeable about your glute training and strength training in general. My attendees are always happy with their decision to attend.
Please email my assistant Maleah at maleah@bretcontreras.com if you're interested. I hope to see you there!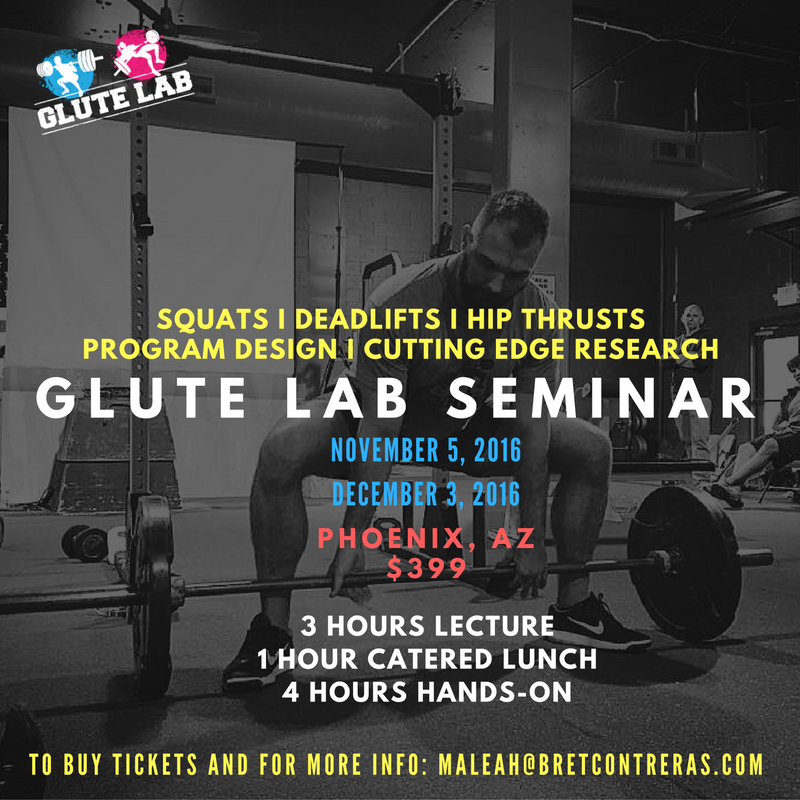 2.  Hip Thrust 10-Year Anniversary October 12th
The 10-year anniversary date of when I thought up the Hip Thrust is quickly approaching and I have been preparing an article for T-Nation highlighting what we've learned along the way. I intend on including my top-20 favorite bridging variations. I have narrowed the list down to nine for a sneak peak on Instagram. I hope you try some of these variations out soon if you are not already including these in your workout programming.
3. Upcoming DUP Post/Strong by Bret DUP Training Cycle Starting October 3rd
An awesome new blogpost is in the works on how to design your own DUP (Daily Undulated Periodization) plan based on my review of the literature, conversations with colleagues, prior experience with the twin study, and my own recent experience following a DUP protocol. This high-frequency approach to training the big lifts has definitely started moving my bench in a kick-ass way (I just benched 315 lbs for 4 sets of 2 reps!) so I'm happy to share what I've learned with my followers and Strong by Bret Members.
If you'd like to join my program and give DUP training a spin, sign up for a free two-week trial of Strong by Bret by October 3rd. There are two membership options to choose from so if you would like form checking feedback and advice, be sure and pick the Inner Circle option. Otherwise, stay tuned for my upcoming article.
 4. The Best Advice for Women Who Lift – T-Nation
THIS  T-Nation article features the advice of many fitness industry pros, myself included. While I do not agree with all the recommendations, I believe that many women would benefit from following my advice and reigning in the volume of their workouts as well as having a more focused approach to strength training. I may elaborate more on this topic in the future as it is something I observe on a daily basis.
5. California Dreamin'
Sayonara, Phoenix! I'm in San Diego for the month. I've rented a condo down on the beach and life is good. I think I could get used to this.
6. Intriguing New Jumping Research
The S&C Research Review service comes out on the first day of every month. The latest edition is about to drop so now is a great time to subscribe if you'd like to stay up to date on the latest in sports and conditioning research. This month's preview topic is Vertical Jumping. You can check out the research preview and subscribe HERE.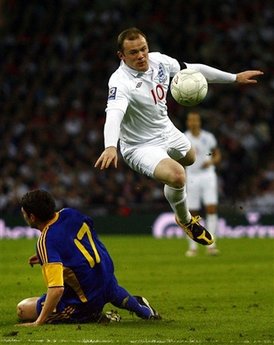 7. October Strength & Conditioning Research Questions
Can resisted sprint training with a sled load of 20% of bodyweight improve sprinting ability? What causes the sticking point in the bench press, the squat, and the deadlift? Interesting questions! Click HERE to see the rest of the October Strength & Conditioning Research questions and subscribe to the research review to learn the answers to these questions and more.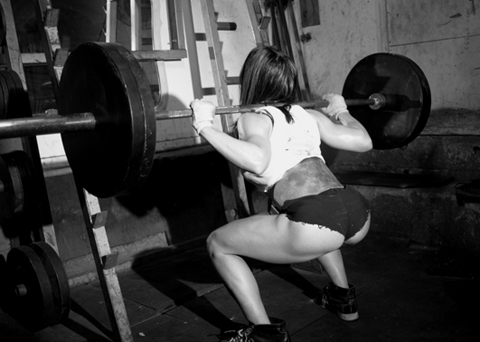 8. New Deadlift PR!
Check out this bad ass training session from Friday night. I set two PRs. First, I sumo pulled 585 lbs for 2 reps. Then, I followed it up with 615 lbs – the most I've ever pulled.
9. Want to Hip Thrust 2,200 pounds?  The Hip Thruster has you covered.
That would be one helluva PR. Check out below to see what happened when The Hip Thruster team loaded up the unit with 2,200 lbs (1,000 kgs). So thrust on with your bad self and know that this sturdy piece of equipment can handle heavy loads with the greatest of ease.
10. SAWEH Episode 7 Interviews Part 2 Somerset, Contreras, Schoenfeld – Eric Helm
You may recall that I presented at the 2016 AFPT Conference in Norway this past August. While I was there, I sat down with my friend and PhD candidate, Eric Helms, to discuss glutes, hip extension exercises, and more. My copresenters Dean Somerset and Brad Schoenfeld also participated so methinks you'll enjoy this interview. Why do I look like a plump and portly LOL?
11. 5-Steps to Arming the Public Against Charlatans and Fraudsters in the Fitness Industry – Alan Aragon
My compadre Alan Aragon readily admits that he churns out a full-length article at the turn of every ice age so I would definitely quench my thirst now and check out his latest article HERE.
12. Fitinfoclub Interview:  Episode 41 – Glute Galore
I was recently featured on the Fitinfoclub podcast to talk shop and discuss how I got into the fitness industry, my PhD research, and (surprise surprise) glutes. You can check out this podcast HERE.
13. High-Speed Hamstring Performance and Injury Prevention
If you are a strength coach, an athlete, or a fellow sports science fanatic, you should take a look at THIS article from Michael Zweifel to see some cool shit pertaining to hamstring training. Michael is a highly innovative dude and I'm glad Joel posted this on his Just Fly Sports Performance site.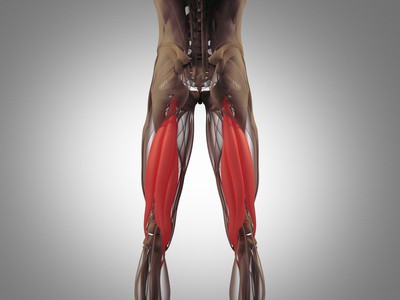 14. PTQ Volume 3 Issue 3
NSCA members – check out Personal Training Quarterly, 3.3. This was an excellent issue, with articles on disrupting unhealthy habits with environmental modifications , hypertrophy training, and a research review on motor control exercise for low back pain. Nick Tumminello, Lee Boyce, and Justin Kompf all contribute so definitely take a look if you can HERE.
15. NSCA Personal Trainers Conference 2016 & NSCA Rocky Mountain Regional Conference
October 14-16 I will be in Jacksonville, Florida presenting at the NSCA Personal Trainers Conference and on December 10th I will be in Scottsdale, AZ presenting at the NSCA Rocky Mountain Regional Conference. Click on the links or pictures to learn more and I hope to see some of you there.


16. Strength & Conditioning Research Infographics
Check out the latest from this incredible collection of SCR infographics, courtesy of Chris Beardsley.
Well, friends, that's all I have for now. I'm hoping that I see some of you at the next Glute Lab Seminars later this fall.
-BC