How's it going fitness peeps? I've got some great articles, videos, rants, and before/after pictures for you to check out. Just keeping you in the know!
Fun Game
Which side of your brain is more dominant?
Click HERE to see which side of your brain is more dominant. Are you right brained, left brained, or an equal mix (like me)? The game only takes 30 seconds and you can't get any answers wrong. Why wasn't school like this?
Randomness
Spreading the Glute Gospel
Sincere thanks to all the ladies who are spreading the glute gospel. Keep it up please! A couple of weeks ago I asked you to Show Me The Booty and you did! You will notice that I now have over 100 testimonials and before/after pics. I'm loving all the social media attention and tagging – you ladies make a glute guy feel very special. Let's keep spreading the word so other ladies can start training their glutes properly and actually start seeing results!
I Like it a Lot!
Dean Somerset tagged me on Facebook with this image. I don't know who made it but I LOL'd. This picture was taken four years ago in the garage of my old house in Scottsdale before I went to New Zealand.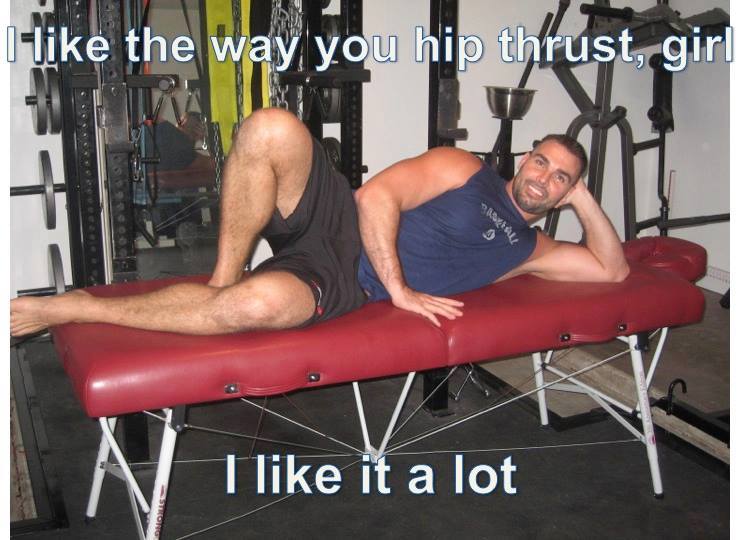 Times They Are a Changing
Here is a screenshot of my Google Analytics data for number of visits per month since I started up BretContreras.com in late 2010: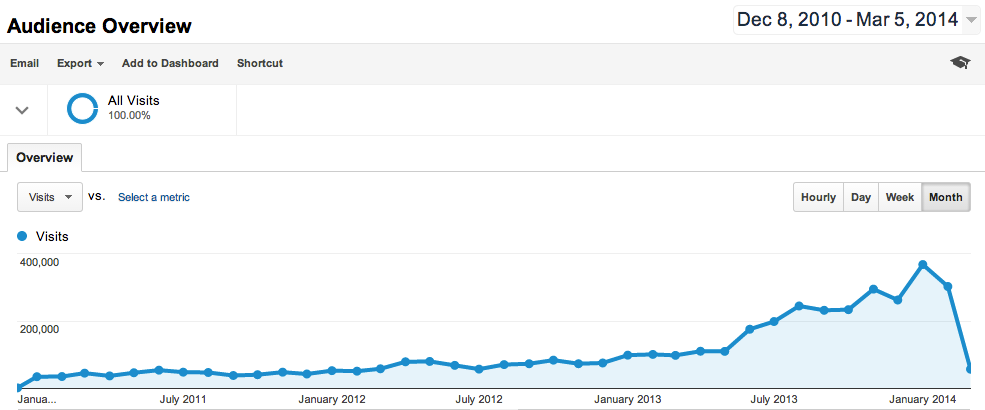 WordPress stats shows over double that amount of visitors. Below is my Google Trends data.

As you can see, my popularity has risen substantially over the past several years. The downside of this is that the number of emails and messages on Facebook, Twitter, YouTube, Instagram, and WordPress rises in direct proportion.
I think I might get more emails than any fitness professional in the field. It seems like every lifter in the world wants to email me their personal 6 paragraph story along with their training regimens to see if their training is appropriate, every injured lifter wants me to diagnose them, and every exercise science student wants me to help them with their thesis.
I've put in more time pro bono than I care to admit – seriously 2 hours of answering emails per day for several years. I've reached a point where I can no longer keep up. Last week I drove to Las Angeles and noticed that I was receiving an email almost every 60 seconds.
I care about all of you very much, but I'm so flooded with emails that I simply cannot reply to everyone. There comes a point where it's impossible unless you decide to cut out your social life completely or quit sleeping (both of which I've been guilty of in the past).
Furthermore, I've been receiving emails pretty much every week from people around the world asking me to speak at their events – including Spain, Norway, Australia, Canada, UK, and Iceland. This is very tempting as I very much want to speak to trainers and coaches from those countries, but I need to stay focused and not get distracted. Therefore, I'm not taking on any new personal training clients, I'm not accepting any more speaking engagements (I'm speaking at The Fitness Summit, the NSCA National Conference, and maybe the NSCA Personal Trainer Conference and that's it), and I'm currently not taking on any online clients (though I might start something up soon with a colleague).
My sincere apologies to anyone who feels let down but I've been so swamped I can hardly see straight and something's got to give.
Steve Jobs
Speaking of my drive to L.A., I've been listening to the Steve Jobs Biography audiobook and it fascinated me. Steve was utterly brilliant but at the same time he was a total prick with massive OCD's. What's really sad is that I can totally relate to Steve's personality as I share most of the same traits (minus the genius haha!). If you haven't read this yet, you should!
Big Congrats to Team Revolution!
On February 22, Team Revolution took first place at the Western Warrior Powerlifting Challenge at Die Hard Gym in Peoria (I train at Revolution in Tempe once per week). The meet started at 9:00 am and finished at 12:30 am, lasting over 15 hours! I felt like a proud father watching all of my colleagues compete. Here's some footage from the meet:
This Quote Reminded Me of the Fitness and Physical Therapy Industries
Most people are walking around, umbilical cord in hand, looking for a new place to plug it in. – Cavett Robert
Young Experts in Strength & Conditioning
Here are seven upstanding, young, up-and-comers in the field of S&C and powerlifting:
Jonnnie Candito – I really like Jonnie's YouTube videos. Such great biomechanical instincts related to powerlifting!
Ben Rice – Ben is an incredible powerlifter and has one of the best attitudes I've seen.
Jordan Syatt – Jordan is crazy strong. HERE he is pulling 425 x 3 @138 lbs at The Glute Lab. He has a lot of knowledge to share.
Greg Robins – Greg is also strong as an ox and possesses a ton of knowledge.
Greg Nuckols – Greg has written some guest blogs for me. He's strong as a bull, writes incredibly well, and understands how to interpret research. Such a versatile guy!
Dan Ogborn – Dan is freakishly intelligent when it comes to muscle hypertrophy. He's the next Brad Schoenfeld in the making!
Andrew Vigotsky – Andrew is literally a genius. He recently helped me create a biomechanics manual on squats and deadlifts for my upcoming 2 x 4 product. We used CAD drawing to model joint torques, and we even showed something involving the effect of hypertrophy on torque development that I've never seen anywhere else.
Good Articles
3 Ways to Optimize Your Sprint Strength Program
Click HERE to check out an article on optimizing strength training for sprinting by Joel Smith who is an Assistant Strength Coach of Olympic Sports at the University of California, Berkeley. 

18 Nutrition Myths You Want to Know
Check out THIS article – 18 fitness experts chime in to debunk what they believe to be the top nutrition myths.
Speaking of nutrition, Eirik Garnas, a frequent guest contributor to my blog, just started up a Facebook page HERE. If you like what he's written on this site, then go like his page and follow his work.
A Case Against Specificity
HERE is an article by powerlifter Mike Tuchscherer where he discusses the specificity debate.
The Big Lie about Steroids
HERE is an article discussing research on anabolic steroids and the effect they have on strength and muscle mass.
Good Videos
905lb Sumo Deadlift
Check out this 905lb sumo deadlift by David LaMartina. It was a grinder, but it made its way to the finish line, which is what counts.
Kent Fleming Squats 1,000lb RAW
Kent Fleming becomes the third man to squat 1,000+lbs RAW. Insane!
Ms. Bikini Olympia Hip Thrusting
Check out Ms. Bikini Olympia Ashley Kaltwasser getting in some glute work with hip thrusts
How to Max On Hip Thrusts Properly
Here is Scott Brady, the owner of Metal Rhino in UK, working his way up to a 202kg (446lb) hip thrust. I wanted to show off this video because this is the right way to max out on a hip thrust. I feel that hip thrusts are a lift that should generally be performed in the 3-30 rep range, meaning that it's not very conducive to 1RM's. However, Scott does it right and keeps solid form all the way through, making sure to reach full hip extension. If you're gonna max out on hip thrusts, then do it like this:
Yoga Pants Prank
This is an absolutely hilarious yet terrible prank to play on people. At least some folks still have a sense of humor. Keep hip thrusting dudes – even the bros will inadvertently check you out!
Zydrunas Savickas WR Tire Deadlift
Watch Zydrunas Savickas set the new world record tire deadlift of 1,155lbs at the Arnold Classic this past weekend.
[youtube=https://www.youtube.com/watch?v=uNDxzSWbto8]
Do You Even Lift?
This video is also hilarious! Admit it – you don't even lift bro.
Here's a chart to prove to you that you don't even lift.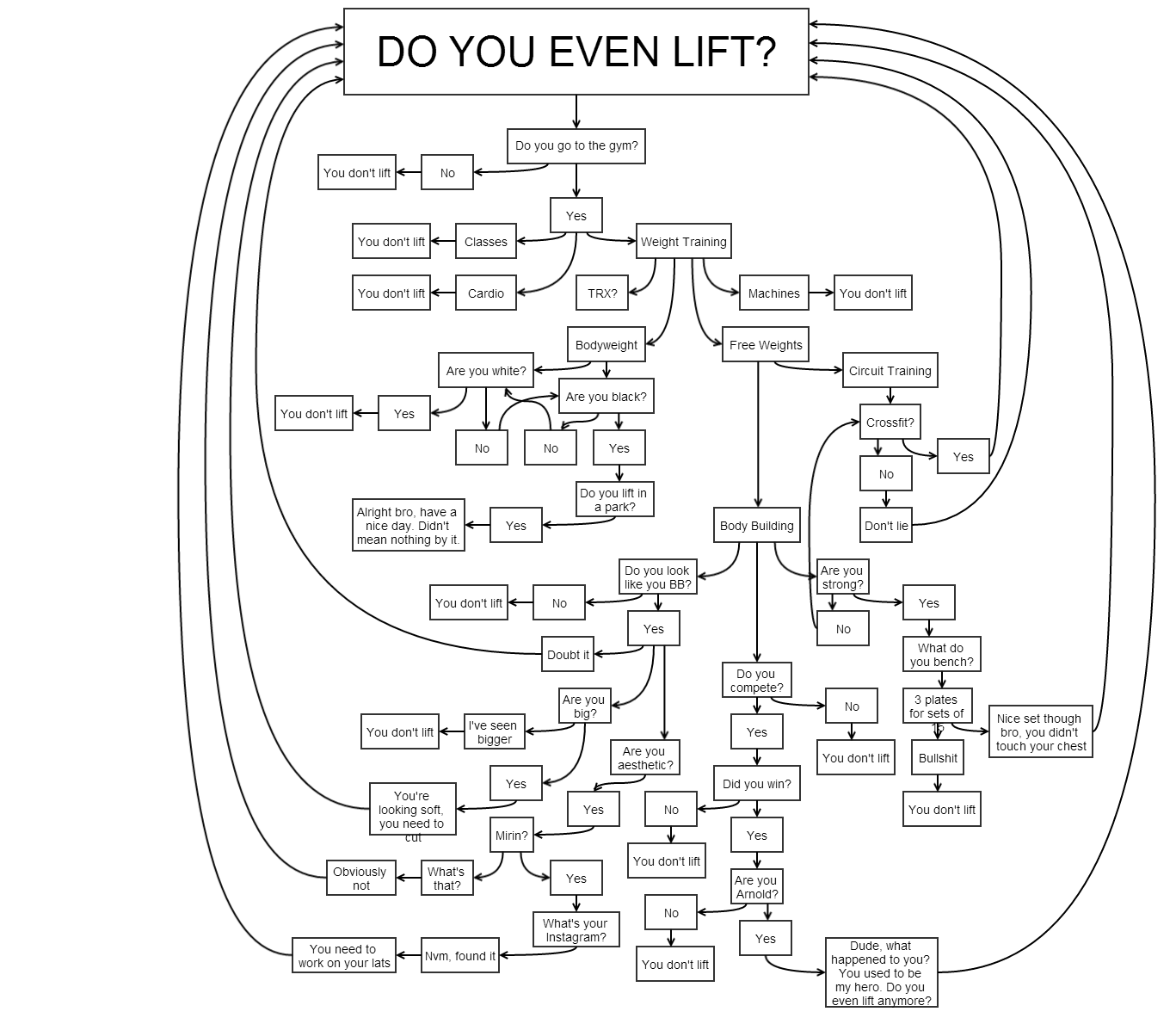 Facebook Rants
Here are my Facebook rants since the last random thoughts post.
Charlatans fear the scientific method and do not want their followers to embrace it. Understanding the scientific method would expose the charlatan, so the charlatan will typically downplay the role of science and mock scientific thinkers. Don't fall for this. Any industry that doesn't appreciate science and base its foundation on the scientific method is built on shaky grounds which are bound to crumble in time. Whether you believe in it or not, science is true.
Achieving a great physique is akin to a steamroller. It takes time to build up momentum, but once you get moving, it's difficult to stop. With the human body, progress isn't made overnight. It takes time to alter your physiology so that it works in your favor. Once it's functioning smoothly, however, you have more metabolic flexibility and can actually benefit from planned deviations that would be deleterious for the typical individual.
Just received this email: "Bret, the best thing about having a great backside is that I can look amazing at a wide range of body weight. If I weigh 118 pounds, my buns are perky and look great in a bikini. But if I weigh 130 pounds, my buns are rounder and I rock a cocktail dress. Before, I never liked the way I looked at any weight, but now I can't decide which weight I prefer most. I love the flexible options that your glute training affords me. Thanks you're the best!"
Resistance-training shouldn't hurt. The session should start off with simple mobility drills to get the blood flowing and move the joints through full range of motion. Progressively heavier specific warm-up sets for the first exercise follow. Good form should be used for all work sets. If an exercise hurts during performance, it shouldn't be included in the program for the time being. Variations and alternative exercises that work the same movement pattern can almost always be used for substitution. Strength training is much more fun when it feels right, and more progress is made in the long run when you go about it properly.
Thank you to all you bold lifters out there who saw a YouTube video of some madman humping a barbell loaded up with hundreds of pounds and thought to yourself, "I'm going to try that next time I go to the gym." #hipthrustfever
Glute Training Feedback
Your book changed my workout life. Thank you so much! (I do not mean for these photos to be provocative. Thong is the only way to see all you have taught me). Time elapsed has been about 5 months. I started reading and following strong curves about 2-2 1/2 months ago. Fell in love with your glutes and legs routine. Literally only took me about 2 months for my butt to get its size and shape from hip thrusting and goblet squats. (Today I am up to 235 thrust and 80 goblet squats. 3-4 sets of 10)
Hip thrusting took me about 1 week to master and not feel it in my lower back and hamstrings. Today I cannot believe how much I can isolate and focus all my strength into my glutes. I fire them up haaaard thanks to you. I am amazed at myself for learning how to only use the glutes in hip thrusting. NOTHING activates the glutes as the thrust (you're so right). 
2 -2 1/2 months for me to get these glutes! Can't wait for even better results coming soon!  – Brittany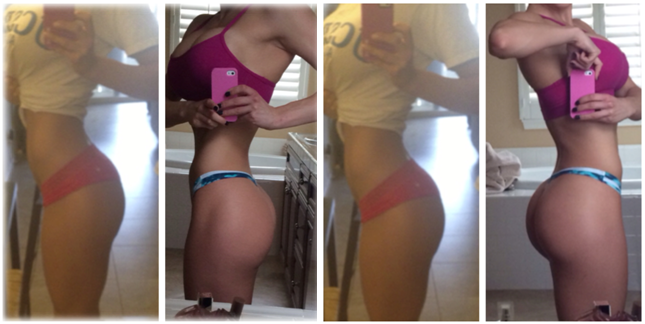 It's been over a year having started glute work, and I have you to thank for that. I haven't experienced any low back pain since. – Jefferey 
Hey Bret!
My husband bought me your glute goddess book for a Christmas present (I'm an avid lifter and I've always had complaints with the shape of my butt, not liking it and all) so of course, I did your program "Glute Goddess for the Advanced Lifter" and all I can say is damn! I mean, not only does my butt look better, but I'm over all stronger and look better!! Thank you so much I still keep a lot of your glute work in all my days at the gym because I just love the way my butt feels and looks every week – best present ever!!! – Devon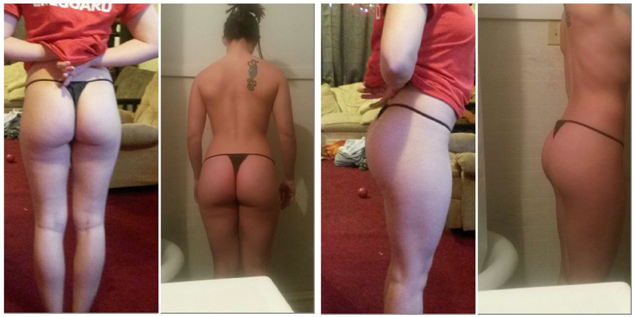 Hi Bret, I told you I would send you bathing suit pictures as soon as I was able to take some, well I finally was able to take some pictures and here are the results.  Now as I mentioned when I first found your blog I was desperate, I had started walking 5 miles a day and my husband who is a BIG "ASS MAN" as they are called said your butt is flat now. 
 With all the walking I really had no idea how to maintain weight loss but keep a nice butt, until I found you my savior.  My husband literally shows off the pictures that I'm sending to you to both men and women, he is so proud of my progress and all the girls say " I want a butt like that".
I really have to thank you for the detailed time and effort you put into this passion to help people like me.  As you can see in my before pics I had a butt, way too much butt no shape just butt, and definitely not as good as I do now.  My daughter always pokes it saying "it's so hard and round". And I sincerely thank you for giving back my husband the one feature he can't keep his hands off now. I'll keep up the good work because I'll keep following. 
I have the best ASS I've ever had my whole adult life, and I intend in keeping it. The pictures attached are in 2010 I was in Puerto Rico about 168, but when I got up to 189 I decided enough, I had to start exercising. In March of 2013 and was just doing the walking, floor pelvic thrust, everything you recommend that I could do outside and that my shattered knee would allow. I needed to expand my equipment for growth so I joined a gym and I just started incorporating free weights and machines about 4 months ago.
So a total of 11months of working of is the comparison picture.  The others are just different angles; I have to say I have seen the best results in the last 4 months. Unfortunately I didn't take pictures of me when I lost my butt, but I assure you it was tiny, and I've never had a tiny butt. It's gotten to the point jeans are tight in my butt, and I have plenty of space on my waist. My friend started doing your workout about 2 months ago and she split a pair of jeans, I told her welcome to the BBC (big booty club).
Anyway from the bottom of my heart thank you soooooo much, you are the best and when people ask me how I always say " look up the glute guy, do everything he says and you will have one too.  See attached pictures I don't think you will be disappointed.  And please give me some feedback, areas you feel I need to work on more, what is the recommended exercise for the best results. Thanks again BUTTIE – you are the best of the best. – La Tasha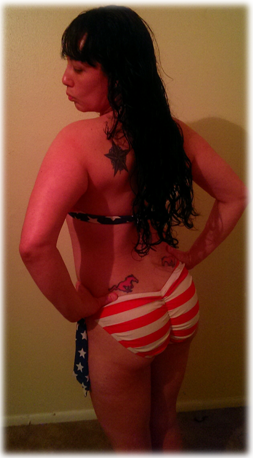 Went jeans shopping for the first time since before I started GG. When I started I was wearing size 14 jeans. I've since altered all of them twice and figured they might start looking odd if I altered them one more time. I was so amazed in the dressing room. Down 14 pounds and am now wearing a size 8. I had no idea that I had dropped down that much in pants sizes. I started out trying on the 12's, then the 10's.  I really had no clue that I would be trying on 8's.  I've lost a total of 36 pounds since I started tracking weight loss and was at a size 16 at my heaviest.  I was a size 14 when I started Get Glutes and with that 14 pound weight loss have seen more changes than I did with that 22 lb loss prior to Get Glutes.  It's nice to see the proof in the smaller clothing. – Teresa
Hey Bret! Here is my 6 month progress using your glute activation exercises in combination with a healthy eating Amazing progress!!! Thanks so much!!! I will add, I work my glutes daily. 3 days a week is intense, other days, I just make sure to 'wake them up' before performing my daily routine. I keep a heavy resistance band in my car at all times. Love doing glute burners whil I sit in car rider line waiting for the kids un the afternoon I lift heavy 4-5 days a week and sprinkle in some early am cardio when i feel the need. Thought you would like to see the progress! – Sarah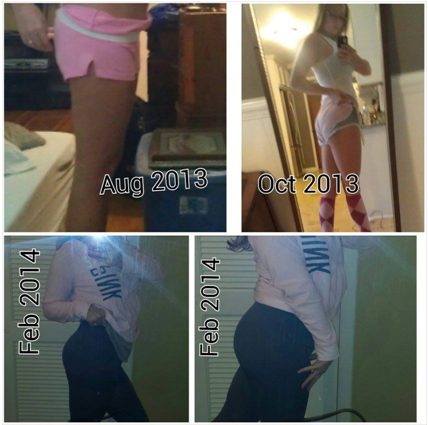 I want to thank you for helping me find something I thought could never be found…my booty! I have a pretty athletic build but my butt was always missing, especially when I try to lean out…but I'm finally building a shelf a because of heavy heavy hip thrusters! So thank you for your research and for getting your knowledge out there!!! – Melanie
Hi Brett, Here are some before and after pictures after incorporating many of the exercises and suggestions in your Strong Curves book and website. What I find so amazing is the before picture was taken about 10 years ago when I was in about 31. I am now 41.  I exercised and ate a pretty healthy diet then. I did cardio and nautilus machines and hiked a lot. My young son snapped the 1st picture and I was appalled when I saw it.( The quality of the before pic is not so good  because I hid it in my makeup drawer for 10 years). I think I weigh about 2-3 pounds more now, so the change is not from losing weight. I have more improvement coming. I have recently increased the frequency of heavy hip thrusts and bridges to 2x  week and am seeing results already. I cut back on cardio too. Also, it helped to see Sammie 's glute pump favorites and the weights she does listed on your website. I am smaller framed too so it gives me a target . Thanks for making glute transformation such a passion. – Kim F.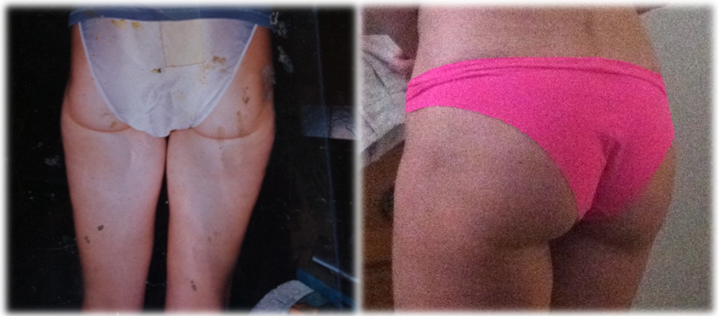 I've been doing barbell squats, deadlifts, and other compound lifts, progressive loading, and my body has developed nicely (even though I still have a long way to go). However, my butt wasn't getting as shapely as I wanted it to, even with progressive load squats. All the advice I found was just "squat more! Squat heavier!" I knew I was missing something. Enter the hip thrust, and then visiting your website. It took me about 2 seconds to decide to buy Strong Curves. I went straight to Amazon and bought it. I am advanced enough to do the 12 week Advanced rotation, and I am in week 3. I am fortunate enough to have a full gym at my workplace, so I have access to all the equipment I need and can workout during my lunch hour. No kidding, after just 2 workouts with the glute bridges and hip thrusts, people are noticing my butt, in a good way! The pump is incredible. I also enjoy the stares from my co-workers as I am in the corner humping a bar loaded up with 45's, while everyone else uses 5-lb neoprene dumbbells to do 100 bicep curls. Sometimes I want to tell them my secret, but most of the time I prefer being the only woman in the free weight section. My body has changed more in 3 weeks of Strong Curves, with two 20-minute sessions of hill sprints on my non-lifting days, than it has in 3 months of hour long cardio sessions and Body Pump classes. I can't wait to see the results after I complete the 12 week program. – Michelle
Hey Bret, I'm a physio from Australia. I swear, your glute exercises have improved my effectiveness by probably 50%. Typical low back pain patients are benefiting very well by learning to engage and utilize their gluteals. Glute activation and hip mobility drills go a long way in helping them feel better. Cheers mate! – Robert
Click HERE to check out 'Bringing Up The Rear Final Assessment – A Love Letter To Bret Contreras' an article written by 43Fitness. She talks about her quest for better glutes!
Been hip thrusting for about 2 months now and have probably added about an inch onto my butt. I have trouble getting my pants on sometimes haha. In addition, my squat and deadlift feels so much more powerful. I actually caught myself standing to the side in front of the mirror in my underwear checking out my ass size. This is definitely one of my favorite exercises now. Thanks a lot Bret! – Brady