Greetings Fitness Friends!
Here's another random blogpost from you. This week I'm including more testimonials, sharing good articles and services, and showing videos of incredible feats of strength. Here you go:
Book of Bad Arguments
HERE is a cool link to a book of bad arguments. Will somebody please pass this along to the entire body of YouTube commentors and S&C forumites?
David Kinsbury (Hugh Jackman's Trainer) Sets the Record Straight
Click HERE to see David Kingsbury (Hugh Jackman's trainer) chime in. The load was 462 lbs on his 5th set of 5 reps. It feels good to be right!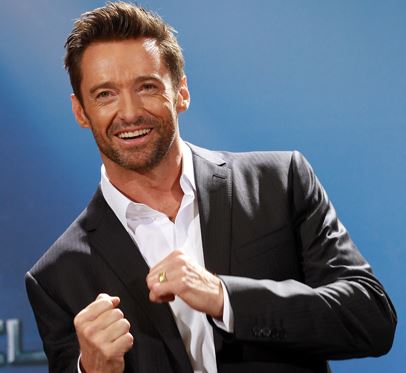 Get Glutes Youtube Page
Below are a couple of recent YouTube videos that Kellie Davis and Marianne Kane recorded. Feel free to subscribe to the channel if you like this stuff!
Strong Curves FB Group (SC Ladies)
Around six weeks ago, some ladies took it upon themselves to start up a Strong Curves Facebook page. There are 357 members already! It's a very nice community, so if some of you are looking for support then join the group.
Training With Purpose Isn't Religion or Politics
I really liked THIS Elitefts article as it echoed some of my own thoughts.
Eric Spoto (Strongest Bencher on the Planet) Benches 315 x 45 Reps!
Ben Bruno's Athlete Kevin Busting Out the Most Impressive Display of Single Leg Strength I've Ever Seen
Alan Aragon's Research Review
My friend Alan Aragon has a badass research review service. (no affiliate link) that focuses on research surrounding diet/nutrition, body composition/fat loss, and hypertrophy. The article he wrote this month was so awesome that it inspired me to promote his service as I'm not sure if I've mentioned it on my blog before. If you're interested in physique enhancement and nutrition, then I highly recommend his service.
Intriguing Article on Obesity
Having stumbled upon some of the research that David Berreby mentioned in THIS article myself, I was found the article quite fascinating and well written.
Gracyanne Barbosa – Brazilian Booty Queen
A Brazilian fan forwarded me Gracyanne's Facebook link. Apparently she's a big deal in Brazil, due to her giant glutes. In some of the pics her glutes look fake, as if she got implants, but in others they look real. Her strength is amazing so they might indeed be legit.
At any rate, she has a ton of exercise pictures on her FB page and I was pleased to see her performing a wide variety of axial, anteroposterior, lateral, and rotary exercises in order to hit the glutes from multiple angles. However, I didn't see any barbell hip thrusts or barbell glute bridges being performed. I hope Gracyanne's trainer starts incorporating these with her in time – I bet within a few sessions she'd be repping out with 315 lbs! She'd need a thick bar pad to cushion the hips though – that makes a huge difference.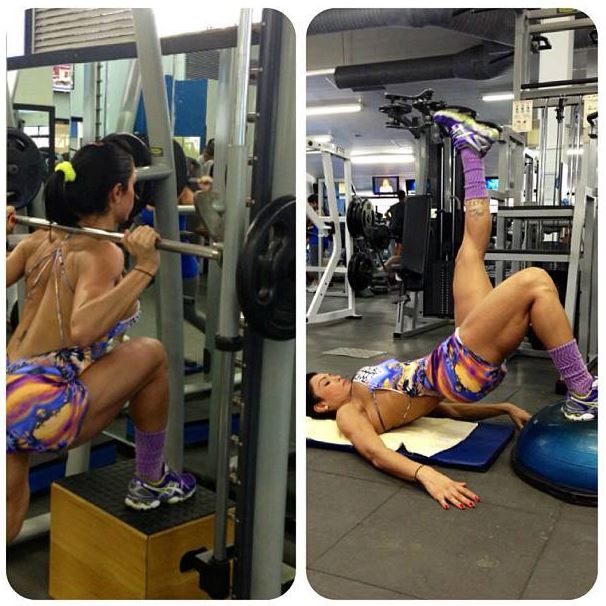 Chris Beardsley's Blog
For those of you who are interested in Sports Science, make sure you're subscribed to Chris's blog. He regularly puts out incredible articles showing detailed graphs and article reviews.
HERE is his latest one on the physiological responses that a bodybuilder experiences when dieting down for a competition.
Good Articles on the Topic of Pain
One of these days I'm going to write another article on the topic of pain. Though I had great intentions in my last article/video on pain, I can do better (my grasp on the topic wasn't quite up to par). Until then, HERE and HERE are a couple of great articles on pain for those interested in this topic.
Interview by Robbie Bourke on Various Topics in S&C
Click HERE to listen to a recent 90-minute podcast where Robbie Bourke interviewed me on various topics surrounding the strength & conditioning industry.
Does the Pump Really Build Muscle? Podcast with Brad Schoenfeld and Yours Truly
Click HERE to listen to a recent 60-minute podcast on Superhuman Radio where Carl Lanore interviewed Brad Schoenfeld and I regarding hypertrophy training and the pump.
Hip Thrust til You Die!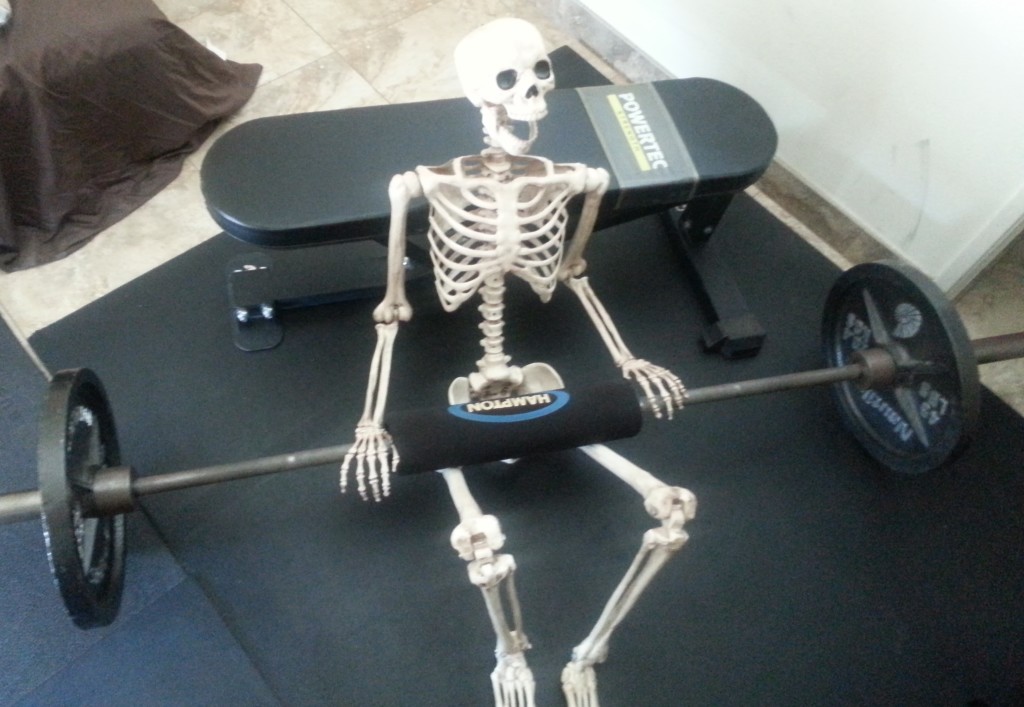 Strong Curves and Get Glutes: The Feedback is Phenomenal!
Just over two weeks ago I posted some testimonials (along with before/after pics) for Strong Curves and Get Glutes in an article about glutes HERE. I've been trying to consistently keep track of the positive feedback. It is very pleasing to me that after almost seven years of performing these methods and four years of promoting them, they're really starting to catch on to the mainstream. Here is some of the praise I've received over the past couple of weeks: 
Just want to say that in TWO workouts my bum changed! I have been training for years. The hip thrust and activations are genius. Thank you! – Anat
My husband says nightly prayers for you Bret! – Verena
Hi Bret! First, thank you so much for the information, you have been sharing! A couple of months I got a back injury which meant goodbye to heavy squats and deadlifts. I found your blog, incorporated exercises like glute bridges, hip thrusts and donkey kicks in my routine and have to admit – my glutes have become rounder and more shapely than before with no more heavy (and painful) squatting. Plus, my thighs are becoming a bit more proportional and my knees never liked deep squats anyway. So massive thank you for that! – Mara
I had a case of pancake you know what I used to work the heck out of my legs, thinking that I was doing something for my glutes. End result-flat butt and overly sore legs. That is why I love this program so much. It is well thought out by the best trainers ever. – Tara
I never dreamed that I could change my glutes or my legs especially being in my 40s.  I've always had the work ethic and commitment but apparently never the right program.  GG is like a 50% off workout program–I'm working out half the amount of time I had before, I no longer have sore, achey joints, and I'm changing my body!  Sometimes I just want to hit some ladies over the head and say, "JUST TRY IT!!!!!".  It looks like an intimidating program but once I got into it I realized it is such a huge confidence builder.  It's empowering. – Tammy
My butt is getting hyoooooge too, haha. But in a good way. J – Tina
This is my first day on Get Glutes but not my first day gluting. My name is Lucy. I discovered Strong Curves nearly two months ago, right when I'd injured my hip flexor badly. As somebody who has loved strength training since high school, believing I'd have to stay away from the weights was a killer. I emailed Bret for advice on how to train the lower body without aggravating the injury. He confirmed that I'd have to stay away from heavy squats and lunges, and I assumed that all my hard work would be lost — my butt would turn to jello.
Not so! Lo and behold, within a few weeks my butt was feeling more solid than ever. Without squats!  It still cooks my brain to think about it.  My jeans started fitting tighter, too, but my thighs had slimmed down a bit. That meant it was all in the butt. (TMI, perhaps, but my boyfriend's reactions seem to confirm this theory … and he didn't even know I was on this glute journey!) – Lucy
I'm not generally one to write to trainers but your Strong Curves program is amazing. I've always been the girl with no butt and assumed I would be plagued with a small backside forever. Well not anymore. From May to Aug of this year I have put on approximately 2.5 inches on my backside. I can glute bridge 265 (just got there today) and I have women approaching me constantly asking about my backside. (I am prior military so i have always been fit but my bottom half has always lacked something. I was thankful for the baggy uniforms.) Thank you for your tireless research. Your book was not only entertaining and informative but also inspiring. I am attaching a before and after pic of my current progress but will keep going. Please note, I gave birth a year and a half ago so this has been an interesting journey with my body. You have helped on countless levels. – Danae
I am addicted and have completed the Strong Curves program. I hip thrust 315 pounds have super nice glutes! In addition, my waist has shrunk 2″ so I'm in my best shape ever. I competed in IFBB bikini a year ago and wish I had used your program then :(. I've received so many compliments that I have given your link to more people than I can count! – Evelyn
Three years ago I started experiencing SI Joint problems and had to cut out a lot of different exercises including BB squats, RDLs, and ab work. I changed to the leg press since it took my back out of the equation and I became extremely strong on it–at one point my PR was 400# for 4 reps!!!
Fast forward…
January 2012 we started an entire house remodel which I coordinated and ran for about 10 months. I had to cut my workouts down to bare minimum and my goal was to maintain during this time. When I don't work out I drop weight very quickly and of course that means I lose muscle (that hard earned muscle) very quickly. In July I left my beloved gym for a child friendly gym, changed my workout to a traditional body building mass gains program designed for men which was also designed to be done at home w/ minimal equipment (no bb required). Since this was a guy's program it hit the upper body really hard and the legs not so hard. Now don't get me wrong. The leg work out was tough–step up into reverse lunge type of stuff–and every exercise for upper and lower body was 3-4 sets w/ 15, 12, 8, & 8 reps. All of my joints KILLED me. It was way too much volume for me to handle.
When I finished the program I had a very strong upper body–the strongest I had ever been actually but I didn't realize how much leg strength I had lost.
Last night I dug out my training log and this is what I found:
In late January 2013 I started an online program with a body builder. This was the first time I had done the leg press and leg extensions in 6-8 months (the last time was when I was doing my "bare minimum" during the renovation time and I had already lost some of my strength). I was so disappointed, sad, frustrated, and angry w/ myself when I did this first workout. My leg press was down to 95 pounds for 15 reps (WHAT?!?!) and my leg extension was down to 70 pounds for 8 reps where it had been around 120 for 6-8 reps. There was no one to blame except myself. I had consistently put in my time and effort at the gym for the last 6 months but the program I had chosen didn't lead me in the direction I wanted to go. And honestly, I wanted to finish the program to say "I did it!" (yes, a very wrong mindset!) which I could say that but look where it got my legs
Yesterday…
I'm in Month 6 and yesterday I surprised myself when I used 30 pound dumb bells for reverse lunges and I felt like I could have gone heavier. Then at the end of the workout I added on leg extensions for the first time since February. I did 2 sets of 8. The first set was at 90 pounds and the other set at 110. I honestly hadn't realized that my legs were getting stronger. I had become so focused on my glutes I had totally overlooked the strength gains in my legs! I wanted to break out in the "I'm back!!!!!" happy dance … but I refrained.
For everyone who worries about losing strength while doing these glute-focused, full body workouts…I'll just say have some faith in the program and the trainers and you won't be let down. – Tammy
And here's a video testimonial:
Keep Spreading the Glute Gospel my Friends!!!
That's all for this week. Have a great rest of the weekend! – BC