Over the past several years, I've written about a lot of different things on this blog that pertain to strength training. However, the sole focus has always been on glute training. I write about how to get a better butt, how to strengthen the glutes, the best glute exercises to perform, training progressions that I use with my clients, and more. I find it very frustrating when I take all of this time to properly educate people, only to find misinformation being spread like crazy.
I used to blame the originators of the misinformation. Don't get me wrong, companies like Brazilian Butt Lift and Women's Health Magazine (as you'll see below) should be ashamed of themselves (I'm assuming that there's a smidgeon of morality left in the companies). However, I've come to realize that they'll just keep on keepin' on with their bullcrap, as long as the naive public tolerate it.
The onus has to be on you, the consumer. I therefore implore you to step it up. Step up your knowledge base so you can discern between good training information and poor training information. If you've arrived at this blog, then congratulations, you've taken a step in the right direction. I pride myself on utilizing sports science, evidence-based thinking, research, logic, and mathematics to form my opinions. My competition appears to rely mostly on marketing tactics to sucker in the clueless.
Case in Point #1 – Triangle Training Bullcrap by Brazilian Butt Lift
The image below must have recently gotten a zillion shares on Pinterest, Facebook, and the like. This picture doesn't even properly represent human anatomy. Someone from Brazilian Butt Lift just fabricated gluteal anatomy and listed exercises based on this falsified anatomy.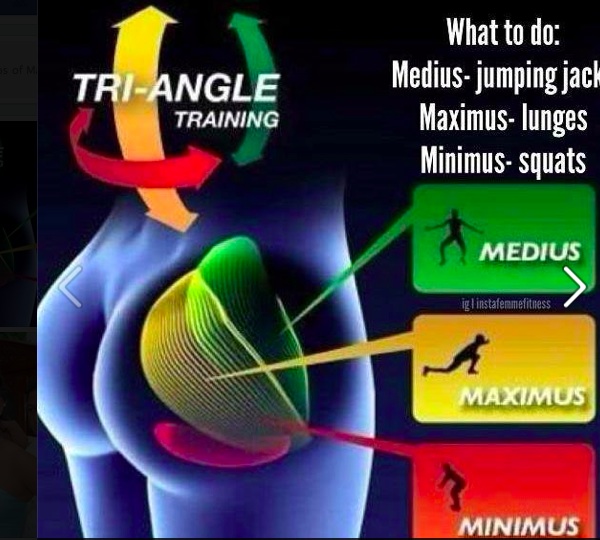 Here's another picture from Brazilian Butt Lift. Really? How is this even legal?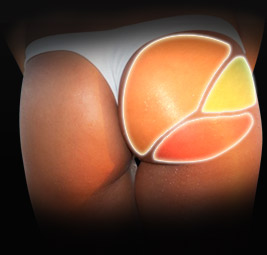 Real gluteal anatomy looks like this:
The gluteus maximus weighs over twice that of the gluteus medius and minimus combined, and the gluteus minimus is positioned underneath the gluteus medius in the upper outer quadrants. It's not positioned in the lower buttocks region.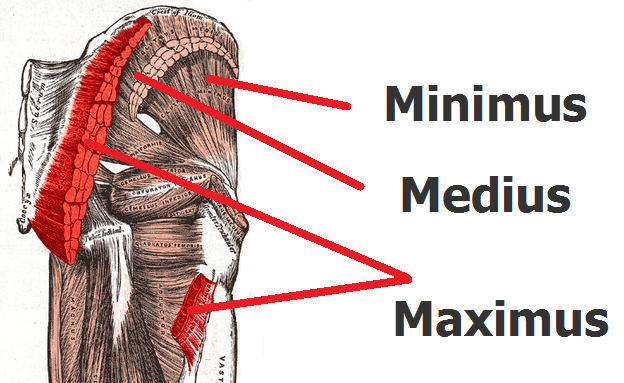 And even if the picture was adequate, the best exercise that this person could come up with was jumping jacks? Really, jumping jacks? There are in fact exercises that activate the gluteus medius 10 times higher than jumping jacks! Even simple exercises like side planks, side lying clams, and side lying abductions will strengthen the glute medius to a much greater degree than jumping jacks – click HERE for some research to get you started on good basic glute exercises.
But even so, these exercises are only starting points to greater glutes and better butts. See the testimonials tab on this website? These glute transformations were done with heavy weight training.
Nevertheless, the triangle training concept is absurd – bodyweight lunges will hit the gluteus maximus, medius, and minimus harder than the bodyweight squat and jumping jack.
Why do people fall for this bull? Doesn't this enrage the consumer? 
Case in Point #2 – Spot Reduction Bullcrap by Women's Health Magazine
A couple of weeks ago I notice the post below on my Facebook feed. Really? Glute bridge marches for a tight, toned tummy in just a few weeks?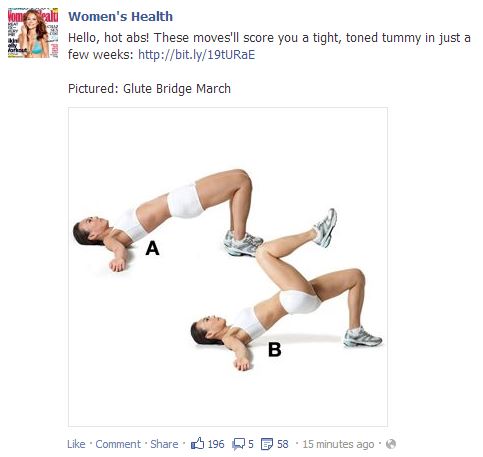 What's more, this got almost 200 likes in just 15 minutes. Sadly for the consumer, the glute bridge march barely activates the abdominals. It's a glute exercise. The hammies and erectors get activated too, but it's intended for the glutes.
Back in the day, fitness magazines used to seek out the most intelligent coaches, trainers, sports scientists, exercise physiologists, and biomechanists. But that's a thing of the past. These days, they find people who can write well and are marketing-savvy, despite not having the slightest freaking clue about exercise biomechanics.
Even if you place a 405 lb barbell on your hips and do a full range hip thrust (think glute march on steroids), you still only get an average abdominal EMG activation of 24% (normalized to maximum voluntary contraction). Contrast that with an ab wheel rollout from the knees, which elicits an average of 103% abdominal activation.
But even if you perform exercises that elicit high abdominal activations, it doesn't mean that it'll give you a tight, toned tummy, especially in just a few weeks. Getting a tight, toned tummy typically requires months of eating properly and exercising intelligently. Genetics plays a large part, but suffice to say, light resistance training isn't going to revamp your midsection in a few weeks. Spot reduction is a myth – click HERE to see evidence of this (training abs doesn't melt the fat off of the ab region).
Again, why do people fall for this bull, and doesn't this enrage the consumer when they find out the truth? 
The Onus Falls on You!
I started this blog in 2009, after my clients urged me relentlessly to start popularizing and spreading my methods. I've made tremendous progress in this regard. But in order for me to do my job, I need the public to step up their game and start calling out the perpetrators of propagating bullcrap.
When somebody completely fabricates glute anatomy, call B.S. on them. When somebody tells you that bodyweight squats alone are going to radically transform your glutes with their measly 20% glute activation, call B.S. on them. When somebody tells you that a glute bridge will transform the abdominals, call B.S. on them.
What do you think elicits higher tension and metabolic stress in the gluteus maximus (read THIS article to see why these are important for muscle hypertrophy), this type of training:
or this type of training?
Testimonials in the Past Couple Weeks Alone
I get emails from women and men every single day reporting excellent results once shifting to my methods. I decided to keep track of them over the past couple of weeks and ask the people sending me notes and pics if I could post them on my blog. Most of the people said yes. Here they are:
I started the advanced a couple weeks before the second pic and saw results FAST – Shelley


My glutes have went from flat and flabby to round and definitely more perky in just 6 months.  I am super excited to see what other changes I will make in the next 6 months!! – Carisa
Flexing is easier to see some improvement .. one day i will see this without it! Anyway i believe it is working – Barbara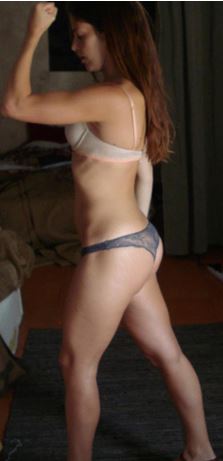 Bret, I started strength training about 1.5 yrs ago and worked my way up to "the big plates" with a 135# deadlift. I could only do one until I did your 30-day glute challenge… The other day I tried them again, and I did 3 sets of 3 at 135#! Thanks for the program!

– Dawn
Hip thrusts have completely cured my sciatica and piriformis syndrome by the way. I appreciate your work. – Patrick
After over one year of glute training following advice from Bret Contreras, my butt is a completely different shape! – Jacqi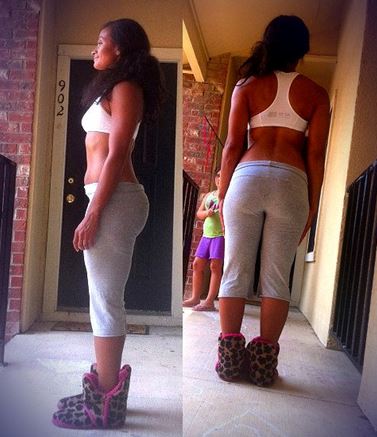 I wanted to say thank you for the Strong Curves book.  I'm coming down to the last week of the Advanced section and have noticed a huge improvement in my strength for Tennis and as a bonus no lower back problems.  – Melissa
Added a hip thrust to workout mix for first time yesterday after reading your stuff/listening to podcast. Enjoyed it! Gotta admit. In terms of inducing a pump in the glutes… perhaps the best single lift I've done. – onawav
Yesterday i discovered i LOVE sumo deadlifts, they do feel more comfortable for me and they hit the glutes! Also i didnt use to feel my glutes on squats and now i feel them all the time when i do them, i´ve also developed the capacity to go lower (at least parallel every time) ..i was cheating with squats before and now i understand why they are a "full body" challenge – Barbara
My butt is defintely expanding, was flatter a year ago.. so that is good. Up to 230lbs deadlifts and barbell glute bridges. It is all thanks to the glute bridges LOL….it really is growing! It is amazing. – Ingrid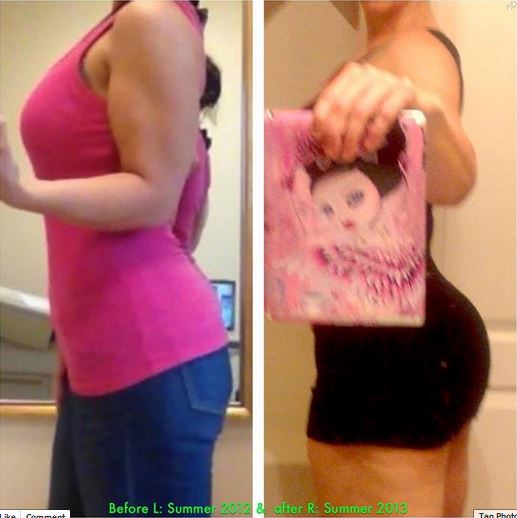 Wanted to share this with you guys. I never thought i would have this body shape…ever. been lifting weight for almost a year. 5 weeks on SC, its leaning out my body in a good way. still very curvy but shapely. i never thought i can lose that belly pouch and gain a butt (Asian pancake butt is in my gene), buy I'm getting there slowly. –  Cindy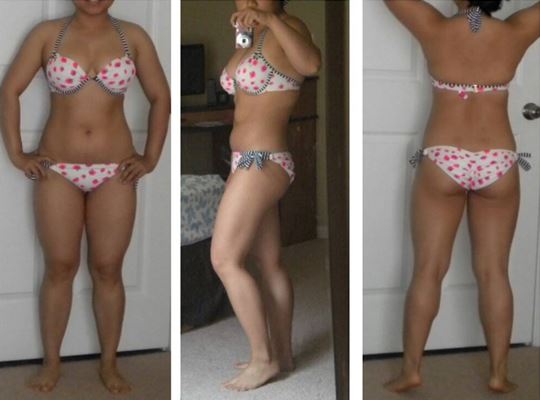 I had to get rid of my "skinny" jeans (as I cannot pull them up once they hit my bum) and I did 175lb hip thrusts yesterday 5x's (I only weigh 112lbs) – Lexi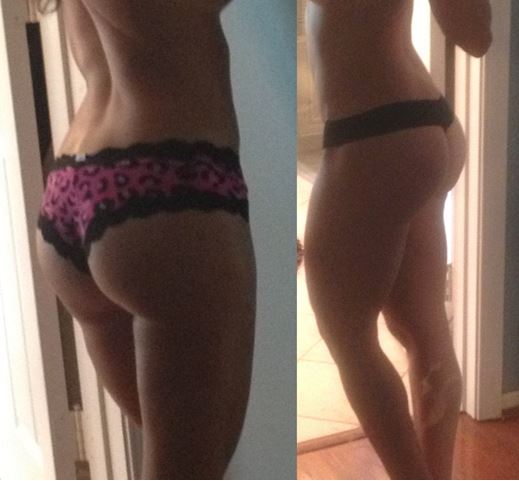 In April, I made a goal to research as much as I could and was on a mission to grow my glutes by the summertime. I have ALWAYS had an issue growing my booty no matter how many traditional compound lower body exercises I did. I am quad dominant, and exercises such deadlifts would mostly engage my hams and back while leaving the glutes out. You mentioned in one of your articles about glutes becoming dormant (from sitting all day etc.) And also from very weak hip flexors. Which is 100% me. I also realized that I have quite an anterior pelvic tilt..which impedes maximal glute activation . This makes sense as I could never really feel my butt working or feel "that burn" in the derrière people keep talking about…I have been extra mindful on my posture now when walking, sitting.. to improve on this.I've also incorporated much of what you recommend as pre workout exercises such as performing the clam and walking band abductors, a variety of hip stretches..More importantly, I learned how to really ACTIVATE the glutes, and increase my awareness during the exercise so that my butt is much more efficient and engaged when going through movements!Here is a little progress picture, I'm still a work in progress. However, I have been training for 6 years and this is the first time I can actually say I have a butt!! – Jessica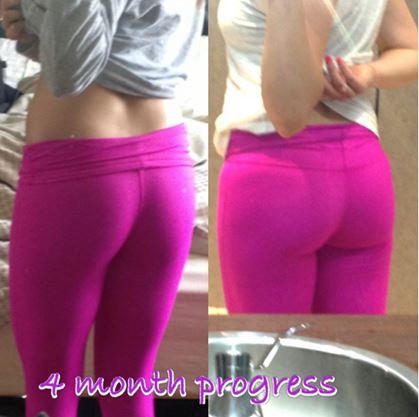 My local trainer friend Kelli Gubrud recently trained a female client using these same methods. Check out the transformation in just 8 weeks!
Here's my other friend Katie Coles. Her butt is looking better than ever. She's been training glutes 5 times per week, doing weighted hip abductions and weighted hip thrusts daily, focusing on form and feeling the glutes.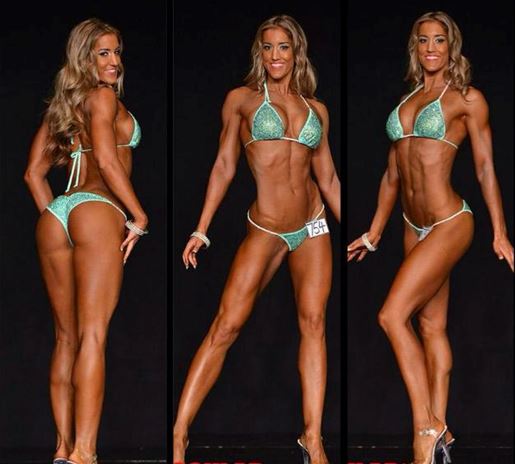 Conclusion
The methods that I espouse are based on the confluence of practical training and sports science. I scour the journals, conduct EMG experiments, test methods with clients, keep what works, drop what doesn't work, and constantly tinker to optimize the methodology. I wrote Strong Curves with Kellie Davis and started up Get Glutes with Kellie and Marianne Kane in order to provide consumers with the best possible training methods to produce results. I teamed up with the two most knowledgeable ladies on glute training that I know, and because our audience and feedback are growing, our methods are constantly evolving.
If you would like to achieve your best body ever, I urge you to continue seeking out the best information pertaining to physical transformation. Brazilian Butt Lift and Women's Health Magazine will cater to your fears and avoid mentioning heavy strength training. But remember one thing:
"Rare is the set of shapely glutes that was sculpted by wimpy exercise."
The vast majority of people need heavy load or advanced body weight exercises in order to reshape their glutes. I've got the un-photoshopped pictures to prove it!