Last week, Hugh Jackman tweeted a picture of himself deadlifting. Since then it's been retweeted over 9,000 times and favorited by over 6,000 followers.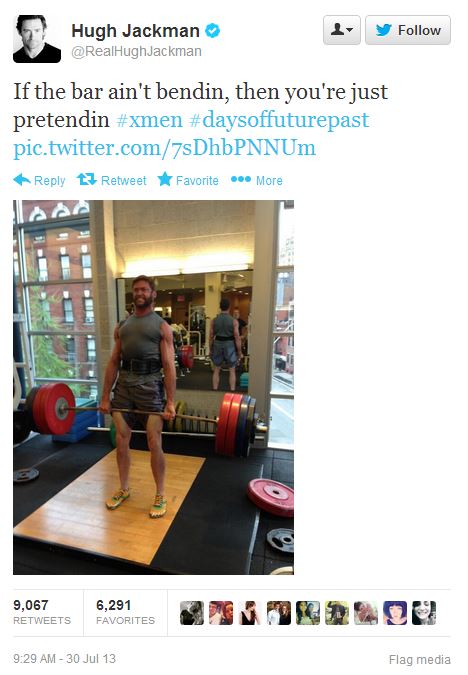 I'm a big Hugh Jackman fan, so when I saw the picture, I instantly thought to myself, "What a badass," and, "I knew that son of a bitch deadlifted."
This is the mindset that we should have with fellow lifters. Sadly, many of my fellow lifters did not share the same sentiment. My Facebook and Twitter feeds were littered with haters mocking his "chicken legs" and subpar deadlift strength. Most critics scoffed at his estimated 350-385 lb deadlifts, bragging that they could easily out-pull the actor. A Google search yielded dozens of hits to forums that poked fun of him as well.
I guess I shouldn't be surprised. The internet era, especially the "YouTube era," has rushed in thousands of critics sporting self-proclaimed 20″ pythons and 600 lb squats and deads. But for some reason this struck a chord with me.
At 44 years of age, Hugh Jackman is a freakin' stud.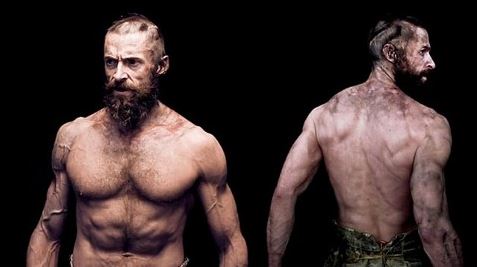 Regarding the picture he tweeted, if you look closely at the pic, you'll notice that the red bumper plates are Rogue. These weigh 55 lbs. Blue bumper plates can weigh either 35 lbs, 20 kgs (44 lbs), or 45 lbs depending on the manufacturer. I think they're 45 pounders. The 12-sided black plates appear to be either 35 lbs or 45 lbs – it's hard to tell, but they look like 45's too. And the small black plates on the end are either 5 pounders or 10 pounders – they look like tens to me. Therefore, on the low end, he appears to be using 415 pounds, and on the high end he appears to be using 465 pounds!
So I'm pretty sure that every hater out there understimated the load Hugh was lifting. Moreover, by the way the bar is loaded, it appears that he was pyramiding up in weight and that this could have been his final set of medium-high rep deadlifts. His great friend and personal trainer Michael Ryan has stated that they general stick to 6-12 reps and often employ supersets (David Kingsbury is his more recent trainer). They like their squats, walking lunges, deadlifts, leg presses, and bench presses. In fact, Hugh can bench press 315 lbs and leg press 1,000 lbs, which is very impressive for a 6'3″ lifter weighing 195 pounds at under 10% bodyfat.
Furthermore, Hugh does this while also employing cardio several times per week and staying incredibly lean year-round. And shall I repeat that he's 44 years old! Jackman's goals are to look jacked and shredded on camera, not to pull the most weight as he possibly can.
Let's say that Hugh's workout consisted of 4 sets of squats, 4 sets of walking lunges, and 4 sets of deadlifts supersetted with stability ball leg curls. Lets say that the picture was snapped on a final set of a 6-rep deadlift with 465 lbs.This would be incredibly impressive – better than what most of his critics could do. My point is that I doubt that Hugh simply warmed up and went right to deadlifts and worked up to a 1RM – if he did he could probably lift even more. And even so, who cares? He's obviously very strong and incredibly fit!
I realize that human beings love to criticize celebrities, but bear in mind that Hugh looks better than 98% of his critics! And if Hugh ever decided to compete in a powerlifting contest (which he wouldn't because that's not his goal), I bet that within a year he could be pulling 545-585 pounds – again, more than 98% of the critics out there (and even more if he beefed up to 245 pounds or so).
Can't we all just be happy that Hugh is deadlifting? And can't we be proud that Hugh is confident enough to post a picture of himself pulling, which will undoubtedly encourage some of the millions of fans who saw the picture to embark on a strength training program and not shy away from deadlifting? Don't be a fitness snob my friends!