Dear Readers,
I offer you my sincere apologies, but I need you to fill this out again. Here's what happened. When I posted my first poll a few weeks ago on glute picture policy on the blog, everything worked like a charm (poll HERE, results HERE). However, when I posted my second poll last week on blog reader and glute questions, it was too much for the WordPress plug-in to handle (HERE was the poll). Everything was going well with the first thousand participants, but sometime after that things got all screwy. To make a long story short, I'm using WP Survey and Quiz Tool, and it's proving itself a bit frustrating.
First of all, when you conduct "polls," you get hard data (actual numbers) for results, but when you conduct "surveys," all you get is pie-charts. The charts are nice, but when the stats are close, you can't tell which answer is the leader. Second, the plug-in is quite slow and wonky; sometimes questions that I've entered in won't load, and sometimes the order is rearranged. I think I've gotten a handle on things now, however. When I posted the first poll a while back, I chose the "poll" option, and everything was fine. But for the last poll, I chose the "survey option," and things went awry – the plug-in made every answer carry equal weight so that each pie chart was equally and nicely distributed. So I'm giving this another shot as it's very important information; this time making sure to choose the "poll" option. The good news is that I looked at all of the feedback from the prior blogpost and added in more answers to better suit my readers.
Hopefully you remember your answers from the last time and it will only take you a minute or two to complete the survey. I had 3,100 responders to the last survey, which was fantastic. I'm really hoping that I don't lose participants and can get just as much data this time around. With the first thousand participants, it looked like the squat was the favorite exercise, the deadlift was the most dangerous exercise, the hip thrust was the favorite glute exercise, the exercise that created the most tension, and the exercise that created the most metabolic stress, and the lunge was the exercise that created the most damage (see the last write-up if you're unclear as to what these entail).
It was interesting to see how high certain exercises ranked, such as the Bulgarian split squat and single leg hip thrust. What I like about the survey is that it reinforces how unique people are. I love lunges and squats, but I've never felt my glutes burning during those exercises (they require such little torque at the top of the movement, which allows all the blood to escape, so it's hard for me to realize that some folks can get a pump or feel a glute burn with these movements). Soreness due to the stretch – yes! But pump/burn? Hmmm. Lateral band walking surely burns the hell out of the upper glutes, but remember that frontal plane (upright, straight legged) hip abduction only works the upper gluteus maximus and glute medius; the lower gluteus maximus doesn't even fire (not one bit). I still put these on the list this time around as answer options for metabolic stress.
When I perform high rep hip thrusts, they burn my glutes so bad I can hardly bear the pain, and I duck-walk around afterward since my glutes get so pumped. It's therefore hard for me to imagine how other people don't get this same sensation. I like single leg RDLs and sled pushes, but I don't feel them anywhere close to how I feel hip thrusts and back extensions. However, clearly not everyone's glutes function the same way, as many individuals reported that they feel their glutes heavily with single leg RDLs and sled pushes. Part of me wonders if they've ever performed high rep hip thrusts, but I give them the benefit of the doubt. I like single leg hip thrusts, but I don't feel them nearly as much as I feel barbell hip thrusts. However, many participants chose the single leg hip thrust for their responses. On a side note, out of probably 20 people I've tested comprehensively so far in EMG, only one person did NOT show the highest glute EMG activity with the hip thrust. Guess what was that person's number one glute exercise was? The Bulgarian split squat! Most people only get around half of the mean glute activation in a BSS compared to a hip thrust, but this just shows you that we're all unique.
As for my answers to the poll (yes, I took it too!), I chose the squat for my most favorite exercise (I was torn between the squat and deadlift but I think I like squatting more), I chose the deadlift for the most dangerous exercise (I think more people hurt themselves with this exercise than any other movement, plus I've injured myself more with deads than any other exercise since I allow my form to degrade a bit too much), I chose the hip thrust for both max glute tension and max glute metabolic stress, and I chose lunges for max glute damage.
Since I added in more exercises such as the single leg RDL and sled push for this time around, we'll see how that influences things. Let's do this again and get some actual hard data to report. I'm unable to create a ranking system for this poll, which is unfortunate as this would lead to better data.
Please forgive me for the error, this is all new to me and I'm doing the best I can. Please just choose one answer, even if you like all of the exercises, as it leads to better information. I will report the results next week, assuming all goes well this time around. Thank you very much for your time and understanding!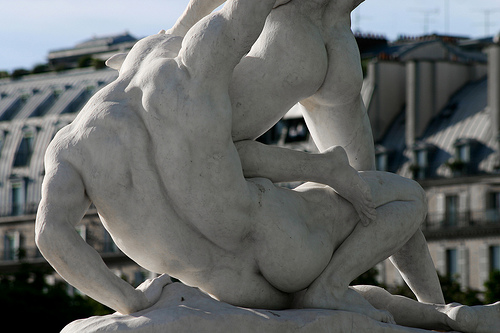 [wpsqt name="Blog and Glute Poll" type="poll"]