In strength coaching circles, there's a highly effective hamstring exercise that is well known to coaches, athletes, and sports medicine personnel.
The exercise has many names, including the Russian leg curl, Russian lean, Russian ham curl, kneeling Russian hamstring curl, Nordic ham curl, Nordic hamstrings, Nordic hamstrings lower, Nordic leg curl, Nordic reverse curl, glute-ham curl, bodyweight leg curl, natural hamstring curl, and bodyweight hamstring curl. The most common name used in the literature is the Nordic ham curl (NHC).
These exercise variations typically involve kneeling on a pad and lowering under control while the ankles are held in place by a partner, a lat pulldown apparatus, a sit-up apparatus, a loaded barbell, a poor man's glute-ham apparatus, or any other immovable object you can think of using. Here's a video of my sister from several years ago busting out 3 reps.
NHC and Hamstring Strain Injury Prevention
I would guess that the NHC is one of the top ten most studied and referenced exercises in the literature, probably behind squats, Olympic lifts, bench press, push ups, lunges, and deadlifts. In fact, at the end of this article, you'll see over 100 studies listed. The reason why it is so popular is due to the prevalence of hamstring strain injuries in sports and the belief that the NHC can help prevent them. The eccentric nature of the NHC is believed to increase hamstrings length and shift the maximum strength of the muscle toward longer muscle lengths, which is believed to be important in sports. For more information along these lines, please read:
Can eccentric training help prevent hamstring strains?
Questioning the NHC as a Hamstring Injury Prevention Method 
If you're a strength coach or physical therapist, then you should definitely include the NHC in your arsenal. There's a wealth of research behind it, and there's no doubt that it can help prevent hamstring strains. Moreover, knee flexion torque is highly correlated with sprint speed, and the hamstrings contract to both extend the hips and flex the knees during sprint running (and this is vital during the window immediately before, during, and immediately after the foot strikes the ground). So knee flexion shouldn't be omitted in sport training.
But before I delve further, I want to be very clear about something. Possessing high levels of eccentric hamstring strength does not guarantee that hamstring strains will not occur. In Hamstring strain injuries: are we heading in the right direction?, Mendiguchia et al. explain how hamstring strains are predicted by the interrelated nature between flexibility, strength, fatigue, core stability, architecture, and previous injury.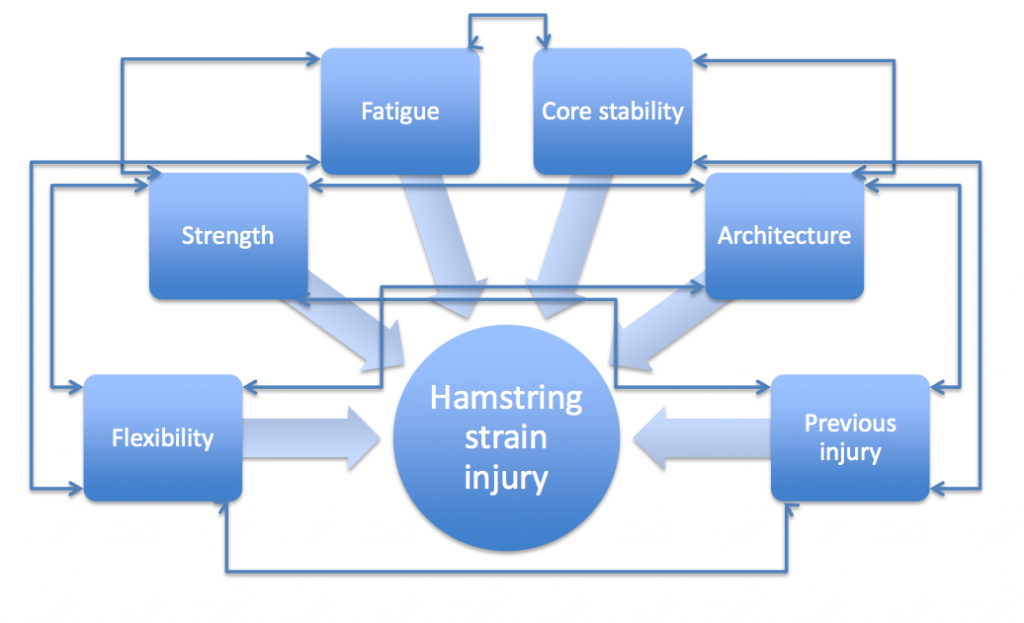 An athlete could possess sound levels of hamstring strength to absorb eccentric stress, sound levels of hamstring flexibility to lengthen sufficiently during high load activity, and sound levels of core stability to prevent aberrant pelvic motion, but still wind up with a hamstring strain due to excessive fatigue, a prior injury, or simply a skeletal anatomy or muscle architecture that lends itself to large strains on the hamstrings.
Furthermore, the NHC works primarily on knee flexion. In sports, the knee joints do not move independently from the hip joints; they work in concert with one another. Moreover, hip extension exercises stretch the hamstrings to a greater degree than knee flexion exercises. Therefore, it is very important to perform hip extension exercises as they will lead to a greater stretch in the hamstrings, and they are more specific to sport movement.
The NHC as a Hamstrings Builder
Can the NHC pack on serious hamstrings muscle mass? I believe it can. Take a look at a study conducted by Ebben et al. which showed that NHCs (in this study they were called Russian Curls or RCs) outperformed seated leg curls, stiff leg deadlifts, single leg stiff leg deadlifts, good mornings, and squats in hamstring EMG activity.

As you can see, the NHC is no joke. Now, there are several articles in the literature investigating hamstring EMG activity, and they show conflicting results, probably because hamstring activation is highly influenced by the precise placement of the electrodes along the length of the muscles. At any rate, the NHC undoubtedly leads to high levels of hamstring muscle activation and should be included in a comprehensive hamstring strengthening protocol, especially in conjunction with other exercises such as Romanian deadlifts (RDLs), glute ham raises (GHRs), and lying leg curls. RDLs, GHRs, and NHCs are well-suited for producing high levels of tension and damage, whereas lying leg curls are well-suited for producing high levels of metabolic stress.
The Band Assisted Nordic Ham Curl: A Better Alternative
In this article, I'd like to impress upon you what I believe is a more effective NHC variation compared to the standard exercise. The vast majority of lifters and athletes are not strong enough to adequately control the lowering portion of the exercise throughout the entire range of motion (ROM). Almost inevitably, athletes lower their bodies under control during the first half of the movement and then sink like a ship during the second half of the movement. This rapid descent is accompanied by a sharp decline in muscle activity.
To prevent this occurrence, the lifter can simply use a band to provide assistance, which kicks in more and more as the lifter descends into the latter portion of the movement. This is importance since the torque angle curve of the NHC is sharp such that the most torque out of the knee flexors is required at the end of the movement when the muscle is lengthened (but it's important to realize that in a NHC, the hamstrings don't even reach resting length at their maximum stretch).
Of course, not every athlete needs the band assisted version of the NHC. Take a look HERE at former NFL athlete Adam Archuleta – skip to the 2 minute and 32 second mark and watch Adam bust out NHCs with ease. But guys like Adam are the exception, not the norm.
In the video below, you can see that I'm able to control my body throughout the entire range of motion. In fact, I don't even have to use my arms to "push up" and provide assistance.
I hope that you give this variation a try, I think you will find it to be more effective than the traditional version, at least until you build up enough strength to sufficiently control your bodyweight during the eccentric phase without the use of bands.
Research on Nordic Ham Curls
Below is a list of over 100 linked journal articles that investigate, program, discuss, or recommend the Nordic Ham Curl exercise.
A 10-week randomized trial comparing eccentric vs. concentric hamstring strength training in well-trained soccer players.
Effects of a low volume injury prevention program on the hamstring torque angle relationship.
Medial hamstring muscle activation patterns are affected 1-6 years after ACL reconstruction using hamstring autograft.
Incidence, risk, and prevention of hamstring muscle injuries in professional rugby union.
Human hamstring muscles adapt to eccentric exercise by changing optimum length.
Hamstring activation during lower body resistance training exercises.
Effect of timing of eccentric hamstring strengthening exercises during soccer training: implications for muscle fatigability.
Preventive effect of eccentric training on acute hamstring injuries in men's soccer: a cluster-randomized controlled trial.
The use of MRI to evaluate posterior thigh muscle activity and damage during nordic hamstring exercise.
Kinematic and electromyographic analysis of the Nordic Hamstring Exercise.
A novel device using the Nordic hamstring exercise to assess eccentric knee flexor strength: a reliability and retrospective injury study.
The preventive effect of the Nordic hamstring exercise on hamstring injuries in amateur soccer players: study protocol for a randomised controlled trial.
Effectiveness of injury prevention programs on developing quadriceps and hamstrings strength of young male professional soccer players.
Risk factors, testing and preventative strategies for non-contact injuries in professional football: current perceptions and practices of 44 teams from various premier leagues.
Eccentric Hamstring Strength and Hamstring Injury Risk in Australian Footballers.
The Effect of Previous Hamstring Strain Injuries on the Change in Eccentric Hamstring Strength During Preseason Training in Elite Australian Footballers.
Prevention of hamstring strains in elite soccer: an intervention study.
The Validity of the Nordic Hamstring Lower as a Field-Based Assessment of Eccentric Hamstring Strength.
Evidence-based treatment of hamstring tears.
'Nordic' hamstrings exercise – engagement characteristics and training responses.
Effectiveness of injury prevention programs on developing quadriceps and hamstrings strength of young male professional soccer players.
Exercises to prevent lower limb injuries in youth sports: cluster randomised controlled trial.
The Assisted Nordic Hamstring Curl.
A return-to-sport algorithm for acute hamstring injuries.
Hamstring injury occurrence in elite soccer players after preseason strength training with eccentric overload.
The Nordic Eccentric Hamstring Exercise for Injury Prevention in Soccer Players.
Effectiveness of a neuromuscular and proprioceptive training program in preventing anterior cruciate ligament injuries in female athletes: 2-year follow-up.
Training Considerations after Hamstring Injury in Athletes.
The Effects of Injury Preventive Warm-Up Programs on Knee Strength Ratio in Young Male Professional Soccer Players
F-MARC – Football for Health 15 years of F-MARC Research and Education 1994 – 2009
Isokinetic strength effects of FIFA's "The 11+" injury prevention training programme.
Performance Enhancement Effects of Fe´de´ration Internationale de Football Association's "The 11+" Injury Prevention Training Program in Youth Futsal Players.
The Impact of the FIFA 11+ Training Program on Injury Prevention in Football Players: A Systematic Review.
Effects of the 11+ and Harmoknee Warm-up Programs on Physical Performance Measures in Professional Soccer Players.
The effectiveness of different exercises protocols to prevent the incidence of hamstring injury in athletes
The Effects of Comprehensive Warm-Up Programs on Proprioception, Static and Dynamic Balance on Male Soccer Players
How and When to Use an Injury Prevention Intervention in Soccer
The effectiveness of neuromuscular warm-up strategies, that require no additional equipment, for preventing lower limb injuries during sports participation: a systematic review
Strength and power characteristics in English elite rugby league players.
Altering the length-tension relationship with eccentric exercise : implications for performance and injury.
At return to play following hamstring injury the majority of professional football players have residual isokinetic deficits.
Kettlebell swing targets semitendinosus and supine leg curl targets biceps femoris: an EMG study with rehabilitation implications.
The role and implementation of eccentric training in athletic rehabilitation: tendinopathy, hamstring strains, and ACL reconstruction.
Preventing Hamstring Injuries in Sport.
Why hamstring eccentrics are hamstring essentials.
Recurrent hamstring muscle injury: applying the limited evidence in the professional football
setting with a seven-point programme
At return to play following hamstring injury the majority of professional football players have residual isokinetic deficits
Bridging the Gap Between Content and Context: Establishing Expert Consensus on the Content of an Exercise Training Program to Prevent Lower-Limb Injuries.
Biceps Femoris Long-Head Architecture: A Reliability and Retrospective Injury Study.
Clinical and morphological changes following 2 rehabilitation programs for acute hamstring strain injuries: a randomized clinical trial.
Comprehensive warm-up programme to prevent injuries in young female footballers: cluster randomised controlled trial
Conceptual Framework for Strengthening Exercises to Prevent Hamstring Strains.
Core stability training for injury prevention.
Development and validation of a questionnaire (FASH—Functional Assessment Scale for Acute Hamstring Injuries): to measure the severity and impact of symptoms on function and sports ability in patients with acute hamstring injuries.
Differences in activation patterns of knee flexor muscles during concentric and eccentric exercises.
Eccentric exercise: mechanisms and effects when used as training regime or training adjunct.
Eccentric exercise training: modalities, applications and perspectives.
Eccentric Muscle Actions and How the Strength and Conditioning Specialist Might Use Them for a Variety of Purposes.
Eccentric training for prevention of hamstring injuries may depend on intervention compliance: a systematic review and meta-analysis.
Effect of hip flexion angle on hamstring optimum length after a single set of concentric contractions.
Effects of a 10-week in-season eccentric overload training program on muscle injury prevention and performance in junior elite soccer players.
Evidence based prevention of hamstring injuries in sport.
Examination and treatment of hamstring related injuries.
Hamstring exercises for track and field athletes – injury and exercise biomechanics, and possible implications for exercise selection and primary prevention.
Hamstring injury rehabilitation and prevention of reinjury using lengthened state eccentric training: a new concept.
Hamstring Strains: Basic Science and Clinical Research Applications for Preventing the Recurrent Injury.
Hamstring strain injuries: are we heading in the right direction?
Hamstring strain injuries: factors that lead to injury and re-injury.
Interventions for preventing hamstring injuries.
Prevention of injuries among male soccer players: a prospective, randomized intervention study targeting players with previous injuries or reduced function.
A pilot randomised controlled trial of eccentric exercise to prevent hamstring injuries in community-level Australian Football.
Hamstring Strain Prevention in Elite Soccer Players.
Strength deficits identified with concentric action of the hip extensors and eccentric action of the hamstrings predispose to hamstring injury in elite sprinters.
Influence of Hip-Flexion Angle on Hamstrings Isokinetic Activity in Sprinters.
Intrinsic risk factors for hamstring injuries among male soccer players: a prospective cohort study.
Lower eccentric hamstring strength and single leg hop for distance predict hamstring injury in PETE students.
Methods of Developing Power to Improve Acceleration for the Non-Track Athlete.
Neuromuscular training improves knee kinematics, in particular in valgus aligned adolescent team handball players of both sexes.
Risk factors for hamstring injuries in male soccer players: a systematic review of prospective studies.
Specific exercise effects of preventive neuromuscular training intervention on anterior cruciate ligament injury risk reduction in young females: meta-analysis and subgroup analysis.
Strength and Conditioning for Soccer Players.
Female Soccer: Part 2—Training Considerations and Recommendations
The Nordic Eccentric Hamstring Exercise for Injury Prevention in Soccer Players
Anterior Cruciate Ligament Injury Prevention for Female High School Athletes
Training Considerations after Hamstring Injury in Athletes
Hamstring Strains: Basic Science and Clinical Research Applications for Preventing the Recurrent Injury
The effect of 40 m repeated sprint training on physical performance in young elite male soccer players
The effect of 40-m repeated sprint training on maximum sprinting speed, repeated sprint speed endurance, vertical jump, and aerobic capacity in young elite male soccer players
The effect of an eccentrically-biased hamstring strengthening home program on knee flexor strength and the length-tension relationship.
The effect of combined resisted agility and repeated sprint training vs. strength training on female elite soccer players.
The effectiveness of different exercises protocols to prevent the incidence of hamstring injury in athletes.
The effects of isometric and isotonic training on hamstring stiffness and anterior cruciate ligament loading mechanisms.
The effects of resistance training prioritization in NCAA Division I Football summer training.
The Order of Concurrent Training Does not Affect Soccer-Related Performance Adaptations.
The role of neuromuscular inhibition in hamstring strain injury recurrence.
Hamstring injuries: risk assessment and injury prevention.
Which screening tools can predict injury to the lower extremities in team sports?: a systematic review.
Neuromuscular training improves performance and lower-extremity biomechanics in female athletes.
The effects of plyometric vs. dynamic stabilization and balance training on power, balance, and landing force in female athletes.
Methodological approaches and rationale for training to prevent anterior cruciate ligament injuries in female athletes
Does eccentric training of hamstring muscles reduce acute injuries in soccer?
Eccentric hamstring muscle training can prevent hamstring injuries in soccer players.
Acute hamstring injuries in Swedish elite football: a prospective randomised controlled clinical trial comparing two rehabilitation protocols.