If you're the type of person who can formulate a plan and stick with it to a T for months on end no problemmo, then you won't find this article as useful as others who struggle with adherence. Furthermore, if you're the type that just needs to recomp (add muscle while decreasing fat and staying relatively at the same weight), then this article won't be as much help to you. The vast majority of individuals will indeed benefit from this article since most people are markedly overweight. However, I wrote this article for the folks like me who have been training for many years and have put on a significant amount of muscle mass but never reached the level of leanness they desire. This applies to the majority of advanced lifters as well, since most never truly get into competition shape (I never have, for the record).
For me, adherence is the most difficult thing in the world. Every few hours, it takes everything in me to not enter the kitchen and devour everything in site. Since I was 16 years old, I've always been a terrible sleeper, and if I'm hungry, I can't sleep. In fact, most nights I wake up in the middle of the night starving and the hunger pangs are hard to bear. I have to drink a protein drink or eat a Greek yogurt then go back to sleep. For these reasons, although I'm highly skilled at creating macro plans, I'm not the best at sticking to them.
I'll elaborate to make a point. Last year, my intern Andrew Vigotsky would come over and we'd work on various research projects from around 8:00 pm to 2:00 am in the morning. During these 6 hours, he wouldn't eat anything, he wouldn't drink anything, and he wouldn't go to the bathroom once to take a leak. In this same amount of time, I'd predictably eat 3 different times, drink 1.5 Liters of fluids, and take a leak at least 3 times. He doesn't get hungry often and has to force himself to eat enough, whereas I'm hungry around the clock and have to try my hardest every day to not go berserk and consume 10,000 calories/day. I'm certain that if we took blood samples throughout the day and analyzed our physiology, we'd see  completely different hunger hormone profiles. It's like my bodyweight set point is for some reason at 300 lbs and I'm trying to be 215 lbs. At any rate, I finally buckled down and made some progress, and I'm excited to share with you the tips that worked for me. 
As I mentioned in a blogpost HERE a couple of weeks ago, I recently lost 22 lbs (from 246 lbs to 224 lbs) and leaned out considerably. Many of my readers were curious as to how I went about it. As a matter of fact, I posted a picture of my current physique on Facebook and it received 4,690 likes – by far the most I've ever received!
This was pleasantly surprising to me because I don't feel like my physique is very impressive. The dude in the picture below – now that's an impressive physique! Nevertheless, having leaned out myself and having helped numerous clients lean out over the years, I believe that I have some good insight to share.
I Figured Out What Worked for Me, You Have to Figure Out What Works for You!
Throughout this article, please realize that these are the approaches that worked well for me; they won't necessarily work for you. However, you can learn from my strategization and experimentation in order to help you figure out the methods and systems that best suit your individuality.
After much deliberation, I decided to narrow things down to five main tips that should help you on your way to leanness, should that be your goal.
1. Do what you need to do to continue achieving excellent workouts
It's much easier to train hard when you're eating like a horse. When you're dieting down, your workouts will eventually suffer, and this effect gets more pronounced the longer you've been dieting.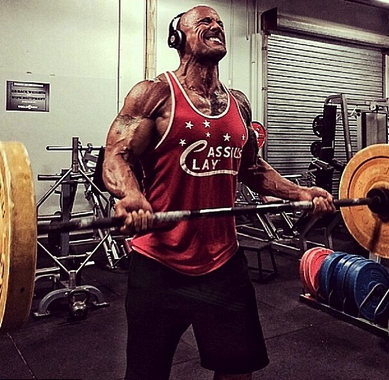 It is mandatory that you have plenty of energy to train hard to maintain strength (or even better – to build strength) over time. If you feel weak and shaky when you lift, your performance is obviously going to suffer massively, therefore you won't be sending the same growth signals to the muscles, and your muscles will atrophy. The goal is to keep as much muscle as possible while you lose weight so that the weight you do lose is mostly fat. Most people mistakenly focus on losing weight instead of losing fat. Muscle gives you shape and keeps your metabolism more revved (*side note: many fitness experts overestimate this though; a pound of muscle burns approximately 5.9 calories/day whereas a pound of fat burns approximately 2.0 calories/day, at least according to literature referenced HERE), so it's imperative that you prioritize strength training. You don't want to just be a smaller version of your current self; you want to keep your muscle and lose mostly fat so you will appear more ripped and possess lower bodyfat levels.
So how do you ensure that you have sufficient energy to train hard when dieting down? Everyone is unique in this regard – I cannot give you a precise formula. You're going to have to experiment and be scientific in order to figure out what works best for you. In particular, you need to figure out:
The ideal time of day you should train in order to put forth your best effort
The ideal number of meals you should consume prior to your training session
The ideal combination of foods you should consume prior to your training session
The types of supplements, if any, that help you train harder
The amount, type, and timing of cardio, if any, that helps you lose fat without interfering with strength
The optimal amount of calorie reduction and macro proportions that allows you to steadily drop weight (fat) while keeping your strength (muscle)
I know of some lifters who like to train first thing in the morning on an empty stomach. This strategy alone would cause me to lose significant strength and most likely muscle as well as I don't perform optimally in the mornings – especially with squats, deadlifts, and other "big rock" movements. I do best when I train in the afternoon or evenings.
I know of some lifters who don't feel right if they don't have a couple of moderate carb meals prior to their workouts or at least a high carb meal 1-2 hours before their workout. I know of some lifters who consume all of their daily carbs during the 3 hours surrounding a workout (before, during, and after). I don't require moderate or high carb meals before I train; this doesn't seem to affect my performance. However, I like to have several meals in me by the time I train, especially a protein shake around 40 minutes prior to my workout.
I know of some lifters who love their HIIT and can't stand steady state cardio. I don't like doing HIIT or running as I feel that it interferes with my strength since I train with high frequency (*side note: THIS review shows that concurrent training does interfere with strength, power, and hypertrophy, and THIS review discusses some of the factors involved in the interference effect). I walk for 40 minutes 4-5 days per week – always after my strength workouts.
I know of some lifters who thrive off of coffee and/or caffeine pills prior to training. I rarely drink coffee, and I don't take pre-workout supplements, but I always drink a diet energy drink on my way to the gym.
Initially, I was able to reduce my calories substantially while still maintaining my strength. This could be explained by a drop in carbohydrates (I was consuming tons of carbs every day) leading to improved insulin sensitivity/enhanced physiology, along with a significant portion of the first 10 lbs of weight loss coming from water losses. I lost 16 lbs during the first 3 weeks of dieting, and the remaining 8 lbs took 9 weeks, but my physique looked better every week. I know I was a little overaggressive out of the gates, but it all worked out in the end.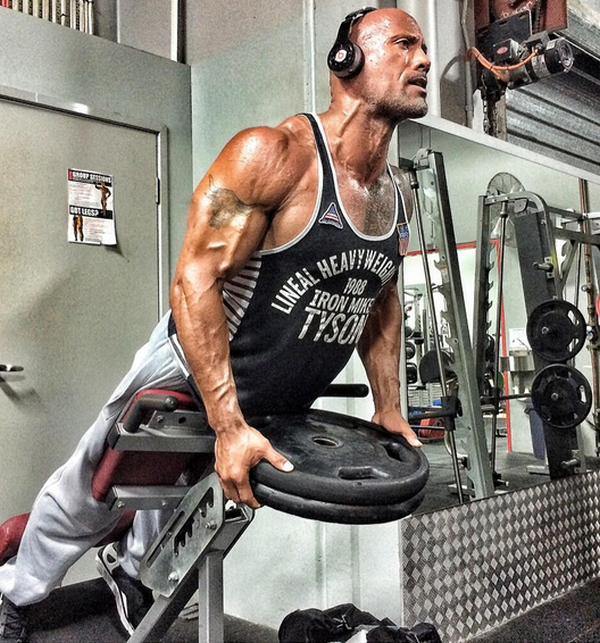 I had to be more meticulous as time went on in terms of calorie reductions in order to prevent strength and muscle losses. As I lost weight, I fought vigorously to maintain my strength. I'm going to reiterate that to make a point: I CARED ABOUT MY STRENGTH AND MADE IT A PRIORITY. You need to do this too if you want to hold onto your muscle while you lose weight.
Throughout the 24 lb weight loss, my high rep deadlift strength, weighted chin up strength, max rep chin ups, and lat pulldown strength soared, my max rep deadlift strength, hip thrust strength, reverse lunge strength, rowing strength, and incline press strength remained fairly steady, and my squat strength, front squat strength, bench press strength, and military press strength diminished by around 10% – similar to my bodyweight reduction. So I gained in some lifts, maintained in some lifts, and lost in other lifts. However, I set weekly goals, I planned, tracked, and analyzed my workouts, and I tried my absolute best to still set PRs when possible. I believe that this caused me to retain more muscle and lose more fat throughout the dieting process. This are the strategies that worked best for me; you'll need to figure out what works best for you. 
2. Eat less and prepare to suffer more
When I was at The Fitness Summit a couple of months ago, some of my colleagues noticed that I looked leaner and asked me what I was doing in order to lean out. I thought about it for a few seconds and replied with this:
"Um, I'm eating less overall calories and staying hungry more often."
We all laughed because they expected some fancy formula, but all I gave them was something any moron could tell them. However, this advice is very important. I suppose I could have been more technical and informed them that I created a caloric deficit by progressively cutting my carbs and fat down while keeping my protein the same (around 1 gram/lb of bodyweight per day). However, one of the main things I had to do was get used to being more comfortable with being hungry.
I realize now that I was a spoiled little b#$%* when I weighed 250 lbs. Whenever I experienced the slightest bit of hunger, off to the kitchen I went. In fact, sometimes I'd even hit up Valeros at 2 a.m. before I went to sleep. Valeros is a local Mexican food take out restaurant near my house – I'd order a chorizo and egg burrito with beans and rice. Who in the f*#$ did I think I was LOL? This was just one of the 8 meals I 'd consume per day. Back then I was eating around 6K calories per day at 250 lbs, but in order to get down to 224 lbs I had to eventually get to around 3,000 calories per day. This was fine when I was in my early 20's, but I'm 38 yrs old now and can't handle all those calories while staying lean.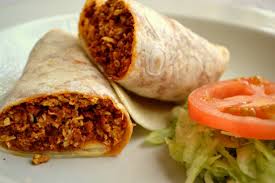 When I was at 250 lbs, I would guess that I experienced general hunger for around 20 minutes per day. But at 224 lbs, I would guess that I was experiencing general hunger for around 3 hours per day. I had to accept this and learn to deal with the suffering. Getting lean isn't all fun and games for most people.
3. Prioritize diet, but every little bit can help
It's important to be mathematical with regards to the fat loss puzzle. How many calories does exercise in general burn? Of course, it depends on various factors such as the nature and intensity of the exercise and the person's bodyweight, but let's just go with 5-10 calories per minute for sustained exercise.
Common sense tells us that extreme methods don't pan out in the long run. So let's assume that you're going to be realistic and lift weights 4 times per week for an hour. For simplicity's sake, let's say you train very hard – full body – and that each training session has you burning 300 more calories more than you would at rest. This equates to 1,200 extra calories per week. Say you add in four 30 minute steady state cardio sessions which burn an additional 200 calories per session above what you'd normally burn. This equates to 800 extra calories per week. Now you're burning an additional 2,000 calories per week through exercise, or 286 calories/day.
Not very impressive, right? Let's say you currently eat a bagel with cream cheese each day as a snack, or say you have a few alcoholic drinks after work each night. Simply cutting these out of your diet will create the same caloric deficit as all of that exercising above (6-8 hours of total activity). Obviously strength training with the extra calories would be the best choice for your physique over the long haul since it causes the body to transform by building more muscle and shedding fat (assuming weight stays fairly constant), but the take home point is that the primary focus with fat loss should be on diet, not exercise, since it's easier for most people to eat less as opposed to exercising more.
That said, every little bit can help. For example, when you're dieting down and you crave a sugary snack, you might very well be willing to add in 40 minutes of brisk walking as a trade for allowing yourself to gobble down some tasty treat (for example, a snickers bar, not a giant bowl of icecream or half a dozen donuts). It just depends on your cravings and mindset. Some people aren't tempted and can stick to their macros like a boss. Others struggle more in this regard.
On days when I train clients for 4 hours or so, I find that I'm able to consume around an extra 600 calories compared to days when I don't train any clients, and I won't lie, the extra calories are very nice. But truth be told, if I wasn't making money from the personal training, I'd prefer to just omit the extra hours of work/activity and just consume less calories. For those who don't have tremendous cravings, you can just lift weights and adjust your diet appropriately; you don't have to employ additional cardio to get lean. I realize that this is contrary to popular opinion, but many of my clients have pulled it off just fine – they stepped on stage looking incredibly lean having never done on ounce of cardio. Some cardio is indeed important for health purposes, but many people greatly overestimate how much cardio is ideal for health related goals (*side note: specifically with running and vigorous exercise, there's a sweet spot, or a u-shaped curve, that maximizes health benefits, according to THIS paper, and it's capped at 30-40 minutes per day).
4. Figure out clever ways to stave off hunger
Calculating macros is easy, but sticking to them is not always very easy, especially as you get leaner. Now, if you're the type that isn't prone to experiencing hunger pangs, then you're a lucky individual and you can ignore this tip. However, if you're like most people, you're going to reach a point when dieting down where you find yourself getting extremely hungry. The body has inherent set points for bodyweight and bodyfat, so when you drop down, your body responds by sending out hunger signals. You will need to find a way to stave off hunger.
This is another thing that is highly individual. Some people consume a lot of fibrous veggies. My body doesn't seem to be fooled by this – 30 minutes later my stomach is growling like crazy. Others chew gum, drink tea, drink a bunch of water, or even brush their teeth. What works best for me is exercise, caffeine, and carbonation. Each of these stave off my hunger temporarily. Sometimes I'll be starving and I drink a diet energy drink and then go for a walk, and my hunger will have vanished. Three hours later I'm finally hungry again, and I successfully "stalled" my hunger for a few hours which helps enable me to stick to my macros. You will need to figure out similar strategies that work for you.
5. The 1-2X/week whey protein macro-fitting strategy for long-term adherence
Adherence is the name of the game over the long run. If you can set up, stick to, and intelligently adjust your macros for months on end and consistently set PRs in the gym, you're going to look incredible. Many people don't understand what "macros" means. Macros are protein, carbs, and fat, and the amount you consume of each determines your caloric intake. If this is new to you and you desire a basic guide to teach you about flexible dieting and calculating macros, click HERE to check out Sohee Lee's "The Beginner's Guide to Macros." It's an affordable guide and it's very well written – I vouch for it. I also included a bonus guide in my 2 x 4: Maximum Strength product.
Before I divulge my "whey protein macro-fitting strategy," I'm going to first rant about anti-flexible dieting comments I've seen over the past year.
Rant start
I've been seeing some people dissing "flexible dieting" lately as if it doesn't have merit. This would then mean that they're all for "inflexible dieting" or "rigid dieting." Having trained numerous competitors who ate the same meals everyday for a couple of months during their preps (egg white omelets, broccoli, chicken, tilapia, sweet potato, oats), I can tell you with much confidence that this doesn't pan out in the long run. As soon as the competition is over, most of these ladies put on 15 lbs the following week, then they're miserable. This is why I'm a strong believer in moderation and why I don't like excessive cardio or dieting. Variety is ideal for adherence.
On a continuum of "dieting flexibility," on one end you'd have the most rigid dieters who would just eat a few different things each day, whereas on the other end you'd have the most flexible dieters who would switch things up and eat new things daily. I'm pretty sure nobody would recommend just eating one food, such as milk. Or beef. Or eggs. Or whatever. You'd be very unhealthy and would develop serious health complications pretty quickly. So rigid, inflexible dieting is out, and at the very least, it would be prudent to regularly consume at least 10 different foods. Most people are flexible dieters whether they realize it or not.
The difference between the flexible dieters and "anti flexible dieters" is that flexible dieters often purposefully work in some junk food such as pop tarts, or ice cream, or whatever, but it's in small amounts. The rigid dieters think this is unhealthy, but something that they're missing is that you can still adhere to flexible dieting and abstain from junk food. You can "eat clean" (misleading term but we all kind of know what it means) while still being flexible and incorporating a lot of variety. For the record, adding in some junk is not unhealthy in the grand scheme of things as long as around 80% of your foods come from whole, minimally processed foods, and I'm unaware of a single marker of overall health that would be negatively impacted such as insulin sensitivity, cholesterol, triglycerides, etc. Many "clean eaters" have a cheat day where they go crazy for an entire day and end up eating just as much junk throughout the week as the flexible dieters anyway.
Nevertheless, variety is better for overall health since you get more of a variety of micronutrients, phytochemicals, etc. But being lean is very healthy in and of itself. Many of you will recall "The Twinkie Diet" rage years ago where professor Mark Haub lost 27 lbs in 10 weeks by eating 800 less calories/day. He consumed a protein shake and a can of veggies each day, but everything else was junk – twinkies, oreos, little debbie snacks, hostess products, doritos, and sugary cereals. Even though he ate a bunch of crap, since he leaned out, his overall health improved – his LDL levels dropped by 20%, his HDL levels increased by 20%, and his triglycerides improved by 39%. Overweight people who add fruits/veggies to their diets without losing weight don't tend to improve their cardiovascular health (see HERE).
This is why adherence is the name of the game! So we all need to figure out strategies that allow us to "adhere" for the long-term. This allows us to be at the right weight and bodyfat that we want to be at and stay there for the long-term. This leads right into my next point.
Rant over
When you're dieting down, you tend to crave predictable foods. Sugary foods, fried foods, foods that have lots of carbs and fats, etc. For example, pizza, burgers, fries, ice cream, peanut butter, bacon, cereal, pancakes, macaroni and cheese, cookies, brownies, pie, candy, and chocolate. I started utilizing an interesting flexible approach that 1) allowed me to get in the foods I craved, and 2) was quick and didn't require a lot of prep time. Win win!
My Whey Protein-Fitting Macro Plan
Now, you don't have to follow this same approach, but you could easily tweak it to suit your individuality. What I did was simply jot down foods I really wished I could eat. For example, I love my giant bowls of cereal, I love my cheeseburgers, and I love my pancakes with tons of butter and syrup. Guess what? I realized that I could have cereal in the morning along with a whey protein shake, a double cheeseburger for lunch, pancakes for dinner along with a whey protein shake, and a whey protein and peanut butter shake (actually more like pudding) before I went to sleep. How's that for a day's meals? The things I craved were loaded with fat and carbs, but I "filled in the gaps" with whey protein in order to ensure that I hit my macros and didn't go overboard on calories. Think of the foods you crave (when you're dieting down, sometimes the things you crave are different than when you're not dieting down), work them into your diet in reasonable amounts, then balance everything out with protein. Here's what one of the days looked like for me:
Breakfast: 
Giant bowl of Grape Nuts: 500 calories, 12 grams protein, 94 grams carbs, 2 grams fat
Skim milk: 135 calories, 12 grams protein, 18 grams carbs, 0 grams fat
2 scoops in whey protein in water: 220 calories, 42 grams protein, 8 grams carbs, 2 grams fat
Total: 855 calories, 66 grams protein, 120 grams carbs, 4 grams fat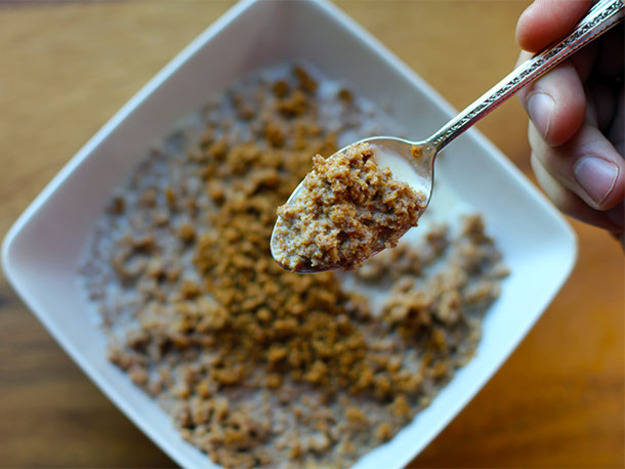 Lunch:
Double cheeseburger (Wendy's): 700 calories, 48 grams protein, 38 grams carbs, 39 grams fat
Total: 700 calories, 48 grams protein, 38 grams carbs, 39 grams fat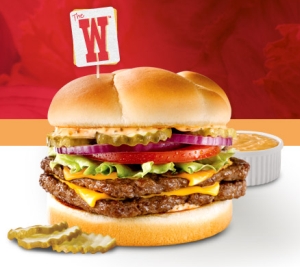 Dinner:
3 pancakes: 471 calories, 12 grams protein, 69 grams carbs, 15 grams fat
2 tablespoons butter: 204 calories, 0 grams protein, 0 grams carbs, 24 grams fat
6 tablespoons syrup: 312 calories, 0 grams protein, 78 grams carbs, 0 grams fat
2 scoops in whey protein in water: 220 calories, 42 grams protein, 8 grams carbs, 2 grams fat
Total: 1208 calories, 54 grams protein, 155 grams carbs, 41 grams fat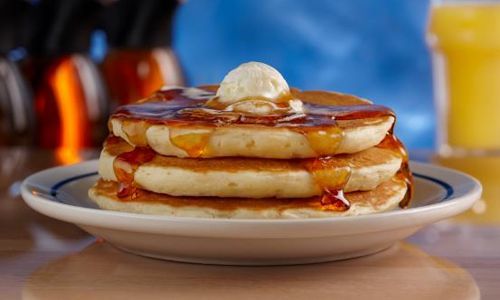 Snack:
2 scoops in whey protein: 220 calories, 42 grams protein, 8 grams carbs, 2 grams fat
Skim milk: 90 calories, 9 grams protein, 12 grams carbs, 0 grams fat
3 tablespoons peanut butter: 300 calories, 10 grams protein, 9 grams carbs, 24 grams fat
Total: 610 calories, 64 grams protein, 29 grams carbs, 26 grams fat
Grand Total:
3373 calories, 232 grams protein, 326 grams carbs, 110 grams fat
You'll note that this day of food intake totaled 3373 calories. Toward the end of the 10 weeks of dieting, I was down to around 3000 calories/day, so if I went over on calories like this, I'd walk for 30-60 min (depending on the overage on calories) at night at a brisk pace in order to make up the difference.
I would do this once per week at first and then twice per week after I'd been dieting for six weeks. These days would feel like cheat days, but they're not cheat days – you don't gain any weight and you don't feel like complete crap the next day because you keep your calories in check. You'll find that the rest of the week, you feel extra motivated to eat "cleaner" and get more fiber in, etc. I don't experience digestive issues with these days but I would expect some people to, so those folks could take a fiber supplement on those days I suppose.
The other 5-6 days per week, I'd stick mostly to whey protein shakes, skim milk, eggs, tuna, chicken, lean beef, Greek yogurt, orange juice, fruit, dried fruit, mixed veggies, cheese, mixed nuts, sunflower seeds, peanut butter, pickles, and fish oil caps. So this way, the vast majority (over 80%) of my food throughout the week is still considered whole and minimally processed, with plenty of fiber and diversity. Of utmost importance, the flexibility allows me to stay lean, stay healthy, and stay aboard the plan.
Again, you don't have to use this same approach. Many people don't like protein shakes (I love them), but the whey is almost pure protein so it works very well for this purpose. You will obviously crave unique foods that are different from mine. But make no mistake about it – adherence is the name of the game in the long run, so you have to figure out ways to help you stick to the formula.
Conclusion
I hope that these 5 tips are helpful in your endeavors to get leaner. I'd like to state that many of my clients lean out considerably without ever dieting down. They simply keep their calories consistent, improve their macro proportions to contain more protein, and get way stronger. Over the course of several months, their physiques transform markedly despite the scale not changing. So the advice provided in this article is more so for the person who is too heavy and needs to lose weight to achieve their preferred level of body composition.
As I've repeated consistently throughout this article, these are the strategies that worked well for me, but you'll need to get crafty and figure out ways to help you adhere to your diet so that you keep your calories in check, stick to your macros, and maintain or gain strength in the gym. You want fat loss and muscle maintenance, not weight loss, so strategize accordingly and defend your strength levels like a boss as you diet down.