Just wanted to give everyone a quick update. Last week was very busy as I had to give a practical presentation on Wednesday to the Master's students on squatting, deadlifting, and corrective exercise. Then on Thursday I spoke about posterior chain strength to the SPRINZ Conference attendees. On Friday I spoke to the professional Cricket coaches about rotary training and groin injury prevention. The SPRINZ Conference is a world class event and I would love to get something of its caliber going in the United States. I can't even begin to tell you how high-quality the information was and how intriguing some of the speakers were. Simply amazing.
Horizontal Loading
It was very nice to see so many sport and track & field strength coaches utilizing more horizontal loading in their routines. One highly successful coach showed a picture of a hip thrust variation I'd never seen (eccentric accentuated – I'll get a video clip of this shortly) and one spoke of interesting case studies that showed dramatic results from a focus on horizontal hip strengthening. I met some very intelligent coaches, some of whom have published landmark articles that I've read in the past. It was nice to get a chance to speak to these guys and introduce myself. I was surprised to find that many of them read my blog. I've done so much reading in the past year that I could carry on very informed conversations with these folks, and I instantly hit it off with many of them – but not everyone.
It's funny how polarized some coaches can be…one expert does no strength training with his sprinters as he doesn't believe in it. Others swear by it. I've never met a coach that exclusively programmed strength training and failed to incorporate sprints, sled work, plyos/ballistics, and sprint drills. I just don't see how a coach can justify omitting strength work completely with all the available research.  
Upcoming Speaking Arrangements
This weekend I'll be speaking at Get NZ Active, and the following weekend in Australia for the FMA Conference.
Posting Videos and Audio Recordings on WordPress
I recorded my talk at the SPRINZ Conference and would like to embed it on my blog but it's around 30 minutes long. I also have a 2-hour audio recording I'd like to embed into my blog.
I suppose I can pay extra money to be able to embed large videos and audio recordings, right? Anyone have any expertise with this?
Summer in New Zealand
While all my American friends were enjoying the summer, I was dealing with a cold and rainy winter here in Auckland. Now the weather is getting really nice. I went for a stroll on the beach the other day and snapped a pic. This is the beach that's not even a mile away from my apartment.
America Here I Come
I'm very excited to be returning home in mid-December to mid-January to visit my family during the holidays. Being away sure makes you miss the strangest things. For example, I can't wait to come home and pig out on Mexican food. Losbetos here I come!
How to Write a Sprint Program
Jimson Lee gives a good ten-minute presentation here on how to write a sprint program for track & field athletes.
Back-Friendly Tips for Setting Up Your Gym
Here's Nick Tumminello giving some good advice as to how to set up your gym in a back-friendly manner.
Last Saturday's UFC: Hendo vs. Shogun
Two words: Holy shit!
Best fight in MMA History. Okay I added five more words. These guys are ultimate warriors. The following day I was reminiscing about the fight and I couldn't help but get a smile on my face. I suspected this fight was going to be one for the history books.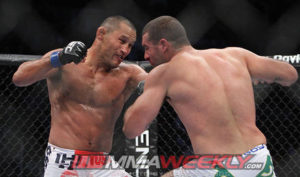 What Speed Training Really Means
This was a great article by John Gilmer on speed training.
Sports Specific Training
Here is SAPT's take on sports-specific training. I agree with their opinion.
Serious Glute Control
This lady has some serious motor control of the gluteals. She's got several videos, so you can surf around after this one plays. See how I provide my male readers with some eye candy under the guise of sports science? Do you think my Girls Gone Strong can do this? If not they need to start workin' on it haha!
Kai Greene has Good Glute Control Too
I've written about Kai in the past but watch again as he trains his glutes. Though not quite as fun to watch as the last video, notice the posterior pelvic tilting and focus on targeting the glutes?
The Pull Through
I haven't seen many good pull-through vids on the internet. Here's Coach Sam Leahey showing very good hip hinging and good end range glute activation with one of his athletes.
Okay folks, that's it for now. Hope you all have a great week! – BC