If you've been reading fitness information for the past several decades, then surely you've been informed that bulking and cutting leads to better progress over the long run than staying the same weight or making gradual changes. But is this really the best strategy? Should every lifter therefore always be in either a bulking or cutting phase? In this article, I hope to convince you that many lifters should avoid bulking and cutting cycling and be content to stay the same weight while improving body composition, or be content to make very gradual changes over time.
Here's a short course on bulking and cutting. The theory is that you first spend a few months eating copious amounts of food while training hard and lifting heavy. Say you pack on 20 lbs during this time, and 12 lbs of it is muscle while the other 8 lbs is fat. For the next several months, you then clean up your diet and continue to train hard, possibly adding in higher reps and cardio. The goal is to cut 8 lbs of fat while keeping the 12 lbs of muscle you gained during the bulking period. Ladies and gentlemen, I'm here to tell you that it rarely ever happens this way unless you just started training or unless you use anabolic steroids and other drugs.
Usually, you end up right back where you left off, or slightly heavier but with a higher bodyfat percentage than before. You could have simply progressed gradually during this entire time and avoided 1) spending excessive money on food while bulking, 2) getting fat and out of shape during the bulking phase, and 3) pain and suffering that accompanies the cutting phase.
Before we delve into things, I think it's important to mention that there is no current accepted definition of bulking and cutting. Bulking means that you're purposely trying to gain weight (preferably muscle) and are therefore eating at a caloric surplus. Cutting means that you're purposely trying to lose weight (preferably fat) and are therefore eating at a caloric deficit (and probably doing more cardio). But the rate at which you bulk and cut, or how far you let yourself go in terms of increased or decreased bodyweight or bodyfat, are not yet standardized. For example, "bulking" to one lifter might mean gaining 30 lbs in 6 weeks, whereas to another lifter it might mean gaining 6 pounds in 6 weeks. There are also various terms that have been created, such as clean bulk (bulking with "clean" foods), lean bulk (bulking while trying to stay lean), dirty bulk (bulking while eating whatever you want including junk food), slow bulk (taking your time to gain mass), fast bulk (gaining weight rapidly), permabulk (being on a permanent bulking phase), fulking (fat bulking – thinking you're gaining muscle but really gaining lots of fat too), and recomping (staying the same weight while improving body composition by slightly increasing muscle and simultaneously decreasing fat), but it's not necessary to go into these in detail.
The Physiological Pros and Cons of Bulking
Here is the main reason why you should consider bulking – increased myonuclei. When you're lifting heavy and consuming plenty of calories and protein, you'll be in an anabolic state. When you're in an anabolic state, it's much easier to grow muscle. And when you're growing muscle, satellite cells will "do their thang." Satellite cells surrounding the muscle cells will donate their nuclei to the muscle cells so that they increase their total number of nuclei (if you want to read up on the science of , please read HERE, HERE, HERE, HERE, HERE, HERE, HERE, and HERE). This translates into greater potential muscle mass. In fact, there's a "myonuclear domain" theory that postulates that the growth of a muscle cell is limited by the number of nuclei it contains. When you diet back down, you will retain these myonuclei, which will be useful in maintaining muscle mass and improving body composition.
Unfortunately, fat cells can grow as well, and they can also undergo hyperplasia (if you want to read up on the science, please read HERE, HERE, HERE, and HERE). When you lose weight, you will retain this increased number of fat cells (see HERE). Furthermore, when bulking, you can easily decrease your insulin sensitivity (see HERE, HERE, and HERE for some literature on this phenomenon), and the binging can become habitual and somewhat addictive, causing some folks to struggle when attempting to diet back down.
The Physiological Pros and Cons of Cutting
Cutting will definitely help you shed fat quickly. Bodybuilders cut down in weight prior to competition in order to decrease bodyfat and improve body composition (see HERE and HERE). Cutting will also improve your insulin sensitivity (see HERE).
Unfortunately, cutting rapidly will alter your hormonal system. It can markedly decrease testosterone (see HERE), increase myostatin and decrease IGF-1 (see HERE), increase cortisol (see HERE), and in general tamper with your metabolism (see HERE and HERE).
Consensus
As you can see, there are pros and cons of both bulking and cutting. Many of the cons can be mitigated simply by progressing gradually and avoiding crash dieting and excessive exercise. However, as I previously mentioned, bulking and cutting likely involves more inherent financial and psychological costs than just coasting and making gradual gains.
In the strength & conditioning community, we're lead to believe that we always have to be in either a bulking phase or a cutting phase in order to see results. But what about just staying the same weight while training hard to increase your strength and fitness?
* Read: The Ten Rules of Progressive Overload to learn how to gradually increase strength
The vast majority of my clients show up to me already looking pretty good. My job is to simply make them look better by helping them increase their glute shape and decrease their bodyfat. In the past, I trained dozens of obese clients as well as dozens of skinny individuals who sought to gain weight. A proper eating plan to support differing clients' goals is equally as important as the training itself. Overweight and obese individuals should adhere to a caloric deficit, while underweight individuals should adhere to a caloric surplus.
So it's not rocket science to say the following:
Obese/overweight people should cut (not bulk)
Skinny/underweight people should bulk (not cut)
But what about those who are at their ideal weight? Should they bulk and cut, or stay the same weight while "recomping"? Does it make a difference if they're male or female?
As I mentioned previously, many of my female clients nowadays show up to me weighing the appropriate amount – they're already at their ideal bodyweight. Their caloric intake is appropriate for their goals, and therefore I don't address their nutrition much, except to verify that they are consuming ample amounts of protein. I don't have them bulk or cut, all I do is help them get stronger each week. We hammer our hip thrusts, back squats and front squats, deadlifts and sumo deadlifts, back extensions, Bulgarian split squats, chin ups, bench presses, military presses, and rows. In 6 months, voila, they're looking so much better despite having not changed much in terms of bodyweight (see many of these transformations HERE at my testimonials page). As you can see, it's indeed possible to make incredible improvements without dramatically altering caloric intake.
Gender Specific Psychological Effects of Bulking
This portion of the article is going to be entirely opinion based on my personal anecdotes. I don't have any research to support this claim, but in my opinion, bulking effects males and females uniquely. Of course there are exceptions, but in general, males handle the psychological effects of bulking better than women.
Allow me to explain. A couple of months ago, I was eating like a crazed wolverine. I let my weight skyrocket to 255 lbs. I have to admit, my gut was out of control. But my quads, pecs, shoulders, and upper back were jacked as all hell! One night, I went out with my guy friends. When they saw me, they were like, "Holy shit Bret, you're freakin' yoked!" I could get past the increased abdominal fat by focusing on the increased muscle mass I accrued. I found myself doing the pec dance at every possible opportunity imaginable.
Okay, now let me ask you a question. How many women have you heard speak like I did in the previous paragraph? Have you ever heard a woman say to another woman, "I know, I know, my gut, thighs, and butt have gotten pretty fat, but at least my pecs, lats, and traps are ginormous!" When a woman bulks up, do her friends say to her, "Hot damn, you're looking swole as all hell sister!"? In my experience, this doesn't happen very often. Maybe in certain fitness circles, but it's definitely uncommon.
More times than not, the woman feels insecure during her bulk. She doesn't like the way she looks, she feels uncomfortable about the whole ordeal, and she can't wait to get back to normal. She spends the latter part of the bulking phase and the initial part of the cutting phase feeling depressed and unconfident. Her jeans get tight (or she has to buy new jeans), the upper back region of her shirts feel tight (or she has to buy new shirts), and she gets very frustrated and disillusioned. In contrast, a man's jeans start feeling tight and we start referring to ourselves as, "Quadzilla" and refusing to answer to our normal name.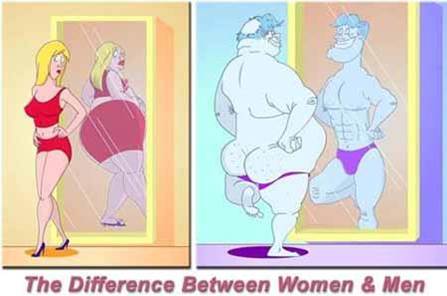 Most men look better (this is subjective…most men would like the way they looked) if they slap an extra 10 pounds of muscle onto their bodies. However, this isn't necessarily the case with women, many just want to add 3-5 lbs of muscle in crucial areas (glutes, sometimes arms and legs, etc.) while losing 3-5 lbs of fat in crucial areas (belly, thighs, buttocks, back of arms, etc.). Therefore, bulking makes more sense for men than it does for women.
What if Bulking and Cutting is Better? Is it Still Worth it?
I've already established that I have not seen any research showing that bulking and cutting is more effective in terms of body composition improvements, muscle mass gains, and fat loss compared to coasting (making gradual improvements or just staying the same weight and recomposing). However, it's really important to consider what bodybuilders do to get into peak shape. Nearly all of them bulk and cut. Ignoring bodybuilding practices would be foolish, as they're the masters of physique enhancement.
The question is, assuming it is more effective, how much more effective is it? Let's say that a lifter bulks for 12 weeks, putting on 30 lbs, and then cuts for 8 weeks, losing 20 lbs, and ends up with a net 10 lb gain, with 7 of it being muscle and 3 of it being fat. Could he have just gained 10 lbs over the 20 weeks without fluctuating much in bodyweight, with 7 of the lbs being muscle and 3 of the lbs being fat? I think so. But let's say that bulking and cutting is better. Let's say that it's 10% more effective. This would mean that instead of a 7 lb gain in lean muscle mass, a bulking/cutting cycle would produce an 7.7 lb gain in lean mass over the same time period. Would it be worth it to go through the ordeal of bulking and cutting, or would you prefer to look good round the clock?
Looking Good Around the Clock
There's something to be said for always loving the way you look. When you're at your ideal bodyweight and bodyfat (or at least close to it) and you've been training hard and eating well, you feel on top of the world. Your confidence is up, your positivity is up, and your productivity is up. You put out good vibes, people want to be around you, and things tend to fall into your lap and swing your way. Overall, life is better.
Many of us lifters tend to be obsessive/compulsive. When we're storing some extra bodyfat, we feel it, we focus on it, and we have trouble ignoring it. Positivity, productivity, and confidence can diminish when we're in this state.
The way I see it, we lift weights and eat properly to look and feel great. Why not look and feel our best around the clock? Why purposely allow ourselves to slide down a slippery slope by bulking? I know of at least three female competitors who bulked up and were never able to recover and get back down to their pre-bulking bodyweight or bodyfat levels. Caution is advised.
Checks and Balances
I hope that this article has convinced you that bulking and cutting isn't necessary to see improvements. If you do decide to bulk and cut, I recommend implementing a system of checks and balances. This needs to be determined on an individual basis, as some people feel more comfortable and can still look very good while carrying more mass and bodyfat, while others don't have as much leeway. For example, you might choose to not let yourself gain more than 10 lbs during your bulk, or not let yourself increase your bodyfat more than 5% during your bulk, etc. I recommend focusing more on the bodyfat component than the weight component. Keep a tight leash on your bulking and then the cutting isn't as harsh.
And just so you know, even some of my bikini competitor clients including Kellie, Katie, Erin, Sammie, Megan, Anne, Chelsea, and Molly (see Testimonials page), refrained from bulking and cutting during their contest prep. Their weight might have fluctuated several pounds during the week prior to competition, but they did not adhere to traditional cutting schemes.