I want to alert my readers to an exciting new study that was recently published in the Journal of Neurophysiology. The study deals with mental imagery, also known in the literature as imagined contractions. I briefly mentioned this phenomenon in a T-Nation article I wrote three years ago with my colleague Brad Schoenfeld titled Why Bodybuilders Are More Jacked Than Powerlifters. I actually used mental imagery during my deloading the week prior to my last powerlifting meet, and I truly believe that it helped me achieve my goal of deadlifting 600 lbs. I also used mental imagery when I first pulled 585 lbs two years ago, which I mentioned HERE.
Simply imagining muscle contractions, without actually contracting the muscles, has been shown in several studies to increase strength. Click HERE to check out the abstract of the latest paper on this topic. I'll paste an image below: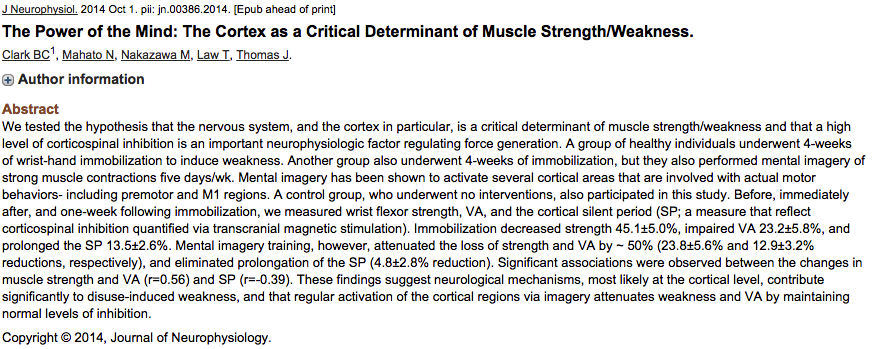 As you can see, immobilization decreased strength by 45%, impaired voluntary neural activation by 23.2%, and prolonged the corticospinal silent period by 13.5%. However, mental imagery training attenuated the loss of strength and voluntary neural activation by approximately 50% (23.8% and 12.9% reductions, respectively), and eliminated prolongation of the corticospinal silent period (4.8% reduction).
WTF Does this Mean?
Immobilizing a joint (think of being in a cast or a sling) causes muscles to shut down. Voluntary muscle activation diminishes, delays in the motor cortex emerge, and muscle strength diminishes. However, using mental imagery (imagining contractions) helps maintain these functions and reduces the losses in neuromuscular drive.
What Are the Practical Implications?
I suppose that one could perform mental imagery every day, but I can't think of anything more boring. Therefore, I recommend saving mental imagery for strategic times during the year, when you're not going all out in your regular training. I can think of three primary ways in which you can use mental imagery to improve your performance:
1. First, you can use mental imagery during times of injury to attenuate (reduce the effect) the losses of neural drive and strength.
2. Second, you can use mental imagery when deloading to mimic the effect of heavy lifting in the motor cortex, theoretically enhancing the supercompensatory effects of deloading.
3. And third, you can use mental imagery when peaking for a meet or going for a PR.
How Does One Go About Utilizing Mental Imagery? 
In the study mentioned above, here's how they did it: Five days per week, subjects performed 52 contractions each session. Contractions lasted 5 seconds with 5 seconds of rest. Four blocks of 13 contractions were performed with one minute rest in between blocks. EMG was used to confirm that subjects were not actually contracting their muscles – the contractions were imagined in the mind.
Subjects were instructed as follows:
Imagine that you are maximally contracting the muscles in your left (or right) forearm and imagine that you are making your wrist flex and push maximally against a hand grip with your hand. We will ask you to do this for 5-secs at a time followed by a 5-sec rest period for a total time of around 2-mins. When we tell you to start, we want you to imagine that you are pushing in against a handgrip as hard as you can and continue to do so until we tell you to stop. After a 5 second rest we will ask you to repeat this. Ready, and begin imagining that you are pushing in as hard as you can with your left wrist, push, push, push… and stop. (5 seconds of silence) Start imagining that you are pushing in again as hard as you can, keep pushing, keep pushing… and stop. (5 seconds of silence)… This verbal cuing and imagery continued for 2-minutes at which time the study participant was instructed that they would have a short break (1-min), and then the next blocks would subsequently begin. It should be noted that this mental exercise was not simply a visualization of oneself performing the task; rather, the performers were instructed to adopt a kinesthetic imagery approach, in which they urged the muscles to contract maximally.
Do you have to do it just as the authors arranged it in their study? Absolutely not. You can get creative and figure out your own system, just as we do when we design real programs. But realize that the protocol listed above was fairly "high-volume" in that 52 five-second contractions were performed each session (260 total seconds of motor cortex activation per day), so don't assume that dedicating a minute or two to mental imagery once a week will cut it.