When I started up my blog, my goal was not to make the most money as possible. It was to positively impact the world of strength & conditioning to the greatest degree possible. This requires that I divulge all of my "secrets" and inform people exactly how I go about my business. In this article, I'm going to teach my fellow colleagues how I conduct my first session. This will be of great benefit to personal trainers, strength coaches, and clinicians. In part II, I'm going to tell you how the first training session informs the ongoing programming. In part III, I'll teach you some practical tips to improve your performance.
As most of my readers know, I've worked with a lot of bikini and figure competitors. These are either local ladies or ladies who are in town on vacation and purchased a one-on-one session with me (I've been trying to limit these lately as I've been so swamped with the PhD and blog). These ladies' wishes for their single sessions are to have me perfect their form and give them programming tips for optimal glute building purposes. Now, I also train a handful of clients regularly, and the first session with regular clients is similar to what I describe below except that it is more comprehensive to cover the upper body and the core.  I cannot tell you how incredibly important this first session is for the purposes of allowing individuals to realize their full glute building potential.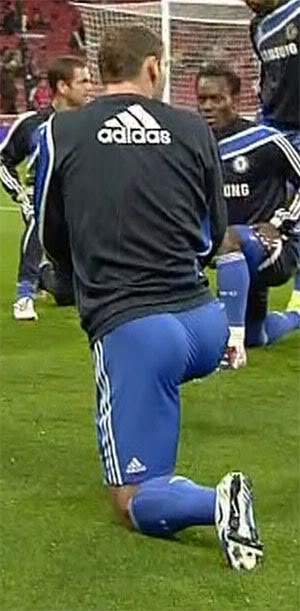 Before you read this article, however, you need to make sure you've first read THIS article which discusses the science of maximizing muscle growth. In particular, you need to understand the 3 primary mechanisms of muscle hypertrophy, know which two mechanisms are most important, and get an idea of how they interact with each other. Once you've read that article, please continue along and see how I conduct my first session with clients. Here's how it goes:
Dynamic Warm-Up
This lasts around 5 minutes. I have clients perform something like the following:
Rectus femoris stretch 1 x :30 sec
Walking knee hugs 1 x 20
Walking lunges 1 x 20
Monster walks 1 x 20
Single leg glute bridges 1 x 20
I tell them that if they have a particular drill they like to perform, such as leg swings, then they can surely throw it into the mix. Once the client is warm, I move on to the exercise-performance portion of the session.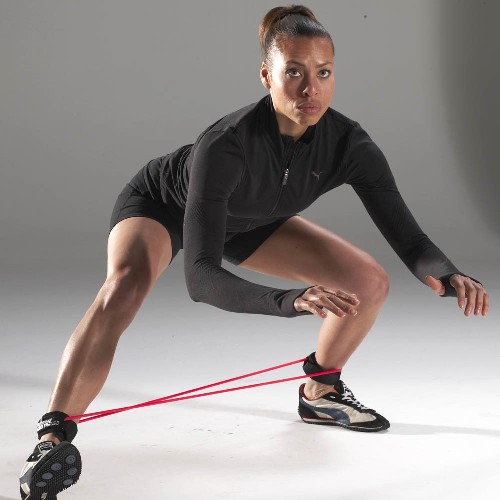 Barbell Glute Bridge Form
The first thing I do after the warm-up is figure out ideal bb glute bridge form. I try to figure this out in around 5 minutes. Keep in mind that my clients tend to be much more advanced than those of typical personal trainers or physical therapists. I typically don't need to start off with bodyweight glute bridges as my clients are almost always well beyond that stage. Depending on the client, I may just use a barbell, or maybe 95 lbs, or perhaps 135 lbs if the client is very advanced, however the goal is not to max out or go to failure. I go light enough to where they're using something they could do for 20 reps (but I don't make them do 20 reps). I might have them do 5 reps with a variety of positions while asking them questions and poking glutes to feel the tension.
I tinker with the following variables:
Stance distance (feet normal distance away from butt versus feet closer versus feet further away)
Stance width and foot flare (narrow stance with feet straight versus wide stance with around 30 degree foot flare)
Lumbopelvic position (neutral lumbar spine & pelvis versus flexed lumbar spine and posterior pelvic tilt)
I wish I could tell you which position elicits maximal glute activity, but unfortunately this is impossible. It all depends on the individual. Some do better with a close and narrow stance with their feet straight and their lumbopelvic position in neutral, while others do best with their feet further out, a wider stance, more foot flare, and a flattened spine and posteriorly tilted pelvis (and everything in between). There are many ways to "properly" do an exercise, and the best technique for a particular individual typically has a lot to do with their unique anatomy and physiology. Once we've determined which variables allow the client to feel their glutes working best during glute bridges, we move on to hip thrusts.
Barbell Hip Thrust Form
After the bb glute bridges, I now move on to figuring out ideal bb hip thrust form. This takes around 5-10 minutes and is done in a similar fashion to how I tested bb glute bridges. I take a medium load and have them perform around 5 reps of a variety of styles of hip thrusts. I employ a bench with a 16" bench height and utilize either a Hampton thick bar pad or Airex Balance pad for bar padding. I will tinker with:
Stance distance (feet normal distance away from butt versus feet closer versus feet further away)
Stance width and foot flare (narrow stance with feet straight versus wide stance with around 30 degree foot flare)
Back hinge distance (hinging from upper back versus hinging from mid-back with elbows on bench)
Lumbopelvic position (neutral lumbar spine & pelvis versus flexed lumbar spine and posterior pelvic tilt)
Descent depth (touching plates to the floor versus stopping short)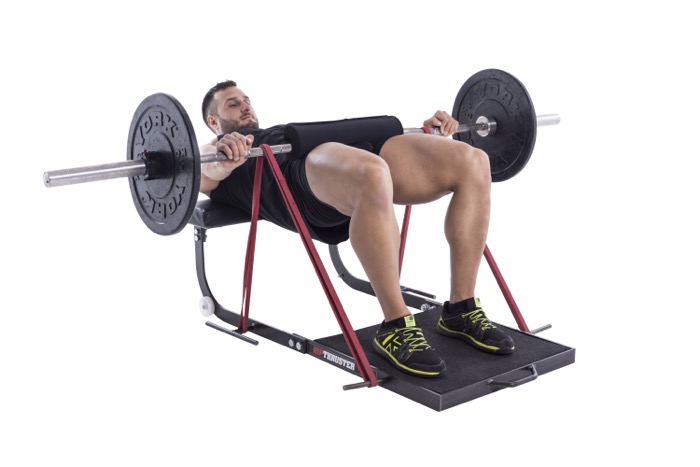 The Hip Thruster is the best way to do the hip thrust – stable and versatile!
Once again, I can't tell you the exact way that everyone should hip thrust. People are unique and you can tease more glute activity out of their bodies by tinkering with the variables and figuring out what works best for the individual. Some lifters prefer the American hip thrust, some the standard hip thrust, some with feet closer to their butt and some with feet further away, some with a wider stance and greater foot flare and some with a narrower stance and no foot flare, and some while stopping short and not touching the ground on each rep. I make sure to ask questions and poke the glutes while they're exercising so I can help the clients figure out their ideal hip thrust form. Once we've done this, it's time to optimize their loading.
True Hip Thrust Strength
Next up, I'll hone in on their true hip thrust strength; which is typically not the same as what they've been doing in the gym. This factor is absolutely vital for maximal results! People need to push themselves and figure out their true strength levels on hip thrusts. I often look for around an 8RM (8-rep max). I should mention that 8 isn't the "magical" number – it could be a 3RM, a 5RM, or a 10RM. I'm just trying to figure out what loads the client should be using with their sets. With programming, the main focuses are to ensure that clients are thoroughly activating their glutes and also engaging in progressive overload.
I've trained around ten different women in the past year who were using around 135 lbs for their 10-rep hip thrusts. After learning how to really wedge their bodies into the bench, screw their feet into the ground, breathe efficiently to pressurize their abdomens, and accelerate the properly, all of a sudden they're able to go a lot heavier. In fact, I've trained a few ladies who were able to hip thrust 225 lbs for 10 reps on their first session even though they were only using 135 lbs in their own workouts. They just needed to build their confidence and perfect their technique.
I've had two clients who were able to put on 2" on their glutes in exactly one week simply because they weren't going as heavy as they could on hip thrusts. One went from using 105 lbs for 3 sets of 10 reps to 175 lbs for 3 sets of 10 reps in a single week, while the other went from using 135 lbs for 3 sets of 10 reps to 225 lbs for 3 sets of 10 reps in a single week.
There is often some serious untapped potential in women's glutes as many aren't using the right loads and are inadvertently sandbagging their workouts. Since I've already determined their ideal hip thrust form and observed them using load, I can typically figure out in 2 sets (sometimes 3) their true hip thrust strength, which takes around 5 minutes.
Best Lateral Band Exercise
At this point, I determine their best lateral band exercise, which is usually either a band seated hip abduction or banded side lying clam. In some cases, a fire hydrant with ankle weights is optimal. This factor plays a much bigger role in glute development than most people imagine. For most individuals, lateral band exercises heavily activate the entire gluteal region; both upper and lower. If you don't believe me, simply palpate the glutes while individuals perform these movements and feel how hard their glutes contract – the level of tension they develop can sometimes exceed that of what they produce during heavy compound exercises.
I will usually tinker around with three different exercises and determine via client feedback and palpation which activates their glutes the best: band seated hip abduction with a wide stance, band seated hip abduction with a narrow stance, and band side lying clams. Again, I wish I could tell you the exact formula as to which activated the glutes the best, but there isn't one. Some individuals feel their glutes working best during the band clam, some during the band seated hip abduction with a narrower stance while moving their knees outside of their feet, and some with a wider stance while moving the knees from a valgus to a neutral position. Some like to sit upright, some lean forward, some rise up onto their toes, some remain flat-footed, and some place their hands on their glutes to reinforce the "mind-muscle connection."  In working with people for 5 minutes I'm able to help them figure out their best lateral band exercise and the optimal way for them to perform the movement which allows them to express maximal gluteal activation.
Back Extension Form
Now we're ready to determine their ideal back extension form. Back extensions are a tricky animal. Take 10 good lifters and 5 of them will tell you that back extensions fry their glutes while the other 5 will tell you that they feel them all in their hammies and low back. Sometimes with cueing I'm able to quickly convert the hamstring-dominant lifters to glute-dominant lifters, but this is not always the case.
Even when told to use the glutes to raise the torso, to drive the hips into the bench, to externally rotate the hips and rotate the feet outward against the foot pad, and to posteriorly tilt the pelvis and avoid hyperextending the lumbar spine, some lifters still don't use much glute during back extensions. In my experience, approximately 50% of lifters are great at activating their glutes at end-range hip extension (lockout) during straight legged hip extension such as back extensions, while the other 50% are lacking in this ability. It can be improved upon, but it takes time and doesn't tend to happen overnight. Some of my other tricks involve supporting their torsos for them and telling them to get into a sort of "RKC plank" position with a big glute squeeze, then releasing their torsos and informing them that that is the position I want them to reach upon locking out each rep, along with poking the glutes to let them know where they should feel the contractions.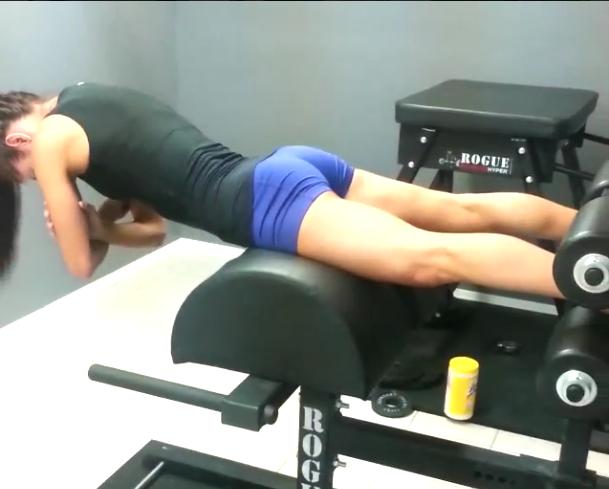 I will take approximately 5 minutes to work with people to maximize their gluteal activation during back extensions by tinkering with form. No weight is used with back extensions during this time as I'm just trying to get them to use optimal form.
Squat Screening & Optimizing Mechanics
At this point, I'm ready to work on their squat mechanics. I test their box squat to see if they can keep vertical tibias and sit back in the squat. I also test their deep goblet squat and see if they have proper ankle dorsiflexion and see if they can keep the torso upright while sitting between the hips. I check to see if they push through their entire feet or if they tend to push through their toes, I look at when lumbopelvic position breaks down to determine their ideal depth, I watch the knees and see if they tend to cave, and I look at their facial expression to determine their level of comfort. I might break away and do quadruped rocking with varying stance widths to determine ideal squatting ROM, along with ankle and hip mobility testing. This usually takes around 10 minutes, and I'll typically move onto a barbell and examine their back squat and front squat form.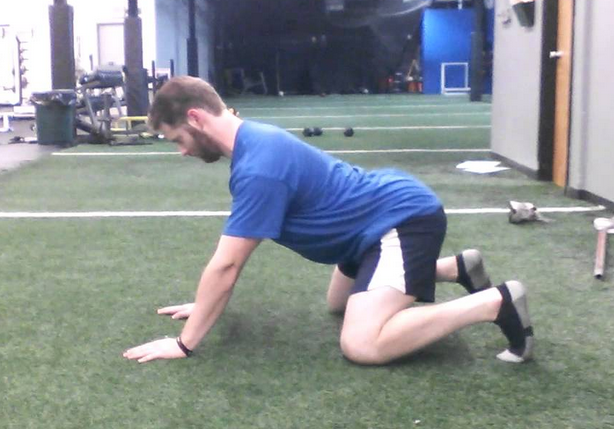 Deadlift Screening & Optimizing Mechanics
Finally, I test hip-hinging mechanics. I'll give the client an empty barbell and ask them to show me how they deadlift from the top down. If they look good, I'll load up some plates (bumper plates are ideal as they're all of proper height) and ask them to deadlift from the bottom up. I usually have to teach them how to set up properly and how to skim the body with the bar, and to utilize proper eccentric form as well. I'll test their active straight leg raise as well and see what sort of active hamstring flexibility they possess. Assuming they have proper hip flexion mobility, I can usually get clients deadlifting very well within 5 minutes. I'll typically examine conventional and sumo deadlift form and also teach proper American deadlift form (giant glute squeeze).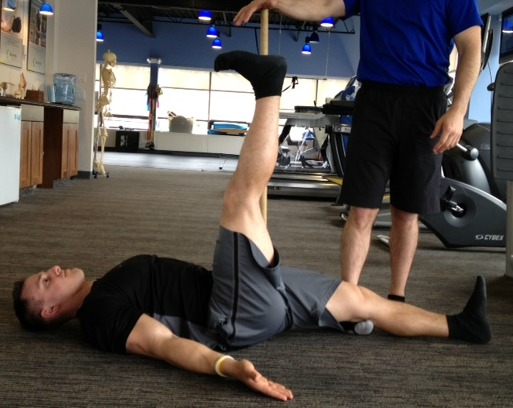 Best Exercise for Tension
Throughout the training session, I'll have been poking, prodding, and inquiring. This enables me to determine their best exercise for maximizing tension on the glutes. I would venture to guess that with 80% of lifters, it's the hip thrust. However, there are indeed rare lifters who appear to get more tension and activation in their glutes with other exercises. For example, I know of one lifter that I tested whose glute EMG was maximized with the Bulgarian split squat. Out of approximately 15 people that have been extensively examined in terms of glute EMG and lower body exercises, she was the only lifter who had an axial exercise as the supreme glute activator (all other cases were anteroposterior exercises or lateral/rotary exercises). I haven't tested a client that I've been training for the past couple of months in EMG, but I have a suspicion that the band seated abduction might rival her hip thrust glute activation and tension. Her glutes get so hard when performing them that it's insane. Another client I train does not achieve high levels of tension on the glutes when performing the band seated hip abduction. As previously mentioned, some clients get tons of tension when performing back extensions, while others barely get any. Some elicit crazy levels of glute activation with band rotational exercises such as band hip rotations, whereas others feel virtually no tension in the glutes when they perform them.
Sure, lifters will learn to better incorporate their glutes over time into all exercises, but there are anatomical and physiological reasons why some lifters might activate the glutes better with one particular type of exercise than another, and it's not the same for all lifters. When you talk to different lifters, you'll hear them list different favorite exercises for various body parts, which indicates that everyone is unique. In fact, for the glutes, click HERE and HERE to see various female and male fitness experts' favorite glute exercises.
Best Exercise for the Burn and/or Pump
Usually, lifters are also aware of what makes their glutes burn the most and gives their glutes the biggest pump. This is indicative of metabolic stress and is in my opinion the most underutilized mechanism in typical glute training programs around the world. I can't tell you how many women I've trained who remarked to me, "I've never felt a burn in my glutes like that before." In fact, many have never felt a deep glute burn or achieved a glute pump in all their years of training. In contrast, my clients achieve a crazy glute burn and glute pump EVERY SINGLE TIME they train. It's not that hard; you just find the exercises and drills that best achieve these sensations and incorporate them into the training. Usually it's a barbell hip thrust, barbell glute bridge, single leg foot elevated hip thrust, back extension, band side lying clam, or band seated hip abduction. Lateral band walks typically fry the upper glutes but not the lower glutes. And band hip thrusts are probably the best possible thing for metabolic stress in the glutes for those who have purchased a hip thruster. Below showcases one of my most potent techniques for inducing a glute burn and pump: it's a superset/dropset involving band seated abductions, double band hip thrusts, and band hip thrusts. A high rep set of constant tension hip thrusts works quite well too.
Best Exercise for Soreness
Usually, lifters are aware of what makes their glutes the sorest. For some it's the reverse or walking lunge, for others it's the Bulgarian split squat, for some it's the full squat, and yet for others it's the hip thrust. This is dependent on the individual, and is a fairly good representation of muscle damage. I make sure to include this exercise in the client's programming, however, I often limit the volume in order to prevent excessive soreness and allow for continuous strength gains through frequent training. Muscle damage is the least important of the 3 mechanisms of hypertrophy (tension, metabolic stress, damage).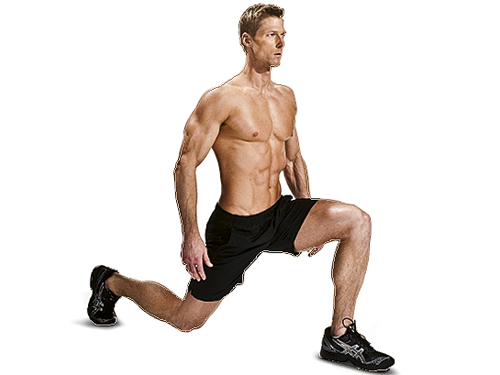 Conclusion
That wraps it up for part I of this article series. In part II, I will tell you how I build my programs based on the information I learned during the first session. I will also delve into special methods that I've gravitated towards and various tricks of the trade. In part III, I will discuss methods for making glute training more comfortable over the long haul. I hope you've gleaned some valuable information from this article. Happy Gluting my friends!