Here's the deal. I emailed 14 of my strong-bootied female colleagues to name their top 3 favorite glute exercises. Here are their responses: 
Marianne Kane
Kettlebell swing
Kettlebell high deficit reverse lunge
Barbell glute bridge 
Julia Ladewski
Conventional deadlift
Reverse-stepping lunge front loaded with barbell or kettlebell
X-band or ankle band walk 
Kellie Davis
Barbell glute bridge
High step up
Band standing hip abduction 
Neghar Fonooni
Single leg Romanian deadlift
Double kettlebell swing (2 bells)
Single leg squat on a box 
Molly Golbraith
Band resisted clam and glute bridge complex with band around the knees
Wide stance barbell good morning
Cable pull-through with rope handle 
Jen Comas Keck
Step up
Back supported hip thrust
Cossack squat
Rachel Guy
Standing good morning
High dumbbell step up with vertical shin and forward torso lean
Barbell glute bridge
Jamie Eason
Single-leg barbell deadlift
Single leg  barbell squat
Barbell bench step-up
Elsbeth Vaino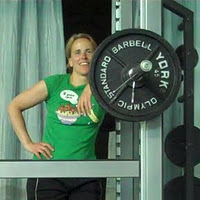 Shoulder elevated single leg hip thrust
Single-leg Romanian deadlift
Mini-band walk – both lateral and rearward
Alli McKee
Dumbbell walking lunge
Barbell Romanian deadlift
Barbell hip thrust
Nia Shanks
Single-leg back extension
Conventional deadlift
Full barbell back squat
Emily Socolinsky

Conventional deadlift
 Weighted glute bridge
ATG barbell front squat
Jen Grasso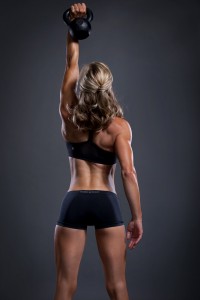 Weighted high step up
Glute ham raise
Barbell squat
Rachel Cosgrove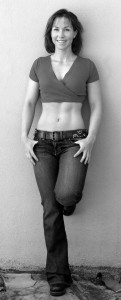 Single leg Romanian deadlift
High step up
Reverse lunge (or low cable split squat)
Descriptive Analysis
Out of 42 total exercises mentioned on the 14 girls' lists, 21 of the exercises were bilateral and 21 were unilateral. If we consider the squat pattern to consist of bilateral and unilateral squat motions, then a total of 16 squat movements were listed. If we consider the deadlift pattern to consist of bilateral and unilateral deadlift motions, as well as good morning, swing, and pull-through motions, then a total of 13 movements were listed. If we consider the bridging pattern to consist of hip thrusts, barbell glute bridges, and single leg hip thrusts, then a total of 8 bridging movements were listed. There were 5 exercises listed that are performed in the lateral plane. And 25 of the exercises were axially-loaded lifts while 13 were anteroposteriorly-loaded lifts.
Observations
These are some things I noticed when analyzing the different girls' responses:
Basics – It comes as no surprise that the girls prefer to perform basic movement patterns for the hips, including variations of bridges, deadlifts, squats, back extensions, and single leg movements. What I loved is that many of the girls had a hard time narrowing down their favorite glute exercises to just three lifts. Several of them added in a disclaimer at the end of their emails, saying something like, "This is so hard…I have so many more favorites," or, "But I also like to perform sumo deadlifts, single leg hip thrusts, back extensions, Bulgarian split squats, etc." This made me laugh as I would have done the same thing – I'd have listed my top 3 and then included several others below. It also shows that these women thoroughly enjoy glute training which is essential for success.
Variety – The girls' lists vary considerably, which just goes to show you that all types of training tools can be used to develop strong glutes and no type of equipment is "necessary" for shapely glutes. All that is needed is the human body, as bodyweight glute exercises can be very effective as long as you know how to progress to more challenging variations. However, kettlebells, barbells, dumbbells, bands, cable columns, and body-leverage apparatuses such as the back extension will allow for faster and better results.
Low load glute activation – Many of the women included that they always perform a variety of glute activation exercises during their warm-ups, which they believe is critical in ensuring that their glutes activate efficiently during heavier exercises.
Kinesthetic awareness – Talk to a sprinter, a dunk specialist, a golfer, or a fighter and they'll be able to discuss their technique for ten straight minutes. They know how their bodies work during their sport. It's no surprise that these sexy ladies are highly in-tune with their bodies as well. All I asked for was their top 3 favorite glute exercises and many wrote back notes next to each exercise, such as, "When I perform glute bridges I really focus on raising the hips with just the glutes which makes the exercise even more effective," or "Since I've been performing hip thrusts and kettlebell swings I've noticed that I use my hips better when I squat." How many girls do you know who can discuss in detail their levels of glute activation during resistance training? These ladies are well aware of the way their glutes function during various movements and they understand how to manipulate technique to achieve higher levels of gluteal contribution.
Conclusion
If you're unsure of any of the exercises in this article search on Google or Youtube and you'll be able to find a video. The women on this list not only walk the walk in terms of training hard, but they also are influencial in the field, offering free advice in their blogs and training logs. You can search Google and find their blogs, Facebook pages, Twitter pages, and Youtube pages.
There are dozens of great glute exercises and many that didn't get mentioned. For example, the reverse hyper and pendulum quadruped hip extension were amongst my female clients at my studio Lifts favorites, but the reverse hyper pendulum is quite rare, so it doesn't get as much publicity. I hope you enjoyed the article and pictures and have found them inspiring!
What are your top three favorite glute exercises?