Chances are you have family members and friends who don't perform resistance training. This is unfortunate given that lifting weights has been shown to be rather important for overall health and well-being. Many individuals struggle to find the necessary time and energy to devote toward physical fitness and health. You may wish to forward the link to this article to these folks in an attempt to change their minds.
How Often Should You Exercise?
In 2007, The ACSM and AMA released their updated physical activity and public health recommendations for adults. Here are some of their recommendations (click HERE to download the pdf):
1. To promote and maintain good health, adults aged 18–65 yr should maintain a physically active lifestyle.

2. They should perform moderate-intensity aerobic (endurance) physical activity for a minimum of 30 min on five days each week or vigorous-intensity aerobic activity for aminimum of 20 min on three days each week.

3. Combinations of moderate- and vigorous-intensity activity can be performed to meet this recommendation. For example, a person can meet the recommendation by walking briskly for 30 min twice during the week and then jogging for 20 min on two other days.

4. These moderate- or vigorous intensity activities are in addition to the light intensity activities frequently performed during daily life (e.g., self care, washing dishes, using lighttools at a desk) or activities of very short duration (e.g., taking out trash, walking to parking lot at store or office).

5. Moderate-intensity aerobic activity, which is generally equivalent to a brisk walk and noticeably accelerates the heart rate, can be accumulated toward the 30-min minimumby performing bouts each lasting 10 or more minutes.

6. Vigorous-intensity activity is exemplified by jogging, and causes rapid breathing and a substantial increase in heart rate.

7. In addition, at least twice each week adults will benefit by performing activities using the major muscles of the body that maintain or increase muscular strength and endurance.

8. Because of the dose-response relation between physical activity and health, persons who wish to further improve their personal fitness, reduce their risk for chronic diseases and disabilities, or prevent unhealthy weight gain will likely benefit by exceeding the minimum recommended amount of physical activity.
Based on these associations' recommendations, adults should seriously consider strength training at least two days per week.
What are the Health Benefits of Strength Training?
Many review papers elucidate the specific health benefits of strength training. Winnett and Carpinelli (2001) and Pollock and Vincent (1996) have listed multiple potential health-related benefits of strength training (click HERE and HERE to download the pdf's), including:
Maintenance of functional ability

Prevent osteoporosis

Prevent sarcopenia

Prevent lower-back pain and other disabilities

Positively impact insulin-resistance

Positively impact metabolic rate

Positively impact glucose metabolism

Positively impact blood pressure

Positively impact body fat and central adiposity

Positively impact gastrointestinal transit time

Reduce the risk of diabetes

Reduce the risk of heart disease

Reduce the risk of cancer

Reduce the risk of falls, fractures and disabilities

Improve quality of life
Kraemer et al. 2002 (link to abstract) lists additional benefits, including:
Decrease cardiovascular demands of exercise

Improve blood-lipid profiles

Increase muscle and connective tissue cross-sectional area

Increase strength, power, endurance and hypertrophy
More recently, resistance training has been shown to improve:
Flexibility/mobility (Monteiro et al. 2008; Santos et al. 2010, Aquino et al. 2010, Simao et al. 2010; Morton et al. 2011; Nelson and Bandy 2004)

Joint stability (Carter et al. 2006, Durall et al. 2009, Nyland et al. 2011)

Spinal posture (Katzman et al. 2007)

Brain/cognitive function (Liu-Ambrose et al. 2010, Brown et al. 2009, Cassilhas et al. 2007)

Depression/mood (Levinger et al. 2011, Lincoln et al. 2011, Martins et al. 2011)

Self-esteem (Moore et al. 2011)
Combating Metabolic and Frailty Syndromes
Based on the aforementioned research, it's rather safe to say that strength training is proven to improve overall health and well-being. However, I'd like to delve a bit more into two degenerative syndromes; metabolic syndrome and frailty syndrome. Most of the over-50 population I know who don't exercise regularly exhibit many of the signs of these nasty syndromes. Sundell (2011) has defined them as follows (click HERE to download the pdf):
Metabolic syndrome is a set of risk factors that includes abdominal obesity, insulin resistance (a decreased ability to process glucose), hypertension, and dyslipidemia. This combination of medical disorders increases markedly the risk of arteriosclerotic vascular disease. The prevalence of metabolic syndrome is rapidly increasing worldwide, largely as a consequence of the ongoing obesity pandemic.

The frailty syndrome is a collection of symptoms or markers mainly due to the aging-related loss and dysfunction of skeletal muscle and bone. Subjects with the frailty syndrome have increased risk of adverse events such as death, disability, and institutionalization. The costs of frailty syndrome will increase dramatically as the elderly population grows over the next decade.
Here is the author's conclusions regarding resistance training and these syndromes:
Metabolic syndrome is a set of risk factors (abdominal obesity, insulin resistance, hypertension, and dyslipidemia) which increases markedly the risk of arteriosclerotic vascular disease. In subjects with frailty syndrome, aging-related loss of muscle (sarcopenia) and bone (osteoporosis) might progress to the extent that an older person loses his or her ability to live independently. Due to ongoing obesity pandemic and growing elderly population, metabolic and frailty syndromes are major emerging concerns in healthcare system. Recent studies show that resistance training has remarkable beneficial effects on the musculoskeletal system including prevention and treatment of these syndromes. Resistance training has favourable effect on metabolic syndrome since it decreases fat mass including abdominal fat. It also enhances insulin sensitivity, improves glucose tolerance, and reduces blood pressure values. The combination of sarcopenia and osteoporosis is often seen in the frailty syndrome. Resistance training is probably the most effective measure to prevent and treat sarcopenia. In addition, many studies show that resistance training can maintain or even increase bone mineral density. Optimal nutrition enhances the anabolic effect of resistance training. Resistance training should be a central component of public health promotion programs along with an aerobic exercise.
Motivating the Unmotivated
If you're a regular reader of this blog, then chances are you're already convinced about the health-benefits of regular strength training. Accordingly, you probably wish that your loved-ones regularly participated in resistance training. If you're like me, then you want the people you love to be fit, happy, mobile, stable, strong, powerful, active, energetic, muscular, lean, confident and healthy. You don't want them become frail, you don't want their posture and mobility to diminish, and you don't want their brain function to diminish as they age.
I created this simple program as a way to entice my family members and friends who aren't quite as gung-ho about strength training as a typical gym-goer to participate in a regular strength training program. Many of my loved-ones enjoyed training with me when I had my facility but now that I no longer own a facility they don't enjoy training alone or at a commercial gym. I've found that asking someone to perform resistance training for ten minutes a day is an easy sell. Many individuals dread hour-long sessions but don't mind a quick ten minute jolt of exercise. I've taught this program to four different people over the past couple of weeks and they seem to enjoy it. It is my hope that they stick with this system over the long-haul and make it a daily habit.
Why Just 5 Exercises?
You can work the entire body thoroughly with just five exercises. The goal here is to find the sweet spot between minimizing the number of exercises and maximizing results. This program contains optimal structural balance as each session will effectively work the lower body pressing musculature (mainly the quads and glutes), the lower body pulling musculature (mainly the glutes and hamstrings), the upper body pressing musculature (mainly the pecs, front delts and triceps), the upper body pulling musculature (mainly the lats, scapular retractors and biceps), and the core (mainly the erectors, abdominals and obliques).
For the lower body, each session will include a standing squatting movement (either on two legs or on one leg) as well as a standing, supine or prone hip-hinging movement (either with straight legs or bent knees). For the upper body, each session will include a pressing and pulling movement in the vertical or horizontal planes. For the core, each session will include either a dynamic or stability exercise.
Why Only One Set?
While multiple-set training has been shown to be more effective than single-set training, the law of diminishing returns applies. You get the most results out of the first set, with subsequent sets yielding less and less results. Performing only one set per exercise leaves you more fresh for subsequent exercises so you can perform all five exercises with high-quality output. Then there is the relationship between number of sets and compliance. Feigenbaum and Pollock (1999) noted the following:
Single set programs are less time consuming and more cost efficient, which generally translates into improved program compliance. Further, single set programs are recommended for the above-mentioned populations because they produce most of the health and fitness benefits of multiple set programs.
Remember that although most gym rats love lifting weights for an hour each session, not everyone is this enthusiastic about training. A ten-minute session per day is quite appealing to many individuals which will increase the likelihood that these folks incorporate the sessions into their daily routines and make strength training a habit.
What Rep-Range?
Since there won't be any dynamic warm-up to the routine, sets of higher repetition ranges are advised. Most of the time, 10-20 repetitions should be performed. Of course, there are plenty of times where exceptions can be made. For example, for a beginner or intermediate, single repetitions of chin ups (or negative chin ups for that matter) can be performed. In the case of chin ups it may be wise to perform a "cluster" set where the exerciser performs 3 singles each separated by 30 seconds of rest. Conversely, a high repetition set of bodyweight squats, reverse hypers or hip thrusts is perfectly fine as well. These can be performed for 30+ reps.
What Equipment is Needed?
Many individuals will tell you that all you need to receive a great full body workout is the human body. I would agree but it takes some serious creativity as well as some basic levels of strength. You can start off with just bodyweight exercises. However, exercise tools allow individuals to receive much better workouts so it's important to have access to these tools in order to allow for more productive sessions. Here is a chart that includes a list of basic equipment that I believe people who wish to train out of their own homes should own: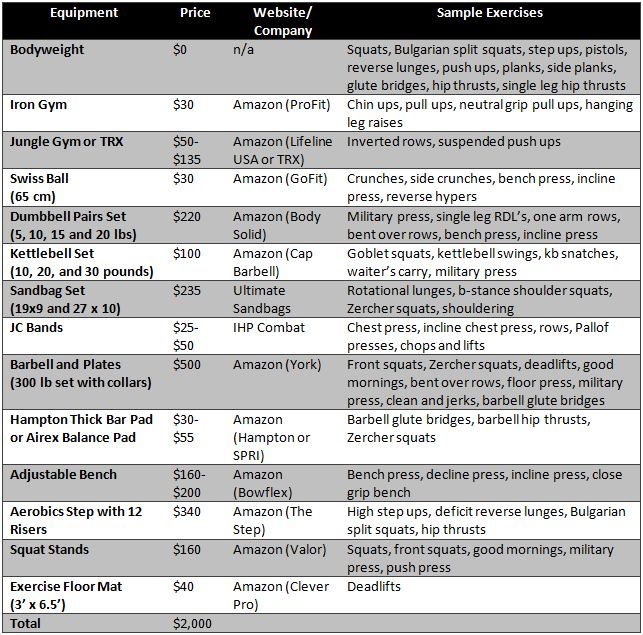 If you think that this equipment requires too much money in spending, think about how expensive health care costs are. It is not necessary to purchase this equipment all at once. These purchases can be made over the course of a few years. Start off with some dumbbells and a Swiss ball, then purchase an iron gym and jungle gym, then some kettlebells, sandbags and JC bands, and eventually a barbell set, adjustable bench, aerobics steps and squat stands. You will have this equipment for life so don't sweat paying a couple thousand dollars on your health and fitness as it will pay off in avoiding gym membership fees, time saved in transit driving back and forth from the gym and of course avoiding future doctor's visits and hospitalization.
Which Exercises?
Pick a Lower Body Press

– bodyweight squat, box squat, goblet squat, Bulgarian split squat, step up, Zercher squat, front squat, back squat, single leg box squat
Pick a Lower Body Pull – single leg RDL, glute bridge, deadlift, sumo deadlift, good morning, back extension, reverse hyper, hip thrust, single leg hip thrust
Pick an Upper Body Press – knee push up, push up, db bench press, db incline press, db military press, floor press, bench press, incline press, close grip bench

Pick an Upper Body Pull

– chin up, pull up, neutral grip pull up, inverted row, one arm row, db bent over row, db chest supported row, barbell bent over row
Pick a Core Exercise – crunch, side crunch, lying leg raise, front plank, side plank, sit up, hanging leg raise, landmine, band Pallof press
There are plenty of other good exercises but notice that these are big exercises that either work multiple joints or large amounts of muscle.
What are Some Example Sessions?
Example One  (Beginner) – bodyweight box squat, bodyweight glute bridge, dumbbell bench press, one arm row, front plank
Example Two (Beginner) – bodyweight step up, bodyweight single leg RDL, knee push up, negative chin up, side plank
Example Three (Intermediate) – goblet squat, kettlebell swing, dumbbell incline press, chest supported row, sit up
Example Four (Intermediate) – bodyweight reverse lunge, deadlift, push up, inverted row, Pallof press
Example Five (Advanced) – barbell front squat, good morning, military press, neutral grip pull up, landmine
Example Six (Advanced) – dumbbell deficit Bulgarian split squat, barbell hip thrust, close grip bench press, barbell bent over row, hanging leg raise
How Often?
Do this routine every day. Sure there might be some days where you can't squeeze in a workout but at the very least you should easily be able to fit this into your schedule 5 days/week. It's just ten minutes of exercise!
What Else Should Folks Do?
Five days per week go on a walk, a hike, a bike ride, a jog, a swim, etc. Some days just do light/moderate activity, some days go at a more vigorous pace, and some days do high-intensity intervals. Vary between 20 minutes and an hour depending on your mood and desired level of exertion.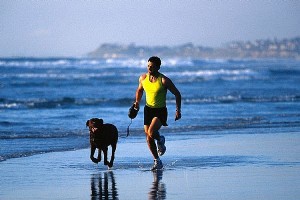 Conclusion
Hopefully this article will help convince skeptical individuals about the importance of strength training and sway those who are on the fence to embark on a training regimen. Initially, beginners can simply perform bodyweight exercises such as squats, low step ups, glute bridges, knee push ups and front planks over and over until they feel natural. As time ensues, beginners will progress in range of motion, number of repetitions, amount of resistance and quality of repetitions. Intermediates can mix it up and perform more challenging variations, and advanced lifters can keep adding load or start performing two sets of each exercise. The point is that strength training sessions do not need to last an hour per day. Ten minute sessions done consistently are a thousand times better than doing nothing at all. And the less time spent lifting weights, the more time available for outdoor activities which many people find more fun and rewarding (not to mention good for vitamin D if the sun is out). Decide today to make strength training a daily habit and ten years from now you'll look back on it as one of the smartest decisions you ever made.