Hey, Bret, I have been your blog fan for a while and incorporated a lot from your advice in my training routine. However, I encountered a very severe problem in my training that is now making me lose the will to continue regular trainings since everything seems wrong.

I had lean legs and small, weak glutes. I was working out almost a year to achieve better physique, using mostly squats, different styles of lunges, deadlifts etc., body pump classes and total body workouts following my trainer's advice, I wasn't aiming for the huge booty, just a firmer, slightly more developed one. But it seems that only my legs were firing up. Upper glute is completely underdeveloped no matter what I do. Now I ended up with a really big hamstring muscle, quads developed as well, but glute is now even more 'eaten' in this muscle domination. I developed more severe case of anterior pelvic tilt now since i stopped training. I start again, then I get upset after feeling the pain only in my hamstrings after glute exercises even if I concentrate as much as I can on activation. So, bulked legs and no glute improvement. You maybe understand my disappointment and frustration after all the hard work. It's impossible to find even jeans that fit me now. I am 56 kg, 172 cm, and I am all firm in my upper body, bulked in legs and weak in glute and lower back. Not the look I was aiming for.

Now I intend to run to somehow at least slim down my legs and give up on glutes. Do you have any suggestion on how I can solve this problem? When I consult trainers in my gym they just tell me more squats and deadlifts, so I am completely lost. And, well, i don't trust them anymore. If you have time or will or any piece of advice I would very much appreciate. If not.. thanks for reading at least. Cheers! Maria
Hi Maria, I didn't get any pictures from you or any video clips showing your form, so I'm going to assume that 1) you do in fact have large thighs with poor gluteal development, and 2) your form on squats, deadlifts, and lunges is sound. I'm assuming that you've heard of this definition of insanity before, right?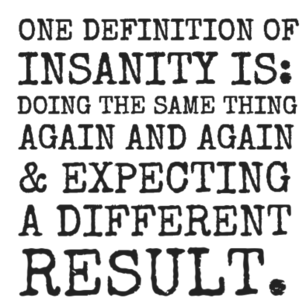 I don't know why these trainers would be telling you to just keep doing squats and deadlifts if they're not working for you. This is one thing that really irks me about certain trainers. Many of them seem like robots who have been programmed to provide only one default answer and are unable to think outside the box or come up with creative solutions. Doing just squats and deadlifts for building the glutes works well for many lifters, especially men. One female powerlifter I tested in EMG a few months ago had some of the best glute development I've ever seen, but she also does plenty of glute assistance work. But relying solely on squats and deadlifts for glute development also fails many lifters, and it won't maximize glute size, especially in the upper region. I have had to come up with unique strategies for many of THESE ladies, so you're not alone. I recommend trying a completely different approach. But first, let me link to some previously written articles that you might like:
Growing Glutes Without Growing the Legs
Do More than "Just Squat"
What Builds the Glutes Best?
What Are the Best Glute Exercises?
The Jane Fonda Experiment
Quadruped Leg Swings
Don't Be Donald Duck
As for what program you should try, Strong Curves would be a good idea, and Get Glutes would be even better. However, if I were you, I would leave out squats, deadilfts, and lunges, since you have already mentioned that these only build your legs and not your glutes. If I was in your shoes, I also wouldn't do any leg presses, hack squats, leg extensions, leg curls, glute ham raises, or Nordic ham curls. Instead, I would focus mostly on 1) hip thrusts, 2) back extensions, 3) quadruped leg swings, 4) reverse hypers (preferably loaded, but bodyweight is okay too), 5) standing hip abduction (ankle weight, cable, or band), 6) RKC planks, and 7) hollow body holds.
Keep focusing on improving your mind-muscle connection, start off each workout with 5-10 minutes of low load glute activation exercises (lateral band walks, glute bridges, quadruped hip extensions, side lying clams, side lying hip abductions, bird dogs, quadruped hip circles, fire hydrants, side lying hip raises, side lying clam raises), do mostly medium and high reps with shorter rest periods for producing high levels of metabolic stress, go up in weight over time but make sure you're always feeling the glutes doing the job, and make sure to incorporate loaded standing hip abductions to target the upper glutes. I would make sure you train glutes at least 3 times per week, but in your situation, 5 days per week would likely be ideal.
Sticking to this plan should help you start: 1) growing your glutes, 2) shrinking your legs, 3) improving your glute : thigh size ratio, and 4) improving anterior pelvic tilt. Best of luck to you, don't give up!