Two nights ago, I received a notification on my phone that somebody had tagged me on Instagram. I clicked on the notifications to find two very impressive before/after pics in terms of glute transformation. I asked Sasha (the lady who tagged me) to email me as I wanted to feature her on the blog. Yesterday, she replied with this email:
"Hi Bret!
This is Sasha, @sasha_anne_fit on instagram! I would definitely love it if you would post my pics on your blog! Let me first say that your book is incredible! When I was starting as a personal trainer I was also prepping for my first NPC show. I was looking to develop the glutes along the lines of Nathalia Melo but after my first show I couldn't understand why the numerous amounts of squats, lunges, RDLs were not working! It was frustrating! After my mom handed me your book as a present I learned so much more as a trainer and a competitor. Hip thrusts have become my new favorite exercise. I was shocked how much of a difference they made in my shape! You are a hero to me and I'm sure a lot of other trainers and athletes. I hope to cross paths with you soon.
Sasha"
Here are the two pictures that Sasha posted, along with her feedback:
This is my 16-week glute transformation from the end of April to the middle of August. I put a lot of focus on my glutes and hamstrings while preparing for whichever show I was ready for next. I'm shocked at how much of a change I made in between! Naturally, I don't have a butt at all. Heavy weightlifting helped me with shape and fullness.
http://instagram.com/p/hg8RforpA0/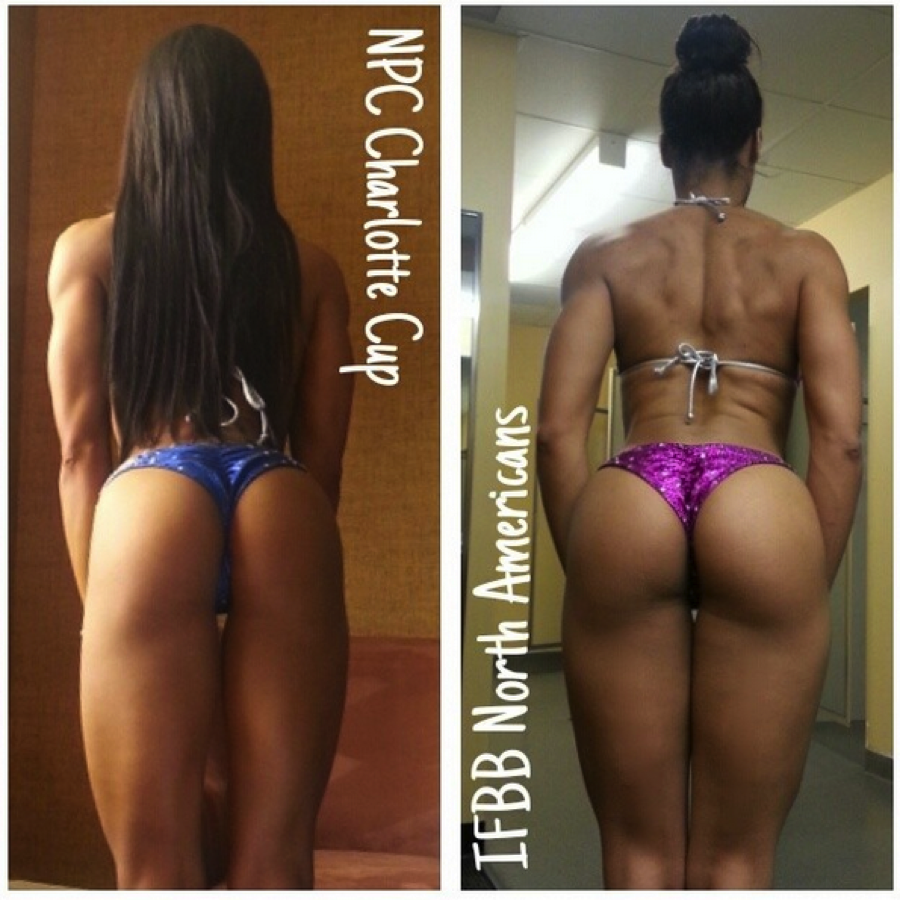 Here's another glute transformation for you ladies! Don't think that just squatting will get you the booty you want! Biomechanically, the glutes aren't maximally involved in squatting, lunging or deadlifting. They're only contracted at their max potential from bent leg hip hyperextension exercises. I do a lot of hip thrusts, hip extensions (kick backs), glute bridges, seated abduction etc. to work my glutes.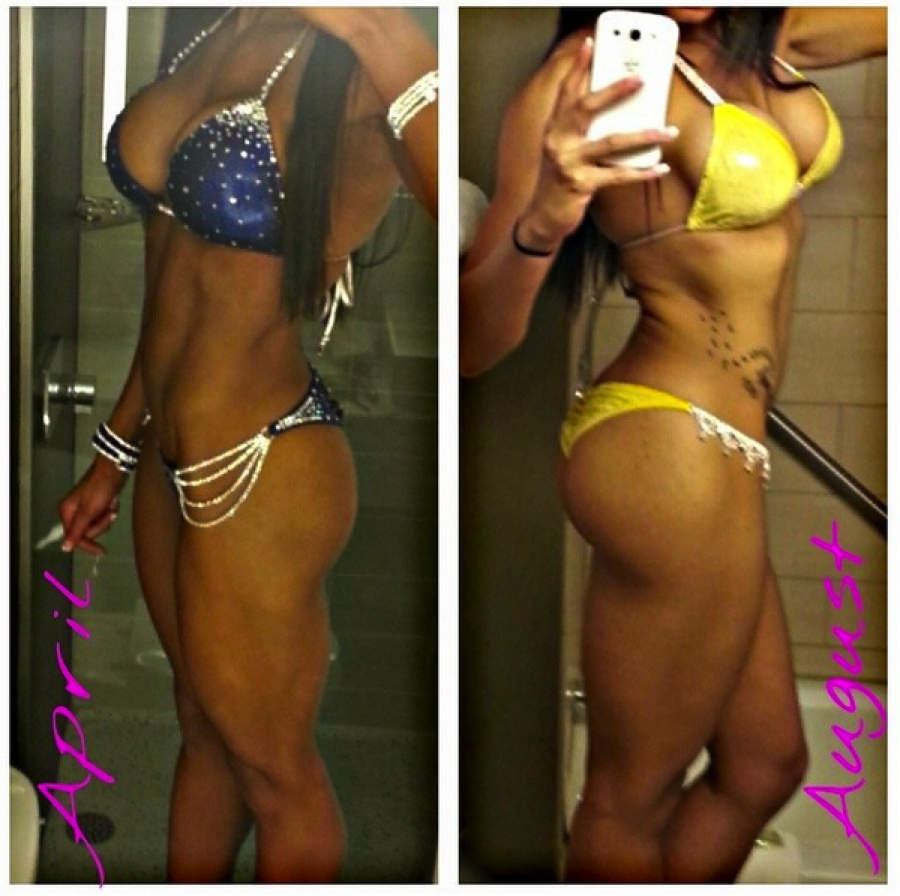 As you can see, Sasha had been doing ample amounts of squatting, lunging, and RDLing, but was not getting the results she wanted. After implementing hip thrusts for 4 months, along with other specialized glute exercises, her glutes radically transformed.
My glute training regimens have always included a variety of glute exercises, and I'm a big fan of various squat, deadlift, and single leg variations. However, I center my glute training programs around the hip thrust for several reasons: 1) I believe that they maximize the tension on the glutes, as evidenced by the higher mean and peak EMG activation compared to other popular exercises, 2) I believe that they maximize metabolic stress on the glutes, as evidenced by the incredible burn they elicit when performing higher repetition sets, and 3) since I started employing the hip thrust as a personal trainer, my "glute transforming ability" increased dramatically with clients. I also receive tons of feedback from lifters like Sasha who report similar results after centering their glute training on the hip thrust.
Keep doing a variety of glute exercises, but just make sure that you're incorporating the hip thrust. Granted, your glutes might not transform like Sasha's, but since it's very hard to reshape the glutes, you need to be doing everything in your power to entice them to remodel. And Sasha, you are awesome, and I'm very proud of your transformation!