Here are a few random thoughts for the week.
1. The Proof is in the Pudding
These days I read journal articles like crazy but I still find time to read my favorite bloggers every week. I've always been a big fan of Eric Cressey for many reasons. One thing I like about Eric is that he's transformed his physique, transformed his strength levels, and transformed his athleticism. When I think of all the "ways" I've learned over the years…through training myself, helping my training partners, training clients and athletes, reading bodybuilding mags, reading online magazines and forums, going to seminars, attending conferences, watching dvd's and youtube vids, reading blogs, reading journal articles and books, taking courses, conducting experiments, and talking to colleagues, I think the best form of learning has been through training myself.
For example, growing up I had no absolutely no glutes. I always paid close attention to glute exercises and the way they felt. Now I have some decent glute development due to sound glute training methods. In fact, my hips are 5″ bigger around than my twin brother's (I have my own "control" subject). So when I see a guy who appeared to have piss-poor genetics yet managed to prevail based on good training methods, I'm all ears. Eric has put out another free webinar and you need to see the pictures to believe it…he went from a skinny geek to a deadlifting machine.
Click HERE to watch Eric's new webinar and see his alarming transformation over the years. Trust me, you'll appreciate the video – he talks about the 10 biggest mistakes he's made in training. I've made many of these myself.
2. Girls Gone Strong!
My sexy female colleagues in the industry have just started a new Facebook page. Click HERE and hit like if you support sexy women who train hard.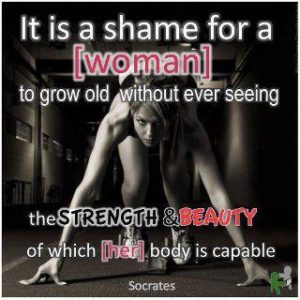 3. Distal Biceps Tendon Repair Surgery Rehab
I just realized that I never wrote about my biceps tendon repair rehab. For those who are new to this blog, I tore my biceps tendon performing a set of mixed-grip deadlifts with 550 lbs (supinated hand) in March I believe. My tendon was fully torn but it didn't scroll back into my arm because the aponeuroses held it in place, which was very nice as I never lost any range of motion (which led to a quicker recovery). I had surgery in late May if I recall.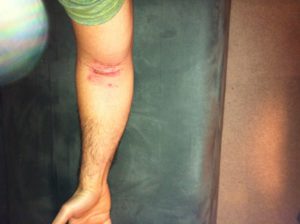 I was told to avoid any strength training for at least 3 months to allow the tendon to heal and was given a sling to wear for the first few weeks. To make a long story short, I completely ignored the advice of my doctors and physical therapists, ditched my sling, and started training five days after my surgery. I would never tell somebody to take this approach as most would overdo it and most aren't disciplined enough to hold back. But I took a very calculated approach and was able to heal much quicker than the average Joe – and maintain my muscle mass and most of my strength throughout the recovery process.
Weeks One and Two – Maintain Muscle Mass and Initiate the Recovery Process
Some folks can take a month off of lifting and not lose any strength or size. I can't. I argued with my professor about this as he was quoting research discussing rates of hypertrophy and strength decay. I said, "That's good to know, but that's not me. If I take ten days off I return a sissy." My twin bro is the same; we have to lift frequently or we'll actually get weaker.
To maintain my upper body pressing musculature I performed isometric push up holds in the bottom position. Just two sets per session. To maintain my upper body pulling musculature I performed rear delt raises with scapular retraction (arms bent). For lower body I was able to perform many great exercises, including full squats, good mornings, hip thrusts, back extensions, high step ups, and single leg hip thrusts. For grip work I did pronated barbell static holds. For core I did RKC planks and side planks.
I also started doing "active flexibility" work by performing bench press and incline press with just a barbell. This provided a good stretch to my biceps. I'd hold the top for a second on each rep to make sure I got full elbow extension. I didn't lose much elbow extension range of motion following the surgery and it was very important to keep this ROM and prevent shortening which would occur through inactivity. I did lose considerable supination-pronation ROM which is not fun as I couldn't wipe with my right hand. It's not easy using the left hand!
Weeks Three and Four – Start Seeing What Else I Could Do
After a couple of weeks I started experimenting. I always learn a ton from injuries and I realized that some exercises require a ton of biceps co-contraction, while others don't. For example, lateral raises were completely out as they were very painful even with very light weight. Any form of light curling was entirely out of question but I found that I could perform cable rows with a rope handle as long as I pulled outward and spread the rope apart during the row to reduce the elbow flexion torque. I found that I could hold onto a barbell and perform single leg RDL's. Bench press and incline press were not a problem and within three weeks I was already performing heavy singles with 275 lbs. I kept pushing the static barbell holds as I didn't want to lose grip strength and I wanted to see if holding onto heavy weight in a pronated position would be problematic, which it was not.
At this time I noticed something quite strange and important. Despite my right biceps being tiny, atrophied, unable to fire to much degree, and weak as piss, my form was still perfectly symmetrical. I was much weaker with the right limb and I couldn't stabilize very well, but I could lift with great precision. For this reason I believe that asymmetrical form is not so much strength-related as it is motor-control related. Since I've been lifting for 20 years my body doesn't let me lift asymmetrically. Even if I have a muscle that isn't working properly, my body stays in check and the strong side pulls in on the reigns to prevent lateral shifting and twisting.
I also started performing active supination and pronation to try to regain lost mobility.
Weeks Five Through Twelve – Step it Up
After around a month I decided to give deadlifts a try. I pulled with double overhand grip with most of the sets but would switch to mixed grip on heavier sets (with the injured arm pronated and the uninjured arm supinated). My first session I worked up to 315 lbs. A few days later 365. A few days after that 405. A few days later, 455. Within six weeks of my surgery I was already pulling over 500 lbs. The squats, good mornings, posterior chain work, and single leg work kept me strong.
My lower body and core workouts never suffered except that it took me a while to be able to return to deadlifting; my upper body pressing workouts felt a bit off as I wasn't as stable, but my pressing strength returned to normal after around 5 weeks. My upper body pulling workouts suffered but I was able to maintain my muscle mass by trying to really feel the movements in the back muscles. For example, by using a slower tempo with an isometric hold at lockout, coupled with some form alterations to increase muscle activity, I could make rowing movements with medium loads surprisingly effective. Very gradually I increased the loading on rope rows and I performed them from high, mid, and low cable positions and from seated and standing positions. These were my weapons of choice as they allowed me to target my back muscles without putting much stress on my biceps. From time to time I'd perform standing military press and neutral grip lat pulldowns for higher reps.
Weeks Thirteen Through Twenty – Start Curling
At this point I decided to add in some high rep curls. I realized that kettlebells are better than dumbbells for curling as they augment the strength curve and keep tension on the biceps at the top of the motion. Going heavier didn't feel right so I'd stick to 15 reps min and 35 reps max. Under doctor's orders I was supposed to start with 2 lb dumbbells for 100 reps but my biceps received some decent stimulation from all the rowing, which allowed me to start with 16 lbs x 20 reps. I also tried to throw in a set of hammer and reverse curls and tinkered around with some supination and pronation work.
I was able to add in inverted rows and neutral grip pull ups during this time as well. At this time I was able to perform every exercise that I was performing before my injury. As you can see, I took a calculated approach to my recovery and was able to train hard while still playing it safe and steering clear of dangerous thresholds.
3. Neck Training for Football Players
I attended a very cool seminar last night at my University on the Biomechanics of Injury. There were several researchers, biomechanists, and surgeons presenting and the discussions these guys would have with each other during the Q&A's were fascinating. It's so nice to listen to high-caliber professionals engage in civil debate. Some serious brain-power was in full effect and it was interesting to hear the biomechanist's take versus the physicians' takes on certain topics such as tendon healing, PTP, ACL tears, hip internal rotation, and CAM and Pincer FAI.
One of the presenters spoke about concussions and has conducted years of research using accelerometers in the helmets of football players. Though rare, they've recorded collisions that resulted in up to 300 G's (g-force) of head acceleration! I don't really have a frame of reference for that but it sounds insane. I pulled up an abstract on the topic of concussions here.
In a nutshell, if players can align their head and necks at impact and stiffen the neck, they raise their effective-mass and transfer and absorb force much more efficiently since they're essentially attaching their heads to their bodies rather than just having bobble heads. Read that last sentence again. It's like getting in a car crash without a seat belt on versus getting in a car crash with your seat belt on; I'd rather be attached to a car on impact. Similarly, I'd rather have my head attached to my body upon impact in collision sports.
Bottom line – some isometric neck training in various directions (flexion-extension axis, lateral-flexion axis, and axial twist axis) could be beneficial to various athletes such as football and rugby players and boxers. I'm certain that the rule of specificity applies and that individuals who train their necks specifically will be stronger at resisting flexion, extension, lateral flexion, and rotation than those who don't. There are many muscles like the sternocleidomastoid that don't get worked much during a deadlift, so just having big traps won't cut it if you're trying to prevent concussions. The cervical spine needs stability too; not just the lumbar spine.
Here are some simple manual exercises you can do, but you can also use bands, Swiss balls placed against a wall, or partners to effectively train the neck. These can be performed in the warm-up or in between sets of lower body movements.
Okay guys, hope you enjoyed the random post! Have a great weekend mates.