1. This Guy Freakin' Rules!
His name is Kelly Starrett, and he's a Physical Therapist who works with the San Fransisco Crossfit community. Subscribe to his Youtube page immediately and never look back. He's got a ton of knowledge, he has a great attitude, he's a natural speaker, and he posts a new video every damn day on flexibility/mobility/soft tissue work. Here's a video from the other day:
2.  Flexibility Quote
I came across this quote in my Strength and Conditioning: Biological Principles and Practical Applications book the other day regarding flexibility:
Flexibility requires integration with other movement components to produce skilled movement……flexibility is useless without strength, and vice versa. For example, training muscles to be extraordinarily strong with the intent of improving performance and preventing injury does little good if those muscles cannot move through an appropriate ROM, cannot be summoned by the nervous system at the proper time and with the proper tension, and are not inhibited by antagonistic muscles. In other words, a strong muscle is useless if it doesn't "fire" at the right time and in the right amount. The same can be said for flexibility. Increasing a person's ROM is useless if that increased range is not under exquisitely precise nervous control and the muscles controlling the movement are not strong enough to control the position…..flexibility is not as simple as ROM about a joint. Flexibility, or motion around a joint, is under the control of numerous factors; changing one without consideration of all the others is folly and often results in dysfunction. Increasing flexibility without simultaneously increasing strength in the new range, nervous control, stamina, and other factors invites puzzling failure. The challenge of the future is to discover how the integration of these factors produces skilled movements. This will require a breakdown of academic turf barriers, and new and broader training of exercise and sport scientists so that integration of systems becomes the focus.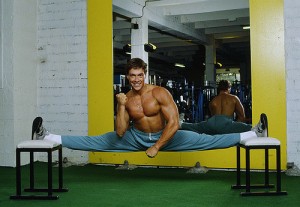 You better give me some freakin' credit for typing all that out, and for finding this picture of Van Damme! This quote mirrors what many top S&C coaches such as Nick Tumminello, Jeremy Frisch, Mike Boyle, and Eric Cressey have been saying for quite some time. There are a lot of bullshit "stretching specialists" out there who only know passive stretching techniques (there was one at the gym by my house in Scottsdale) and they think that it's the cure-all for everything, but active stretching beats passive stretching any day of the week in my book for plenty of reasons. This isn't to say that there's not a place for passive stretching, just that active is superior for most purposes. Here's a warm-up that will work on simultaneous gains in mobility and stability so you increase flexibility and keep the gains:
3. Why All the Books on Motivation?
These days all sorts of coaches are reading motivational and inspirational books. I'm more interested in reading books and journal articles on Strength & Conditioning or Physical Therapy. Don't trainers and coaches realize how much knowledge is out there and how little the average person knows? Are we so unmotivated that we have to constantly read books to keep us focused?
In all fairness, I should probably be reading books on marketing, motivation, etc. as this would probably lead to increased revenue. To be honest I've never read a single book by Ryan Lee or Thomas Plummer. I actually prefer reading about molecular adaptations to various forms of exercises and the like. At the end of the day we all need to make a living, and the better you are at marketing yourself the more money you'll make. Moreover, staying positive and motivated is important when you train, coach, and teach other people as no one likes being around a negative jerk. So it's definitely valuable to read these books, but in my opinion you should always be reading two books at once: one that's scientific and one that's for pleasure or personal growth.
4. Neck Packing
Neck packing is a more recent trend in strength & conditioning and I'm aboard. It involves cervical retrusion and capital flexion which is a fancy term for "making a double chin." This position is probably the best set up for exercises involving a hip hinge such as deadlifting, bent over rows, bent over rear delt raises, standing YTML's, and kettlebell swings. I first learned of it through Charlie Weingroff, but I'm not sure if he came up with it or if he learned it from someone else.
After much thought and consideration, I believe this to be the safest and possibly the most "power-transmitting" way to pull. I'm not sure about Olympic lifting, but definitely for the exercises mentioned above. Remember that this is a new concept and it takes time for ideas to spread in S&C so don't go around judging other coaches and trainers if they don't yet teach "neck-packing." And don't go around trying to pack your neck when you tie your shoes, make love, or do yard work.
The last thing I want to say about neck packing is that it's hard to tell if you're doing it right. Sometimes I think I'm doing it right but when I watch myself in a video I'm still extending my neck a bit. For this reason I recommend filming yourself and making sure you're doing it right.
Here's a video that discusses this concept: