Season's Greetings, my fellow fitness friends! I hope your year has been filled with happiness and glute gains.  It's time for the December edition of Random Thoughts from yours truly.
1. Next Glute Lab Seminars: January 14 & February 11
The first of the 2017 Glute Lab Seminars have been scheduled (in Phoenix, AZ) for January 14, 2017 and February 11, 2017. The cost is $399 and there are 3 remaining seats available for January and 16 for February. First come, first served.
About the seminar:
In the morning, I will lecture on the science of glute training and program design. You will receive a PDF of the slideshow, which I update each month to include all the latest research. All of my past attendees receive a new pdf every time it is updated.
After a catered lunch, we will then have a learn-by-doing practical where I will showcase the mechanics, cueing, variations, and progressions of glute bridges, hip thrusts, squats, deadlifts, back extensions, split squats, hip abduction exercises, and more.
To finish the day, we'll have a Q and A, we'll take some fun pictures, and you'll receive some free gifts (Ares Sports Rub and Squat Sponge recently stepped up and sent me some merchandise). You will leave much more confident and knowledgeable about your glute training and strength training in general. My attendees are always happy with their decision to attend.
If you'd like to sign up for this event or get a bit more information, please contact Maleah at maleah@bretcontreras.com.
2. New Master's Thesis: Effects of 6-week Squat, Deadlift, and Hip Thrust Training Programs on Speed, Power, Agility, and Strength in Experienced Lifters
Micheal Zweifel, S & C coach, athlete, and owner of Building Better Athletes, published THIS master's thesis examining the effect of squats, deadlifts, and hip thrusts on performance and strength.
There weren't enough participants (26 athletes split into 4 groups) to achieve statistical significance, however, this makes for great pilot research. In fact, I don't like the way this thesis had to be written up since it's really a pilot study, and inferential statistics should not be used, as the likelihood of committing type I and II errors are extremely high (people can be fooled into thinking there's an actual effect when there isn't one, or into thinking there's no effect when there actually is one).
There isn't enough data to provide strong evidence to draw conclusions. I am looking forward to future studies on the topic with ample sample sizes to determine whether or not squats are best for squats and agility performance, deadlifts for deadlifts and vertical jump, and hip thrusts for hip thrusts, acceleration, and horizontal jump.  You can download a PDF of the paper HERE or at the abstract link above.

3. More Absolutely Incredible Testimonials
What has always set me apart from the competition are my superior testimonials and before/after pictures. Some folks claim to know a lot about glute training, but where is the evidence of their methods? Below are two masterpieces of evidence that I received just this week.
The first comes from Roxy Winstanley Bikini Athlete, and she just might be my Mona Lisa. Check out the amazing testimonial she sent me!
And the second comes from Melissa Crowther – Enduring Fitness, who is also a contender for my best transformation pic to date.
Big thanks to these beautiful ladies for sending me credit, even though they did all the hard work. Receiving feedback like this makes it all worth it!
4. Most Liked Instagram Post to Date
Last month, I shared a post on Instagram, and I was surprised to find that it received more likes than anything I've posted to date. Life is too short to wait around for things to happen, so I believe in taking a proactive approach to living a life of success and well being. The photo below represents my greatest accomplishments. If you are on the fence about pursuing a dream or goal,  I wholeheartedly encourage you to go for it.  You won't regret it.
5. How Does BC Warm Up?
Readers often ask about my warm up routine so I thought I would share. Although I'm well versed in hundreds of stretches, mobility drills, activation drills, and self myofasical release, I tend to take a pared down approach to warming up. I have found through much trial and error over the years what works best for me. Give some of these drills a try but also do your own experimentation and research to find what will work best for you.
6. Top Ten Most Popular Bikini Competitor Glute Exercises
I have a feeling that my female following will be particularly interested in this, but lads, take note. I incorporate many of these exercises into my own workouts.  These aren't all my personal favorites but I do indeed program many of these into my personal client and my Strong by Bret workouts. In retrospect, I wish that I had instead included the step down off the assisted pull-up machine and the sideways single leg leg press, but this is still a good list.
7. 60-Second Maximum Bench Press Tutorial
Check out this quick bench press tutorial. Pretty opposite of the typical BC demonstration, don't you think? Stay tuned for more 60-second tutorials in the near future and give these tips a try for a successful max bench press.
8. Huge Props to Men's Health Magazine
I wish someone would sue Beach Body for their fraudulent depiction of the gluteal anatomy in their Brazilian Butt Lift infomercials. I first wrote about this atrocity in July of 2013 HERE, where I showed two pictures that to this day get circulated all over the Internet. They fabricated the anatomy of the glutes to sell more product, which is intolerable.
Anyway, in this month's (December, 2016) Men's Health issue, they posted a proper image of the gluteals (see below), in addition to an image of a properly performed hip thrust. Kudos to MH for getting it right and putting out correct information instead of pseudoscientific marketing bullshit!
9. Does Strength Training Change Your Movement Patterns? – Chris Beardsley
Can a typical off-the-peg training program improve your movement patterns without additional input from foam rolling, stretching, specialized exercises, or expert advice?  Chris Beardsley examines the research and answers this question HERE.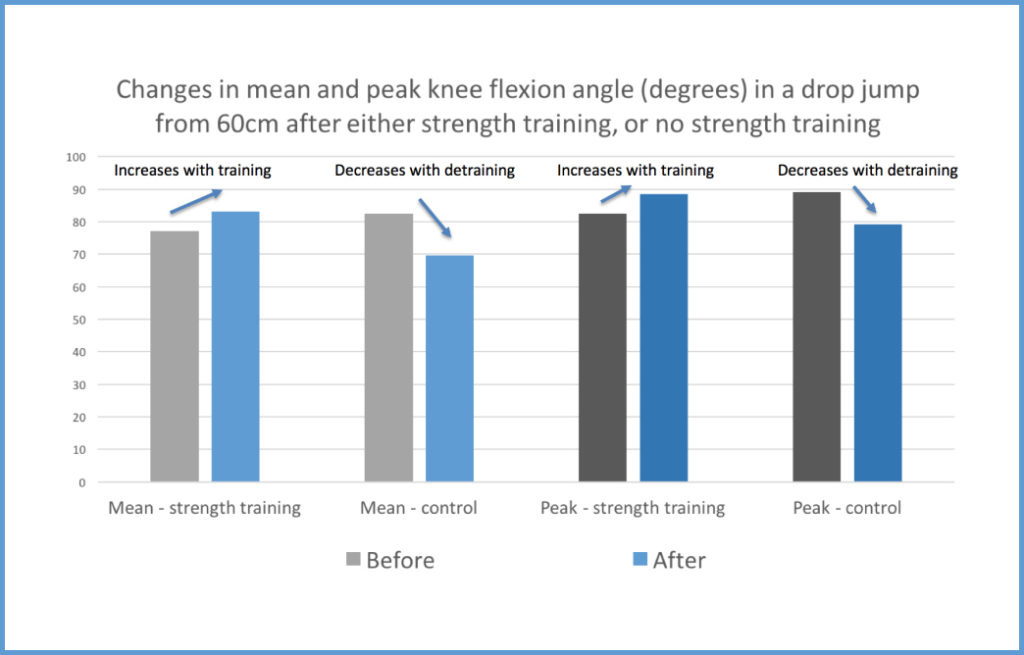 10. Does Strength Training Build Stronger Bones? -Rory Heath
Recent estimates suggest that up to 30% of men and even more women will suffer from an osteoporosis-related fracture in their lifetime (Mojock et al. 2016). In THIS Strength and Conditioning Research article, Rory Heath explores the relationship between strength training, bone mass density, and healthy ageing.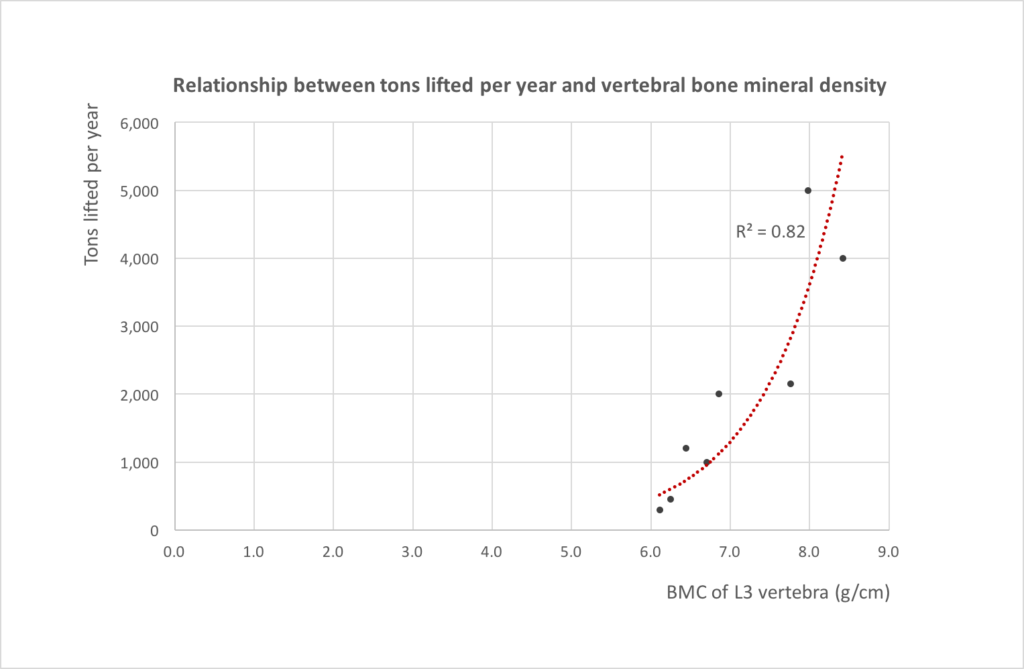 11. What is the Best Rep Range for Muscle Strength and Size? – Brad Schoenfeld
The bros may indeed be right on this one. In THIS new blog post, super smart guy Brad Schoenfeld shares the findings of his recently published study and breaks down the practical implications of heavy versus moderate load training.
12. Load/Force Vectors: The Missing Link To Your Training – James de Lacey
Load/force vector training is a concept that I introduced in my glute eBook and investigated in my recent study titled, "Effects of a six-week hip thrust versus front squat resistance training program on performance in adolescent males: A randomized-controlled trial." THIS article by fellow AUT University colleague James de Lacey does an excellent job of explaining this concept and why you should be tailoring your training program to your sports specific movements.
13. When Is Spinal Pain Less About The Spine? – Dr. Kieran O'Sullivan
HERE is an excellent presentation by Dr. Kieran O'Sullivan discussing the physical and psychological components of pain and the perception of pain and injury. I disagree with Kieran on one minor point pertaining to glute activation, but Keiran is a stellar researcher and you will likely learn a lot from watching this video.
14. Five Years Of Hamstring Injury Research In 25 Minutes – Dr. David Opar
THIS is another awesome selection from the Aspetar's Tuesday Lecture Series.  In this lecture, Dr. David Opar gives a quick, yet thorough 36-minute presentation of the current and future hamstring injury research. I was highly impressed with David Opar's presentation abilities.
15. Don't Just Squat and Deadlift for Glutes
As I've written before HERE and HERE, if you want glutes, you have to do more than just squat. I stumble across a lot of bikini competitor (with amazing glute development) posts on Instagram, and there's a common theme. They all incorporate a ton of variety in their glute training and they don't what they feel works best for them which they discovered through trial and error. For example, read what Christina and Aline recently wrote below.
16. Infographics Galore!
Make sure you're following Chris Beardsley on Instagram for daily educational infographics. If you take the time to read and reflect upon each of these posts, it will greatly improve your knowledge and understanding of the science of strength & conditioning.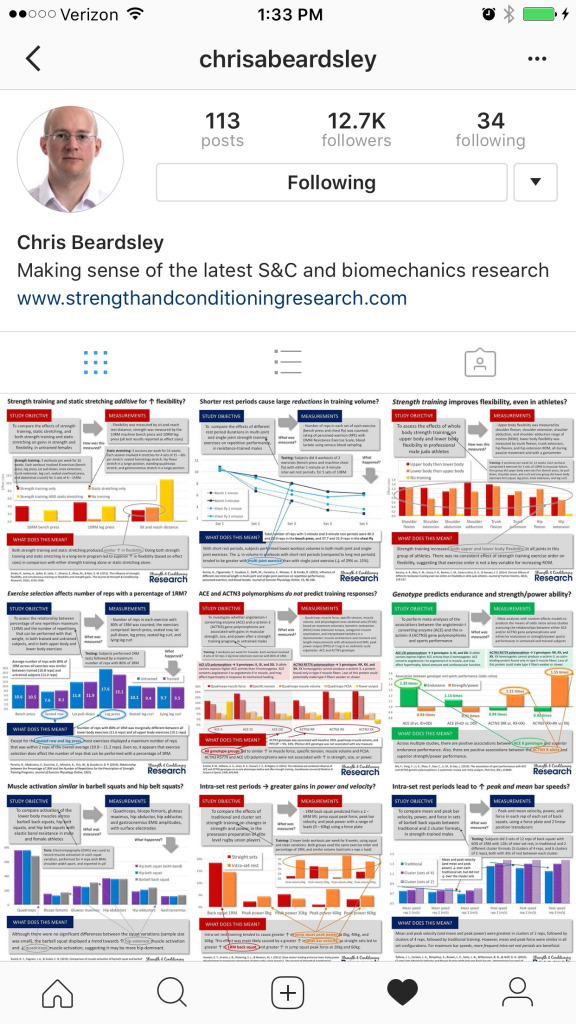 17. No Eye Contact During Hip Thrusts!
"It's a marvelous lift, but you never, ever make eye contact. Period." – Dan McKim, 4X World Champion Scottish Highland Games
18. Some Bridges Need Not Be Crossed
Needing to meet your daily WTF quota? Click to the 46-second mark of this video to see an, er, interesting take on glute bridging. Just be sure to use better form, or better yet try out my personal favorite variation. Serious creeps out there LOL!