Greetings blog readers! Below are 25 Random Thoughts. Before I get started I wanted to relay an excellent short email I received last week:
Hey Bret, I'm a huge fan of your blog and articles. I think I've learned more from you in the past year than I did from any other source – which includes the major strength training websites. I especially like your random thoughts blogposts. Thank you and keep up the great work. – Dan.
I will definitely do my best to keep up the great work Dan, and thank you for the email. I officially have two weeks left before I leave to New Zealand to get my PhD in Strength & Conditioning at AUT. This brings me to my first point.
1. PhD in Strength & Conditioning
I love that I live in a world where I can get my PhD in Strength & Conditioning! Hallelujah!
2. Hip Mobility and Stability
Hip mobility seems to be all the rage lately, but hip stability is of utmost importance too. Combine superior hip mobility and stability and now you're carrying a deadly weapon! Here's a great routine for hip mobility and stability that strengthens the hips through good ranges of motion in hip flexion, extension, and rotation. I've been doing this workout several times per week as a pre-strength workout dynamic warm-up and as a separate "special workout."
The best part about this routine is that it's great for general lifters like me. I don't need as comprehensive of a warm-up as an athlete since I'm just a general lifter. However, I still hammer thoracic extension, ankle dorsiflexion, and all the hip motions mentioned above, which are typically the motions that tend to lock-up over time in sedentary folks.
3. Rotary Stability
Many lifters have very poor levels of rotary stability. Have them try a bird dog, a single leg box squat, or single leg hip thrust and they swivel. They're incredibly weak at cable chops, cable lifts, and Pallof presses. All lifters, regardless of their goals, should be sufficiently strong at rotary exercises and be able to control their hips and spine during basic rotary and anti-rotary exercises. In my experience more women have poor rotary stability than men.
Tony Gentilcore has a bunch of good videos on his Youtube page for rotary stability. Here's one:
4. Squeezing a Ball Between the Legs While Squatting or Bridging
Just don't do it. Some trainers and therapists think that it's useful because they believe it increases VMO activation but research shows that it only increases levels by something like 8% at best, and most research shows that you can't increase VMO contribution relative to the VL. Here's a one such study.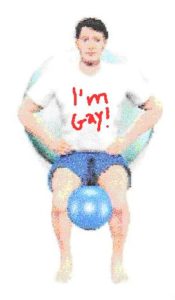 You can put a band around the thighs to increase the abduction/external rotation component but I don't recommend mimicking the Valgus collapse mechanism which has shown to lead to patellofemoral pain and Achilles tendon injury by introducing an adduction/internal rotation component to compound lower body movements. This strategy might be useful if an individual has excessive knee varus during movements such as squatting, but this is rare in my experience.
In general, you want the knees tracking over the toes, and you want to get strong! Let the therapists worry about stability balls and the strength coaches worry about barbells!
5. Beginners
When I train people I don't really stick to any rules. I probably break every common rule we believe to be true in strength and conditioning. That said, if I had to give a general rule-of-thumb for training beginners, I'd recommend prescribing medium-high rep full-body routines. This is one thing that bodybuilders, powerlifters, strength coaches, and researchers agree on. Full body workouts allow for greater training frequency which leads to more rapid neural and coordinative adaptations, and medium-high rep training leads to greater connective tissue adaptations, less degradation in form, less stress on the spine (assuming they keep a neutral spine), and more protein synthesis.
6. Applied Kinesiology and Quackery
Lately I've encountered several individuals who believe in Applied Kinesiology. While my gut instinct screamed "bullshit" at me, I decided to do some research. I stumbled upon this article, which cites several different research articles that confirmed my suspicions. Notice that New Zealander therapists ranked really high on the list in terms of buying into this B.S.? I'm going to have to set the record straight on these folks when I get out there. Hate me all you want, but at the end of the day do you want to be trained by someone who understands science or someone who still believes in the Easter Bunny?
7. Resistance Training Can Increase VO2 Max Better Than Endurance Training
This classic study by Hautala et al. showed that sedentary subjects who had poor muscle conditioning benefited more from strength training than endurance training in terms of VO2 Max improvements. Even endurance athletes need to possess basic levels of strength in order to perform their best. Every athlete should be able to perform some push ups, chin ups, inverted rows, lunges, single leg hip thrusts, planks, and side planks with good form.
8. BCSC to SHSC
Two Sundays ago Steve, my dad, my stepbros, and I moved all of my equipment out of my house to my client Steve's garage. Steve agreed to keep it at his house for three years until I get back from New Zealand. This is a win-win situation, as he'll get to use it and I won't have to pay for storage. I planned on training at the gym right down the street from me but I just couldn't do it. I'm just too addicted to my equipment. The chalk bin, the deadlift lever, the Texas power bars, etc. For the past week I've been driving clear across town to train with Steve out of his garage. Here's the new facility:
9. Steve Deadlifts 500 lbs!
This was truly auto-regulatory training at it's best. We deloaded a bit three weeks ago and planned on taking a month to work our way up to heavy singles on the deadlift. However, two weeks in Steve intuitively knew that he had 500 lbs in him. After he did a set with 405 lbs, he said, "I want to go for 500." Who am I to stop him? Here's the video:
I think that I was happier than Steve! What's great is that this happened on Thursday, he had his bachelor party on Saturday, and he got married on Sunday. I bet this made his wife even more proud – marrying a 500 lb deadlifting left-handed pitcher!
10. My Blog Design
When I came out with my new blog design several weeks ago, I got some nasty emails from some of my readers who were unhappy with the flashy appearance. Try to remember, I'm 25% Latino. Despite the fact that all my friends dog on me for wearing Ed Hardy t-shirts (they call me "Bret Hardy"), I still wear them with pride. *I realize that Ed Hardy isn't Latino but here it seems that we Latinos are drawn to that type of clothing. What can I say, I like flashy things, which is why I'm very happy with my new website. Try to cut me some slack…I think I gave you over 100 free blogposts and articles last year! Comprende?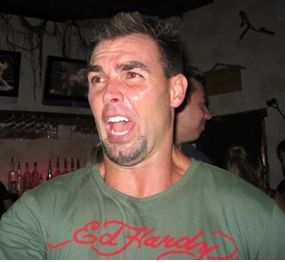 11. What to Bring to NZ
I'm trying to figure out what to bring to New Zealand with me (I can bring two suitcases and a carry-on), and I only saved two things from my gym: 1) a Hampton thick bar pad, and 2) a monster mini-band.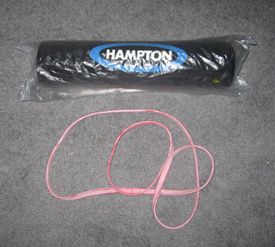 That's all that's left of BCSC!
I've got a ton of textbooks, books, classics, and DVD's too from guys like Mel Siff, Vladmir Zatsiorsky, Stuart McRobert, Brooks Kubik, Bill Starr, Jack McCallum, Mike Boyle, Mark Verstegen, Gray Cook, Nick Tumminello, Charlie Weingroff, Kelly Baggett, Jim Keilbaso, Dan John, and Eric Cressey. It's hard to let this stuff go…I might try to take it all with me!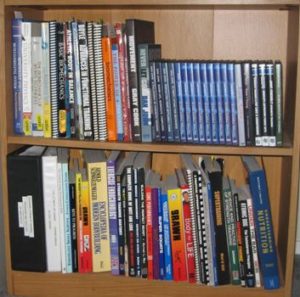 12. High Rep Hip Thrusts
For the most part, I believe in doing very low rep squats, deadlifts, and Oly lifts (1-3 reps), medium rep single leg work and hip thrusts (3-8 reps), and high rep posterior chain assistance work (8-20 reps). Yet variety is sometimes good, and lately I've been doing some higher rep squats, deadlifts, and hip thrusts.
I mentioned how Steve "raised the bar" for me in terms of hip-thrust strength. Here's me doing 405 x 10 reps:
This was last week, and I did them again today and found it to be even easier. I could probably get 15 reps if I wanted.
I've mentioned this in the past too, but hip thrusts transfer really well to high-rep deadlifting. When I rep out on 405 lb deadlifts, I feel my glutes squeezing together in a similar manner to my hip thrusts. This brings me to my next point.
13. High Rep Deadlifts – The Road to 20 Reps with 405 lbs
In my last "random thoughts" post I posted a video of me doing 405 x 12 reps and mentioned that I could get up to 20 reps within a month or so. I got a nasty cold the following week and could only do 10 reps the week after I recovered from my cold. However, the following week I was able to do 15 reps. Here's the video:
My erector spinae were sore for four straight days following this set!
I'm shooting for 405 x 20 reps, which I hope to get within the next couple of weeks. I realize that I can't keep going up linearly, but I'm hoping for 18 reps this week and 20 reps next week. Time will tell.
14. TNation Genetics Article – What Got Left Out
A couple of weeks ago I wrote an article for TNation that got a lot of great feedback. In case you missed it, here's the link. The editors for TNation always do a great job of whittling away at my articles and cutting out all the fluff. However, I thought some of the stuff was worth mentioning, so here are a few excerpts that didn't make the final cut.
Rumor has it that an infant Austrian by the name of Arnold Schwarzenegger popped out of his mother's womb, grabbed a hold of his umbilical chord, yanked out the placenta, and started twirling it around overhead. Inspired by this feat, Paul Chek would later develop the tornado ball and write an article on T-Nation discussing its benefits. Okay I made that last one up but you get the point.
Muscle cells, or myofibers, are multinucleated, which means that they contain more than one nucleus. Each myonucleus is responsible for regulating gene transcription and protein synthesis over a finite volume of cytoplasm. As the volume per nucleus, or myonuclear domain, expands, it strains the myonuclei and the myonuclei have difficulty supplying the cell with sufficient gene products.

This expansion drives the demand for more myonuclei, and the myofibers will do their best to acquire additional myonuclei by calling upon satellite cells that are strategically positioned beneath the basil lamina of the myofibers. These satellite cells proceed through three distinct steps: activation to exit their normally quiescent state, proliferation to produce more nuclei, differentiation by fusing with myofibers, thereby donating their nuclei to support muscular growth and regeneration. The activation of this process is signaled by growth factors released as a result of mechanical loading.

When you lift weights, you increase the expression of different signaling molecules such as IGF-I isoform Ea (IGF-IEa) and IGF-IEc (mechanogrowth factor, MGF) , as well as the members of the myogenic transcription factor family, which consists of myogenin, MyoD, myf-5, and myf-6.

Many of these genes are involved in the progression that ultimately leads an increase in the number of myonuclei within the myofibers. Some of the genes that influence satellite cell regulation include the muscle-specific mitogen mechanogrowth factor (MGF or IGF-IEc), myogenin, which   is responsible for late differentiation, and cyclin D1, which promotes G1 to S cell cycle progression.

Furthermore, myofibers contain an abundance of microRNA (miRNA) which play a large role in satellite cell proliferation and differentiation.
In this article, I've discussed various genetic mechanisms that affect hypertrophy, adiposity, and athleticism – and I only scratched the surface. Future research will unveil much more detail about our genetic map. Of course, there are plenty of different factors that affect your training results. Here are some of the factors that determine your physique, strength, athleticism, and ability to train hard, each of which contains a strong genetic component:

height, BMI, body composition
bone structure, anthropometry, leverages, tendon attachment points, somatotype, and muscle belly shape
strength, hypertrophy, power, athleticism
joint mobility, stability, motor control, kinaesthetic awareness, coordination
soft-tissue and spinal disc strength
anabolic and catabolic hormones, proteins, cytokines, and growth factors
hormone receptor density and sensitivity
muscle fiber type proportions
sleep quantity and quality and immune system strength
appetite and food preferences
attitude and coping skills
affinity for exercise, determination, and drive
ability to get "adrenalized"
intelligence, ability to experiment with variables, ability to design effective programs, ability to identify weak links

Then you have to consider environmental factors and epigenetics, which is a complicated process in which the environment affects how and when genes are activated:

diet, supplementation, and nutrient timing
access to training related information, training-related thoughts
advisors, coaches, and training partners
exercise equipment, music, and training environment
time availability for training and skill practice
daily posture and activity
income and job satisfaction
friends and family
Before I did research for this article I didn't realize the difference between genetics and genomics. According to this link, genetics is the study of single genes in isolation. Genomics is the study of all the genes in the genome and the interactions among them and their environment(s).
15. Collegiate and Professional Strength Coaches
This may sound a little bit cocky, but I'm not very impressed with what I've seen from collegiate and professional strength coaches. Whenever I hear interviews involving strength coaches I'm not entirely impressed with their knowledge of Biomechanics or training principles. Whenever I see training clips I'm not quite satisfied with their athletes' form or strength levels.
It seems to me that at the professional level it's all about who you know, not what you know. I realize that personality, ability to work with the coaches, ability to get along with players and motivate them, and work ethic play a large role in who gets hired, but I'm still not very impressed with their programs.
16. Getting Research Before it's Published and Making Friends With Coaches and Researchers
One thing that I've really enjoyed over the past year is making tons of new friends in the industry. There are plenty of coaches who I speak to on a regular basis – guys who love to talk training and have a strong desire to keep learning. Some of the guys I talk to every month are Brad Schoenfeld (my hypertrophy guy), Carl Valle (my sprint guy), Ben Bruno (my exercise progression guy), Joe Dowdell (my biomechanics guy), and Shon Grosse (my physical therapy guy). I love hearing all of these coaches' thoughts on training. These are some smart individuals who are all experts on various aspects of training.
However, I've also made friends with some researchers and professors, and lately I've been getting emails from individuals informing me about research that is yet to be published. It's very exciting, and is one of the perks of being a popular fitness writer!
17.  Body Composition Was Easier to Manage Before I Knew a Lot About Nutrition!
In my late teens and early twenties, I didn't know that much about nutrition. If I wanted to lean out, I just didn't eat much, and if I wanted to bulk up I pigged out.
Now I'm much older and wiser and I've accumulated a ton of knowledge about nutrition. Ironically, my knowledge has led to some OCD's which has made it more difficult for me to lean out. I try to up protein slightly when dropping calories and keep fat intake consistent, which requires me to drop carbohydrate intake. It's hard for me to cut out foods like yogurt and fruit due to their favorable effects on the immune system and longevity. While I don't go super-low carb or anything like that, I usually end up eating too much dairy or fruit because 1) I'm spoiled, 2) I'm too lazy to measure my food, and 3) At around midnight I transform into a starving wolverine capable of consuming twenty pounds of food in one sitting.
I guess this has more to do with will-power than knowledge, but I end up justifying the extra can of Greek yogurt or the extra apple or pear because I'm now knowledgeable enough to convince my brain why I need it immediately!
18. The Difference Between The Skorcher Hip Thrust and the Bench Hip Thrust
I drew this rudimentary diagram a while back when I was trying to explain to a colleague the difference between a hip thrust off of my Skorcher and a hip thrust off of a bench. While I love the hip thrust off of a bench, take a look at the video above where I perform 405 x 10 reps. You'll notice that my hamstrings do not contract that hard. You can visually see it. My glutes contract as hard as possible, but not my hammies. Take a look at the drawing below and focus on the knee joint. In the case of the Skorcher hip thrust, your hips sink lower than your feet, which opens the knees up and puts the hamstrings on greater stretch. This activates them to a much higher degree and sort of separates the lift into two halves; the bottom half which is hamstring dominant, and the top half which is glute dominant. A properly performed reverse hyper, back extension, and 45 degree hyper does the same thing.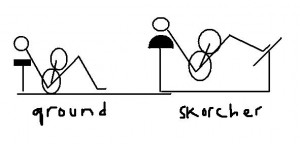 19. My First Newsletter – Done!
Two weeks ago I finally created a template for my newsletters. I'm going to send them out every week or two so I can update my readers about new content.
20. Strength & Conditioning – Biological Principles and Practical Applications
Since everyone's been talking about this new book I decided to order it. Should arrive next week. If you're a strength coach, you need to own this book. Check out the table of contents here (click on the picture of the book after you've clicked on the link).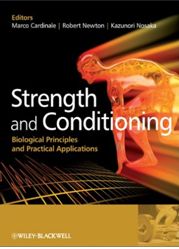 I know that science isn't that cool these days and that the Tooth Fairy is much more en vogue, but the Rock is here to tell you that you can have it all!
21. How to Be Influential in the Strength & Conditioning Field
 I was recently voted the second-most influential person in strength & conditioning according to this article on SprintStrong.
This got me thinking. I have a lot of respect for many individuals in the strength & conditioning profession, but I don't think that many of the most popular guys are very "influential." Many top dogs have vanished in recent years, perhaps moving onto bigger and better things. Of those who are still around, many are not putting out good stuff.
Think about the ten most popular guys in the field – many of them don't even have Youtube videos demonstrating anything impressive.
My bullshit meter goes through the roof when a coach or trainer doesn't have a Youtube page, or if I click on their Youtube page and all I see is bodyweight push ups, bodyweight inverted rows, bodyweight lunges, and bodyweight hip thrusts.
The first word in strength coach and strength & conditioning is "strength."  If you can't get your athletes strong with good form then I don't think you're good at what you do. You might fool the layperson with your fancy talk but the strength coaches who are bulletproofing their athletes and increasing power production know better.
As I've already mentioned, many individuals don't want to take science into account these days, but there's a large body of literature in support of strength for injury prevention and improved performance purposes.
Here are some more considerations that allowed me to be voted number two on the list:
1) I'm single and I don't have kids. This allows me to work long hours.
2) I lift weights and am pretty strong. People like to follow those who "walk the walk."
3) I train clients and get them strong and powerful with good form, and post videos on Youtube for people to see. Many of these videos include innovative exercises, exercise technique tutorials, or impressive demonstrations.
4) I read tons of journal articles and blogposts and am constantly putting out new information in my blogs and articles. When I stay up late researching, I feel like a detective looking through old case files searching for new clues. Many times I strike gold. It's not enough these days to just coach all day long. You also have to read. For several years all I did was train clients all day long. This does not optimize your efficiency as a coach/trainer. You must make time to study. More importantly, you can't think that you already know it all – as then you have no drive to keep learning.
5) I give out tons of free information – I wrote over a hundred blogposts and articles last year. If all of your information requires someone to pay money to access it, then you won't reach nearly as many people and wont' be as "influential." My information tends to be informative and humorous at the same time, which isn't easy. While I'm not Tony Gentilcore in terms of humor, I still try my best.
22. TNation Testosterone T-Shirts
I recently ordered a couple of new Testosterone t-shirts from Biotest. Here I am trying to act really hardcore with "imaginary lat syndrome". You have to admit they're pretty badass. Great shirts to train in!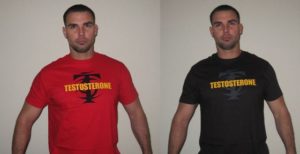 23. Tears Decrease Arousal and Testosterone Levels
According to a brand new study here, women's tears cause men's arousal and testosterone levels to plummet.
It's funny, whenever I'm with a girl and she starts crying, it's like kryptonite to me. I try to squash it as soon as it strikes. I say, "Whoa, whoa, whoa, don't start crying. It's not that big of a deal. I'll change. I swear. If you stop crying I'll take you on that picnic. I'll buy you jewelry. I'll never so much as glance at another woman ever again! Just please stop crying."
Little did I know that this was my body's way of preserving its manliness!
24. Two Great Rare Glute Exercises – The Lever Reverse Lunge and Single Leg 45 Degree Hyper
Here are two of my favorite single leg glute exercises that you don't see on a regular basis:
First, the lever reverse lunge. Since the machine stabilizes the frontal plane component of the lift, the exercise doesn't lead to much adductor soreness. Notice also that the machine allows you to really sit back and achieve an excellent range of hip flexion. I know that machines aren't very popular these days but sometimes they let you do things that you can't do with free weight.
Next is the dumbbell single leg 45 degree hyper. Many single leg hip dominant exercises don't feel "balanced" and subsequently cause the lifter to feel like he left something in the tank in terms of hip extension force. This is not the case with this exercise – if you do it right it's well-balanced and allows you to really work the glutes and hammies. I should state up front that I don't mind a little bit of lumbar extension if it's not extreme.
 25. Coregasms
Several years ago I was training a female client and she kept squirming. I would always say to her, "Quit squirming! Stay tight." After a couple of weeks of training her, she opened up to me and informed me that the reason why she squirmed during her sets was because she was having orgasms while she performed certain exercises. What she was experiencing has been coined "coregasms."
It's important for strength coaches and personal trainers to understand this phenomenon. Adam Campbell wrote about it several years ago in a Men's Health blogpost. If you click on the link and read the comments, you'll see that it's actually a common occurrence. Coregasms occur most frequently with exercises like hanging leg raises and reverse crunches, but can also happen during dips, chin ups, and back extensions.
My former client stressed to me that she viewed it as a curse, not a blessing, due to the inappropriate timing of the sensations. I'm just glad she didn't act like this or I would have been very uncomfortable!
*For the record I don't think that this video shows a "coregasm", which is created by core muscle contractions. I think the friction of the pole created a genuine orgasm, but you have to admit it's hilarious!
I think I'll end things on a high note and stop here! Peace out blogreaders, and have a great week.