I think that some of my readers will find this story inspirational.
Around 17 years ago I spent the weekend with my Dad and stepmom. We were driving home late one night in the rain in our Volkswagen bug and some guy fell asleep at the wheel, ran a red light, and T-boned us. The VW was demolished, and the passenger seat that I was sitting in ended up positioned directly behind the driver's seat where my Dad was positioned. I was secured to a backboard and rushed to a level I trauma center.
To make a long story short, I couldn't walk right for around a month. I couldn't play football my senior year, and my back hurt around the clock. For around six months, my friends made fun of me because I would get out of my chair like an old man. I finally decided to go to the doctor. An MRI determined that I had two degenerative discs at L4/L5 and L5/S1. This was at 17 years of age and was independent of the accident.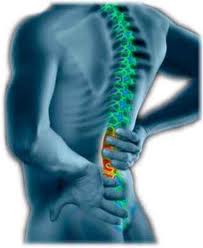 I started physical therapy and was prescribed tons of crunches and hamstring stretches. Laugh all you want, but it helped tremendously. Remember, this was the early 90's and core stability and hip mobility drills weren't yet popularized. Anyway, I strengthened my abdominals and increased my hamstring stretch tolerance and finally started feeling much better. I did my drills religiously twice per day.
I kept progressing. As soon as I was able, I started squatting and doing back extensions. All of a sudden I was feeling better than ever. Then I learned how to deadlift. Early on I rounded a lot, but eventually I learned how to use my hips. I started focusing on my glutes, and now my back feels "bulletproof."
I'm 34 years old and my back has never felt better. Even though I squat, deadlift, and hip thrust at least 3 times per week, my back almost never acts up. I can remember being very scared many years ago after the accident, wondering if I was doomed to be in back pain the rest of my life. I wondered if I'd ever be "athletic" again. I think I'm more athletic now than ever before.
If you are suffering from back pain, there's a good chance that you can overcome it. There's a good chance that you can strengthen your core and posterior chain and increase your mobility to levels you cannot imagine. Just don't throw in the towel!
Here's a picture of my back from several years ago (when I was at my all-time leanest). I'm very proud of this pic, as this is a back built from years of heavy pulling!