Hi friends! I have 7 things to share with you today:
BC on Instagram
I just started up an Instagram account HERE. Please follow me if you'd like.
30 Days of Thrusting Challenge Graphic
Kellie made this last night since my graphic from yesterday's post was so pathetic! Click HERE for a pdf.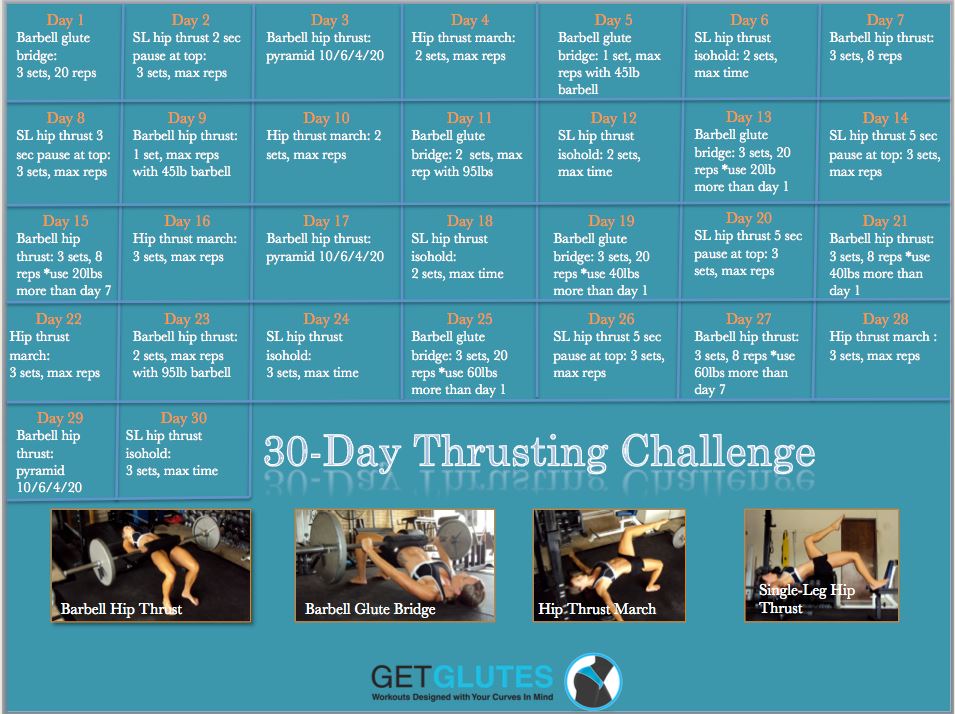 Erin Stern's 9 Year Glute Transformation
Many of my female followers are big fans of Ms. Figure Olympia Erin Stern. I recently saw this pic on her Instagram account from several months ago.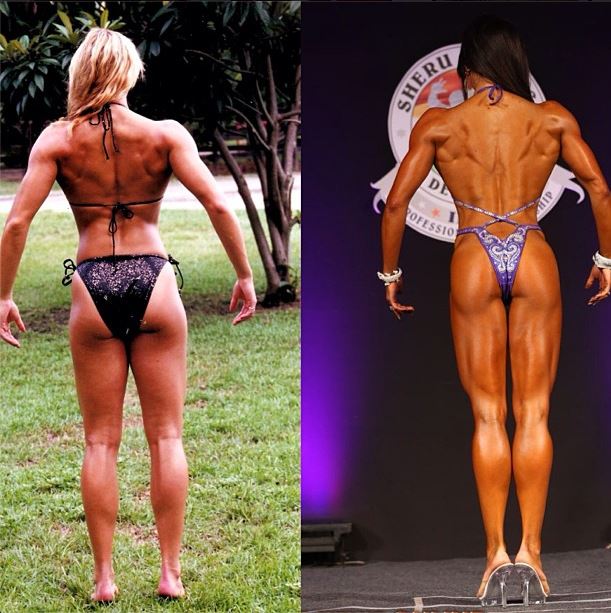 Many women want overnight glute transformations. This one took nine years of hard work and effort. Each month the glutes will look better and better, but it's important to have long term perspective.
40 Minute Podcast on Glutes
Armi Legge just interviewed me on glutes HERE. Seriously non-stop glute questions all the way through!
More Booty Transformation Testimonials 
I received my copy of Strong Curves last week and it is so, so wonderful.  I love your honesty, no-nonsense attitude about nutrition, and of course, the training regimen. I began incorporating hipthrusts and bridges into my workouts based on reading your emails about two months ago, and my glutes are rounder and fuller.  I feel that various social media has brainwashed women into thinking squats are the be-all, end-all move for building glutes…you have confirmed my suspicion that this is not the case! – Nicole
I had been going to a boot strength/cardio boot camp class at a local gym for 8months Oct-May 3x/week. In June of this year I quit attending boot camp decided to try your 30day glutes challenge. I wanted quicker results to get rid of my cellulite and to get my glutes to lift and salute. I started the challenge with just my own body weight and focused on proper form. Once I felt confident doing the high reps of the hips thrusts and deep squatting, I added a barbell. I became addicted to the soreness I don't think I ever felt on my glute muscles before. For the 2nd 30day glutes challenge I continued to add more weight to some of the exercises. My glutes feel like I have gained more muscle now my cellulite is a lot less visible back there. The booty is definitely more rounder and firmer after completing your both June and July's 30day challenges. I will forever be grateful, Thankyou!  I did was able to hip thrust 105×4 last night!! I'm pumped!! Can't wait to show you my results in a few weeks!! I can't stop smiling. – Edith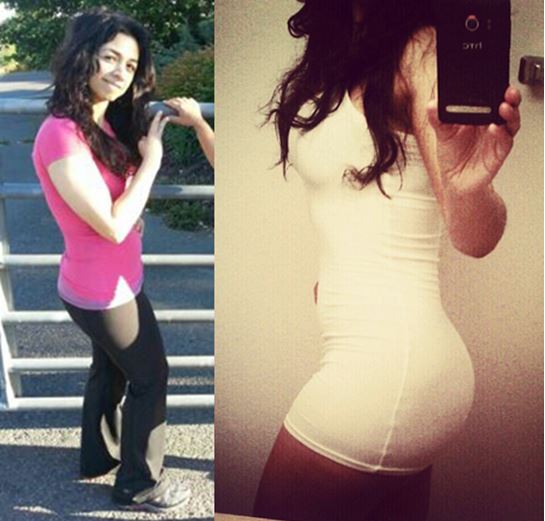 Yesterday my friend and I stayed at a resort. We were at the pool and I noticed that these ladies kept looking over towards us. Eventually one walked over and said that they were all admiring my booty and that it's amazing! Lol. Then these guys sitting next to us after a bit leaned over and told me that I win the best ass award!! Lol. Then his wife started crying and got mad a ME!! I was like wtf!!! Thanks for the added booty in just a few months of being on Strong Curves! – Allie
Hi Bret and your lovely associates Kellie & Marianne! I just finished the 12 week Gluteal Goddess Advanced Workout and thought it's time for some feedback. I have gone from 40 kilos to 105 on the hip thrust. Not bad for a woman of 43 weighing 50 kilos! I even managed to trash the padding on a bench at the gym;-)
The results on my upper body isn't quite as impressive. From 20 to 27.5 kilos on the bench press. Still doing three x three chin-ups but in the beginning I didn't have the courage to do them in the gym. Now I walk over to the guys and ask if I can do them in between their sets:-) This has given me the courage to stand my ground in other men dominated areas outside of the gym as well!
I really liked the book Strong Curves and learned a lot from it. By going through the workout program I have learned how it's built up and I really like how it gets my glutes active and just a tiny bit sore on rest days. Like many others I trained like the guys before with only one leg day a week. I got results from that training too, can't deny that, but not even close to the astonishing strength I built up in the 4 months it took me to complete the 12 weeks Goddess program!
I guess I'm starting over with the same program from the beginning now, with the addition of classic dead-lifts since I really missed them. Nothing makes me feel as strong as doing them 😉
Thank you so, so much for your professional approach to women's training! Love, Karin Glisell – Sweden
BIOMECHANICS OR NECROMECHANICS? OR HOW TO INTERPRET BIOMECHANICAL STUDIES
THIS is a cool paper by Richard Brand, MD. Here's the abstract:
The field of biomechanics is inextricably linked with orthopaedic surgery: loads and load distribution play a major role in the problems we treat and in the success and failure of many of our treatments. Nonetheless, despite powerful investigational tools, I would argue biomechanics has made a relatively minor impact in clinical practice primarily because most studies fail to account for the major distinction between living and non-living systems: adaptability. While any study requires a clear question or hypothesis or goal, without accounting for adaptability and tissue tolerance, these studies might well be termed "necromechanical." These studies will always have limited clinical relevance unless they contain several key features: 1.) A choice of a mechanical parameter which is arguably a surrogate for relevant biological behavior; 2.) A set of loading regimens which arguably represent the entire range of loadings experienced in vivo; 3.) An explicit discussion of tissue tolerance to the mechanical perturbations of the study; 4.) When appropriate (i.e., the question relates to longer-term effects), an explicit exploration of tissue adaptation over time. Without meeting these requirements, any biomechanical study is suspect and requires interpretation with great caution. When meeting these requirements, biomechanics can provide powerful tools to explain the function of the body and to predict the success or failure of treatments prior to using them on patients.
Barbell Glute Bridge Sliding Solution
Many lifters slide backward when performing barbell glute bridges. Here are a couple of solutions to prevent this from happening:
That's all for today my fitness friends! Have a great week.