Over 8 years ago I started hip thrusting and prescribing hip thrusts to clients (click HERE to read about the Evolution of the Hip Thrust and see over a hundred variations). It goes without saying that I've seen all types of hip thrusts – the good, the bad, and the ugly. In this article I want to discuss what I believe to be the most important aspects of hip thrusting.
If You Don't Feel Massive Levels of Tension or Metabolic Stress in the Glutes, then What's the Point?
There is no 1RM hip thrusting championship. You're not going to go home with any award or trophy for setting a hip thrust 1RM record. Sure, it's good for bragging points, but the purpose of hip thrusting is to build glutes.
There is indeed a 1RM that allows you to still feel the glutes, so don't think that you can never, ever max out on hip thrusts. This occurs when you lift the heaviest weight possible that allows you to 1) keep the spine in neutral, 2) achieve full hip extension, and 3) hold the lockout for a second using the glutes as the primary driver. When done this way, a max hip thrust is perfectly fine. The problem is, hardly anyone actually does them this way. Instead, most lifters will hit a pseudo lockout that only reaches around 80% of the way up, with their backs overly arched (hyperextended) and the tension shifted away from the glutes and onto other muscles such as erector spinae, hamstrings, and quads. Please watch the video below to better understand what I'm talking about:
My Favorite Ways to Thrust
There are all sorts of effective hip thrusting variations, and there are all sorts of effective set and rep schemes for the hip thrust. From personal experience, most of my clients do best when they keep the reps at 5 or above with the barbell. Anything less and they don't feel as much tension development in their glutes. In this way, there's a sweet spot that lets you feel the glutes working most, and it's not necessarily at 100% of the maximal weight you can hoist (it might be at 100% of the maximal weight that you can hoist with perfect form, but this requires more discipline than most people possess).
Now, you can certainly always just bust out ultra high reps and achieve very high levels of metabolic stress in the glutes. I definitely do this from time to time in my own training and also with clients. I especially like to do it with band hip thrusts and also with bodyweight back extensions. We'll do 2-4 sets of 20-30 reps very often at the end of our workouts to attain a burn and pump up the glutes.
But as a standalone method, I do not feel that this method is optimal for glute development. I think that sets of 5-12 reps are ideal for barbell hip thrusting, and I think that sets of 10-20 reps are ideal for band hip thrusting. I believe that this is the sweet spot that allows you to develop incredible levels of tension in the glutes while still building up high levels of metabolic stress.
Of course, you can obviously do pyramid sets where you perform a mixed rep scheme (say a set of 10, followed by a set of 8, followed by a set of 6, followed by a backoff set of 15). Or you could do low reps on one day (say Monday), medium reps on another day (say Wednesday), and high reps on another day (say Friday). As I said before, there are many ways to effectively program hip thrusts.
With regards to barbell versus band hip thrusts (HERE is how we perform band hip thrusts), I believe that barbell hip thrusts are the best option since they develop consistent levels of tension throughout the entire range of motion. However, most people also perform other glute exercises. The majority of lifters don't just do hip thrusts for glute development, they'll also include a variety of other glute exercises in their training. For this reason, my take on band hip thrusts has changed over the past year.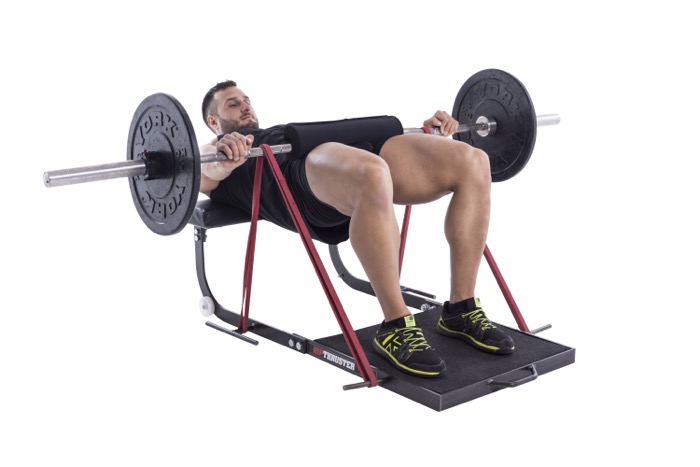 The Hip Thruster is the best way to do the hip thrust – stable and versatile!
In my opinion, doing multiple sets of medium rep band hip thrusts gives you the most bang for your buck, assuming you're also doing exercises such as squats, deadlifts, and/or lunges. Here's why. The squats, deadlifts, and/or lunges build your bottom-end glute strength (in other words, your glute strength with the hips flexed forward). You will possess this hips-flexed-range glute strength just from performing those exercises. On the other hand, the band hip thrusts will build your top-end glute strength (in other words, your glute strength with the hips fully extended), since this is the portion of the movement that requires the most muscular tension. So the band hip thrusts will increase your hips-extended-range glute strength, leaving you with full ROM glute strength throughout the entire hip flexion-extension arc of motion.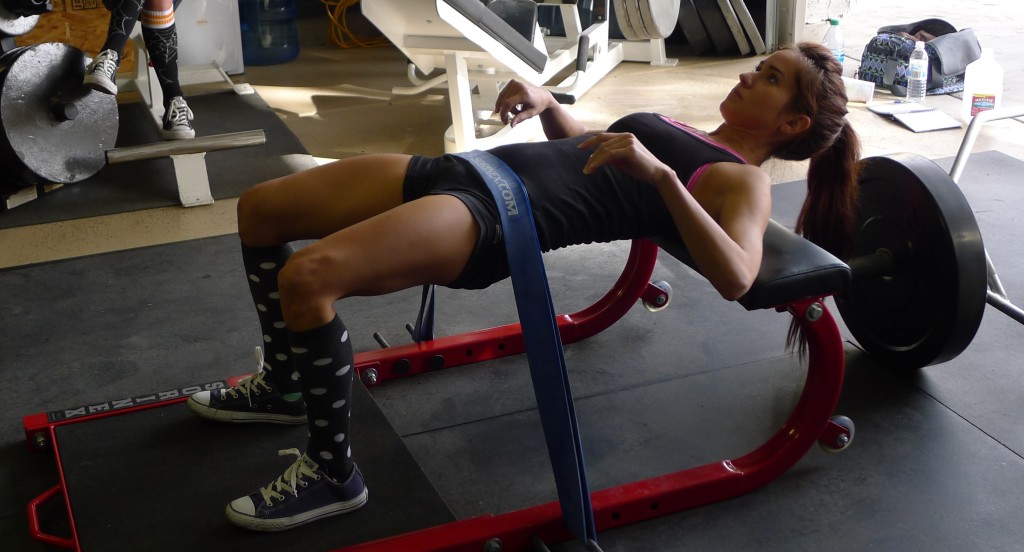 Is This Just Theory, or Are There Any Anecdotes to Support it?
I recently embarked on an experiment where I didn't do any barbell hip thrusting for 3 months. I just did band hip thrusts really hard a couple of times per week while also focusing on back squats and front squats. Lo and behold, the squat/band hip thrust combination led to a PR when I went back to barbell hip thrusting. Without ever performing barbell hip thrusts, my barbell hip thrust strength increased from squatting and band hip thrusting.
Now that I've been band hip thrusting more often and with more volume, I am more convinced of its efficacy. When I perform band hip thrusts, I like them most in the 10-20 rep range (compared to 5-12 for barbell hip thrusts). But this is just my preference. It will probably be different for you. I know that Kellie and Marianne used to tell me that they liked to perform multiple sets of hip thrusts with 185 lbs back in the day, even though they could bust out 225 lbs with ease (I think Kellie could max out at 385 lb hip thrusts and I know Marianne could do 315 lbs). Several of our Get Glutes members were in agreement that 185 lbs seemed to be their sweet spot in terms of allowing them to feel the glutes working the best. I also know that Kellie and Marianne really liked band hip thrusts when they started employing them. Sammie liked 185-225 lbs for barbell hip thrusts as well as a blue band for band hip thrusts. I prefer 495 lbs for barbell hip thrusts and 2 blue bands for barbell hip thrusts. With these weights, I can control the weight smoothly and develop very high levels of tension in my glutes without compromising my form or ROM.
The point of this article is not to tell you exactly what load, set, and rep scheme to use. It's to inform you that you need to pay close attention in your training and conduct experiments so that you can hone in on your sweet spot. I can guarantee that the hip thrust method that allows you to best feel your glutes is not a partial ROM 1RM hip thrust with massive anterior pelvic tilt. The point of this article is also not to suggest that progressive overload isn't important. You should continue to get stronger with excellent form, and your "sweet spot' should steadily rise each year. Train your glutes, not your ego, and figure out the methods that suit you best.