Bret's Introduction
Ben Bruno is kind of a big deal. He's known as one of the most innovative trainers in the fitness industry, and he's provided useful information that is being put to use in gyms around the world. You may recall that he wrote THIS guest blog for my site 6 months ago which provided 12 tips for better hip thrusts. You also might remember Ben from the Evolution of the Hip Thrust blogpost, where Ben's videos were featured numerous times. I'm going to give today's article from Ben a thorough introduction as I believe that the advice contained within is very important.
For quite some time, I've been noticing that my best clients in terms of glute capacity tend to flex their necks during hip thrusts. I do it, Diana does it (see picture below…this picture was taken around a month ago during a set of hip thrusts), and several of my clients do it as well. Now, some of you who have been reading my blog for many years will recall that several years ago, I noticed that my best clients tended to round their upper backs during back extensions. However, it still took me time to realize that I should actually coach and cue the rounded thoracic spine approach when teaching back extensions (see HERE) for greater glute activation.
Along the same lines, before last week, I hadn't yet thought of coaching and cueing a flexed head and neck position during hip thrusts. When Ben called me last week to discuss the epiphany he had for this article, I immediately began utilizing it more with my clients with great success. I should mention that I have found that I'm even more lenient than Ben in terms of the amount of neck flexion I'm okay with – Ben prefers slight flexion, but I prefer moderate flexion.
This flies in the face of how many coaches teach the hip thrust – with neutral spine and neutral head/neck, but I think we modeled this off of squats and deadlifts, where high erector spinae activation is vital, and which likely doesn't apply to hip thrusts. Please give it a try, as I've found that it works very well with the majority clients. That said, some folks who experience neck pain when moving into flexion or those with individuals with pronounced kyphosis are better off sticking to neutral.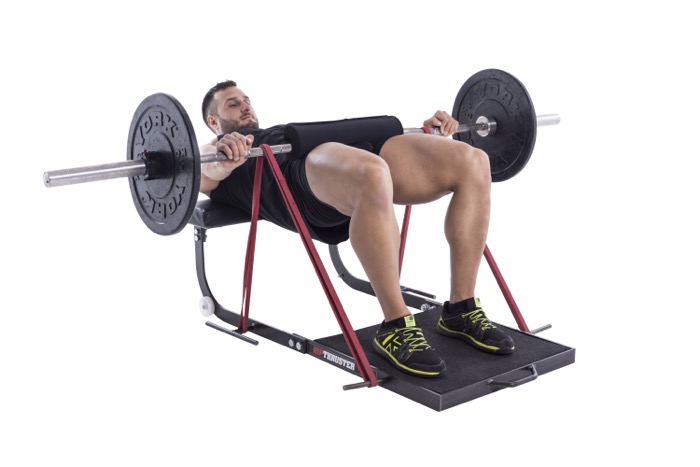 The Hip Thruster is the best way to do the hip thrust – stable and versatile!
Proper Hip Thrust Technique: Head and Neck Position
By: Ben Bruno
I love hip thrusts and use them with just about all of my clients, men and women alike.
For men it's generally more of a secondary exercise that I use later in the workout after squats, deadlifts, and single leg work, or on days where I want to give the spine a break from heavy loading but still want to achieve a training effect for the posterior chain. The being said, we still focus on progressive overload.
For many of the women I train though, it's actually my primary lower body exercise. Most of the girls I train want to improve their glutes without building up their thighs, and for that goal I think the hip thrust fits the bill better than any other lower body exercise. As such, I treat it as a primary exercise and do it first in the workout and then follow them up with squats, deadlifts, and single leg work as secondary exercises.
What I like most about hip thrusts is how "user-friendly" they are.
I define user-friendly by several criteria:
Safe: I've never seen or even heard of anyone getting hurt from hip thrusts.
Quick learning curve: Most clients pick up hip thrusts very quickly and there's generally a very steep learning curve, meaning they can pick up the movement quickly and start to get a training effect right away.
Fits many different body types: A lot of clients just aren't built to squat well and find a continual uphill battle to do so with good form. The same goes for deadlifting, as a lot of folks have an extremely hard time deadlifting from the floor with a neutral spine despite lots of practice and mobility work. Hip thrusts on the other hand seem to work for just about any body type with slight form and setup manipulations.
That being said, while people generally pick up hip thrusts very quickly, there's one issue/mistake that I see a lot of people make both when they're first starting out and as they get stronger and strive to use heavier weights, and that's arching the lower back too much and going into anterior pelvic tilt as they thrust up. (See related post: Quit Going So Darn Heavy on Hip Thrusts: Train Your Glutes, Not Your Ego)
This is usually well-intentioned as it comes from trying to get full hip extension and a complete range of motion, but overarching is both potentially dangerous to the lower back and also ineffective for training the glutes, as you want the stress on the glutes and off the lower back as much as possible. To work the glutes optimally in the hip thrust, I think you want to maintain a neutral spine or even a slight posterior pelvic tilt.
That being said, I don't like to instruct my clients to posteriorly tilt the pelvis as they end up doing it excessively, which I also don't think it optimal.
So the challenge then becomes: how to achieve the ideal spine position in the simplest way possible?
I've found that while the problem is occurring in the lower back and pelvis, the answer actually lies in the head positioning, and more specifically, the eyes.
Most people tend to crank their head and neck back as the thrust, presumably to help gain momentum to lift more weight. What's more, a lot of people keep their heads cranked back even as they lower their hips, so their butts are on the floor while their necks are overly extended and their eyes are focused on the ceiling or even the wall behind them.
This position clearly puts a lot of undue strain on the neck, but it also sets you up to go into excessive lumbar extension and anterior pelvic tilt.
As a coach I think it's a good idea to keeping your cueing as simple as possible, so I've found that rather than explain the spinal biomechanics of the hip thrust to clients, which will just confuse them and cause them to overcompensate the other way, I just tell them where to look, and the head position ends up cleaning the positioning of the pelvis and lower back on its own. (Bret's Note: Don't bust THIS detailed explanation out on lumbopelvic hip complex biomechanics during hip thrusting when training a client, just tell them where to look like Ben says).
The instructions are simple. At the bottom position of the hip thrust when your butt on or just above the floor, you should be looking at the wall directly in front of you, which makes for a neutral neck position. And you should return this position on each rep.
At the top position, focus on where the wall meets the ceiling. Doing so will again create a neutral neck position, or even very slightly flexed. As long as the neck isn't flexed excessively you should be fine.
It's important to note that while some neck flexion is fine at the top, you don't want to overdo. A little moderation goes a long way. Here is an example of what you don't want to do.
It's really that simple. I've noticed that altering the line of sight and the head position cleans up the movement pretty much instantaneously and gets clients into the right positioning without the need for confusing and complicated cueing.
Also, I used to instruct clients to strive for a straight line from the head to the knees at the top position of the hip thrust to encourage a full range of motion and complete hip extension, but I think the cue can be confusing to some folks and lead to excessive arching and anterior pelvic tilt. So now I made a slight adjustment and cue a straight line from the shoulders to the knees (while focusing the eyes where the wall meets the ceiling), and that's helped tremendously as well.
I think these slight modifications will really help and lead to better and safer hip thrusts for you and/or your clients.
Bio
Ben is a personal trainer in Los Angeles and publishes a blog and free newsletter at http://www.benbruno.com.
You can connect with him on social media as well.
Instagram:
Twitter: https://twitter.com/benbruno1
Facebook: https://www.facebook.com/pages/Ben-Bruno/282118145176459
You Tube: https://www.youtube.com/bruno082985
Bret's Conclusion
Something interesting that I noticed when viewing the pics embedded in this article. I wasn't focused on my trunk position, just my head/neck position. But you can see in the pictures that spinal posture follows head/neck posture. In the hyperextended neck picture, the spine is hyperextended, and the more flexed the neck gets, the less extension you see in the spine…in fact the last picture you see spinal flexion with ample posterior pelvic tilt.
In the future, I need to conduct a study to examine the effects on head/neck position on 1) spine posture, 2) pelvic posture, 3) gluteus maximus activation, 4) erector spinae activation, and 5) hamstring activation. In the meantime, simply use the tips Ben provided and cue/think of eye gaze direction, as that solves the problem most of the time. So simple!
I'll end this blogpost with screenshots of my clients doing hip thrusts and some pics I found off of the Internet. Note the natural tendency for neck flexion along with the lack of spinal extension, which is what we want. This way the glutes push the hip up instead of a global extension from shoulders to knees. In fact, when reviewing videos, I noticed that the only time my head goes back into extension (along with that of my client Ciji and some others who are prone to hyperextending their spines) is on the last rep of a challenging set when I can no longer maintain proper lumbopelvic position. That is very important to note!