The Overhead Shoulder Rotation Quandary
by Derrick Blanton
One thing I noticed very early on in my training journey is that people move and lift stuff differently. Even the top lifters in the world rarely do it exactly the same way. I find myself constantly making mental notes on different lifting strategies.
As you might imagine, I also spend a ton of time studying the coaching techniques, rationales, and cues of the most prominent names in S&C; and then trying to tie it all together with my "in the trenches" observations and firsthand experiences.
Every now and again, I see a disconnect between the "right way" to do a lift, and effective "real world" expressions of loaded movement. Of course, then I obsessively go about trying to figure out the root of the discrepancy!
Take the shoulder, and what constitutes the safest, most congruent position as it arises overhead.
Don't worry, we are not going to dive back into the scapular "shoulder packing" debate; enough already with that one. Rather, let's discuss this concept of rotation at the shoulder, specifically external rotation. (FWIW, external rotation when initiated at the proximal shoulder does indeed have a close relationship with 'shoulder packing', as externally rotating the shoulder also fires the lower traps pretty hard as a stabilizer. But let's stay on point here!)
The Evolution of "Torque"
MobilityWOD savant Kelly Starrett is probably the most current and well-known proponent of externally rotating the shoulder to provide maximum overhead stability. As a best selling author, and de-facto leader of Crossfit movement principles, KS is one of the most influential movement teachers in the business.
Note that this external rotation technique is not a small detail riding the outskirts of the MWOD curriculum, but rather an overriding motor learning philosophy for the shoulder (and hip) joint: "creating maximal torque through the system". This includes being able to rotate the wrists internally, while dissociating up the chain and keeping the shoulder in external rotation.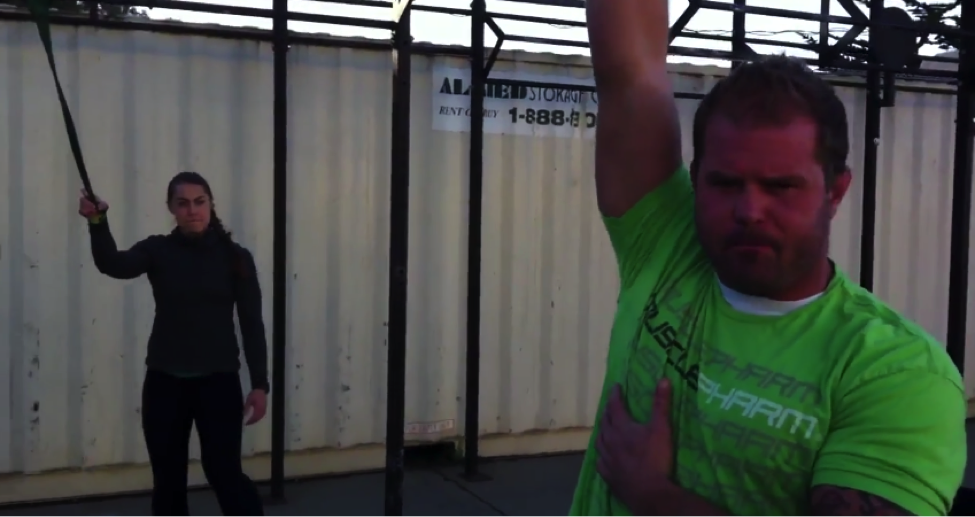 And long before there was a "Supple Leopard", there was an "Evil Russian", a brilliant technician by the name of Pavel Tsatsouline, who championed a similar concept in the form of "corkscrewing" the shoulder. And yes, even before Pavel, you may have heard your local meathead at the fitness center telling you to "break the bar", "show your armpits"… you get the idea.
So without question, this is an idea that has substantial weight behind it. Pardon the pun.
Here comes that pesky real world disconnect, though, and it's actually a little reminiscent of the prescribed "toes forward" SQ technique, (also intended to maximize 'torque'): look around and you will see plenty of strong, well trained lifters, even elite strength athletes, not only not doing this…but in fact, often doing the exact opposite.
Granted, this gets tricky to discuss; complicating matters is whether you are using a straight bar to 'torque' off of, or dumbbells or rings which allow the shoulder and arm to rotate freely. Let's give it a try, though, considering first, overhead down.
Pulling Down from Overhead
Most lifters, beginner to advanced, when performing a pull up or pull down that allows for natural freedom of motion at the wrist, elbow, and shoulder (rings, TRX, or Free Motion pulldown, etc.), will naturally adopt this rotational strategy: Internally rotate up, externally rotate down.
Here is my go-to guy for excellent form, Steven Trolio:
In other words, they start pronated 'pull up', and finish 'neutral hammer grip', or even further into a fully supinated 'chin up' position.
Sure, go ahead and test yourself right now.
Now watch the same lifter this time on a fixed bar, and they will basically try to approximate the same action, torquing off the bar, screwing the shoulder in the socket on the way down, elbows turning to face forwards. So far, so good!
(Less frequently, you will see the bodybuilder with the elbows pointed outwards, flared wide, staying in internal rotation, and performing pure adduction, rather than extension. For some reason, this guy usually has some kind of massive, hellacious back. But I digress.)
Many will point to the fixed bar forcing internal rotation as a shoulder risk, and advocate using the rings, to "let the shoulder move naturally", i.e. supinate, or externally rotate.
Here's the thorny question: When they are on the rings and allowed to move naturally, why then do they "re-internally rotate" on the way back overhead, into the "broken" position?
It's internally rotate up, externally rotate down. This pattern recurs with many a lifter, both pressing and in this case, pulling.
Maybe this technique lines up the lats into a stronger extension pattern. If so, why not just stay in pure extension 'neutral' the whole time?
Maybe they want to use more bicep to help as the lat runs out of steam. Sure, but again, why not go back to the top in neutral, at least? Why go all the way into internal rotation as you reach the top position? You don't have to. You're on the rings, remember.
It seems that as the humerus elevates, it "wants" to simultaneously internally rotate, even when it doesn't have to due to a fixed bar. With 360-degrees of motion, many just naturally allow the shoulder to unwind back on the negative into the overhead position of pronation, and thus internal rotation.
Again, are they "broken"?
Pushing Upwards from Down Below
Let's reverse the action. Have you ever heard of the Arnold Press? It's a modified shoulder press named after, ah heck, you know who it's named after! Let's see it in action:
We see that the Arnold Press starts with an externally rotated shoulder which again spirals medially in the capsule (internally); this time as the press heads to lockout. Same pattern as above, whether we are pressing or pulling, it's externally rotate down, internally rotate up.
This is contradictory!
But hey, what the heck does Arnold know, silly bodybuilders, right? Their goals are muscle building, not joint safety, per se.
Except I don't know about you, but when I do the Arnold Press, it feels like an incredibly safe, natural, and congruent movement.
How about just a regular, good old fashioned dumbbell press? Here's Ben Bruno, one of the hardest training guys I've ever seen. Also a pretty prolific author, coach, and exercise inventor. Bruno is battle tested, and innovative. How does he go about pressing a pair of dumbbells overhead?
There it is, that same pattern again! The shoulder rolls to the inside as the press locks out, and reverses on the way down. And not to belabor the point, but once again this is within the context of a free motion, dumbbell movement. Any style of rotation is possible.
So why is he doing it this way?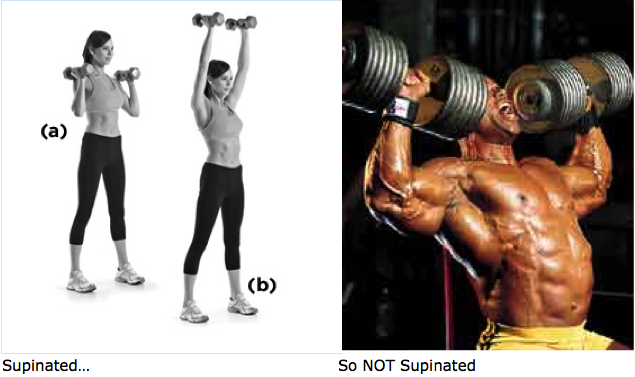 The further you dive into this murky swamp, the more perplexing it gets. Let's move on to the barbell where the grip is fixed. Olympic weightlifters go overhead all the time; it's in their bylaws! A cursory search finds both XR and IR rotational techniques coached and performed.
The Chinese weightlifting team is currently the dominant force in the sport. These guys probably pack their shoulder blades down nice and hard, and externally rotate their humeri, and….uh…hmmm…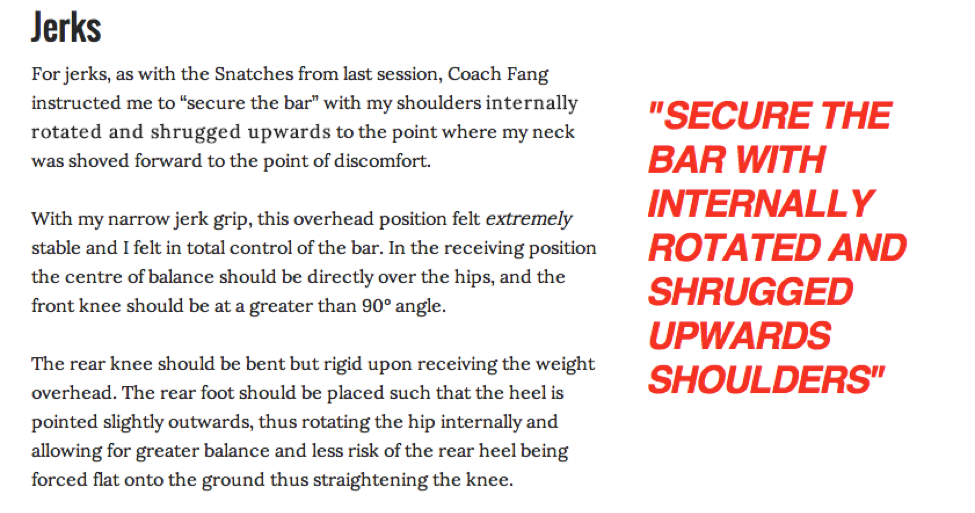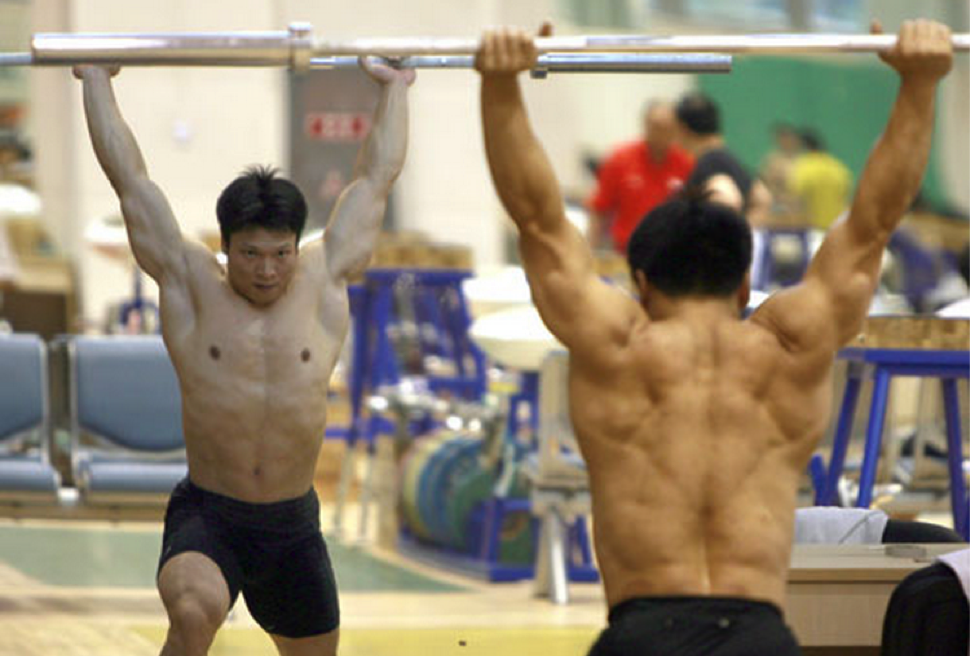 What say you, 2005 world champion Dmitry Klokov? "Show the armpits"? Or try to make the "elbows face back"?
We now officially have ourselves a legit conundrum here.
Fred and George
Finally, meet Fred Koch and his skeleton, "George". In this video, Fred and George suggest that internal rotation provides for a stable shoulder as the arm rises. Pay special attention to 1:10 – 1:55, and watch what happens to George's humeral head. It internally rotates.
Thank you Fred and George!
Me personally? I like the XR-up technique when I am doing an aggressive pec minor stretch, or pullover exercise. But when I press a barbell overhead, or do OHSQs, the internal rotation feels so much better as to make it a non-issue.
Trying to supinate my shoulder while driving a heavy barbell up feels like it is going to tear my infraspinatus off the bone. It also seems to force the elbow in front of the bar, compromising its direct leverage. With the elbows not aligned directly under the bar, the lift morphs into a supra-maximal standing "skull crusher" tricep exercise.

On the other hand, when I cooperate with my body, roll the shoulder internally, the elbows end up right under the bar opposing gravity directly. As a nice side effect, the OHPR turns into a fantastic lateral delt move, as internally rotating the shoulder exposing the 'cap' to the load. However, this is not a "muscle targeting" technique. This is a "my body wants to do it this way" technique, and my body usually wins these arguments!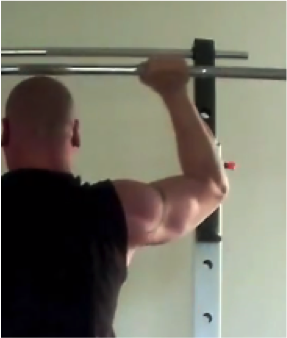 To be clear, I can certainly see how others might have different shoulders and different experiences. I also see how a supination moment as part of a larger rotator cuff tug of war might better help keep the shoulder wedged in the capsule.
But this is different than an actual elbow turning, supinating action, that if you somehow don't achieve, then you've allegedly compromised the efficacy of the kinetic chain!
So is this a corrective solve, a blanket prescription on how to raise the arms under load, or a try it and see how it feels kind of deal?
At any rate, forcing square pegs into round holes to match theory is probably not going to end well.
The best that I can make sense of this disconnect between theory and sometime practice is that the shoulder complex, much like the hip complex, may turn out to be more individually "complex" than previously thought.
Scientific and anecdotal feedback, please.