Today's guest-post is from Derrick Blanton. Derrick is a long-time lifter and reader of all sorts of fitness experts, including Tsatsouline, Rippetoe, etc.
In this post, Derrick points out a couple of important things. First, he describes his disdain for the cue "shoulder packing." Like Derrick, I've never liked the term "shoulder packing." To me, the term "pack" implies pure stability, which of course isn't what we want from the scapulae during overhead movements. This is a semantics debate…most experts describe "packing"as a dynamic stabilization technique where the "packing" refers to the scap's relationship onto the t-spine, however I still feel we could do better.
And second, he discusses Rippetoe's "active shoulder" concept and suggests that folks should consider shrugging their shoulders while performing overhead movements to allow for greater upward rotation of the scapulae and reduction of stress on the tissues. I've never experimented with purposefully shrugging during overhead pressing – to me it sounds less stable. However, I feel that there are many similarities between the pelvis and the scapulae, and lately I've decided that the pelvis shouldn't remain perfectly stable throughout hip extension. So I'm open-minded to realizing that the scapulae, in addition to upward and downward rotation, should elevate and depress during overhead lifting – it's certainly worked for Rippetoe, one of our industry's legends.
At any rate, once Derrick started performing his overhead movements this way, his impingement ceased. And if this provided a solution for him, it may provide a solution for you too.
That said, most of our industry's experts feel that the scapulae should not elevate during overhead movements and should remain fairly depressed. So who is right – Blanton/Rippetoe/etc., or Cook/Jones/Liebenson/Sansolone/etc.? And if a little bit of elevation is ideal, how much? At what ranges…top or bottom? Should scapular motion be the same for overhead pressing and overhead pulling? Do we cue this or do lifters figure out their ideal form on their own? And if we should cue it, what's the best cue? Lots of articles have been published on scapulohumeral rhythm such as THIS one, but what amount of scapular elevation during overhead lifting leads to the best "centration" of the humerus ? I look forward to reader's comments. In addition to reading this post, be sure to read the Sansalone blog and watch the vids. Cheers! – BC
When Coaching Cues Attack!  "Packing the Shoulder"
By Derrick Blanton
Oh sure, it sounds simple, and it is catchy, I'll give you that.  But "packing the shoulder" is a  deceptively complex (cough, cough…malicious!) cue once you start digging a little further.  Shoulder packing has morphed into two related, yet different ideas, both of which can go very wrong.  #1 is the oversimplified "lock the shoulder blades down and back" version which can lead to impingement.  #2 is the more technical and thought-intensive "scapular calibration" version, which can be neurologically confusing to say the least…and, uh…lead to impingement.
I'm not gonna lie, I'm a former victim of this attacking cue.  I'm no longer bitter about it, although my supraspinatus is still working through its anger in counseling.  I've managed to put my life (and my shoulders) back together and discovered a better way to cue my scaps.  Maybe you might find this alternative approach helpful, too!
If I tell you to "pack" a body part while performing a resistance training movement, how do you process that information?  Could you, for example, 'pack your ankle', and go about doing calf raises?  Maybe it would be confusing for your brain to follow the instruction to stiffen the muscles of a joint, while simultaneously trying to move that same joint.  Doesn't it make more sense to think about packing a pure stabilizer (ex. "packed neck" during DL's; "packed shoulder" during barbell curls), than working synergists directly involved in the chosen movement, like your scapulohumeral muscles in pressing and pulling?
Many lifters are still not quite sure what they are supposed to be doing with their scapulae during pull ups and overhead presses, and who can blame them?  They have been given a form cue which seems to say, "Don't move!" for a joint that paradoxically needs to move.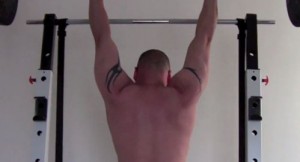 UNPACKED shoulder, under load and elevated on the thoracic spine.   What can I say?  I live for danger…
Of course it depends on how you are defining the term.  Usually 'pack' means to isometrically brace a body part into an optimal stabilizing position, think pack your neck, or pack your abs.  The common understanding of 'pack your shoulders' is to "keep the shoulder blades down and back", or "suck your shoulders into their sockets".  Sounds like solid advice, right?  Except that isometric bracing during loaded scapulohumeral movements can cause big time problems in the shoulder capsule.
One of my favorite strength coaches once cued pull up positioning like this:  "Keep the shoulder blades down and back in the dead hang".  While this is not uncommon advice, it is potentially injurious advice.  If you lock the shoulder blades down while you raise the arms upward, then your humeral heads are on a collision course with the roof of your tightly compressed AC joints.  Tendons, bursa, and your supraspinatus wait helplessly to be scrunched.
When the arms are raised overhead to reach, lift, or pull down, the shoulder blades need to rotate upwards with them.  The scaps are designed to roll with the arms, in a coordinated process known as scapulohumeral rhythm.  Bottom line, they need to move.
I find this cue more effective:  "Pull through the scaps" on the way down or back, and "push through the scaps" on the way up or forwards (bench press excepted, more on that in a bit).  This activates my scapular controllers, which automatically pack at the appropriate position on the spine, relative to the load being used.  No micromanagement necessary.  I'm sending a dynamic signal, not an isometric one.  This has enabled me to perform presses and pulls completely pain-free, with far more progressive load over time.  Does this sound like a ringing endorsement for Mark Rippetoe's "active shoulder" concept?  Indeed it is!
Once I took the whole 'shoulder packing' notion, and tossed it in the round file, it was like taking off the parking brake, and letting my lats and delts do their work unimpeded.  Heck, not just unimpeded, but powerfully assisted.
Scap-Packing Rationale
When I approached BC about exploring this shoulder packing notion, he recalled running a 2010 guest blog from Joe Sansalone which also tackled the topic:
https://bretcontreras.com/2010/05/02/guest-blog-shoulder-packing-by-joe-sansalone/
Here is another, current link from kettlebell savant, Brett Jones:
http://www.dragondoor.com/shoulder_packing_101/
First of all, kudos to both of these seasoned fitness veterans for comprehensively analyzing a highly technical thought process.  I am certainly not deriding those that effectively use this technique, or coach it successfully for others.  Clearly this packing notion is a useful tool for a large segment of the training population.
It just didn't work out so great for me...
Trust me, I try to learn from everybody, and I'm sure I must have gotten the 'shoulder packing' idea from a Pavel Tsatsouline book, which probably explains why I spent a long, patient, dutiful, motivated, miserable time trying to use the cue.  Because I really like Pavel's stuff!
"Damn it, Pavel!  Why can't I quit you?!!" Okay, that was a little awkward.  Sorry…
Both articles concur that to attempt to completely immobilize the shoulder blade, (isometric "down and back" version), would be incorrect and incomplete.  Problem is that like the telephone game that school kids play, the story starts simplifying as it gets passed along.
Lifters and coaches still process it as "hold the scaps down and back", probably because this is easier to understand than, "maintain the scapula's position on the t-spine while it upwardly rotates".  This critical distinction between scapular positioning and scapular rotation lies at the crux of the cue's intention, and is way too nuanced for quick CNS consumption.  In actual practice, you may find yourself trying to negotiate two conflicting instructions for controlling the scapula:
1.) Maintain the scapula's position = Don't move!  2.) Rotate the scapula upwards = Move!
When you are lifting heavy loads, the CNS doesn't have a great deal of tolerance for indecision. Pack becomes brace, intended nuance be damned.  So the simple and abbreviated understanding of the cue lives on.  But if the "upwardly rotating" part of the movement gets omitted, you may be on a one-way trip to Impingementville.  I hear it's beautiful this time of year.
I should mention that I am no expert in physical therapy or kinesiology, and I have never worked with kettlebells, which may present more technical stabilization needs.  I am a traditional basic barbell and dumbbell lifter, and I pretty much do the same 6-9 money lifts along with their derivations.  Here's how I see it, having tried both active and packed shoulder styles:
●      The scapulae need to actively move when arms go overhead during pull ups and overhead presses.
Not passively allowed to move, as though they are helpless passengers on the deltoid and lat bus.  Rather, dynamically forced to move.  If the load is heavy, it will be difficult to keep them moving.  This could be understood as "shoulder packing", or you could just think of it as "grinding out a lift".
●      The name of a cue should match the immediate understanding of its execution.
With a limited capacity for thought during movement, the directive needs to be straightforward and specific.  It's tricky to process the counter-intuitive idea of an "upwardly rotating, yet simultaneously packed scapula".  I am not so blessed with scapular proprioception that I can lock my shoulder blade up on one portion of my T-spine, and spin it from there.  It does not end well at all.
(I do like when Brett Jones refers to it a "sticky" scapula. For whatever reason, that makes more sense to me.)
●      Thoracic strength and extension is the literal foundation for overhead movement.
Joe and Brett Jones both address T-spine significance as well.  If you are having a hard time controlling your scapulae, you are probably also having a hard time achieving strong and stable thoracic extension (always consider the next link in the chain).  And that, my friends, may be the root of the problem: a misalignment due to general weakness of the entire upper back.  Funny how building a powerful upper back can make scapular patterning issues just evaporate.  T-spine positioning sets the angle by which the arms are going to rise, and the scaps are going to rotate. If you are firmly anchored in thoracic extension, then your scaps have a cleaner line of fire rotating upwards and downwards.  If you are kyphotic, then you are screwed no matter how great your scapular control.
The Scapulae: Designed to Move with the Arms
Anatomy time. (Don't go to sleep, this will be quick.)  The portion of the scapula directly over the humeral head is the acromion.  That thin strip of muscle running between the two bones is the supraspinatus, part of the rotator cuff group. We want to preserve that subacromial space between the two bones, so the supraspinatus doesn't get trapped in the middle, (along with bursa, and possibly the long head of the biceps tendon).
If you try to hold the scapula and its attached acromion down on the ribcage, as cued, while simultaneously raising the arm up, it closes up that subacromial space. Do you see the damaging, abrasive friction these opposing forces can create?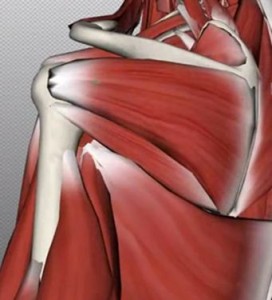 This is what happened to me as I diligently tried to keep those shoulders down and back.  My supraspinatus got ground up like pink slime at the meat processing plant.
This is why the whole scapular structure needs to upwardly rotate in conjunction with the rising humerus.
Now, good shoulder packing would have you anchoring the scapula at the bottom (posteriorly tipping), and then rotating upwards from there.  However, this is a very technical proprioceptive idea for the CNS to process.
Bear in mind, the muscles that directly control the scapula itself (traps, rhomboids, and serratus anterior) don't even attach to the humeri.  It's the rotator cuff muscles, arising from the scapula that attach on the humeral head directly, and pull it snugly into the socket.
So the RC unit packs, with an assist from the lats, the T-spine extends, and the traps and serratus upwardly rotate the shoulder blade and acromion; preserving that subacromial space for the rising humerus.  And let's keep it real, here.  The humeral head will be rising, at least a bit.  Especially on vertical pulls, if you are challenging your lats with a decent load, the humerus IS going to rise in the socket, just like those scaps ARE going to protract when you row heavy, or pull a heavy DL, which is its own 3,500 word edition of "When Coaching Cues Attack! , Ep. 2: The Dead Lift Scapula".
But I digress…
Why not purposefully and dynamically direct the scapular movement that needs to occur anyway?  Consider the similar way the scaps and humeri also move together during horizontal movements.  In a horizontal extension movement (rowing), it is sound advice to draw the arms back only as far as the scapulae can retract. Should the arm keep extending on a fixed scapula, then the humeral head will lurch into the anterior socket of the shoulder, and you are again risking impingement (this time the long head of your biceps tendon is in for a treat).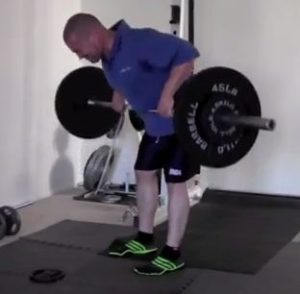 Likewise, when you do push ups or dips, your shoulder blades naturally protract around the ribcage via serratus anterior contribution.  This provides synergistic force for your pecs with their direct humeral attachments, helping to pull the arm forwards.
In both cases, the scaps and humeri move in concert with each other with their parallel, but different muscular engines of movement.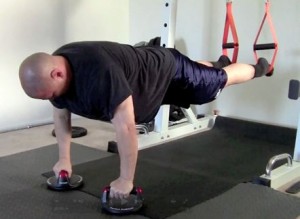 We alluded to the bench press earlier.  Yes, this is the exercise that really does require a no-frills, no-nuance, LEGIT PACK of the shoulders!  The actual physical barrier of the bench itself prevents free scapular movement, so one should indeed "break up the team" and hold the scaps (wait for it…) DOWN AND BACK, while the humeri flex forwards. By purposely not protracting the shoulder blades, you are able to keep them wedged under the body, providing a stable base to press from.
Now, before you get too amped, packing advocates, if someone did invent a bench that would allow for scapular freedom of movement, then that would be a better bench!  Just ask Dr. Squat, Fred Hatfield, who supposedly once upon a time developed just such a bench specifically to allow the shoulder blades to move.  Why?  Again, it is not optimal for the scaps to be fixed when the arms are moving.  It is a necessary trade-off for the benefits of this exercise, but not an ideal movement pattern.  This is the primary reason that the bench press has a sketchy reputation for shoulder health.
From Horizontal to Vertical
As you progress from horizontal to vertical does this normal scapulohumeral rhythm change?  Put your feet in TRX straps, and start with flat push ups.  Raise the straps, and do more push ups.  Raise them again, and so forth, until you are doing vertical handstand push ups, partner-assisted if the load is too great.  At what degree of incline did you decide that you needed to consciously focus on locking scaps down on one portion of the T-spine? It's the same general scapulohumeral pattern, and trying to keep your scaps moving only helps you lock out the lift, at every angle.  The pulling side of the equation is also the same, going from rows, gradually verticalizing to pull ups, shoulder blades and arms moving in harmony.
"But your push up example uses a closed chain movement which doesn't require as much stabilization, Derrick!"
True, and if we had access to Fred Hatfield's magical bench, I'd have you try it that way!  But to further that logic, isn't that one of the benefits of free weight lifting, to get so good at mobile stabilization that you are just as solid as when performing machine, or closed chain moves?
The Push to Put Upper Traps Back on the Ballot
I'm going to again go off the reservation: Upward scapular rotation (movement!), works even better when you throw in some good old fashioned elevation. Also known as shrugging.  (Note: this is about the point that I feared BC was going to shut down the guest blog visa program…) Here's what that looks like:
https://www.youtube.com/watch?v=2aVCxz-j4Ck
The upper traps provide powerful force to help raise the arms overhead, particularly as the load gets heavier.  Last summer I did the Tough Mudder mountain obstacle run.  Part of the team oriented event involved helping female participants scale the 12-ft. walls, essentially overhead pressing them to the top.  After running up a mountain for two hours, with my heart rate stuck at 160, I wasn't thinking about "path of instantaneous center of rotation", or whether my scapula was "maintaining its position on my thoracic spine as it rotated upwards".
If I had a thought at all it was, "UP!!" Basically, I was just overhead shrugging trying to get these ladies over a wall!
I'm sorry, did I just say something controversial?  I used my upper traps as active synergists with my delts and triceps to complete the lifts by shrugging.  Furthermore, this was functional unstable load training literally personified, balancing and lifting human beings by their feet wobbling in my hands.  Somehow my scaps managed to naturally pack themselves along the way up the T-spine.
I gather that this is considered a dubious technique in the packing world.
"Most people have upper trap dominance issues and upon pressing overhead the force couple is not happening or out of sequence, and in order to get the arm overhead they inappropriately shrug and elevate the scapula and humerous into the Acromium causing impingement of the sub-acromial space."
Suppose you have balanced upper and lower trap strength…shrugging goes back on the approved list?  Your upper traps are very powerful players, and their primary function is scapular elevation.  It's what they were literally created to do.  Don't make them stand by and hold a clipboard.  Put 'em in the game, Coach!
If your upper traps are disproportionately strong, then bring up the lower traps!  Focus training energy on T-spine extension, and lower trap strength.  I love this Diesel Crew two-minute shoulder warm up as a building block to controlled, heavy shrugging rows:
Major props to Jim Smith! The best prehab/rehab patterning routine I've ever seen, because it teaches you to activate the scapular controllers as a precursor to moving the arms. The drills in Joe's post are terrific, too, especially for establishing scapular MMC's (mind muscle connections).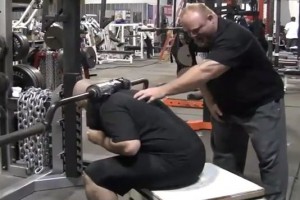 Seated upper back good morning, one of many techniques to strengthen the thoracic spinal extensors. Activations and mobility drills are excellent and necessary, but at some point you have to progressively LOAD the T-spine.
Dangerous Dead Hang?
Here's that unpacked shoulder again, this time in the dead hang bottom position of a pull up. Shoulder blades are elevated, and upwardly rotated.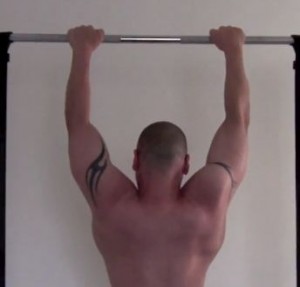 Almost universally this is considered bad, risky form.
And yet this is the best approach I have found for keeping my acromion off my humeral head.  Actively shrugging the upper traps, while maintaining isometric lat tension.  No hanging by tendons.
"Keep your shoulders off your ears, bro…"
But that would require me to rotate my scaps down, and-
"Right!  Pack 'em bro…Down and back.."
I promise that I will pack them nice and tight when I get up to the bar…
"Pack 'em in the hang, too, bro…"
Agree to disagree?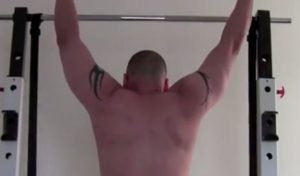 I'm not anti-packing!  I'm a big fan of packing your abs and glutes to set your T-spine in extension…
Chapter 947: Rotator Cuff Tension and the Mobile Scapula
"Remember, the rotator cuff can't build proper tension and properly stabilize the humerus if the scapula is moving around on the t-spine as it attempts to upwardly rotate."
Seems to me that RC function on a moving scapula is a trained variable, like all other aspects of strength training.  This again calls to mind when someone switches from doing exclusively machine resistance training, and switches to free weights.  Yes, at first, it is more dangerous as they are wobbly, and learning to stabilize the floating weight.  But as they groove the movement with practice, it becomes safe and effective.  If you are not used to a "floating hip" scapula, or if you have awful thoracic spine strength, then certainly you might be loading the RC in a dicey position.  Once you have the appropriate yoke and T-spine strength, your RC should function fine on moving scapula. For example, performing a barbell overhead shrug, or climbing a rope.
I actually think that grip intensity correlates with rotator cuff function, more than scapular movement on the T-spine. Clench your hand tightly, and your shoulder seems to pack itself.  Your humeral head tightens in the socket, and your CNS understands that the shoulder better be ready for business.
Try hanging from a bar by one hand while squeezing as tightly as possible. Shrug and move your shoulder blade in all directions while still tightly clenching the bar.  Your shoulder will feel stable and connected as one long organized beam until your grip begins to fail.  For you martial artists out there, throw a snapping punch with a clenched fist, and then again with an open hand.  Which one did your shoulder like better?
That's a wrap!
Folks, this article got entirely out of hand!  Who the heck writes 3400 words on an obscure coaching cue?  Everybody who plowed through this whole post will receive a complimentary participation medal.  (Just e-mail Bret for delivery instructions.)
Clearly I'm laying out a subjective perspective, as proprioception and MMC's are highly specific to each individual.  If you are able to use the 'pack the shoulder' cues safely and effectively, more power to you.  Ultimately, we all have to find our own processes on this journey, whether it's BC allowing thoracic flexion to get 140 more pounds on his dead lift, or DB turning his scaps loose to press and pull without pain.
I wish you all very productive training, and remember to take your powerful nutrient repartitioning agents, because an empty pump is a useless pump!  (That was just…so….unnecessary…)
Thanks for reading!