An experienced coach will watch typical people run, jump, land, squat, or deadlift and cringe. Sadly, most people's form just sucks. But why does it suck? Why do knees cave and backs round? Is it lack of strength or lack of motor control?
I think that people learn to move this way over time because it's more "efficient" from an energy-conservation standpoint. Let bones, ligaments, and fascia do more of the work so muscles won't have to work so hard. When the back rounds in a deadlift, the ligaments and fascia eventually stabilize the torso (in a rounded position) and allow for the pull to take place. When the knees collapse when landing, the ligaments stabilize the position of the knees and the glute medius has better leverage for dissipating the energy at the hips.
While this is indeed "efficient" from an energy-conservation standpoint, it is incredibly "in-efficient" from a long-term joint health standpoint.
So the question now becomes, "How do we best go about fixing people's natural inclination toward crappy movement patterns?"
I used to think that fixing people's form on things was a matter of getting muscles strong. It's not. You have to retrain their motor patterns.
X-band walks won't fix someone's valgus collapse during squatting; teaching proper form on squatting and having them practice it over and over will fix their form. The same applies to jumping, landing, sprinting, etc.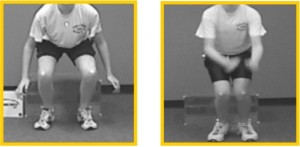 Altering technique has much more to do with the retraining the nervous system than it has to do with increasing strength. Most people already have the strength to perform a particular task, but they've memorized a faulty motor program and it takes time and concentration to get them moving better.
It is true that getting stronger and more powerful has more to do with increasing muscle size and neural drive via maximal strength training, explosive strength training, plyometrics, sprints, sledwork, etc.
However, if technique isn't good during heavy or explosive movement the body will eventually break down. This is why you have to groove proper technique first and then build upon that base.
There are many names for technique training (neuromuscular training, neuromuscular reeducation, motor control training, etc.), but suffice to say you'll reach your goal of improving form much quicker through focusing on form rather than utilizing creative strengthening exercises. This isn't to say that you shouldn't do glute activation work and other specialized muscle activation techniques. Just please understand the following:
Working with technique is KING when it comes to fixing form on anything; getting a particular muscle stronger only helps when that newfound strength is coordinated into the motor program through practice and repetition.
In this video I elaborate upon this concept: