Okay folks I've got some more randomness for you, here you go:
1. Facebook Fan Page
I recently started a Facebook Fan Page so please hit like so you can follow me on there. I've been posting most of my fitness stuff to that page lately instead of using my regular page.
2. Contreras Files Volume II
I recently wrote another edition of the Contreras Files for TNation HERE. In this post I discuss a lot of different things, much of which has just recently been published or is published ahead of print, including:
Stretching doesn't affect DOMS
Dynamic effort hex bar deadlifts with 40% of 1RM will match the peak power outputs of the Olympic lifts
Full range of motion exercise trumps partials for both strength and hypertrophy
Various methods for improving sprint acceleration
The biomechanics of the kettlebell swing
Muscle, Smoke and Mirrors
Strength training practices of professional Strongmen
Lower back loads during resistance training, sport and functional activity
Neck training
The updated RKC Plank (with video below)
If you click on the video and go to Youtube, you can read the comments underneath the video, they're hilarious!
3. Coach Nick Gill: Ironman Race for Cystic Fibrosis
My friend Nick Gill (head strength coach for the All Blacks; a New Zealand rugby team that won the World Cup last year) is trying to raise $3,000 for an upcoming Ironman race in March. All proceeds go to the Cystic Fibrosis Association. If you have change to spare then please donate some HERE. To my Kiwi readers – he helped win you a World Cup it's the least you could do! 🙂
4. Hamstring Strain Injuries: Are We Headed in the Right Direction?
My friends Jurdan Mendiguchia and Matt Brughelli recently got an article published in the British Journal of Sports Medicine. You can download the article HERE. Jurdan and Matt are freaky intelligent. This is a top-notch article on the hamstrings so if you're a strength coach make sure you read it. The authors point out that hamstring injury and re-injury rates haven't improved in 3 decades. We like to boil things down and take a reductionist viewpoint on things but with the human body factors are interrelated as shown in the conceptual model provided by the authors below. Understanding this model will go a long way in improving your knowledge of hamstring injuries.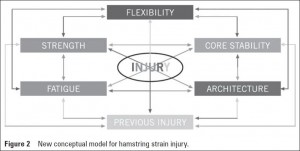 5. Strong Curves Update
My friend Kellie Davis and I have been working hard to complete our Strong Curves book which should be available later this summer. We recently went to Las Vegas and shot pictures for a couple of days and then returned to Phoenix to shoot more pictures and videos for a couple of days. Here are some highlights.
6. Crappiest Personal Trainer Ever
When Kellie and I were filming the video promo for Strong Curves I witnessed something that I just have to get off my chest. A brand new client was receiving his first training session with a personal trainer. For the beginner's first session, the trainer put him through this routine for his entire workout:
Bosu ball push ups (dome facing down, hands gripping the Bosu platform) 3 sets of 8 reps
Bosu ball cable crossovers (dome facing up, standing on the Bosu ball) – 3 sets of 10 reps
Front planks – 3 sets of 30 seconds holds
Walking on the treadmill – 20 minutes
Great job you stupid jackass! You officially provided the absolute worst strength training routine for a beginner client that I've ever seen in my life. Nothing for the legs or back, just a couple of unstable surface exercises for the chest/triceps, a core stability exercise and some cardio that the guy could have done anywhere. Step it up personal trainers!
7. Back Extension Height
If you really squeeze the glutes as hard as you can at the top of a back extension you'll pull your torso up a bit higher which makes the movement much more challenging for the glutes. This is hip hyperextension which is not to be confused with spinal hyperextension. I can do 50 reps if I don't hyperextend my hips and I feel it mostly in the hammies, but if I do it this way 30 reps kills me and I feel it in my hammies and my glutes. Here's a vid:
8. Deficit Reverse Lunge – Knee Dominant Fashion
Here's a tweak on the deficit reverse lunge to make the movement more knee dominant. This smokes my quads if I really try to focus on using the top leg to its full extent. Here's a vid:
9. Ben Bruno Build a Better Workout
My friend Ben Bruno wrote a great Livestrong article and I absolutely loved his program. To me it's sort of a Body for Life meets  Mike Boyle Strength & Conditioning with a Ben Bruno twist. I like the way Ben thinks when it comes to training. Anyway, I gotta give some serious props to Ben on this one as it's one of the best routines I've ever seen and I don't usually like other people's routines.
10. NFL Wide Receiver Sam Giguere Training
Here is a video of Sam Training. All I can say is that this is some serious athleticism. Beautiful!
11. Is Your Corrective Exercise Working?
My friend Elsbeth Vaino filmed this video and I really liked what she had to say. Even better was the guy in the background breathing really heavy while Elsbeth was talking haha! Having filmed tons of Youtube videos myself in various gyms I have to laugh when these things happen as you usually don't realize it until you get home and watch the video. Anyway, watch the video as Elsbeth gives some good advice.
12. Jen Grasso's Favorite Glute Exercises
Jen Grasso listed her ten favorite glute exercises HERE. I always enjoy hearing about how others train their glutes.
13. Training Around Femoroacetabular Impingement (FAI)
Kevin Neeld has written an excellent blogpost about training around FAI HERE. Watch the video embedded in the link – it's one of the most serious cases I've seen so it makes for an excellent case study. Trainers, strength coaches and physical therapists need to understand FAI so definitely check this one out.
14. Single Leg Squat Stand
Here's my friend Elsbeth again discussing all the exercises she likes to perform off of a single leg squat stand. Very cool!
15. Gliding Leg Curl
The gliding leg curl is an excellent hamstring exercise that I came up with several years ago. It never caught on like I hoped it would, which is unfortunate as it's a really good hamstring movement. I've seen a couple of videos and usually people don't keep the hips elevated sufficiently throughout the movement and they don't pull their bodies forward enough. Keep the hips sky-high and pull the body all the way up and forward via knee flexion. This way you'll really work the hammies. Here's a quick video:
Okay that's all folks! Hope you're all having a great week. BC