Here's what you see:
Here's what you don't see:
Dedication I've been wanting this pull for 2 years (I want 600 even more but I'm patient). Most people will never understand wanting to lock out a particular lift so badly that you think about it week in and week out. America is full of estrogen-soaked men who prefer pedicures over pulling heavy stuff off the ground. This ain't me. A 585 deadlift has haunted me at night on many occasions as I lay there picturing what it would feel like to be victorious.
Peaking There's an art to peaking and it's important for each lifter to learn what allows them to peak. For me, I don't take extended time off of training, I just pull the reigns back 6 days prior. I thrive on frequency, so I pulled heavy 7 days before this lift, I pulled relatively heavy deficit deadlifts 4 days prior (up to 475), and I pulled dynamic effort (speed pulls) with 405 lbs 2 days prior. Psychologically I like to know that my hips are strong enough to lock the weight out so I wanted my hip thrust to be strong as an ox. Here I am hip thrusting 495 x 6.
As you can see, I made damn sure my hips were up for the task.
Special Grip Workouts I'm a big fan of "special workouts" which I learned from Louie Simmons. These are mini-sessions performed frequently to bring up weak links. My weak link is definitely my grip. I was talking to David Dellanave and Mike T. Nelson when I was in KC for The Fitness Summit and they urged me to start training my grip. A weak grip won't allow you to pull with maximal force nor will it allow your legs to maximally activate and contribute to the pull. I have 2 Captains of Crush grippers from IronMind. One's a trainer and the other is a #1. When I started several weeks ago I couldn't close the #1 and I could only close the trainer 8 times. After 9 sessions spanning 3 weeks, I could perform 35 reps with the trainer and 8 reps with the #1. I also did one arm static hangs from a chin up bar. Without a doubt, grip work played the single biggest factor in my strength increase on the deadlift as it was my weak link.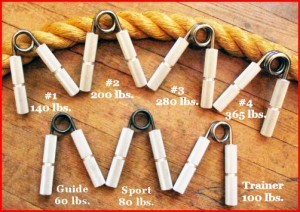 Visualization I use this technique sparingly, but there is a surprising amount of evidence suggesting that "imagined contractions" transfer positively to performance. It appears that the nervous system will create adaptations even in the absence of real muscle contractions and lifting. I've found that visualization works very well when implemented the week before a maximal attempt. The more vivid, the better. Imagine the scenery, the loaded barbell, gripping a hold of it and pulling the slack out, getting the core tight, heaving with all your might to get the bar moving, fighting like a crazed-beast to lock it out, and the look and sound of everyone when you're victorious. I did this every night before I went to sleep for the five nights prior to the lift.
Nap I was damn sure to do everything right on this day. I made time for a mid-day nap so I could feel well-rested and energized for the lift.
Oatmeal I don't eat oatmeal all too often anymore, but I made sure to "carb-up" earlier in the day, not going overboard, but eating a bit more than usual.
Rise Against On the drive to the gym, I put Rise Against – The Good Left Undone on repeat the entire 25 minutes. Yes, I'm that guy. This song gets the blood pumpin'.
No Air Conditioning I didn't turn the AC on while driving to the gym, and since it was around 110 degrees Fahrenheit on this day, it's safe to say that every molecule of my body was sufficiently warmed upon arrival.
Xyience As soon as I got in my truck I pounded a Cherry-Lime Xyience – my favorite flavored energy drink.
Atmosphere I was sure to train at my buddy Wynn's gym in North Scottsdale for two main reasons. First, he has pulled 525 x 12 reps and having someone there who is stronger than you makes you strive extra hard. Second, he plays loud music and there's sure to be sounds of iron clanking around from other strong lifters.
Pacing and Being Psyched to the Max I was already pretty warm when I arrived, but I did some walking knee hugs and bodyweight squats, followed by a specific warm-up of 135 x 5, 225 x 2, 315 x 1, and 405 x 1. Then I paced back and forth (this is what I do to psyche myself up) for I few minutes until I was ready for my next set – 10 plates. 495 felt like cupcakes and went up like it was nothing. I had a strong suspicion I'd get 585 based on this set. I paced back and forth some more, getting my mind focused on the task at hand. I only psyche myself up like this around ten times per year. Any more than that and it doesn't work well for me. Combined with the oatmeal, the nap, the energy drink, the loud music, my body temperature, and extreme mental focus, I felt like King Kong hopped up on PCP.
Form Degredation As you can see in the lift, my form was less than stellar. My back is not even close to being arched, and even though I am a habitual rounder, I usually don't round nearly that much. Yet I was determined to get the lift, and this called for a little bit more rounding than usual. In training I'm way stricter with form, but I allow considerable form degredation on maximal attempts around four times per year if that. I have some serious "slow strength," and my ability to produce force at low velocities is incredible. I wish I could explode like other lifters but I have to play to my strengths, and in my case this equates to a slow grinder.
Conclusion
At any rate, I'm damn proud of my 12-plate pull! I'm not genetically gifted in the strength department, this PR is due to 15 years of heavy pulling week in and week out. Now my mindset has switched to 600 lbs. I'm patient and I know it will come in time, but I need a couple of months to chill on maximal deadlifting. I've never in my entire life had one repetition take so much out of me. For the next few days I was wiped out! I hope you gleaned a thing or two from my max deadlifting strategy. Your max deadlifting strategy will differ from mine, but the point is to put some serious thought and dedication into your planning so that you can peak and hit a PR. If you prepare like I did, success is inevitable!!!