I've been training at Maximum Fitness in North Scottsdale this week. If any of my readers find themselves in the North Scottsdale area, I highly recommend training at Maximum as it's a dinosaur of a gym. I've been training in commercial gyms since I was 15 years old, and assuming I've tried 3 gyms per month (not unrealistic) for 20 years this comes to 720 total gyms that I've attended. Maximum Fitness is without a doubt one of the best commercial gyms I've ever trained at – they have six different power racks, a platform, a reverse hyper, a 45 degree hyper, a horizontal back extension, a Prowler, a hex bar, rings and trx's, plenty of benches, dumbbells, kettlebells, plyo boxes, tons of different machines including hammer strength equipment, and much, much more. Gyms like these are a dying breed and I applaud the owners for sticking to their guns.
Today I saw a young lifter who reminded me of myself when I was his age. He's probably 21 years old and was training legs. He must have performed around 40 sets while I was there, wandering aimlessly from one exercise to the next. I watched him do barbell quarter squats, box jumps, hack squats, the power runner machine, leg press, deadlifts, leg curls, leg extensions, single leg squats and calf raises.  I'm sure he did more exercises than this as I wasn't watching him the entire time and he had already started training before I arrived. He watched me perform hip thrusts and asked me a few questions about them, then declared that he was going to add them into his routine next time he trained.
I think many of us started out this way. We learned an exercise and incorporated it into our routines. No exercises were subtracted from our routines, but each week another exercise was added in until we were performing around 20 different exercises with around 50 sets per bodypart. Many of us finally worked up the courage to talk to an experienced lifter and ask for advice, or we stumbled onto a good website or magazine that directed us toward a more efficient route.
This guy was skinny and weak, and sadly he won't be getting much bigger or stronger the way he trains. I'm pretty sure he fails to utilize progressive overload and simply trains on a whim without any rhyme or reason to his sessions. He quarter squatted with 135 lbs and deadlifted with 135 lbs.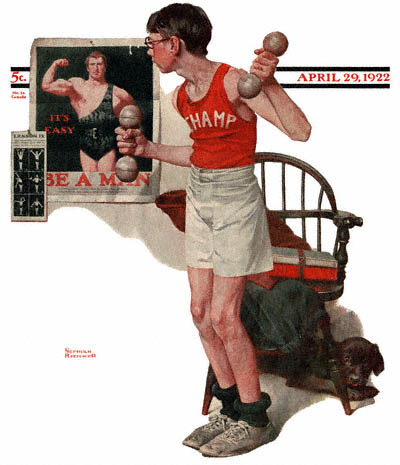 I wanted very badly to tell the kid what was up. I considered advising him to just do 3 lower body exercises this year – the full squat, conventional deadlift, and hip thrust, and to make sure he went up 5-10 lbs each month for his top set. But I didn't say anything. I have a policy at commercial gyms – I don't offer unsolicited advice. I answered the kid's questions about hip thrusts and hopefully he'll continue to pick my brain so I can steer him in the right direction in the following weeks.
If you're a newbie, focus on getting much stronger at the big basic compound exercises rather than attempting to perform every single exercise for each bodypart. It's certainly fine to add in some isolation movements, but if you're like this kid and you're still squatting and deadlifting 135 lbs one year from now, then chances are you'll look exactly the same. It's far more fruitful to move from using 135 lbs to using 225 lbs for your heavy sets over the course of a year even if you're only performing a couple of movements than to hammer away at every exercise in the book yet fail to move up in resistance.