Just wanted to provide a quick update to everyone and link some good reads as there are so damn many each week that I stumble upon but I assume you're checking my friend Ben Bruno's blog every week as he provides weekly updates for good reads and views. Before I get started, I thought I'd embed this inspiring picture. What's your excuse?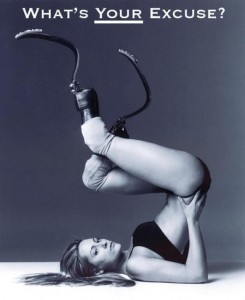 1. TNation Article
It's been a while since I wrote a TNation article and I finally put together a bunch of studies and thoughts and submitted it to them last night. In fact I'm going to do this regularly since the information will reach a wide variety of coaches, trainers, and lifters. There's always great stuff coming out in the research each month and I'm happy to be able to share with you the most interesting findings.
2. Program Design
I haven't written nearly enough about program design but I believe it's one of my best skills, and after grading the master's students' final exams this semester I realize I need to write more about it as many coaches and trainers are lacking in their program design skills. Some were downright atrocious.
3. SPRINZ Strength & Conditioning Conference
I'll be speaking on Thursday to around 130 strength coaches at the SPRINZ Conference so if you're in Auckland make sure you attend.
4. FMA Strength Training Conference
On December 2-5th I'll be speaking at the FMA Strength Training Conference at Coffs Harbour in Australia. I can't wait for this as we "Southern Hemispherers" are finally enjoying some great weather and it'll be 3 days of much needed fun. Here's sexy Latina Ximena Gonzalez discussing the event:
If you can make it to Australia for a few days of fun then register and I can guarantee you an educational and entertaining weekend.
5. Peak Diet and Training Summit
Joe Dowdell and Mike Roussell have put together a very comprehensive fitness product that discusses program design and nutritional information. I actually got a chance to look over the material before they had the presentation and was very impressed. Joe is a solid trainer and has reached the pinnacle of success in S&C for good reason. Check out their product HERE.
6. How to Return to Training Following an Injury
Tim Henriques wrote a fantastic article on how to return to training following an injury HERE.
7. The New Meathead
Nate Green wrote a hilarious article about new meatheads HERE. Don't be that guy!
8. Functional Assessments
Though I'm a big believer in assessments, I can totally relate to what Nick Tumminello wrote in this insightful article about assessments HERE.
9. Overused and Abused MRI's
Craig Leibenson talks about overusing MRI's HERE. I'm a big fan of Craig's as he's extremely intelligent.
10. Tanorexia
This NY Times ARTICLE talks about how tanning changes the brain. Do you have tanorexia?
11.  Willpower
This Boston Globe ARTICLE is an interesting read on the topic of willpower.
12. What Kind of Stretching is Best Prior to Explosive Activity?
Mike Reinold wrote up a blogpost on a recent journal article on the topic of stretching prior to an explosive activity. I recently read over this study and was hoping that someone would do a write-up on it so I'm glad Mike discusssed it. I like Mike as he's very evidence-based. Check it out HERE.
13. Strong Ladies!
And finally, Tony Gentilcore wrote up a hilarious random blogpost HERE. In it he includes the video below. This lady (her name is Becca) has been training at Cressey Performance for several years (she's only a junior in high school) and has some of the strongest glutes I've ever seen. Here she is glute bridging 345 x 8. Insane!
How can you not love strong women!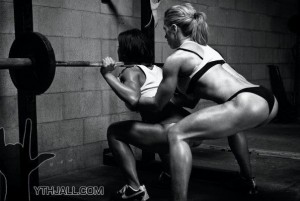 All right folks, that's about it. Hope you all have an excellent week!!!
– BC