Creatine is one of the few supplements that has stood the test of time. I can recall first taking it when I was in high school over 20 years ago. I'm pretty sure it's the most well-research supplement in the literature, with thousands upon thousands of articles on the topic. HERE is a Wikipedia link to creatine in case you'd like to learn the basics. Over the years, I've stumbled across some interesting research on creatine. I decided to compile some of these study abstracts together into an article. When sifting through the entire body of research, it seems that creatine does not enhance testosterone or growth hormone output (one study showed increased growth hormone, but several others have shown no effect), does not work as well in the elderly as it does with younger subjects, does not reduce muscle damage (one study showed that it did, but several others showed that it did not), does not improve the plasma-lipid ratio during aerobic training, and does not alter insulin sensitivity.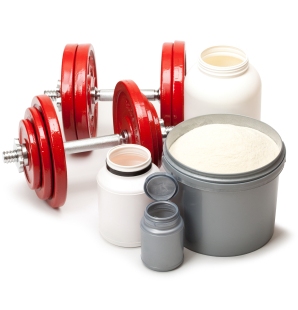 However, creatine does indeed lead to some very favorable outcomes. It's also very safe and well-tolerated. In the abstracts below, you will note that creatine:
Increases fat free mass, strength, strength endurance, power, and power endurance
Improves body composition
Decreases strength and power losses associated with concurrent and in-season training
Acts as an antioxidant
Induces cell-swelling and enhances metabolic stress
Improves glucose tolerance
Could be useful in drug abuse
Provides neuroprotective effects (and can help prevent neurodegenerative diseases)
Enhances glycogen supercompensation and total body water
Increases peripheral blood flow and resting energy expenditure
Increases satellite cell activity
Has a protective effect on cell membranes
Diminishes myostatin activity
Increases myogenin and MRF-4 mRNA activity
Increases IGF-1 mRNA activity
Increases myosin heavy chain expression
Increases DHT
Can improve cognitive performance
Can improve emotional status in certain subjects
Selected Creatine Research

 
Effects of creatine supplementation and resistance training on muscle strength and weightlifting performance.
Scientific basis and practical aspects of creatine supplementation for athletes.
Effects of creatine supplementation on performance and training adaptations.
Effect of creatine supplementation on body composition and performance: a meta-analysis.
Creatine

supplementation

prevents acute strength loss induced by concurrent exercise.
Effects of creatine supplementation on body composition, strength, and sprint performance.
Creatine

as an antioxidant.
A potential role for

creatine

in drug abuse?