Make no mistake about it – I'm all over social media. You can find me on Twitter, on YouTube, on Instagram, and twice on Facebook. Though I'm not as active as I'd like to be, I try to interact consistently on social media. And even on extremely busy days, I make sure to spend at least 20 minutes scrolling through the various social media posts. As a popular blogger, I consider this to be part of my job – it allows me to keep my finger on the pulse of the industry. However, to be honest, I'm growing increasingly apathetic with this aspect of my job.
I've come to realize that an alarming number of posts on social media pertaining to fitness are egotistically driven. I'm not singling out the experts here, I'm implicating everyone involved in disseminating fitness information. Most comments seem to be based not so much on logic, science, or a genuine desire to help others, but on a burning need to validate biases, commiserate, or stroke the ego.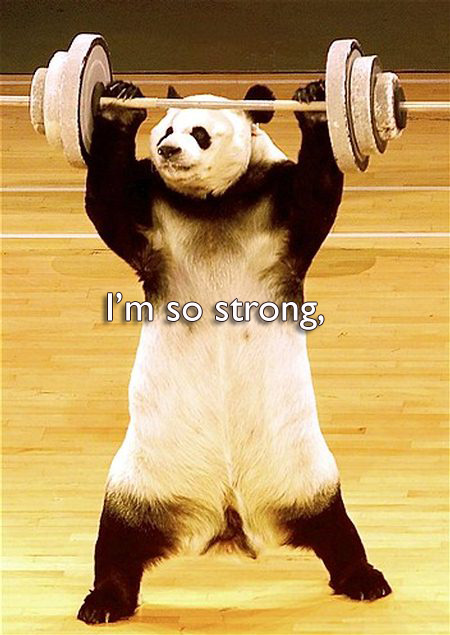 3 Annoying Motivations in Fitness
In mid-2013, an article appeared on the internet titled, "7 Ways to Be Insufferable on Facebook." When I first read it, I had mixed emotions. On one hand, I agreed with most of the article and found it to be quite humorous. On the other hand, I felt that some of the example status updates were acceptable, and that the author was a bit harsh. Since then, I've paid close attention to social media interaction, and my views have merged more close to the author's. In the article, the author states that:
"Annoying statuses typically reek of one or more of these five motivations:

1) Image Crafting. The author wants to affect the way people think of her.

2) Narcissism. The author's thoughts, opinions, and life philosophies matter. The author and the author's life are interesting in and of themselves.

3) Attention Craving. The author wants attention.

4) Jealousy Inducing. The author wants to make people jealous of him or his life.

5) Loneliness. The author is feeling lonely and wants Facebook to make it better."
In the fitness field, I've found the following 3 annoying motivations to be highly common:
1) Attention Craving Surrounding Strength. The author is stronger than others and finds subtle ways to assert his perceived dominance.
2) Insecurity Surrounding Science. The author makes bold comments in an attempt to mask his ignorance pertaining to science. 
3) Jealousy. The author is jealous over the attention that someone or something is receiving so he chimes in in an attempt to cast doubt despite having no expertise on the matter.
Cases in Point 
First, I'll give some generic examples, and then I'll follow it up with some specific scenarios. Here are some common annoying status updates:
"Pubmed didn't help me get these 20″ guns bro!"
"Science is always five years behind what the top dogs in the field are doing bro!"
"You don't need evidence when you squat 12 wheels brother." 
"I keep seeing all these fools hip thrusting. What a worthless exercise. Just squat bro." 
"That bodybuilder is all show and no go. I can out squat him despite being half his size bro."
"Crossfit is for pansies. I can do 20 rep deadlifts with their 1RM's bro!" 
"The Jefferson deadlift has to be the most idiotic exercise in existence bro." 
"Swings are for sissies. Real men deadlift bro." 
"Last time I checked, there wasn't a leg press competition. Real men squat bro." 
"The bench press is completely non-functional. When are we ever laying on our backs? Real men military press bro." 
"You're doing lunges? What are you, a chick? Grow a pair and squat bro." 
I'm sure you get the point. However, below are some more specific examples of what I'm talking about.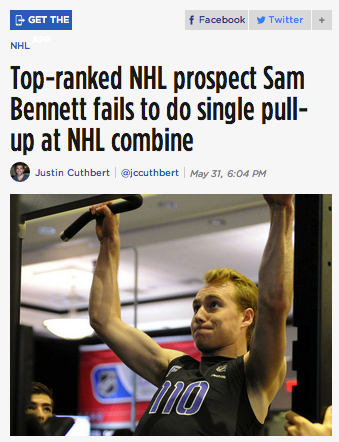 Just the other day, an article titled, "Top-ranked NHL prospect Sam Bennett fails to do single pull-up at NHL combine" surfaced on the internet. Since then, I can't tell you how many posts I saw in response to the article. In general, the responses revolved around the following themes:
How pathetic! This hockey player can't do a single pull-up.

This is unacceptable! You know athletic preparation is broken when upcoming players can't perform bodyweight pull-ups.
I can do 15 pull-ups and this joke of an athlete can't even do one!
What in the hell is wrong with people? This guy is a rising star in hockey, and fitness-people are poking fun of his pull-up strength? Obviously it's not negatively impacting his game to much of a degree, and hockey prowess is clearly not as highly correlated with chin up performance as some people think. Moreover, certain body types will always struggle with chin ups. Unfortunately, not all athletes can be like Shaquille O'Neal and bust out no-arm chin ups:
Kidding aside, not all pro athletes are weightroom warriors. We've seen NBA forward Kevin Durant get pinned by a 185-lb bench press (see HERE), NFL cornerback Fred Smoot manage just one-rep with the 225 lb bench press (see HERE), and NBA center Manute Bol bench press 45 lbs for 10 reps and squat 55 lbs for 10 reps (see HERE). If these feats were to have occurred today, the Facebook warriors would have been all over them.
If maximum strength was the end-all, be-all in sports performance, powerlifters around the world would be dominating the competition in various sports. But they're not, and the best athletes in the world tend to fall in the middle of the spectrum in the strength department. Strength is just one aspect of athleticism; the ability to rapidly accelerate and decelerate in the horizontal, vertical, lateral, and rotational directions are also paramount, as are skill and technique. But I digress.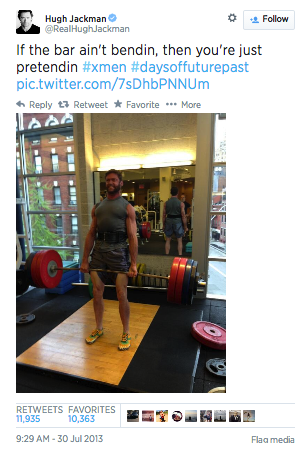 I shouldn't be surprised by these antics. We saw the same response in August of last year when Hugh Jackman was busting out some heavy deadlifts (see my article on Hugh HERE). This incident provided thousands of meatheads around the globe a chance to feel superior to Hugh because they can out pull him (not to mention they didn't know how many reps he performed, they underestimated the load, and oh yeah – they somehow lost site of the fact that Hugh is a ripped actor who makes millions of dollars and can also sing and dance and do most of his own stunts).
Conclusion 
Don't get me wrong, I'm all in favor of debate, scrutiny, discussion, and criticism. However, there's a constructive way of wording comments, and an annoying way of wording comments. Since reading the "insufferable" article I linked above, I now make sure to consider my intentions before hitting the "post" button and commenting. This has definitely helped make me a better professional.