I wanted to update my readers about something I've been enjoying for the past few months. At the end of May, I started training a group of bikini competitors who came to me for one purpose – to get their booties looking as nice as possible. They call themselves "The Glute Squad," and they do 60 minutes of "gluting" twice per week. I love these ladies!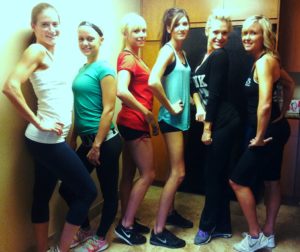 How I've Been Training Them
It's nice to know a bunch of different glute exercises. Hell, I even wrote a glute eBook three years ago showing hundreds of variations of glute exercises. But it's imperative to get really strong at the best ones.
In a perfect world, I'd have a warehouse gym with all of my favorite toys – my giant power rack/platform, all the different barbells, dumbbells, kettlebells, bands, my Skorcher, back extension/ghd, 45 degree hyper, reverse hyper, lever squat, box squat box, high step up attachment, etc. But I don't have this dream-gym at the moment, so I train the girls out of my condo, and we make the most of what we have. We do hip thrusts and kettlebell deadlifts in the living room (I place the bench up against my tv stand!), and we do lever squats, back extensions, and band seated abductions in the bedroom.
Each workout starts with heavy hip thrusts in the 5-15 rep range. After hip thrusts, we'll usually do kettlebell deadlifts (2 high reps sets with the 106 pounder), then lever squats (2 sets of medium to high reps), back extensions (single leg or weighted for high reps), and band seated hip abductions (2 sets for high reps). I've only concerned myself with building their hip thrust strength and number of 106 lb kb deadlift repetitions, and I have them rest a good deal in between sets so they're at full strength and can set PR's (and so I can watch all of their sets and make sure their form looks good).
Again, I don't feel that this is the absolute best way to train the glutes, but we're laying an excellent foundation. They were all activating their glutes very well when they first came to me. The exception was during back extensions. It took me a long time to get some of the girls using their glutes properly during back extensions, but they're all finally doing it right. I need to film a video and show how I teach this now as I've recently figured out a more efficient way to teach it.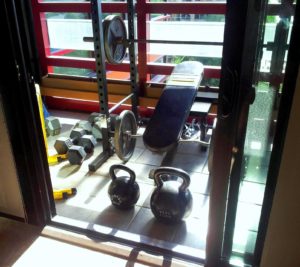 I do have a power rack on my balcony, and ideally I'd be having them perform barbell squats and deadlift variations regularly (along with db walking lunges, high step ups, pendulum quadruped hip extensions, reverse hypers, and other amazing glute exercises).
However, since I train a large group out of my condo, I just focus on a handful of exercises. Squats and deadlifts are coaching-intensive so up until now I've gone the easy-route, sticking to simpler variations. I'd need a rubber floor to feel comfortable prescribing the barbell deadlift, and I'd need to not be training so many girls at once to feel more comfortable prescribing the barbell squat.
I'd like to mention that the lever squat is much easier to teach than the barbell variation; it allows them to sit back more, the load is stabilized in the frontal plane, and it elicits almost identical muscle activation when compared to the barbell squat. So I don't feel that I'm short-changing the girls much.
I've become a bit of a specialist with the kettlebell deadlift, due to the fact that I've been prescribing it to every client for the past 6 months (and I have really heavy kettlebells).
It's akin to a sumo hex bar deadlift in that the load can travel in between the knees so it's almost a squat/deadlift hybrid. I prefer the barbell deadlift as it forces more hamstring recruitment compared to the kettlebell (or hex bar) version, but I don't want weights clanking around in my condo (or worse, someone dropping the bar on the tile), so I stick with the kettlebell deadlift (and lever squat) for the time being. I prefer for my clients to perform the kettlebell deadlift in a hamstring-dominant fashion (with high hips and the load out in front), but some of the girls perform the movement like a "squat-lift." Here's Molly doing it the way I prefer.
Though we generally stick to the same formula each session, every workout is indeed unique; sometimes I have them perform 3 sets of something rather than 2 sets. Sometimes I'll have them bust out a single leg exercise such as a reverse lunge or Bulgarian split squat. Occasionally I've prescribed hamstring dominant movements like the Russian Leg Curl. Often I have them burn-out with an ultra-high rep set of hip thrusts or glute bridges (50-100 reps).
I may end up leasing some warehouse space soon so I can access all of my equipment (right now most of my equipment is in my sister's garage) and train the girls optimally. But despite training out of my condo, the results so far have been excellent. When the girls first started out, I had them using 105 lbs for hip thrusts (see video below – this vid was taken on June 1st). Many of them could only deadlift the 106 pound kb for 3 reps or so.
Now they're all using at least 195 lbs for 8 reps on the hip thrust and they're each deadlifting the 106 pound kb for at least 20 reps. Sammie is using 245 pounds on the hip thrust – she recently got 10 reps (see vid below). If I had rubber flooring I'd have her go heavier – I know she could get 275 for at least 5 reps right now. As you can see in the vid, I have them use the easy-bar and I just drop it onto their hips. On the last rep of every single set of hip thrusts that the girls do, I have them do a 10 second isohold at the top range. Sometimes they droop and I make them fire the glutes hard and stay at full hip extension.
Kelli has the record right now on the 106lb kettlebell deadlift with 55 reps, and Sammie is second with 42 reps. I bet these two girls could deadlift the 203 pound kettlebell right now, but the handle is really thick so grip strength might be an issue. Eventually I'd like to have the girls doing swings with the 106 pounder, but this will take time.
Eventually all the girls will be busting out 225 pounds for 3 sets of 10 reps on hip thrusts and 50 deadlifts with the 106 pound kettlebell. It just takes patience. We bump things up gradually each session and I make sure they set PR's consistently. Hopefully I get some warehouse space soon and up their training to the next level, but in the meantime, we'll keep plugging away.

The Girls
As I mentioned before, I love these girls. They're a ton of fun and they work very hard.
Alicia is part of the original glute squad and has trained consistently for 3 months. She's the best motivator in the group and loves to cheer everyone on. Little by little she's getting very strong.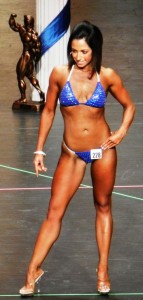 Amanda trained with me the first two months but hasn't been back this month. I need to get her back as she's a pleasure to train – always smiling! She can easily get her pro card, she just needs to show up conditioned and keep strengthening her glutes.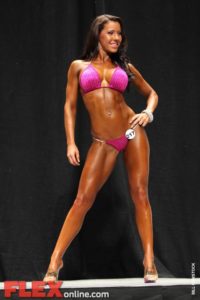 Anne just started training with me this month and her strength has sky-rocketed! In six sessions her kb deadlift with the 106 pounder has gone from 3 to 30 reps, and her ten-rep hip thrust has gone from 105 to 195 pounds.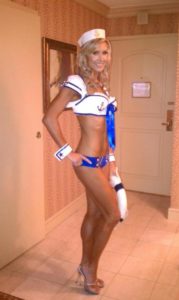 Chelsey is inspiring! I was so proud of her for taking second place at her first show. She works so hard and is ultra-consistent. She has great genetics for bikini competition; the curvature of her side torso is spectacular.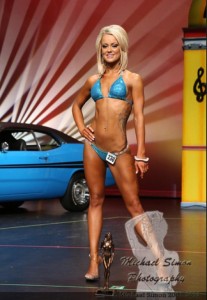 Kate is a newcomer and just started this month. Once she packs on some mass and gains considerable strength she'll be in a great position to compete.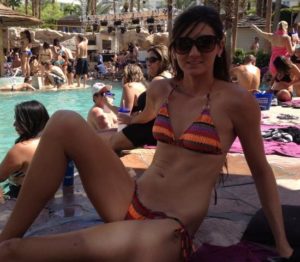 Kelli has trained with me for 3 months and her glutes have come a long way. In fact, when I met her a few years back, she didn't have much glute to speak of. Now she's got a round (and incredibly strong) booty. But this didn't happen overnight – she's been busting her butt (literally) for 3 years. She's like the energizer bunny – she can deadlift the 106-lb KB for 55 reps (I think she get 65 if she really wanted to). She's also the best damn posing coach in Arizona and is a critical piece of these girls' success on stage.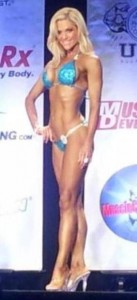 Molly is an original member and has been training for 3 months. She actually has the roundest booty I've ever seen. Though she was practically born with great glutes, she just recently started upping her hip thrust and put 1.5″ on her glutes in one week! This was from two sessions of heavy hip thrusts. She was accustomed to using 105-125 pounds, and I had her use 155-175 pounds one session and 175-195 the next session and her glutes responded right away. Must be nice!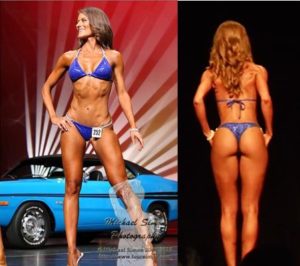 Sammie is an original member and is an absolute machine. She's incredibly strong. In just 3 months she's built her hip thrust up to 245 pounds (she could be using 275 if I wasn't worried about the tiled floors) and her 106-lb kettlebell deadlift up to 42 reps!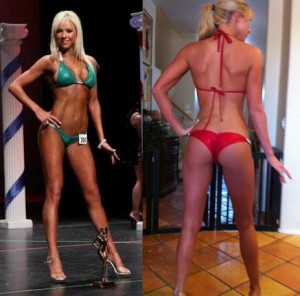 So there you have it. This is the glute squad.

Honorable Mentions
Katie has only trained with me once recently (I trained her consistently a couple years back). But I'm posting this photo to illustrate a point. She was recently able to really bring up her glutes in just 2 weeks. I spoke to her before her latest competition and told her to focus on building her hip thrust. She was using 135 pounds for 3 sets of 6 reps and in six sessions increased the weight to 185 pounds for 3 sets of 10 reps, and her glutes looked better than I've ever seen them.
I just started training my niece Gaby again. A couple of years ago I had her hip thrusting 185 for 5 reps when she was 13 years old! I wanted to post the vid below simply to show that there's no reason why high schoolers shouldn't be using heavy weight on the hip thrust as long as you progress them gradually.
Gotta love the music right (it was my sister's CD)? In Gaby's first session back (last week) she was able to hip thrust 155 x 8 reps. I'm excited to see how strong I can get her. She's an amazing volleyball player and I'm excited to see if I can help build her vertical jump with squats, deadlifts, hip thrusts, back extensions, and swings.

Mi Hermano
One last thing I wanted to mention. My twin brother Joel and his wife come train here often. He's going to kill me for telling this story, but I think it's hilarious. He's never really focused on building leg strength, but I recently convinced him to go heavier on lever squats, start deadlifting the 203 pound kettlebell for high reps, and to start going hard on back extensions. I also coerced him into giving the hip thrust a try (I thought of them six years ago!). He did 105 pounds for around 15 reps and his glutes were burning like crazy! He said, "Holy crap, those are amazing!" I don't know why he doesn't listen to me more often – if there's one thing I know it's glutes! I guess you're never a prophet in your own land.