Here are eight updates and eleven random thoughts for the week:
UPDATES
1. Viva la Hip Thrusta!
I still get emails from strength coaches and trainers asking me if they can write an article, film a video, or speak about the hip thrust in a presentation. I appreciate these requests, but they're not necessary. I hereby grant everyone reading this permission to promote the hip thrust. Since I believe very much in its value, I want as many people as possible to be performing the exercise. For this to happen, it has to be about the movement, not the guy who popularized it. Feel free to write about it, talk about it, film instructional videos about it, etc.
Speaking of hip thrust popularity, it's spreading fast. In New Zealand, the hip thrust is a quite common exercise. The trainers at my gym use it as a staple in their programming. At the gym down the street they're thrusting too. I spoke to an NBA strength coach last week who just started using it with his players. Last week I spoke to the strength coach of the a popular professional rugby team here in NZ and they're using it as well. My professor John Cronin just traveled to a foreign country to speak to their Olympic committee and he told me that many of the coaches there are using it with their athletes. I believe that the hip thrust is a primary lift and should be programmed for all athletes who need increased horizontal force production.
This makes me feel very good as several years ago the only people in the world that were bridging with heavy weight and extra range of motion were the men and women who trained at Lifts (my studio) and the Lifts trainers. When I started writing, I had a hunch  that people would like the hip thrust, and it's good to know that I was right. I'm also glad to be interacting with strength coaches from pro teams, as I feel it's an indication of lots of hard work and perseverance.

2. New Article in Men's Fitness
Word on the streets is that there's a mini-article of mine in the new issue of Men's Fitness magazine. Since I live in NZ, I haven't seen it yet. I hear it's on page 24. Check it out. Matthew McConaughey is on the cover. All right, all right!
3. MuscleMag International
I've written some excerpts for Reps! Magazine and apparently they liked my style. Now I'm writing articles for MuscleMag which is pretty cool. I've always loved bodybuilding and have followed it for many years. Personal trainers should know how to maximize hypertrophy, strength, power, speed, agility, and conditioning to meet the needs of their clients. It seems that these days people want to be "anti-hypertrophy," yet most personal trainer clients seek gains in muscle mass. There's no reason to hate on bodybuilding, they know hypertrophy better than anyone.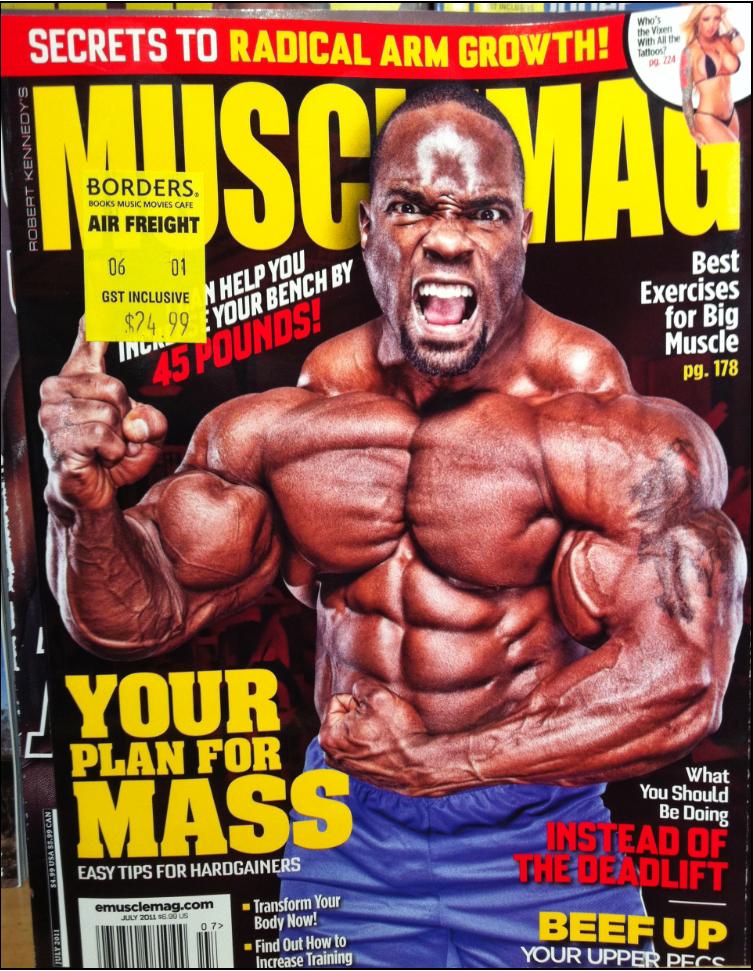 4. Research and Learning
Since I moved to NZ and don't really have any friends out here, and I'm currently living in my professor's basement sleeping on a couch that folds out into a little mattress, it creates the perfect environment to be a researching machine. I've been talking to some good coaches and have been learning a ton from John. He tells me stuff and then I go downstairs into my cave and investigate.
I attended a conference last week that featured two amazing speakers. The first was Martin Buchheit. This guy is an absolute wiz on heart rate variability (HRV). He spends his life studying data related to HRV and is extremely passionate about the topic. The second was Nick Gill, strength coach of the All Blacks rugby team. He discussed some exciting "real life" data that can be used to guide programming and prescription. Sprinz has some really cool things going on and I'm glad to be a part of it!
5. North Shore Times
Last week an article was posted about me in the North Shore Times here in Auckland. You can click on this link, enter your email address (doesn't have to be your correct one hint, hint), and go to page 30 to see the article. It was pretty flattering, and the Fitness Centre where I train now has it posted up on the wall.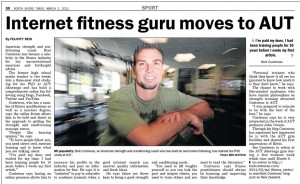 6. Peer-Reviewer
I was recently selected as a peer-reviewer for a particular article submission to a strength training journal which was a cool experience. It feels good to get involved in the peer-reviewed process. Kind of like jury duty, but more relavant to my profession!
7. NSCA Personal Trainers Conference
In case you didn't know, the NSCA is holding their Personal Trainers Conference is this weekend (March 20-21) in Las Vegas at Bally's Hotel. If I wasn't in New Zealand I'd be all over it! Any excuse to go to Vegas, right? If you go there, say hi to my friend Brad Schoenfeld. He'll be speaking there.
8. SCJ 
I recently submitted an exercise-technique article on the hip thrust to the NSCA's Strength and Conditioning Journal and am hoping that it gets accepted. I spent a lot of time on it and think it's a very wise move on my part as future researchers (including me) will have something to reference in their papers if they're writing about the hip thrust.
RANDOM THOUGHTS
1. The Truth Wears Off
Click here to read an intriguing article about the decline effect and the scientific method. This was posted in The New Yorker a few months ago and discusses the role of journals in spreading mistruth.
2. Hottie Body Hump Club
This video from Jimmy Kimmel is hilarious and includes some of the hottest women in the world. Aye Caramba!
Little do they know, if they lied supine and humped against gravity, progressively increasing the difficulty by adding range of motion and resistance, they'd receive an amazing workout and make their beautiful buns even better.  
3. More Hip Thrust Tidbits
Now that I've been performing hip thrusts at a new gym I've learned some things and formed a couple of new conclusions:
– Shorter benches work better than taller benches. The bench I had back home was shorter than the benches in the gym and I liked the old way better. If the bench is too tall, find something shorter like a box or some aerobics steps (it helps to have padding over it), or sit on some mats to make up for some of the extra height (not too many mats as then you can't roll the bar over your thighs).
– Airex Balance Pads work better than Hampton Thick Bar Pads. You just have to learn where to place the padding, which is higher up on your hips than you'd think.
4. Body Reference Pictures for Olympic Athletes from Various Sports
Click here to see a really cool blogpost that shows pictures to reference for body types of athletes from various sports. It's really cool!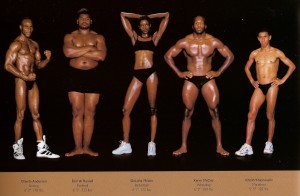 5. Interesting Study in the Journal of Medicine and Science in Sport and Exercise
Click here to read the abstract. Aerobic exercise decreases myostatin, which improves insulin sensitivity. I did not know that myostatin was related to insulin sensitivity. Myostatin is a real son of a bitch!
6. Manipulating the Density Formula
Here's something that I like to show female clients to get them to better appreciate strength training.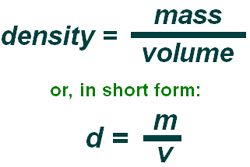 If you put d over 1 and cross-multiply, you get:
M = DV
This means that mass equals density times volume. If mass stays constant and density increases, then volume must go down. Density and volume have a negative (or inverse) relationship.
What this means is that if a woman starts lifting weights and starts getting stronger, she'll start increasing her density because muscle is around 20% more dense than fat. As long as she doesn't gain any weight (mass stays constant), since her density increases then her volume will decrease and she'll occupy less space. It's typical for women to stay the same weight during their first month or two of resistance training, yet during this same time their waist measurement often drops an inch or two.
I don't know if any of you will use this, but it makes you seem really logical and credible if you can pull it off. 
7. Strongman Training
Lately I've been training with the strongman club here at AUT and I've learned some interesting things. Here's a simulated stone lift for strongmen who don't have access to any stones. You just pile some plates on top of each other and lift the stack like it's a stone. It teaches you to hold it into you as if you don't hold it tight the plates will slip. As you can see my form is not very good, but I just learned the lift. Sure there are safer ways to perform this lift (without rounding the low back and without caving at the knees), but strongman training in general requires freaky strong erectors so in this case it's wise to train them dynamically.
As you can see in the video, I'm bringin' testosterone to NZ (talkin' bout the t-shirt)! Since I've been here I've done some farmer's walks, Zercher carries, tire flips, axel clean & push presses, log lifts, and stone lifts. These lifts require some serious character. Here's some more vids from last weekend.
600 lb Tire Flip – this was really easy. I wonder if I could flip an 800 pounder.
300 lb Stone Lift – this was pretty awkward. I think I'm pretty good at round-back lifting! Not the safest style of training but it sure is fun! That is, until the next day when you're all bruised and scraped up.
8. The American Deadlift
I've been thinking lately about the problem with the traditional RDL. When you keep a strong arch, it prevents the glutes from maximally contracting. If you disagree try it right now. Get a huge arch in the lumbar spine and try to squeeze your glutes as hard as possible. If you're really arching, then you won't be able to maximally contract the glutes. Since one of the roles of the glutes is to posteriorly rotate the pelvis, you're telling the glutes to shut down when you forcefully anteriorly rotate the pelvis. 
The benefit of gettting a big arch and sitting back, which involves slightly extending the lumbar spine and anteriorly rotating the pelvis, is that it pulls up on the hamstrings and lengthens them so they get a huge stretch at the bottom of the RDL. If you keep this arch throughout the lift, the drawback is that you won't use your glutes maximally up top. You'll definitely use them, but not to their maximal extent. However, if you use the glutes to "punch the hips forward" as you'll see in this video, you end up posteriorly rotating the pelvis (and the lumbar spine probably ends up flexing slightly), which allows for maximum gluteal force.
I realize that the terms "spinal flexion and spinal extension" have very negative connotations and can are very dangerous under high load. However, you're definitely not going to end range extension down low at the bottom of the lift or end range flexion up high at the top of the lift, and you're stiffening the hamstrings and glutes which allows their passive and active tension to take on more of the load which spares the spine.
Many people have terrible lumbopelvic rhythm and can't dissociate their pelves from their spines. Use around 30-60% of 1RM loads for this movement. The goal is to keep the spine as neutral as possible while moving mostly at the pelvis and master the ability to dictate pelvic tilt.
In Christopher Norris' book entitled Back Stability: Integrating Science and Therapy, he stated, "The ability to dissociate movement of the lumbar spine from movement of the pelvis is essential for the healthy functioning of the back." I don't yet have enough experience with this exercise to form good conclusions but my guess is that it could help many lifters learn how to use their glutes more when deadlifting, which is a critical component to back health.
9. The Fohawk is Back! That and a Chops, Lifts, and Pallof Press Video
I cut my mop the other day and decided to bring the fohawk back. I know most people hate it but I think it looks cool.
Anyway, here is a video I filmed because I don't believe that enough trainers and coaches are using these amazing rotational core exercises. There are so many different variations, and if you apply some Biomechanical principles to the lifts then you can vary the exercise depending on the goal. I remember seeing some of these types of lifts many years ago and assuming that they were "weak." Please don't make the same assumption I did and give these exercises a try!
They reign supreme for rotary core strengthening and they hammer a bunch of key muscles all at once – internal obliques, external obliques, quadratus lumborum, multifidus, glute medius, glute minimus, deep hip rotators, glute maximus, etc.
In addition, do yourself a favor and buy a Cook bar (Gray Cook's idea) or a Core bar (Nick Tumminello's idea) as they make the exercises even more effective than the rope variations.
10. The Sit Back Drill
Here are a couple of drills I use sometimes to teach people how to get used to sitting back. You don't have them try this with load; just with bodyweight.
11. Low Back Pain Symptoms Seem to Improve in a Similar Pattern Regardless of Treatment Protocol
Here's a cool study that my friend Anoop Balachandran sent my way. The authors took a hard look at data involved in various protocols of low back pain treatment and concluded that  non-specific low back pain symptoms seem to improve in a similar pattern from a wide variety of active and inactive (including control) treatments, and urged researchers and practitioners to explore other factors than the treatment that might influence symptom improvement. For example, the placebo effect, confidence in the therapist, etc.
That's all folks! I hope you enjoyed this month's updates and random thoughts. Have a great rest of the week!