Lately there has been a lot of discussion on the internet about cueing, attentional focus, glute activation, and related topics. I decided to write an article sharing my thoughts as I have a unique set of experiences and outlook compared to the other researchers and coaches. I confess to having not read up on all of the research from Dr. Gabrielle Wulf, Dr. Keith Lohse, and others (see Sam's blogpost for these references). However, I have more practical experience in this area than most coaches and employ these techniques daily, which gives me a unique perspective.
Some of my readers like to be thorough so here are some links you can read in order to be up to snuff (my thoughts are in parenthesis).
Stuff You Might Want to Read and Listen to in Order to Get Up to Snuff
Before I provide links, I want to emphasize up front that I have a ton of respect for the folks listed below and am proud to be friends with several of these individuals.
1. Sam Leahey's article on his blog: The Science & Application of Coaching Cues (I've mentioned this before – Sam is one of the brightest young minds in S&C. I feel that this article provided the most balance and I was in agreement with most of what Sam wrote. I especially liked the dialogue between Dr. Wulf and Sam in the comments section. I'm with Sam on this one, but Dr. Wulf presents a compelling case with her references.)
2. Nick Winkelman's commentary: The Strength Coach Podcast (Nick is speaking from 26:18 – 32:30 – Nick is very well-educated and incredibly passionate about this topic. He's also a top-notch strength coach for Athletes' Performance. So I have a ton of respect for Nick. However, as you'll see below, I don't feel he painted the entire picture.)
3. Mike T. Nelson's article on The PTDC: Stop Telling Your Clients to Activate their Glutes (Mike is very intelligent and I always value his insight, but I do not agree with this particular article at all. My experiences have led me to feel quite differently. But it's okay to disagree as long as both sides have science in mind and are open to findings from future research.)
4. Mark Rippetoe quote: Sleepy Muscles (Mark is a legend in our field but I disagree with what he wrote in this article. I see his point, but I could provide a much more elaborate and in-depth explanation based on my understanding of biomechanics and I don't feel he's painting the entire picture.)
5. Jon Fass's commentary: Fitcast (Jon talks about this at 39:15 – Jon is freaky smart and is a true evidence-based practitioner, but I don't feel he painted the entire picture.)
6. Kenneth Jay's "The Big 10 to Avoid in Kettlebell Training" PDF: See Mistake #10 (I don't know Kenneth Jay, but he seems to be very intelligent. I disagree with his point as I don't feel he's telling the entire picture. I'm skeptical of some of the Z-Health stuff as I feel some of it is based on improper extrapolations from research.)
Some Quick Things You Should Know Up Front
1. Dr. Gabrielle Wulf, a Kinesiology professor out of UNLV, is known for being the leading research in the area of attentional focus. Her CV is incredible!
2. In Dr. Wulf's words, attentional focus, or focus of attention, refers to:
This area of research examines how the individual's focus of attention affects the performance and learning of motor skills. In numerous studies, we have shown that instructions and feedback that direct the performer's attention to the movement effect on the environment (e.g., an implement) (external focus) facilitate performance and learning compared to those that direct attention to the movements themselves (internal focus), or no attentional focus instructions (control conditions). The adoption of an external focus promotes the utilization of relatively automatic control processes – making performance more effective and efficient. These findings have important implications for practical settings, such as sport, music, and physical or occupational therapy.
3. The Constrained Action Hypothesis, which is the current best hypothesis for explaining the superiority of external attentional focus over internal attentional focus, discussed in this LINK, goes like this:
The performance and learning of motor skills are enhanced when performers employ an external focus relative to an internal focus of attention (3-5). Wulf et al. (2001) explained this benefit of an external focus of attention by postulating the "constrained action hypothesis". According to this view, individuals who utilize an internal focus constrain or "freeze" their motor system by consciously attempting to control it. This also seems to occur when individuals are not given attentional focus instructions (2). In contrast, an external focus promotes the use of more automatic control processes, thereby enhancing performance and learning (3,5).
4. In this blogpost, I'll use the term "internal cues" to refer to "internal attentional focus," and "external cues" to refer to "external attentional focus."
My Thoughts
1. Knowledge of the Importance of External Attentional Focus is Paramount
This is a very important area of research and personal trainers, coaches, and physical therapists should be aware of it. Let's say you're testing broad jumps with your athletes – you wouldn't want to tell them to feel the glutes or quads maximally contracting, or to make sure they achieve triple extension. Instead, you might mark their previous best and tell them to focus on the mark and clear it, or you might tell them to pretend that there's a pit full of lava and if they don't make it past that distance they'll fall in…or at least something along those lines. But you definitely don't want them thinking about internal mechanics as that will not maximize their performance nor will it enhance their motor learning.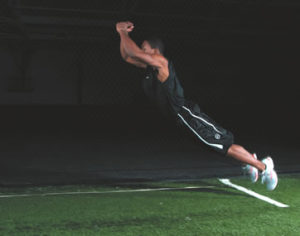 2. Internal Goals are Legitimate Goals
Often our goals as coaches are external in nature. For example, the NFL Combine Test contains a bunch of tests where the coach would want to utilize external attentional focus strategies during training and testing periods. However, there are also times when a coach has internal goals in mind, and this is where internal cueing is valuable. Dozens of world class coaches and clinicians have recognized the value of internal cueing.
For example, Stu McGill cues individuals to feel the glutes as prime movers in a glute bridge rather than the hamstrings. Louie Simmons instructs powerlifters to keep the chest up and knees out in a squat. I believe that these internal cues should NOT be disregarded and replaced with external cues.
I'm extremely passionate about this topic due to my focus on the lumbopelvic-hip complex (LPHC) and proper spinal, pelvic, and hip mechanics during squats, deadlifts, back extensions, hip thrusts, and other exercises. Form on these exercises is horrendous with beginners. Sedentary individuals simply do not move properly and you have to spend considerable time teaching them how to move at the hips while keeping the spine in neutral and properly positioning the pelvis to assist in keeping a neutral spine.
Imagine trying to teach individuals proper LPHC mechanics without having internal cues at your disposal. This is an area where internal cueing is of huge benefit and more research needs to be conducted to determine its effectiveness. My hypothesis is that internal cueing for this purpose would greatly outperform external cueing in terms of motor learning and skill acquisition.
3. Cue Specificity: A Time and Place for Internal and External Attentional Focus
I want to mention up front that this is just my hypothesis and requires future research. I am of the belief that cueing, like many other things in the field of Strength & Conditioning, should be specific to the goals of the coach.
If the coach is seeking an internal change in movement, such as activating a certain muscle to a greater or lesser extent, or preventing an energy leak, then an internal cue is most appropriate.
Conversely, if the coach is seeking optimal performance for an external goal requiring strength, power, or precision, such as performing a max deadlift, jumping for max height, shooting a free-throw, or putting a golf ball, then an external cue is most appropriate.

It is my understanding that Dr. Wulf, leading research in this area, would argue that the chart listed above isn't correct and that external cues are always superior to internal cues.
4. Evidence from Lewis and Sahrmann
In 2009, Cara Lewis and Shirley Sahrmann published an excellent article titled, Muscle Activation and Movement Patterns During Prone Hip Extension Exercise in Women. Click HERE to download the full paper. This research showed us several very important things. Here's a summary in the authors' words:
We found that during prone hip extensions, women without hip or back pain displayed a consistent and distinguishable order of muscle activation that began with the medial hamstrings muscles, was followed by the lateral hamstrings muscle, and concluded with the gluteus maximus muscle. Compared with the no-cues condition, the glut-cues condition resulted in nearly simultaneous activation of the gluteus maximus and hamstrings muscles, decreased activation of the hamstrings muscles around the initiation of movement, increased activation of the gluteus maximus throughout the movement, and decreased knee flexion.
Here is a chart showing muscle activation according to the cues: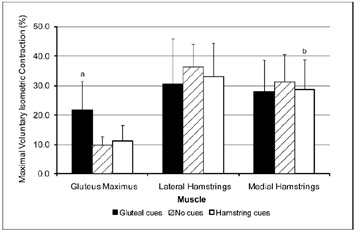 Notice you get double the glute activation when cueing glutes in a prone hip extension, and equally important is that this is achieved with less hamstring activation. I believe that this study is incredibly important!
5. New Research from Tateuchi et al.
A brand new article titled, Balance of hip and trunk muscle activity is associated with increased anterior pelvic tilt during prone hip extension, linked HERE, concluded the following:
In conclusion, increased activity of the hip flexor (tensor fasciae latae) relative to the hip extensors (the gluteus maximus and semitendinosus) and delayed onset of firing of the bilateral multifidus and contralateral erector spinae were associated with an increased anterior pelvic tilt during prone hip extension. Furthermore, a decrease in the activity of the gluteus maximus relative to the activity of the semitendinosus was related to increased muscle activity of the ipsilateral erector spinae. We propose that alterations in the balance of muscle activity in hip-joint muscles and relative timing of the activity of the hip and trunk muscles may lead to increased motion in the lumbopelvic region.
Clients are not showing up on personal trainers' doorsteps knowing how to use their glutes. They substitute lumbar hyperextension and anterior pelvic tilt for end-range hip extension, they substitute lumbar flexion for hip hinging/flexed-range hip extension, they rely too much on hamstrings, their erectors are on overdrive, and their glutes are soft. I can't imagine that external cueing would be more effective in teaching proper hip extension mechanics compared to internal cues.
6. More Evidence
There are other studies in the literature that provide a case for internal cueing. A recent study showed that cueing glute activation in a squat increased glute activation during the concentric phase of a bodyweight squat. A prior study showed that focusing on getting a stretch in the lats and squeezing them during the movement increased lat activation in a pulldown. Bodybuilders refer to this as forming a "mind-muscle connection," but this is of great relevance to coaches and clinicians simply because certain muscles like the glutes typically shut down and need to learn how to activate properly. Last, a study last year showed that telling runners to feel their glutes contracting during ground contact led to improvements in knee valgus in runners exhibiting valgus collapse (but they also envisioned the legs moving in a straight line).
Not trying to "appeal to authority" and commit logical fallacy, but Vladimir Janda, Stu McGill, Mark Verstegen, Pavel Tsatsouline, and  just about every other notable expert I can think of has recognized the phenomenon of weak, atrophied, and poorly-activating glutes during movement. McGill refers to it as "gluteal amnesia." The glutes might learn to reactivate just by squatting, lunging, sprinting, etc., but if the glutes aren't being used and the hamstrings are the dominant hip extensors, then individuals could simply continue to get stronger by relying on the hammies for hip extension without using much glutes. People can and do get extremely strong without really using their glutes much – I've personally witnessed this via EMG testing. This is not ideal and sets the body up for injury, for example anterior hip pain, knee pain, or back pain.
Many experts (including myself) feel that progress can be fast-forwarded tremendously by employing glute activation cues (internal cues) and relying on specific low-load exercises to entice a shift in recruitment away from the hammies toward the glutes. This is the essence of Shirley Sahrmann's "synergistic dominance" perspective.
Finally (this doesn't make me "right," but it's worth mentioning), I have many clients, former clients, trainers/coaches/therapists who have attended my seminars, and colleagues who are highly skilled in LPHC mechanics/glute development, and pretty much everyone agrees that internal cueing is HUGE for getting people to move correctly and teaching the glutes to engage optimally. Most of us couldn't imagine being nearly as effective without the availability of these cues.
7. Value of Glute Activation
Lately I've been performing low-load glute activation and having my clients do it as well. I used to not be a huge fan as long as one's glutes were up-to-par, but one of my clients saw such dramatic results in terms of glute development and low back pain improvements, which he attributed to glute activation drills especially the PPTHT (posterior pelvic tilt hip thrust). Before this he wasn't able to hip thrust without experiencing back pain, but the frequent practice quickly allowed him to go heavy on hip thrusts pain-free, and within two months he was using 500 lbs!
I receive several emails per week from folks around the world informing me that the glute exercises I recommend have helped them achieve new PR's in the squat or deadlift, have helped them grow their booties, have increased their speed, or have decreased their low back pain. There really is something to glute-activation and hip strengthening, and we need more research demonstrating its utility.
To me, the glutes are special, and they really are "that important." Of course I don't feel that we should be cueing "squeeze the glutes" or "feel the glutes" during explosive and technical "on the field" skills, but I do feel that we should be doing so during low load glute activation work and even heavy hip extension exercise, and this will lead to improvements in athletic performance via increases in glute muscle CSA, neural drive to the glutes, glute muscle moment arms/leverage, etc.
8. Value of Cueing the Glutes
Getting people to think "glutes" during hip extension exercises is crucial in my experience if the goal is to maximize gluteal activation and hypertrophy. This is what a vast majority of my clients approach me for, and I try my best to deliver maximum results.
I tested a female squatter who could full squat 185 and lunge with 50 lb dumbbells, and her mean glute activation was around 10% of MVC on each movement. She was relying on the quads to squat and lunge, and her form appeared excellent. It's no surprise that this same individual tended to hyperextend her spine when performing back extensions and struggled to dissociate her pelvis from her spine and couldn't hold a posterior pelvic tilt.
Glute activation and glute cueing has done wonders for this client over time. This female isn't the exception; she's the norm! Most people don't use the glutes optimally. Most advanced individuals don't even use their glutes to their fullest extent in my opinion, and many leave room on the table for increased performance.
Some clients learn how to fire their glutes during various exercises rather quickly, whereas others can take two months to learn how to really feel their glutes working during various exercises. This occurs following consistent internal cueing and attentional focus toward feeling the glutes maximally activate during resistance resistance training.
9. Value of Internal Cueing for Technique Purposes
When I train beginner clients, it takes me considerable time to get their lumbpelvic-hip complex working ideally during squats, deadlifts, back extensions, and glute bridges. In my opinion, external cueing is not ideal for improving form in the most rapid manner possible. My belief is that internal cueing will get the individual to where you want them to be in a much more efficient manner.
This applies to preventing lumbar flexion in a deadlift, preventing valgus collapse in a squat, or preventing lumbar hyperextension and anterior pelvic tilt in a back extension or hip thrust.
Let's take a hip thrust for example, when a client is hyperextending their spines I take a multi-faceted approach involving:
1) Palpating different regions of their body to make them aware of the various parts involved and what those parts are doing,
2) Personally demonstrating proper form and having the clients palpate my lumbar spine, poke the glutes, etc. to see how proper form is supposed to look and feel,
3) Having them stop approximately 3/4 the way up on a hip thrust and practicing anterior and posterior pelvic tilt so they can understand how to prevent anterior tilt from occuring,
4) Using video analysis so they can see if they're keeping a neutral spine and achieving full hip extension,
5) Being "hands-on" during their performance and manually helping place their pelvis in proper position, manually setting the core in neutral, manually pushing the hips upward to ensure full ROM is reached, and poking the glutes to make sure they're on and the hammies to make sure they're not overly activated, and
6) Using internal cues such as "squeeze the glutes," "push the hips upward," "keep that core in neutral," "tilt the hips forward," etc.
I don't believe that this heavily "internal" approach can be improved-upon by a purely external cueing approach.
10. The Maximization of Long-Term Performance
This is an important consideration worthy of discussion. Let's say you're trying to have an athlete set a PR in a squat, deadlift, hip thrust, or vertical jump. You wouldn't yell at the, "knees out" or "chest up" in the squat. You'd let their knees cave and allow for tremendous forward lean as this is how the individual is strongest (which is why their bodies are going there). You wouldn't tell them to keep an arched back in a deadlift, you'd let the back round if need be so they could lift heavier loads. You wouldn't tell them to squeeze the glutes in a hip thrust, you'd allow as much lumbar hyperextension/APT as needed so they could hoist the heaviest loads. You wouldn't try to fix knee valgus when they jump as they'll jump higher simply focusing on reaching as high as possible.
However, these strategies are not safe and will lead to injury over time. A good coach knows that keeping his athletes healthy will lead to the greatest performance over the long haul, and this is why we provide internal cues during training. Cues such as "chest up", "knees out", and "squeeze the glutes", remind people to use good form so they stay healthy and can continue to make gains.
In the short-term, a purely external focus will yield the greatest results, but in the long-run, a blend of internal cues (utilized predominantly during the training period) and external cues (utilized mostly during times of testing) will  yield the best results for heavy resistance training purposes.
Of course, once mechanics are sound and knees are no longer caving, backs are no longer rounding, and torsos aren't leaning too far forward, then the frequency of internal cues can diminish, but even the top powerlifters consistently internally-cue each other during training. So it seems that even the best need constant reminding during training to use good form, which allows them to get stronger over time due to decreased pain/injury.
11. Kudos to Dr. Wulf, Mr. Leahey, Mr. Winkleman, Mr. Nelson, Mr. Fass, and Mr. Jay
I'd like to thank all the people who have helped bring external attentional focus to the forefront. As previously mentioned, this research is extremely important and can only result in increased athletic performance. Their feedback on this article is welcomed and would be appreciated by the author.
12. I'm Open-Minded to Being Wrong
I'm open-minded to changing my mind and one day learning that external cueing always trumps internal cueing. However, I'm having a hard time figuring out external cues for certain instances such as trying to get the glutes more active in hip extension relative to the hammies, or preventing lumbar hyperextension in a back extension. It seems to me that trying to come up with clever external cues would not be as effective in this regard as internal cues.
Since I'm not well-read in this area, I'm open to learning that I've misinterpreted certain things or failed to grasp the entire picture. I'm sure that there's a ton of info that I'm unaware of regarding motor learning as I gravitate toward biomechanics research for my focus.
13. Future Research
It is my hope that Dr. Wulf, or other researchers such as Dr. McGill, or even Nick Winkleman or myself, down the road, continue to research this area to determine if there are instances where internal attentional focus leads to better outcomes than external attentional focus. An example of a study that could be performed would be to take a group of individuals with poor hip extension mechanics during a glute bridge or prone hip extension pattern. One group would be cued to use the glutes and revolve around the hip joint while keeping the core stable, whereas the other group would be given external cues. After 8 sessions or so, kinematics could be reassessed to determine which group saw better improvements in lumbopelvic-hip complex mechanics during hip extension activities.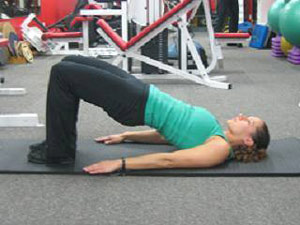 Conclusion
The way I see it, "If it ain't broke, don't fix it." I, and many other trainers and coaches, am seeing incredible results by cueing the glutes. Other internal cues such as "knees out" and "chest up" have been so beneficial in my personal training practice that I can hardly fathom not employing them. For this reason, I'm going to stick with my utilization of internal cues. If quality studies emerge down the road showing that my hypothesis is incorrect, then I'll change my mind. But my hypothesis is that internal cueing trumps external cueing for the situations described above.