I was working on a different topic of the week but it was taking me a long time so I'm going to go the easy route and switch to an easier (but very important) topic for this week. This week's topic is on pushing and pulling ratios.
Most people love to push. Squats, bench press, push ups, leg press, etc. And they do a lot of it. However, these same folks don't always like to pull. Deadlifts, chins, rows, etc. seem to be less popular in the gym.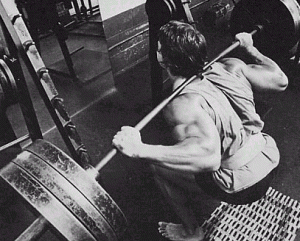 In time this can create muscular imbalances and lead to postural disortions which can predispose the lifter to injury.
Some experts recommend a simple 1:1 pushing to pulling ratio in program design, some recommend a 1:2 ratio, and I've even seen a 1:3 ratio recommended for longevity purposes.
Here's what I do.
Based on the Prioritization Principle, you'll see the best results from the exercise you do first in the week and first in the workout session. I always perform pushing movements first. On lower body days, squat variations come first, and on upper body days, bench pressing variations come first. On full body days it's a squat followed by a press.
Some coaches like to alternate between lower body pushes and upper body pulls, then lower body pulls and upper body pushes so there is no interference, but I don't abide by this rule. That's a whole different topic, however.
Back to the topic at hand. I prioritize pushing by putting it first in the workouts, but then I make up for this prioritization imbalance by programming more pulling than pushing. For upper body, I'll usually do 2 pulls for every push, and for lower body, I'll usually do 2 or even 3 posterior chain dominant lifts for every quad dominant lift. This really seems to work well as people rarely have posterior chains that are "too strong."
I have some meathead friends who like to do bodypart split routines and I always make sure that they're doing more pulling than pushing too. For example, split up leg day into quad day and ham/glute day, and split up back day into a back width and a back thickness day.
How about you? What ratio do you adhere to, and what's your reasoning behind it?