Given that my friends Marianne Kane and Tony Gentilcore have recently written blogposts discussing their sacroiliac joint issues, I felt that it would be a good time to jot down some thoughts, findings, and experiences with this confusing joint.
The biomechanics of this joint are not easy to comprehend, and to be perfectly honest, in the past year I've read at least a dozen papers on sacroiliac joint anatomy, biomechanics, and dysfunction and I still don't have an accurate grip on the matter. Some of the papers are incredibly detailed, involving 3D finite element modelling and examining stresses, stiffness, compression, shear, and load distribution in different scenarios. However, the vast majority of folks don't need to be bothered with these sorts of things, so in this blogpost I'm going to focus on what I feel is pertinent to the readers.
What in the heck is the Sacroiliac Joint?
Here's what Wikipedia has to say about the sacroiliac joint:
The sacroiliac joint or SI joint is the joint in the bony pelvis between the sacrum and the ilium of the pelvis, which are joined by strong ligaments. In humans, the sacrum supports the spine and is supported in turn by an ilium on each side. The joint is a strong, weight bearing synovial joint with irregular elevations and depressions that produce interlocking of the two bones. The human body has two sacroiliac joints, one on the left and one on the right, that often match each other but are highly variable from person to person.
As you can see, the SI joint is pretty damn important. We transfer huge loads through the SI joint when we lift weights, run, or play sports, so the structures that affect this joint need to be strong and fit.
Your Low Back Pain Might be Stemming from the SI Joint
This is an important take-home point for practitioners – somewhere between 13-30% of low back pain sufferers are actually experiencing pain due to sacroiliac dysfunction (Maigne et al. 1996, Schwarzer et al. 1995, Sembrano & Polly 2009).
Just how does this happen? The answer is pretty confusing. In case this is your sort of thing, then below is an excerpt from THIS paper. If this is not your cup of tea, just skip over this section.
It is widely held that a relationship exists between excessive soft tissue deformation and pain, mediated by group IIIand IV nerve fibers. Immunohistochemical staining of the articular surfaces, associated ligaments, and joint capsule suggests that, in addition to the joint itself, periarticular structures,when strained, could act as sources of pain typically ascribed to the SIJ. Spinal pain mapping studies suggest that deep somatic spinal structures including facet joints, posterior annulus, and lumbar nerve roots may refer deep, achy pain that can simulate an SIJ etiology. Immunohistochemical studies focusing on intraligamentous nerves found in SIJ ligaments lend credence to the possibility that SIJ ligaments could function as pain generators in LBP. Substance P and calcitonin gene-related peptide are both recognized as important neuropeptides in the transmission of pain. Immunohistochemical reactivity to substance P and calcitoningene-related peptide suggests that a tissue can function in pain transmission. SIJ articular cartilage, the anterior sacroiliacligament (ASL), and the interosseous sacroiliac ligament(ISL) have all demonstrated nerve fibers immunoreactive to both substance P and calcitonin gene-related peptide. In addition, the posterior SIJ ligaments have also demonstrated immunoreactivity for substance P, suggesting that both the SIJ itself, and the ligaments constraining it, could play a role in the genesis of LBP. These immunoreactive fibers likely conduct pain impulses in response to mechanical pressure or deformation.
When on One Leg You can Incur More Stress to the Structures than During Bilateral Stance
In THIS (click to download the pdf) review article, the authors stated the following:
The SIJ is 20 times more vulnerable to axial compression failure and twice as susceptible to axial torsion overloading than are the lumbar motion segments. Imbalanced or unilateral loads may jeopardize the interlocking sacral mechanics by impeding balanced transiliac bony fixation and ligamentous tension across the "keystone". Miller et al. discovered a threefold increase in sacral rotation with both ilia fixed versus a 2- to 8-fold increase in sacral rotation upon loading with one ilia fixed. Hence, athletes and workers participating in activities requiring repetitive, unidirectional pelvic shear and/or torsional forces (e.g.,figure skaters) may have a higher propensity to develop sacroiliac joint dysfunction.
Muscle Balance
The same paper as above had this to say about restoring muscle imbalances:
Muscle balancing efforts should concentrate on the powerful two-joint muscles around the sacroiliac joint (e.g., gluteus maximus and biceps femoris) as they exert shear and torsion loads proportional to the strength of their contraction. Vleeming et al.  have documented that muscles attached to the sacrotuberous ligament (i.e., gluteus maximus and, in some individuals, biceps femoris and piriformis) can significantly limit ventral rotation (i.e., nutation). The clinical relevance of Vleeming's work may be seen in a patient with a flexed sacrum or ventral capsular tear, tight psoas muscles, and weak gluteus/hamstrings. This individual will require correction of the imbalance to impede aberrant sacroiliac motion and loading.
A Ton of Force Transmitted through the SI Joint? That's Not Far-Fetched!
Check out THIS (click to download the pdf) review article by Stu McGill. It was published in 1989 – which was 23 years ago! In the article he states the following on page 91 (half-way down on the left hand side):
For example, if the forces of muscles that originate in the SI region are tallied for the trial illustrated in Table 1, then the total force transmitted to the SI region during peak load exceeded 6.5 kN. Such a load would lift a small car off the ground!
When looking at table 1 on page 86, you'll see that this data was gathered when examining a 27 kg squat lift. This is just under 60 lbs, which ain't shit! 6.5 kN equates to 1,461 pounds of force.
If you put 1,461 pounds of force on the SI Joint when squat-lifting a 60 pound box, I wonder what kind of force we put on the SI Joint when we lift even heavier loads! It should be mentioned that squat-lifting is slightly different than squatting or deadlifting…it's actually a mix of the two lifts but involves picking up a box placed in front of the body. Since the load isn't centered under your COM, you receive much more spinal (and SI joint) loading due to the increased resistance moment arm.
However, I'm pretty sure I could squat-lift 300 lbs if need-be, which is 5 times greater than the load used in the study! What would the SI Joint forces be in that scenario? I'm sure it would be well-over a ton. Insane in the Membrane!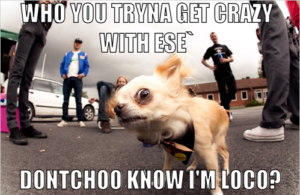 What is Needed for Optimal SI Joint Functioning?
Though the joint itself is an inherently stable structure, there are a lot of muscles and ligaments that contribute to the stability of the sacroiliac joint, and these muscles vary in terms of contribution depending on the position of the body and force vector (magnitude and direction) or loading.
In THIS (click to download the pdf) highly complicated article, it was shown that the pelvic floor and transverse abdominis helped contribute substantial stability to the SI joint from an upright standing position, indicating that these muscles need to be functioning properly to distribute forces in an optimal manner. Vleeming's work has suggested that the erectors, thoracolumbar fascia, inferior fibers of gluteus maximus, long head of biceps femoris, transverse abdominis, and lats can affect the tension of various ligaments.
Craig Leibenson discussed the muscular slings that work together to provide support to the SI joint in THIS (click to download pdf) article.
In general, to ensure good SI joint load transfer, you need:
Ideal posture (lordosis, pelvic tilt, etc.)
Proper force closure of the SI joint (created when muscles pull on ligaments that attach to the sacrum and pull it tight against the pelvis)
A stable lumbar spine and pelvis characterized by (for lack of better terminology) a strong outer unit (glutes, obliques, erectors, abdominals, lats, etc.) and properly functioning inner unit (diaphragm, transverse abdominis, multifidus, pelvic floor)
Good hip mobility
Good bilateral and unilateral hip stability
Good motor control and kinesthetic awareness during movement (not many people are fully aware of their spinal and pelvic posture during movement)
What to do When the SI Joint Flares Up
Now to the most important part of the article. Sure, the SI joint can take a beating, but if you consistently train hard, chances are your SI joint will act up from time to time – some folks will have issues more so than others due to genetics, posture, and dysfunction. Personally, I experience SI joint issues around once per year, and when this happens I have to pull back on the reigns.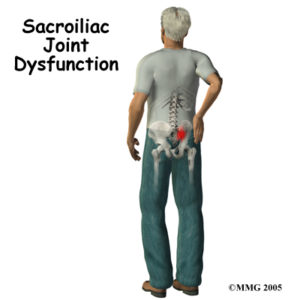 If it's Bad, Take Time Off!
If the joint is really acting up, just take some time off and try to the best of your ability to give the SI joint some needed rest. Sure, bedrest is rarely the best option for rehab, but the SI joint is sort of like the ribs in that it's damn-near impossible to truly rest. Anytime you're on your feet you are transferring forces through the SI joint. If you're on one limb, the forces increase. If you're carrying something, the forces increase.
So definitely keep in mind that even excessive walking and having sex (especially if you're a nasty little Wildebeest) can prolong recovery.
Don't underestimate how much force is transferred through the SI joint during upper body and core exercises. Definitely don't be doing any heavy deadlifting, squatting, barbell Bulgarian split squatting, farmer's walking, Pallof pressing, or landmining.
Let pain be your guide, but know that when you start training, the juices start flowing and your body can lie to you and fool you into doing more than you should.
Ease Back into Things
When things get better, gradually ease back into heavy lifting. Don't go overboard on the volume or the intensity right off the bat. Give yourself at least a week to transition back into heavier lifting. Maybe three progressively more intense workouts over the course of the week, followed by a couple days off.
Correct any Dysfunction
Now it's time to address the issues that got you there in the first place so you can avoid the likelihood of reoccurrences. Corrective exercise and improved form on the various heavy strength exercises are paramount. However, it's also important to know that SI joint pain can happen to any lifter.
You can have good posture, a sound-functioning core, strong muscles, good flexibility, and great technique, yet still experience SI joint pain from time to time. This is the nature of the beast when you're transferring over a ton of force through the region several times per week, 52 weeks per year!
Hopefully this article is helpful to some of you folks!