I haven't written an ABC post in a while but I'm bringing it back! Lately I've been getting a lot of emails asking the same thing so I'd like to address some of them here on the blog. Today's question is from Jordan:
Hi Bret,

I am a huge fan of your blog and content, you have completely innovated the way I think about training for athletic performance.

I have been working for a while to implement the glute thrust in my training, but have encountered a problem.  My hamstrings always take over! Any suggestions on how to remedy this?  Maybe that would be a good article, as other lifters at my gym have had the same problem.

Keep up the good work!

Jordan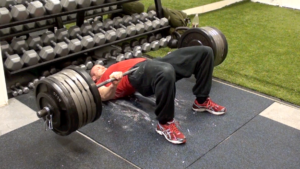 Hi Jordan,
Thanks for the kind words. Here are my thoughts:
1. Be Patient
It probably took a lot of time for your glutes to gradually shut down. Your body has learned to rely upon your hamstrings during hip extension. You can indeed cure this quickly, but it won't happen overnight. It might have taken you 5 years of neglecting your glutes to get to this point, but luckily it will only take several weeks to get the glutes up to par.
2. Static Stretch the Hip Flexors First
If your hip flexors are tight, stretch them first so you can reach end range hip extension and get into the zone of maximal glute activation. Many people have tight hip flexors, but not all people do. Stretch the psoas and the rectus femoris if need-be.
It may also be wise to stretch the hip flexors for other reasons; you may be able to inhibit them a bit and create some slack to make things easier for the glutes.
3. Static Stretch the Hammies First
You may be able to inhibit the hammies a bit by stretching them prior to bridging, and this inhibition could theoretically coerce the glutes to become more active during hip extension.
4. Experiment with Pushing Through the Forefeet
Pushing through the forefeet rather than the heels could be of help. In theory it should increase quad activation and decrease hamstring activation, which would therefore require the glutes to kick in to a greater extent.
But theories don't always pan out in the real world. Some individuals find this tip helpful while others find that it makes matters worse. When I conducted my glute seminars in New Zealand last year, I had every attendee experiment with this technique. I ended up polling over a hundred attendees regarding forefeet pressure and hamstring activation. The results? Around a third of the attendees felt that it helped reduce hamstring activity, around a third felt that it made matters worse and increased hamstring activity, and around a third couldn't feel a difference. Give it a try and see if it works for you.
5. Focus and Visualize
Think of the brain as a lake, the spinal cord as a river, and the nerves that feed the erectors, glutes, and hamstrings as waterfalls. I realize that this is not accurate and way too simplistic but it serves as a good analogy. You want to steer more water to the glutes and less water to the erectors and hammies over time.
Focus very intently on using the glutes to push the hips upward. Research shows that intense concentration and visualization can dramatically affect motor learning and muscle activation. Over time you'll automatically use the glutes heavily during hip extension, but you have to create these neural adaptations and increase the juice delivered to the glutes during hip extension, which may take several weeks of consistent practice.
6. Practice the Posterior Pelvic Tilt Hip Thrust (PPTHT)
The PPTHT is a great way to improve upon your mind-muscle connection to the glutes. First off, most people are incredibly week and uncoordinated with posterior pelvic tilting and lack strength, power, and endurance in this regard. A posterior pelvic tilting moment (torque) is required to prevent anterior pelvic tilt and keep the pelvis stable during heavy deadlifting so strengthening this motion is important.
Second, the inability to dissociate the pelvis from the spine is not an ideal situation and could lead to low back pain and injury especially if the individual engages in heavy or explosive activity.
Third, combining PPT'ing with hip extension requires that the glutes do two things at once which dramatically increases glute activation.
Some individuals who are flexion intolerant could find the PPTHT problematic but most people can easily tolerate it and will benefit from the added glute activation and PPT'ing skills.
Fourth, PPT'ing slackens the hamstrings which places them at suboptimal lengths, theoretically causing the glutes to have to do more to make up for the lack of hamstring force. The act of using the glutes to PPT therefore increases the glute requirements by interfering with the length-tension relationship in the hammies (it should be mentioned that the hammies may slightly contribute toward PPT'ing so this line of thinking could be more complicated).
Fifth, it takes the erectors out of the equation.
And sixth, PPT'ing can theoretically improve anterior pelvic tilt (APT) posture. I'll expound upon this in a future article. As you can tell, I think the PPTHT is a very good thing that more people should incorporate into their routines. I've been employing it myself and with several clients and the consensus is that it's very helpful and worthwhile.
To perform the PPTHT, focus on pelvic motion. You want anterior pelvic tilt at the bottom and posterior pelvic tilt up top. Squeeze the glutes forcefully and hold the contraction for 1-3 seconds up top. Here's a video:
Hopefully you find some of these tips useful, but the most important thing is to simply concentrate and focus on using more glute and less hammy which will shift the neural tides over time.
Best of luck Jordan!
BC