Here's a video discussing the RKC Plank. I learned this from my buddy Joe Sansalone. I'm not sure if I'm teaching it correctly according to the RKC, but this is the way I currently teach the plank, and quite frankly the regular plank pales in comparison to this variation.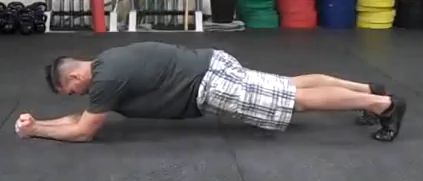 Here's what you need to do:
Lengthen the lever by placing your arms further out.

Narrow the base by placing your elbows closer together.

Contract the quads to lock out the knees.

Contract the glutes as hard as possible to posteriorly tilt the pelvis (the low abs and external obliques will assist with this too); hold this pelvic position throughout the duration of the set

Look down and keep the head and neck in neutral (packing the neck might even be better).
Here's the video:
To me this is a no-brainer. You get:
Way more rectus abdominis and oblique activity (see chart below – 4X more lower ab, 3X more external oblique, and 2X more internal oblique)

Way more glute max activity

Low back pain prevention via several different mechanisms;

Teaches proper hip mechanics which will prevent lumbar hyperextension during hip extension movements

Teaches the glute max to force closure of the SI Joint during hip extension movements

I could go on as there are more mechanisms at play but you get the point