This interview is going to blow some of your minds. Remember Erin McComb from Operation Strong & Sexy? To make a long story short, she hurt her hand and couldn't grip anything. Rather than give up, she trained through the ordeal and won her first bikini competition, taking her division and the overall. Her glutes and legs looked incredible. How did she do it?
Not through conventional means. Although I wanted her to do plenty of barbell and band hip thrusts, safety squat bar squats, safety squat bar good mornings, safety squat bar lunges, back extensions, and various other glute exercises, Erin did her own thing. She went rogue and trained glutes every workout with her own random glute exercises, all involving bands, bodyweight, or light dumbbells for high reps not to failure. These glute workouts ranged from 5-60 minutes and she'd do them around 6 days per week.
You will see a video of these glute exercises at the end of this interview. To be clear, she did no heavy squats, no heavy deadlifts, no heavy hip thrusts, no heavy lunges, and no heavy back extensions. Many of you would assume that these exercises are "sissy" movements, but Erin's glutes looked better than when she was deadlifting 245 lbs at a bodyweight of 100 lbs. I'm definitely not telling people to quit going heavy or abandon progressive overload. But clearly there's something to high volume/high frequency/low load glute training. Enjoy!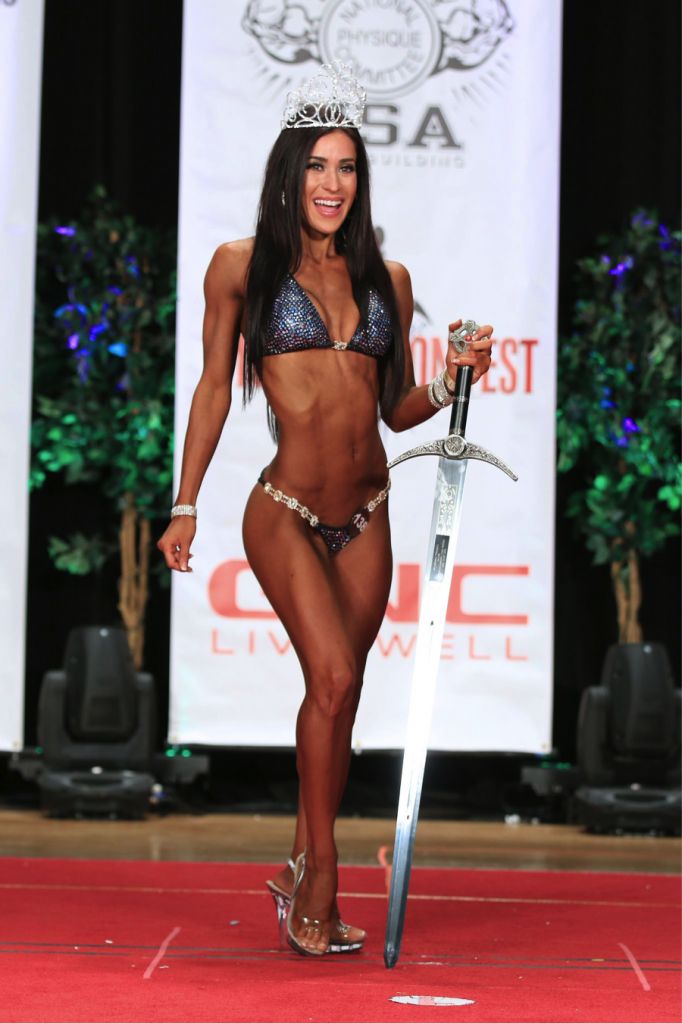 1. Erin, big congratulations are in order! Please tell the readers what you just accomplished this weekend.
Thank you- it still feels so surreal. The competition in California is so fierce and there were so many strong competitors! Two weeks ago I won my class at Jon Lindsay's Grand Prix. I also won the overall which means I went up against the other class winners for a sword/division title.
2. Is this the first time you've finished first? How many competitions have you entered so far?
This is the fourth time I have placed first in a total of 7 regional competitions. I never do well nationally.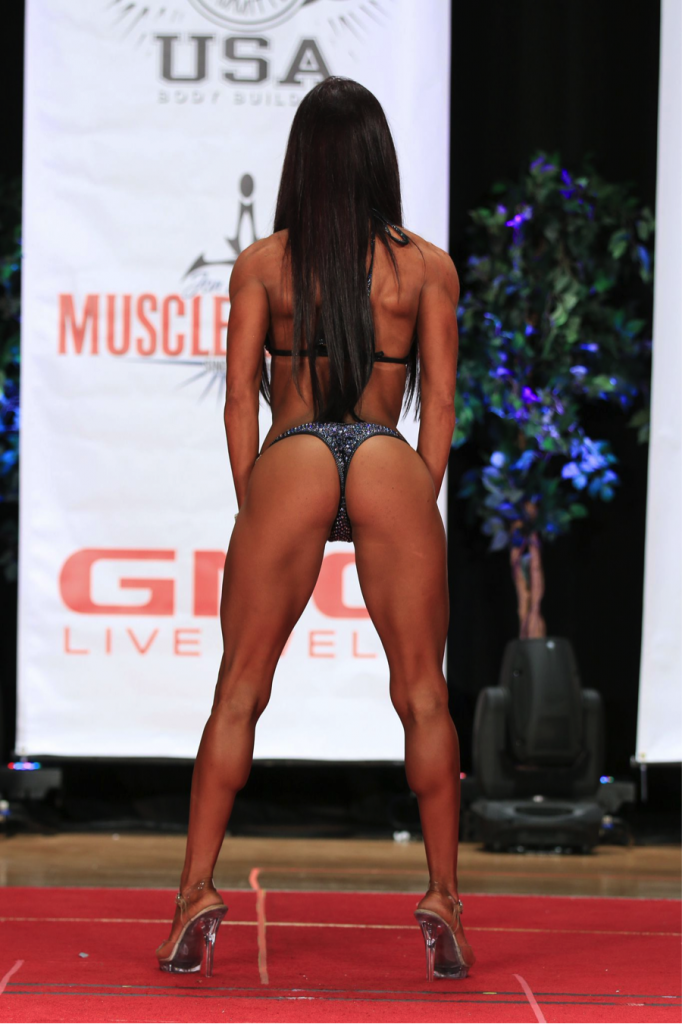 3. You had team Zero Gravity doing your nutrition for this comp, right? What was the general strategy – you were carb cycling, right?
Yes, Zero Gravity does my diet and we are still trying to figure out what works well for me. When I met the team I was vegetarian (formerly vegan) so every prep has been totally different as I incorporate new protein sources, but I always like their outcome. We carb cycle the entire prep and instead of giving me a generic meal list of "eat this at this time" we plan around foods I can have and I just pace myself (or gorge on high carb days) based on what day of the cycle I am on. As a competitor I will probably always be hung up on food and portions, but this makes me less neurotic so I'm grateful.
4. Now let's talk strength training. What did your training split look like over the past few months, and what were your main areas of focus?
My training has always been a bit unconventional. I will try basically anything once to see if it works for me (and I totally encourage that in others). For this prep I was coming off a hand injury so until mid-February I was unable to consistently lift. I severed the tendons, an artery and the nerves in one of my fingers and took almost two full months off as even moderate activity got my blood moving too much and I didn't want it to affect my healing. When I hit the 12 week mark of my surgeon telling me I would no longer be at risk to rupture my tendons, I was able to lift more consistently. We use our hands for so much, I really had to modify training. Given that I took so much unplanned time off I more or less did full-body workouts for my prep. Thank goodness that our bodies are so smart and can recover lost strength so quickly! I would focus on a muscle group and at the end of my workout I would get in a few sets of something else, usually legs. My biggest areas of focus were my shoulders, glutes and quads so they got the most regular attention.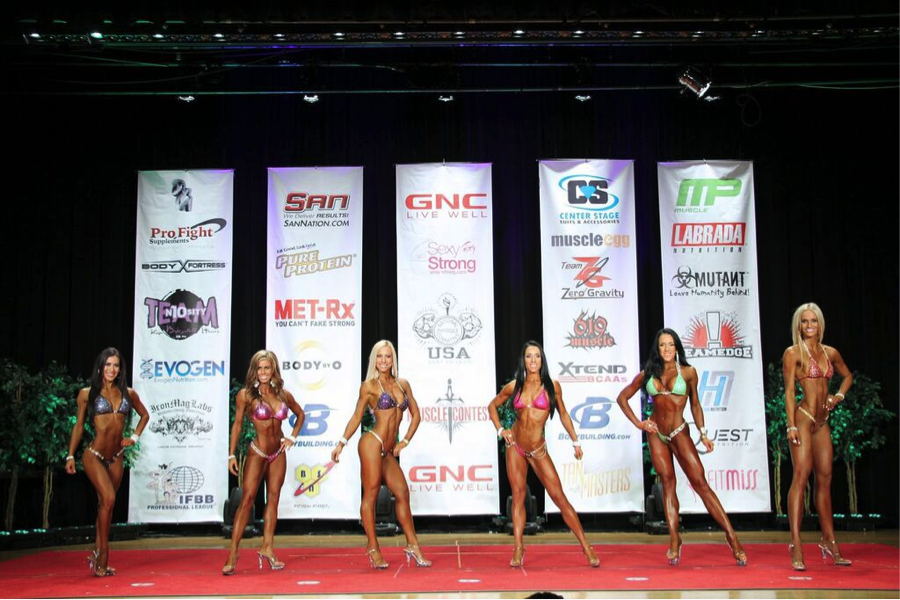 5. You jokingly called yourself "The Crazy Band Lady," but there's some serious truth to that name – I've never seen anyone train like you did. Your lower body training was based almost entirely on bands. What was your strategy with the bands – progressive overload, or just feeling the glutes doing the work?
In our time together, I've learned a lot about how my glutes activate which has also helped me connect with my other muscles. Given that my previous training emphasized overall strength (deadlift based, you couldn't keep me from deadlifting ever) it was hard to come to terms with atrophied strength and limited grip. I was frustrated I couldn't train in my comfort zone. And then I remembered how you described working with Nathalia and my perspective on training changed. Nobody has time to feel lethargic or overtrained. We have often talked about how my band work gives me a great pump, but it doesn't make me sore so I started focusing on what I could do with bands. I wanted to train glutes every day. So every day I would spend time, whether it be 5 minutes or an hour, with my bands. I've done some weird stuff too, and some of it seemed like a great idea and did nothing, and some of it I have no idea how I would do without. Angles this way, weight over here, and I wouldn't stop until I felt it in the area of the glute that I wanted. Bands have allowed me to tailor exercises to how my own body moves, not how a machine tells me how to rotate around a given point. There was really no structure to my training except to get in there and feel it- slow and controlled. Yes I'm the chick at the gym grabbing her own butt or foam rolling glutes in the middle of a set. I did band progressive overload, I always sought more reps or an extra set or a bonus band to keep my body from getting adjusted.
6. So you mean to tell me that for the entire competition prep, you never performed any heavy squats, deadlifts, or hip thrusts? Just high frequency band work along with the seated abduction machine with the occasional leg extension, leg curl, and machine hip thrust for high reps?
Yup- nothing heavy at all for lower body except the hip abduction machine. My "heaviest" lift would involve up to a 50 pound barbell which is definitely not my normal go-to weight. If someone had told me last year that I would train this way in 2015 I would have laughed. But my overall strength is still there. I really didn't hip thrust for several weeks as I was experimenting with bands. Yet I could still almost lift what I did when we trained regularly. A couple weeks of dedicated thrusting and I'm fairly certain I could push 300 (challenge accepted?). After my next competition I would love to see how much my band work has improved my strength for other lifts.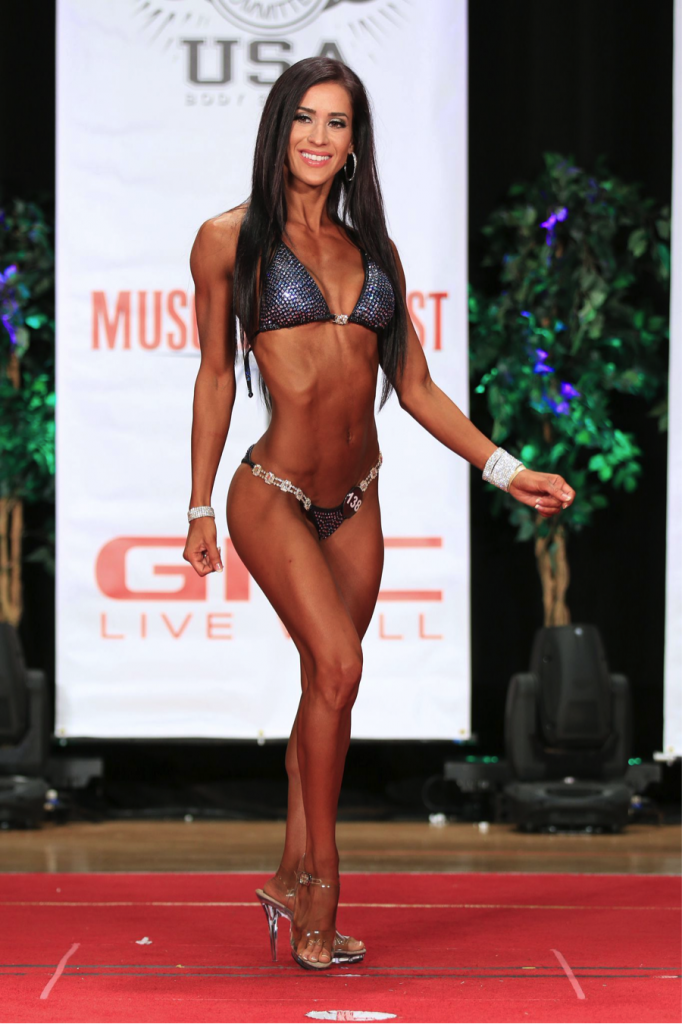 7. Do you feel that this is the best you've ever looked on stage?
This is hands down the best I've ever looked on stage and better than I ever thought possible. We are all so critical of ourselves, but I can truly say I am very proud I was able to come in this way that day.
8. Methods used during the week before the competition are fiercely debated in our industry. How did you peak for the competition in terms of water, sodium, and carb manipulation?
As I said before, we are still learning how my body responds as this was my first prep as a non-vegan/vegetarian, etc. We definitely tweak my water, sodium and carbs, but it's been different each show. I have no idea how Ryan decides what to do (he has everyone do different things), but I've learned to listen. A lot of people dislike the water thing and they sure let me know, but let's be real, it's not a big deal. I'm not refusing water and then running a marathon, just layering on tanner and makeup, though walking in heels when you want some fizzy water is annoying. There are people who cut for days and days but I've never gone more than a day. Besides, when you drink as much as I do then sit on your bum for a day, I don't perceive it as a problem. It just gets hard to blink lol.
9. Did you miss any workouts or fall off the wagon in terms of diet adherence during your prep?
No prep is perfect. I started earlier so I had more time for the "practice makes perfect" thing. I did travel to Hawaii twice during prep so that made training tricky, but in general I was pretty obedient. And this is where I admit that I am a terrible human being and I lied pretty much my entire prep about doing cardio. I absolutely loathe it, even if it's just walking. I have never been a devout stairmaster princess. I am very good about making time for weights, but cardio equipment may as well have barbed wire because I just can't.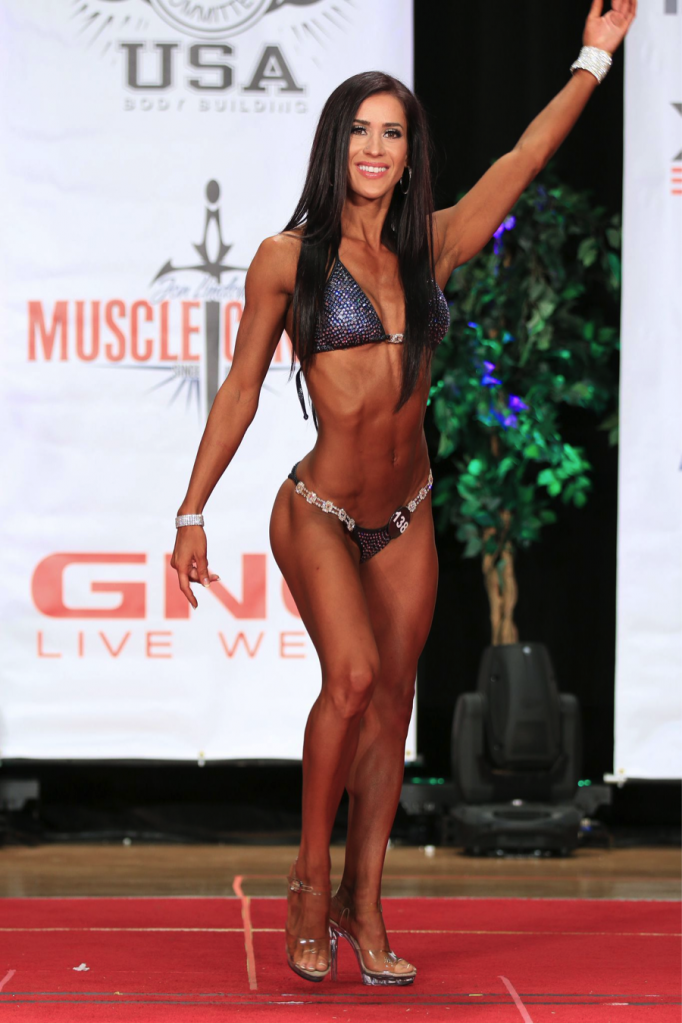 10. What's next for you – to go for a pro card? If so, what do you think you need to do in order to make it happen?
I have always enjoyed the sport and I can't imagine quitting. I would be lying if I said I wasn't pursuing a pro card, but it really is a fun experience just training for these shows and making new friends. Currently, I am training for a national show which is a pro-qualifier. If I were to receive first or second I would earn pro status and be able to step on stage with the gorgeous ladies I watched turn pro (heyyyy Karey Grabow and Sarah LeBlanc). That would just be incredible. I feel that my physique last show was great for me, but I know I have more to give. Obviously I want to continue to grow and shape the booty, but I also will be focusing on shoulders to keep symmetry. I have about three months to train, so wish me luck! 🙂